TAKE THIS BUNDLE
Pandas and NumPy Tutorial (4 Courses, 3+ Projects)
4 Online Courses
3 Hands-on Projects
33+ Hours
Verifiable Certificate of Completion
Lifetime Access
Pandas with Python Tutorial
Machine Learning with Tensorflow
Statistics for Data Science using Python
Project - Data Analytics with Data Exploration Case Study
Offer ends in:
TAKE THIS BUNDLE
What you get
Online Classes
Technical Support
Mobile App Access
Case Studies
Online Pandas and NumPy Tutorial
This Pandas and NumPy Tutorial Course includes  4 comprehensive Pandas and NumPy courses , 3 Projects with 33+ hours of video tutorials and Lifetime Access. You get to learn how to get you up and running with data analysis and visualization using NumPy and Pandas.
The buzz over PYTHON programming language has successfully grown and is still growing loud enough to penetrate the C-suites of the organizations across the globe. There has been a considerable amount of investment with several success stories which organizations have achieved using Python. From web development, scripting, development to data analysis, Python is the one-stop center for developers and business owners. We have come up with a great course for our readers which have a huge demand in the current industry. We will see why this language has gained momentum and factors associated with its huge success. A detailed outline of the course we offer with a complete market analysis. To begin with, let us first encounter some great reasons – yes we are talking about Panda and NumPy.
Industry Growth Trend
The overall data science platform market is expected to grow from USD 19.58 billion in 2016 to USD 101.37 billion by 2021, at a CAGR of 38.9% from 2016 to 2021.
[Source - MarketsandMarkets]
Average Salary
Average Salary
$120,709 per year
The average salary for a Data Scientist is $120,709 per year in the United States. Salary estimates are based on 3,186 salaries. The typical tenure for a Data Scientist is less than 1 year.
[Source - Indeed]
About Pandas and NumPy Tutorial
| Courses | | No. of Hours |
| --- | --- | --- |
| Pandas with Python Tutorial | | 6h 31m |
| NumPy and Pandas | | 5h 07m |
| Machine Learning with Tensorflow | | 13h 18m |
| Statistics for Data Science using Python | | 3h 56m |
| Project - Data Analytics with Data Exploration Case Study | | 5h 21m |
| Project on Pandas - Data Management for Retail Dataset | | 4h 18m |
| Machine Learning with Python Project - Predict Diabetes on Diagnostic Measures | | 1h 07m |
---
| | |
| --- | --- |
| Course Name | Online Pandas and NumPy Course |
| Deal | You get access to all 4 courses , 3 Projects bundle. You do not need to purchase each course separately. |
| Hours | 33+ Video Hours |
| Core Coverage | Learn how to get you up and running with data analysis and visualization using NumPy and Pandas. |
| Course Validity | Lifetime Access |
| Eligibility | Anyone who is serious about learning data analytics and wants to make a career in this Field |
| Pre-Requisites | Basic knowledge about modeling would be preferable |
| What do you get? | Certificate of Completion for each of the 4 courses , 3 Projects |
| Certification Type | Course Completion Certificates |
| Verifiable Certificates? | Yes, you get verifiable certificates for each course with a unique link. These link can be included in your Resume/Linkedin profile to showcase your enhanced skills |
| Type of Training | Video Course – Self Paced Learning |
| Software Required | None |
| System Requirement | 1 GB RAM or higher |
| Other Requirement | Speaker / Headphone |
Pandas and NumPy Tutorial Curriculum
---
In this section, each module of the Pandas and NumPy Course is explained.
SR No.
Course Name 
Course Description
1

Pandas with Python Tutorial

This section of the Pandas and NumPy Tutorial deals primarily with Panda and Python synchronization. The module is sub-divided into 5 subsections namely –

Introduction: fundamentals covering the Python and Panda relation.
Data Set: Focus on Jupiter environment, data set readability, series and sequences of data set, operations and how to manipulate these data set, covers more in-depth panda functions, column names, and their operations, data sorting techniques and data filtering by applying clause.
Data Analysis: deals in a complete analysis of data with different techniques like filtering, sorting (columns and rows), axis parameters, string manipulations, functions, use of indexes, parameters, data formatting with covering some best practices in data analysis.
Azure Data Lake: covers an introduction to Azure Data Lake, its importance and roles, Merging, shaping data frames, time series data, stacking and unstacking, crosstab concepts, pivot table and details covering these topics with excel functions manipulation techniques.
Summary: a detailed summary of Panda.

2
NumPy and Pandas
This Pandas and NumPy Tutorial module revolves completely around NumPy and Panda. The role they play in Python, their use cases and in details discussion regarding the possibilities using NumPy and Panda. It is categorized into 4 sub-sections namely-

Introduction
NumPy
Pandas
Dataframe manipulation

3

Machine Learning with Tensorflow
This Pandas and NumPy Tutorial focuses on the Machine Learning and workstation setup with details related to Python libraries.

Introduction to Machine Learning: covers the introduction for machine learning with Tensorflow, understanding machine learning basics and advance, how machines learn, use cases of machine learning, Tensorflow examples used by Google.
Workstation setup: workstation setup includes understanding program
languages, Jupyter functions, and installation; details related to Anaconda cloud, installing anaconda cloud for Windows-Linux, determination options for Cloudberry.
Numpy: 3rd party libraries, NumPy arrays, arrays in details, indexing and universal functions.
Panda: introduction to Panda, import, parameters, indexing & databases, missing data, concatenation-merging, operations, and import-export.
Matplotlib: python visualization techniques, mat plotting, API functionalities, ways to create new data frames, style setting, index, and value.
Seaborn: statistical data visualization, seaborn library, Jointplot, Pair plot, Barplot, Boxplot, Stripplot, Matrix, Grid, Styles, conclusion to Python libraries.
Panda Environment: introduction to Panda environment, Scikit learning, Datasets, and California datasets.
Data Visualization: Data visualization techniques with data visualization, data downloading with popular parameters.
Processing: processing techniques, null and median values, ways to replace values, label encoder, import label encoder, custom transformation, housing with custom columns, numeric housing data, linear regression, fine-tuning model.
Tensorflow basics: Quick recap of Tensorflow basics, basic ops, Eager-mode.
Tensorflow models: Concepts, linear regression, linear model, Matrix manipulation functions, cost functions, creative optimizer, RR input and Output value, Logistic regression, Global variables initializers, run optimizers, range creation techniques.
Neural networks: Introduction, basic terminologies, activating – classification functions, Tensorflow playground, Mnist dataset in detail.

4
Statistics for Data Science Using Python
This course focuses on:

Introduction: introduction to data science
Calculation Mode: Calculating Mode, calculating dispersion measures, histogram calculation, correlation functions, basic concepts, Panda data frame.
Basic Techniques: Basic Reveration techniques, using Numpy techniques, elements summation.
Testing Methods: Hypothetical testing methods, differences in Numpy packages and calculating the Denomination.
Exclusive Events: Using exclusive events, finding the measurement and test scenarios implementation.
Statistics for Data Science: Ordinary least squares regression techniques, analyzing test analytics, output variables, model fitting, curve fitting and regression fit lines, co-efficient and intercept values

5
Applied Data Analytics using Anaconda Python

 

Introduction: Introduction to applied data analytics using Python.
Installation: Jupyter Notebook installation steps, Data Analytics demonstration in Jupyter Notebook,
Basic Data Analysis: Numpy array creation, linear algebra demonstration, creating random numbers, data analysis of CSV files, output analysis of CSV files.
Data Analytics Visualization: histogram, series creation, and Subplot creation.
Pandas: Implementing Pandas for Data Analysis, Apply Multiplier Filter criteria, changing the data type, Filter rows, selecting multiple rows, sorting a Pandas DataFrame or a series.
Data Exploration Case Study: understanding problem statement, DataFrame anatomy, Accessing main data frame components, understanding data types, series method calling, working with operators, chaining series method, making the index meaningful.
Face Recognition: creating a face recognition module, analyzing the training phases, prediction phase, analyzing the output and labels and faces, train face recognizer.
Extended Data Analysis: calculating Boolean statistics moving data, constructing multiple Boolean conditions, filtering with Boolean indexing, replicating Boolean indexing with index selection, selecting with unique and sorted indexes, gaining respective on stock prices, translating SQL where clause, Determining the Normality of stock market returns, improving the readability of Boolean and preserving series with the where method.
Pandas and NumPy Course – Certificate of Completion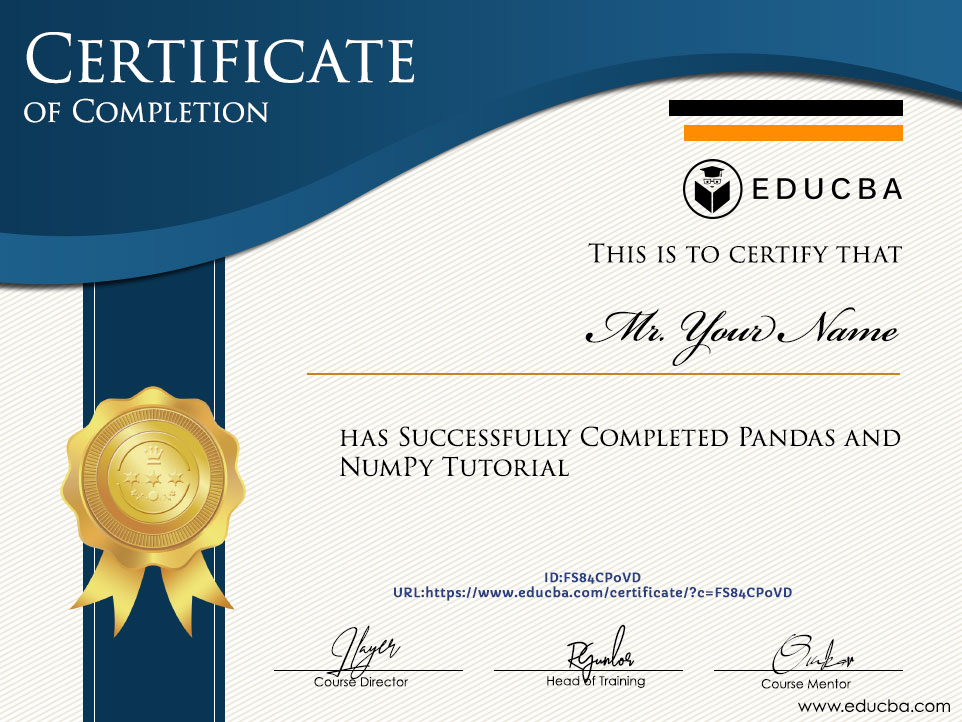 What are the Pandas and NumPy?
Panda and NumPy is a library for Python, where NumPy helps by contributing to numerical work lads and computation works. Panda, on the other hand, is preferred for data wrangling and data manipulation related works.
Both the NumPy and Panda constitute to Pythons being a scientific language. Its possibility to encounter Matrix and Vector manipulation is possible with NumPy and Panda's library (rather we call an essential).
NumPy means Numerical Python and is an open source structure for mathematical needs. A must have an array for high-level mathematical functions. NumPy is associated with Machine learning in ways like Scikit-learn, Pandas, Matplotlib, and TensorFlow.
Panda, on the other hand, offers similar features in Machine learning and is the most widely used Python libraries. It is easy to use, easy to structure, delivers high performance and a great data analysis tool.
Which Skills will you learn in this Course?
---
The skill list is really long for the candidates with our Pandas and NumPy Tutorial. The exposure to these skills with detailed discussion is an added advantage and acts as a cherry on the cake with the advance tool kits like Python, Azure, and techniques like Machine Learning and Data Analysis. Let us see what else a candidate will get with our Pandas and NumPy Tutorial Course.
Pandas
Python
NumPy
Machine Learning
Tensorflow
Statistics
Data Science
Applied Data Analytics
Anaconda Python
Data Analysis
Azure Data Lake
Matplotlib
Seaborn
Panda Environment
Data Visualization
Neural Networks
Pre-requisites
Like we always say to candidates what makes the difference is to have a learning attitude, apart from this we will take care of everything. But this is a common question in the mind of candidates and we understand and appreciate them. Below we have listed some basic requirements for candidates –
Basic knowledge of Python and Mathematics (like Linear algebra understanding).
Passion to learn new technology
No prior information for machine learning is needed.
Basic of computer programming terminologies.
Target Audience
This Pandas and NumPy Tutorial Course is designed for professionals with different background who are willing to learn data science in simple and easy steps using Python as a
. If you are into any kind of data and analytics work on any platform then this course is very useful for you. Managers and seniors should look up to this course as the current market is at its transition stage where you must have a good understanding of data and analysis techniques. However, for the convenience of our readers, we have listed some probable profiles that should opt this Pandas and NumPy Tutorial for maximizing their job scoring possibilities.
Data Engineers
Architects
Analysts
Software Engineers
It operations
Technical Managers
Data Scientists
FAQ's
---
How secure will be our job after the Pandas and NumPy Tutorial completion?
After the successful course completion, you will be having dual benefits which we believe will be sufficient for scoring a dream job. We provide a course completion certificates to our candidates and also the Pandas and NumPy Tutorial contains some of the advanced and most widely used tools and understanding.
How long can a student access the Pandas and NumPy Tutorial content after registration?
Well, after registration a candidate is eligible to have lifetime access to the Pandas and NumPy Tutorial course.
Can we download the Pandas and NumPy Tutorial content?
Yes, of course, but this facility is available only for the registered candidates.
Sample Preview
---
Career Benefits
Our course on Panda and NumPy will be a very good investment for all the candidates in making their career. No matter if you are a fresher or an experienced professional even if you are new to Python and related skills the course is just meant for you guys. The Pandas and NumPy Tutorial completion certificate are widely accepted in the industry as we have a great success history providing quality content.
Reviews
---
Perfect Pandas Primer
I enjoyed this tutorial. It seemed to be very up-to-date. The instructors were clear, concise, and thorough. The structure was intuitive and presented in an understandable manner, building on each step and using data frames and sets that avoided confusion by using names that didn't sound like operational commands and vice versa. Grammar and logic were exceptional, with very little wasted time. A great introduction to using Pandas.
Linked
Michael Williams
Good course to kickstart
Good course to kickstart with Python & Pandas. Very well explained by the trainer. Practical aspect is very well covered along the basics. Although it is a bit slow, but it helps in better understanding of the concept. I would certainly recommend this to the the ones who are willing to learn kick-start Python & Pandas.
Linked
Prashant Nookala