Learn from Home Offer TAKE THIS BUNDLE
MULTISIM Course Bundle - 5 Courses in 1
This Multisim Training includes 5 courses with 5+ hours of video tutorials and Lifetime access. You will get to learn about the National Instruments software MultiSim to study and evaluate the performance of Circuits. Further, you will understand circuit designing, simulations and performance analysis on the circuits.
TAKE THIS BUNDLE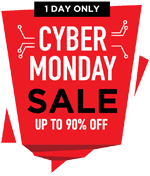 * One Time Payment & Get Lifetime Access
What you get in this MULTISIM Course Bundle - 5 Courses in 1?
5+ Hours
5 Courses
Course Completion Certificates
Lifetime Access
Self-paced Courses
Technical Support
Mobile App Access
Case Studies
About MULTISIM Course Bundle
---
| | |
| --- | --- |
| | |
| Courses | You get access to all 5 courses, Projects bundle. You do not need to purchase each course separately. |
| Hours | 5+ Video Hours |
| Core Coverage | Circuit designing, simulations and performance analysis on the circuits using MultiSim Software |
| Course Validity | Lifetime Access |
| Eligibility | Anyone who is serious about the circuit designing and wants to make a career in this Field |
| Pre-Requisites | Basic knowledge about circuits would be preferable |
| What do you get? | Certificate of Completion for each of the 5 courses, Projects |
| Certification Type | Course Completion Certificates |
| Verifiable Certificates? | Yes, you get verifiable certificates for each course with a unique link. These link can be included in your resume/Linkedin profile to showcase your enhanced skills |
| Type of Training | Video Course – Self Paced Learning |
MULTISIM Course Bundle Curriculum
---
In this section, each module of the Multisim Certification Course is explained.
MODULE 1: Multisim Essentials Training

| Courses | No. of Hours | Certificates | Details |
| --- | --- | --- | --- |
| MultiSIM UI | 35m | ✔ | |
| Project on MultiSIM - Drawing a Schematic | 1h 38m | ✔ | |

MODULE 2: Learning from Practicals

| Courses | No. of Hours | Certificates | Details |
| --- | --- | --- | --- |
| Working with Instruments in MultiSIM | 1h 19m | ✔ | |
| Microprocessor Control Units (MCU) in MultiSIM | 43m | ✔ | |
| Project on MultiSIM - Working with Analysis | 48m | ✔ | |
Sr. No
Course Name
 Course Description

1

MultiSIM:01-Schematic capture Understanding UI
This Multisim training course covers a basic understanding of User Interface, schematic capture and UI and complete circuits containing both analog and digital components. The topic covers the design process, placing and wiring components, learning about organized menus, toolbox design and accessing toolbars (creation, adding/remove, display). The course covers the basics of learning programs on schematic capture followed by simulation, virtual instruments, and analyses & graphs finally results and post-processing.

You will learn how to create a circuit button using RF Filter by placing components like capacitors, AC voltage. Setting your parameters to achieve filtering and viewing simulation.

2
Multi-SIM:02-Drawing a schematic
In this Multisim training course, you will learn about schematic drawings with components and wiring. You will learn global preferences, sheet properties and inserting title block & adding subcircuits. You will also walk through learning drawing Schematic sheet and power supply.
3
MultiSIM:03-Working with Instruments
This Multisim training course teaches you the introduction of instruments working.

At first, it covers working with multimeter instruments and multimeter concepts which explains menu selection to simulate multimeter. It also shows a demo of how to place instruments between capacitors and resistors and their working in multiscreen. To measure the current ammeter processing is explained.
Next introduction on working with oscilloscopes instruments by directly connecting the wire to the design circuit.
A circuit using Wattmeter, Multisim analyzer in graph form where you can edit save and export.

Using AC analysis to check frequency counter, logical analyzer and half-wave, and full-wave rectifier construction.

4
MultiSIM:04 -Microprocessor Control Units (MCU)
This Multisim course works through a basic introduction to Microprocessor units. Here students were taught the use of each element of the software tool. You will be trained on Microcontrollers such as 8051 a and 8052 and PIC  16F84 to program in assembly code, designing advanced peripherals like ROM, RAM chips, LCD and others and designing Motherboards.

You will be demonstrated on a simple up and down the counter from Microchip.

Creating a new MCU project on the workspace by defining project and source and opening MCU code manager
Adding Assembler file.
Wiring Peripheral components.
Finally simulating the MCU project by setting activate. debugging source code and stop

the simulation.

5
Multi-SIM:05-Working with Analyses
This Multisim training course covers the performance analysis of Multisim. The course goes with an introduction to multi sim schematics, circuit voltages for variables.

Understanding the functions of Fourier Analyses
learning Distortion and Noise Analysis to create desired sound and test equipment set up.
Measurement Probes and Postprocessor concepts. Using instrument tool placing probes in multi sim gives additional measurement functionalities.
---
MultiSIM Course – Certificate of Completion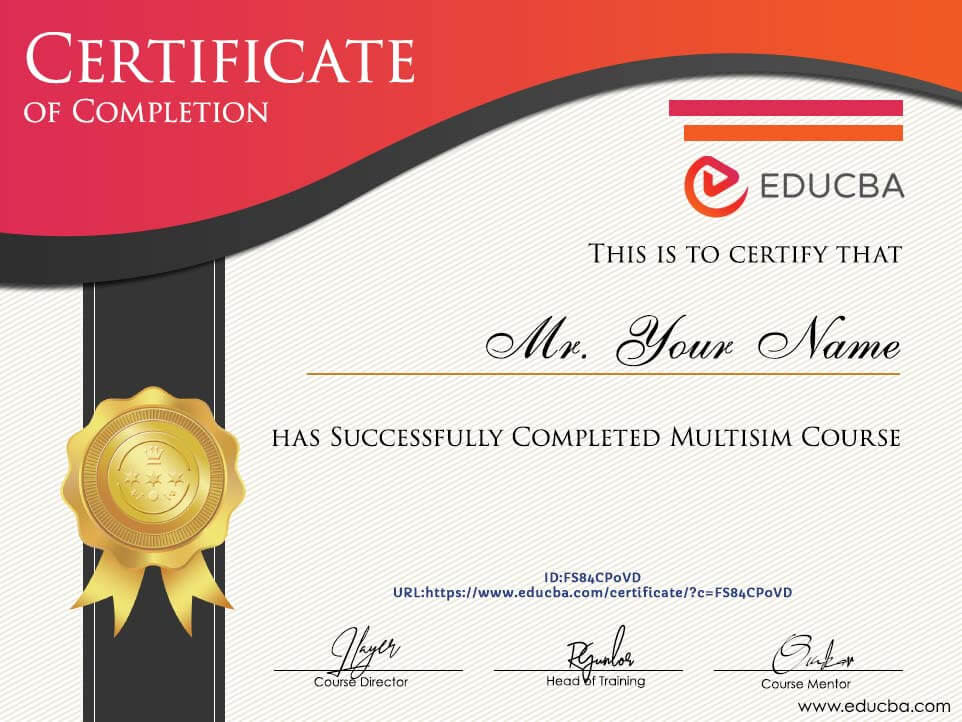 ---
What is MultiSim?
It is a National instruments software Multisim online circuit simulator and general-purpose EDA tool and has become a great learning tool for educators. It allows modeled design products to finish in less period. The latest version of Multisim is 13.0 which has advanced simulation technology.  Before building a project, it is necessary to study a basic circuit and this point is given by simulation. One of the recent popular software in the electronics world is multi-Sim.  Newly added functionality includes parameter analysis, embedded systems and simplified templates. The most powerful feature is its interactive concept and non-dependent source components are easy to fix in multi Sim. You can create and simulate electronic circuits using Multi-Sim.  It consists of tools that help in carrying sequence steps in the design circuit. Steps to access multi sim:
Start -> All Programs->NI->circuit design suite version.
This Multisim software has Components, you can click them on the workplace to work with components. It has an easy drag and drops components on to the circuit workspace. They have inbuilt virtual Instruments which can be used to simulate and analyze the circuit.  We can change the values in circuit results and could see simulation results get changed in real-time. To wire the circuit multi sim will recognize the pins of components and it automatically places a wire between the components that were selected. You can also generate reports in multi Sim like material bills, Component details, Cross-reference reports, etc. It is easier to draw schematics diagrams and the number of symbols is extraordinary in Multisim. The amazing factor of the multi sim is it is easy to learn and it has the Utli Board tool to transfer schematics diagrams onboard ease. Without programming knowledge, you can make good projects and can share those designs with a group of workers. Application of MultiSim includes Analog electronics, Analysing circuits, and integrated circuit applications.

Industry Growth Trend
The global Advanced Analytics Market size was USD 7.04 billion in 2014 and is projected to reach USD 29.53 billion by 2019, growing at a Compound Annual Growth Rate (CAGR) of 33.2% during the forecast period.
[Source - MarketsandMarkets]
Average Salary
Average Salary
$83,220 per year
The average salary for a Statistician is $83,220 per year in the United States.
[Source - Indeed]
Which Tangible Skills you will learn in this Multisim course?
Candidates learn how to build a schematic and circuit performance through simulation and analyses. Understanding multi sim user interface, the creation of custom components, custom title blocks. Prepare yourself in manufacturing design, working with design constraints. Enhanced performance on transferring the design from multi sim to multi-board. Supporting design reviews with management at the design process, testing, and verifications of a complete design. You could be able to develop drawings and designs including circuits. At the end of the course, you will work with design variants. Multisim teaches analog, digital working concepts and power electronics throughout their curriculum.
Pre-requisites
Basic Knowledge of electronics, computers, PCB Layout theory, and experience with windows and advanced circuit design.
Experience with NI Multisim and Lab Windows and familiarity with C programming Language.
This course includes basics concepts and there is no steep learning.
This Multi sim training covers working with circuits, and circuits include combinational circuits and components like resistors, voltage, capacitors, gate concepts, etc.
There is no pre-requisite required but basics on electronic devices and microprocessors and microcontrollers are mandatory.
Target Audience
Users who need to learn simulation, capturing and circuits analyzation, Technical managers on circuit design Suite. Electrical and electronics engineering professionals, electronics professionals and technicians who build circuit design, analysis, and test.
New Multisim Designers, users wanting to learn how to simulate and give layout can be a Target Audience and Ph. D holders who would like to simulate their circuit works simply can take up this course.
Multi Sim is easy to learn and candidates who are interested to work with circuits can prefer this training. New developers keen to learn electronics circuits and anyone having a logical background in electronics and circuits can be a target audience.
Multisim Training Course FAQs
---
How this Multisim training course helps business problems?
The business problems are rectified using NI Multisim with the help of circuit design. The added advantage is it gives a clear accurate circuit diagram and saves money.
What are the key benefits of taking this Multi Sim training?
The professionals from the R&D Department, scientists and engineering graduates who are knowledging the challenges in the real world to develop and deliver their solutions to the outside environment can learn this Multi Sim course.
 What are the system requirements needed to learn Multisim training?
You need Windows 7, Vista 64 bit and simulate software.
How Long it takes to complete this training?
Altogether it takes 6 hours to complete this easy course with lifetime validity Access.
What is the best thing about Multi Sim Training?
They provide better insights with the advanced circuit design courses with spice Simulation tools which provide an accurate result.
What are the advantages of taking Multi Sim training through EDUCBA?
As Multi Sim is a National instrument no much training institute prefers to take up this course to train educators. EDUCBA has well-qualified instructors to teach this training- A powerful standardized tool used in designing circuits, prototyping and testing electronic circuits.
Sample Preview
---
Career Benefits
You could find a lot of opportunities in Electronics fields. Everyday jobs related to multi is been added daily in jobs careers. Electronic engineers having experience in hardware and design engineer taking up this certification can see higher career growth in multi simulation projects. For a skill level architect, you have proficiency in designing and deployment. Having multi sim training certification by understanding core features and functionality one can become a developer in the digital electronics circuits domain. This Multisim training certification helps to inspire confidence levels to work in the National Instruments sectors.
Also, you can customize your career path in programming expertise. Also, it enhances the student's preparedness for careers. Multisim provides specialized features virtual measurements to visualize circuit so that students can explore their work in the laboratory.   This certification is extremely challenging for Electronics Hardware engineer, Analog design engineer, Embedded System Engineer to work in the organization.
Multisim Course Reviews
---
MultiSim Course was amazing
This Multisim training is good for academic teaching as they trained to design real-time aspects. Most of the course is helpful to process signals and to measure any sensors using simulation. I strongly recommend this course to starters and android developer. You will be prepared to get basic knowledge on the IOS app. This was an excellent course which I feel will be useful for the students in academic and professionals in the electronics domain. The software package used here is easy to use, flexible, high in quality.
Sumaira Parikh
Thoroughly enjoyed
I enjoyed learning this Multisim course and it's a good starting point too. This training gives a good practical introduction on working with circuits by placing resistors, diodes, batteries in just one single click and drag and drop. Most students from electronics backgrounds and digital electronics can grasp easily even It doesn't require any prior knowledge on it so computer graduates can also take up this training. During these courses, we can learn schematic drawings circuits with fun using basic gates, diodes, etc.
Munira Lokhandwala