MS SQL Training
10 Online Courses
31+ Hours
Verifiable Certificate of Completion
Lifetime Access
Microsoft SQL Fundamentals

2h 44m

Transact-SQL and Database

3h 02m

SQL Table Creation

3h 28m

SQL Server and Indexes

1h 09m
Offer ends in:
₹6999
₹1999965% Off
Skills you will master
RDBMS
ER Model
Normalization
SQL Server
SQL Language
Managing Database
Creating Tables
Datatypes
Data Integrity
Indexes
Views
Triggers
Cursors
T-SQL
SSIS
Online MS SQL Training
This MS SQL Training Course includes 10 comprehensive SQL courses with 31+ hours of video tutorials and Lifetime Access. It is an amazing collection of practical and hands-on learning of the most updated training programs and projects in the area of MS SQL Server and its application. You will also get verifiable certificates (unique certification number and your unique URL) when you complete each of the 10 courses. This MS SQL Server training will help you learn practice labs in SQL server, writing queries, create your own tables and perform various operations in SQL.
About MS SQL Training Course
---
| | | |
| --- | --- | --- |
| Course Name | | Online MS SQL Training Course Bundle |
| Deal | | You get access to all 10 courses bundle. You do not need to purchase each course separately. |
| Hours | | 31+ Video Hours |
| Core Coverage | | Install MS SQl, practice labs in SQL server, writing queries, create your own tables and perform various operations in SQL. |
| Course Validity | | Lifetime Access |
| Eligibility | | Anyone who is serious about learning MS SQL Server |
| Pre-Requisites | | Basic knowledge of SQL |
| What do you get? | | Certificate of Completion for each of the 10 courses |
| Certification Type | | Course Completion Certificates |
| Verifiable Certificates? | | Yes, you get verifiable certificates for each course with a unique link. These link can be included in your Resume/Linkedin profile to showcase your enhanced data analysis skills |
| Type of Training | | Video Course – Self Paced Learning |
| Software Required | | .Net Framework, MS SQL Free to download |
| System Requirement | | A complete requirement has been listed on this Microsoft link |
| Other Requirement | | Speaker / Headphone |
Online MS SQL Training Curriculum
---
In this section, each module of the MS SQL training is explained briefly:
| | | |
| --- | --- | --- |
| Sr. No. | Course Name | Course Description |
| 1 | Microsoft SQL – SQL Server and Indexes | This MS SQL server training deals with Assignments on SQL Server, create database practical examples, creating, altering, and inserting data in the table, selecting records using built-in functions, practical assignments, using constraints in tables – identity, creating indexes, String functions, creating composite indexes, Date Functions, Query Assignments. |
| 2 | Microsoft SQL – Creating Tables | Creating tables and using data types, data types in SQL Server, creating table and column nullability, default definition and identity property, Introduction to data integrity, introduction to indexes, types of indexes. |
| 3 | Microsoft SQL – Indexes and Views | Maintaining indexes, online index operations, a degree of parallelism, locking option, lock escalation, indexes, implementing views, partitioned, distributed, updatable partitioned views, creating a view and guidelines, dropping a view, additional examples, case statement joins, left outer joins, cursors, understanding cursors, managing views. |
| 4 | Microsoft SQL – Transact SQL and Database | This MS SQL training would deal with Transact SQL language, SQL features, and variables, Transact SQL language, creating and managing a database, accessing data from a database. |
| 5 | Microsoft SQL – Stored procedures | Introducing stored procedures, Practical examples, additional examples, more about stored procedures. |
| 6 | Microsoft SQL – Triggers | Introduction to triggers, Additional examples on Triggers. |
| 7 | SSIS – SQL Server Integration Services | In this MS SQL course Introduction to SSIS, more details on SSIS, use functions, use of aggregate data transformation support, Audit, using different functions, Data Viewer, how to use data viewer using Column, Grid, Histogram, Scatter, more use on functions, fuzzy lookup, Pivot Data transformation. |
| 8 | Microsoft SQL – The Fundamentals | RDBMS concepts, Introduction to the database, what are database systems, database models, data modeling, entry relationship, normalization, relational operators,  ER Model and normalization, Overview of SQL Server. |
| 9 | T SQL – Beginners | Introduction to SQL, Data type, Numeric data type, DateTime and Character Data Type, Unicode and Binary Data Type, Operators, Arithmetic, logical operators, the concept of a query, Use of IN operator, Functions, String functions, System functions, security, Select Query, Group by and having. |
| 10 | T SQL – Advanced | Introduction to Join, Outer joins, self-join, intelligent joins, Stored Procedures, user-defined functions, stored procedures with parameters, user-defined functions, inline table-valued functions, multi-statement table valued functions, Views, Triggers, Cursors, Interview Questions on Transactions, Differences, Delete and truncate, SQL and PLSQL, check constraint, implicit and explicit transaction, table variable in SQL server. |
---
Certificate of Completion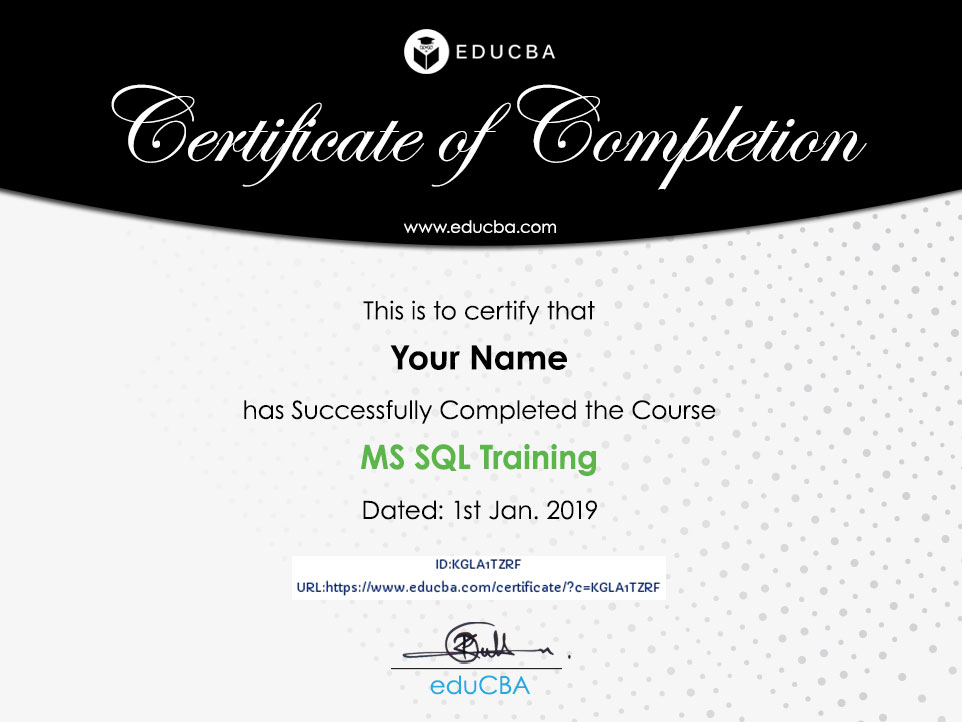 ---
What is MS SQL Server?
MS SQL (Microsoft – Structured Query Language) is an RDBMS (Relational Database Management System) developed by Microsoft corporation. It was initially released in the year 1987. It supports different operating systems such as Microsoft Windows, Linux etc. it is available in different languages. It is licensed under proprietary software version. It was purely written using C and C++ programming languages. There are different editions available for the Microsoft SQL Server. The several editions are such as Standard, Enterprise, Web, Workgroup, Express, Business Intelligence. It supports different features such as storing, retrieving and managing the data in database.
The MS SQL Server is platform dependent and supports both GUI based and command based operations. It can be used to create several databases, and maintain them. The types of SQL Server components are Workstation components and Server components. Several number of instances can be created by using MS SQL Server.
What tangible skills will I learn from this MS SQL Training?
The skills that are obtained after completion of this training are RDBMS, ER Model, Normalization, SQL Server, SQL Language, Managing Database, Creating Tables and SSIS etc.
This MS SQL training comprises of several chapters under each course and several modules under each chapter that are present in course curriculum are Datatypes, Data Integrity, Indexes, Views, Triggers, Cursors, T-SQL and many databases or its scheme development tools and frameworks.
The other skills those can be obtained upon completing this training are Database schema creation, database management, upgrading activities and many other database server admin related concepts etc.
The course also contains a set of tangible skills which are RDBMS core concepts, SQL queries, schema creation, instances creation and DB triggers.
This MS SQL training course is very useful for the prospective DBMS Developers, Database admin, SQL Developer, Database Developer, Database Development, SQL Engineer etc.
Pre-requisites to MS SQL Training
---
To sustain in career as a Database Engineer / Database Admin / SQL Developer: The MS SQL training does not mandate any prerequisites in order to choose this training. This training can be opted by any student or learner or professional to acquire knowledge on core concepts of database and its development or SQL programming, SQL tools, database development process using MS SQL etc. All the learners who are interested to learn the Database concepts like database management processes and SQL queries, SSIS services, Database schemas, Database instances creation etc. using different versions or editions of database softwares can opt for this course and are also recommended. The basic core concepts of database design or SQL querying or database core concepts are essential and required to learn the concepts in this course but are not mandatory. This core knowledge on database concepts or Structured Query Language or RDBMS concepts and hands-on experience in the Database Server area is an advantage.
Knowledge in SQL or RDBMS or SQL Server Tools: Any basic knowledge or experience in the areas of Database or Database administration or management or DBMS development / data operational or management tools is an added advantage to learn the contents in the MS SQL training contents. This course also has many advantages on learning the concepts such as Database optimization, maintaining schema, handling large data operations, operations of multiple queries on complex SQL queries is an added benefit and also including the database management tools, techniques and different server editions will be of greater benefit and also a foundational concept to master the core concepts in reference to the MS SQL Server.
Target Audience for this MS SQL Course
---
Computers Science or Engineering Students: All the students who belong to Computer Science filed in their Bachelor's degree course can choose this MS SQL training. All the learners who are much interested and having knowledge on Database concepts or Database administration or Database related tools can opt for this course. This MS SQL training is an added advantage to enhance the learners' career or profession in any Software Engineer position or Database developer position with many benefits to their career. This MS SQL training is well suggested to all the learners who are keen in learning core concepts related to Database. MS SQL training is articulated in such a way that the career of the learners can be advanced to a new level in order to secure better opportunities.
Database Admin or SQL Developer or Database Architect: The learners of this All MS SQL training will be able to learn several concepts of Databases or MS SQL Server concepts, technologies, different data plugins and tools, several database tools that can be integrated with MS SQL Server, SSIS Services, and techniques from the contents of this course which further adds a lot of benefits to the learners' career as a Database Engineer, Database Architect, SQL Developer, Software Engineer, Data Analyst, MS SQL Server Developers, System Engineer, SQL Server Developer, Software Engineer, SQL Server Database Administrator, Software Developer, SSIS Developer, Team Leader, Database Architect etc. This course can be chosen to secure better career opportunities in the area of Database or SQL or MS SQL Server.
Bachelor's or Master's Degree in Engineering or Science: Any Bachelor's Degree holder or Master's Degree holder in Science or Engineering or any technical field can choose this Edu CBA – MS SQL Training course to become a Technological Database architect or Software Engineer or SQL Developer in any Database Admin or development related roles in the larger companies.
MS SQL Training FAQ's- General Questions
---
Is this MS SQL Training really worth to buy?
Yes, Any Database Developer or SQL Developer or Database Admin or SSIS Developer prospective Technical Database Engineer who are willing to learn the database concepts and master SQL knowledge and querying concepts can choose this course which is very worth for better career.
Without having any knowledge or experience in Computers or Databases concepts and techniques, is this MS SQL Training a good choice for me?
YES, this MS SQL Training is a good choice for your profession to consider. This course can be easily learnt and does not have any pre-requisites of computer or database related concepts. Anyone who is very much interested and keen to learn the database concepts and tools can choose this course.
Is this MS SQL training course valuable and worth for my profession or future career?
Yes. this course gives a good and value added content in order to gain some good knowledge for your profession or future career in terms of the database core concepts and Database administration and Development to the career along with some verifiable certifications from Edu CBA Academy further generating more benefits in obtaining further important technical roles in career.
Is this an apt course for learning all the database related concepts and tools to prepare for an interview or to write any professional certifications?
Yes, this is an apt and good course for learning the latest database concepts and SQL core concepts and also to prepare for any interview or professional certifications. Any further knowledge on database concepts or RDBMS or SQL concepts or querying language or database development is recommended that further adds benefit on learning the contents of this course. This MS SQL Training needs a minimum of 31+ hours to complete.
Career Benefits of this Training on MS SQL
---
There are many career benefits upon completing this MS SQL training course and its concepts which are mentioned as below:
This MS SQL training course is a package of 10 online courses for the database technologies such as Microsoft SQL Server, database development tools for the data operations and handling applications using database management tools and related technologies, and its concepts with the hands-on content.
Any SQL Developer or Database Developer or Database Engineer can opt for this All MS SQL training course in order to learn the latest database or SQL concepts and database technological tools along with its features and advanced concepts to get the career advanced to a next level such as Database Architect, Database Administrator or MS SQL Server Admin etc.
There are also other benefits to a career upon choosing this MS SQL training course are such as the MS SQL training course certification which is a part of the learners' profile as a verifiable qualification.
MS SQL Training Testimonials
---