Learn from Home Offer TAKE THIS BUNDLE
MACHINE LEARNING Course Bundle - 57 Courses in 1 | 32 Mock Tests
220+ Hours of HD Videos
58 Courses
32 Mock Tests & Quizzes
Verifiable Certificate of Completion
Lifetime Access
TAKE THIS BUNDLE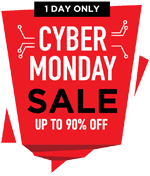 * One Time Payment & Get Lifetime Access
What you get in this MACHINE LEARNING Course Bundle - 57 Courses in 1 | 32 Mock Tests?
220+ Hours
58 Courses
Mock Tests
Course Completion Certificates
Lifetime Access
Self-paced Courses
Technical Support
Mobile App Access
Case Studies
About Machine Learning Training in Kolkata
| | |
| --- | --- |
| Course Name | Machine Learning Training in Kolkata |
| Deal | You get access to all videos for the lifetime |
| Hours | 220+ Video Hours |
| Core Coverage | Machine learning using Python, Deep Learning, Data Science with R, Face Detection in Python, Bayesian Machine Learning, Business Intelligence, Artificial Intelligence, Projects on Machine learning. |
| Course Validity | Lifetime Access |
| Eligibility | Anyone serious about learning Machine Learning and wants to make a career in this Field |
| Pre-Requisites | Familiarity with at least one programming language is recommended |
| What do you get? | Certificate of Completion for each of the 58 courses, Projects |
| Certification Type | Course Completion Certificates |
| Verifiable Certificates? | Yes, you get verifiable certificates for each58 course, Projects with a unique link. These link can be included in your resume/Linkedin profile to showcase your enhanced skills |
| Type of Training | Video Course – Self Paced Learning |
| Software Required | None |
| System Requirement | 1 GB RAM or higher |
| Other Requirement | Speaker / Headphone |
Machine Learning Training in Kolkata Curriculum
---
Machine learning is one of the most popular career choices in this modern era. This training is for those engineers who want to be a pro in machine learning concepts and algorithms. In this year machine learning engineer jobs are declared as the best job with an increase in job roles and their salaries. In this training various machine learning modules are discussed using data sets and suitable algorithms.
As the definition itself describes it increases the machine performance by making machines learn themselves by training provided to machines, at the same time it reduces the human efforts for analyzing the data.
There are many other sub career paths that one can go by completing this training which is popular such as machine learning engineer, Data scientist, Natural Language Processing Scientists, machine learning designer, etc
In this training, you will get to learn many concepts such as machine learning using Python, Deep Learning, Data Science with R, etc.
This training provides enough fundamental concepts of machine learning and suitable examples with hands-on practice.
One can be able to apply suitable algorithms and main concepts of machine learning to analyze data and build project models.
Overall one is provided with hands-on projects in this Machine Learning Training in Kolkata related to machine learning concepts and understanding concepts practically.
In this training, you will have 17 Online Courses, 18 Hands-On Projects, 140 + Hours of training, Verifiable certificate of completion of this course, and Lifetime Access to this portal.
Machine Learning Training – Certificate of Completion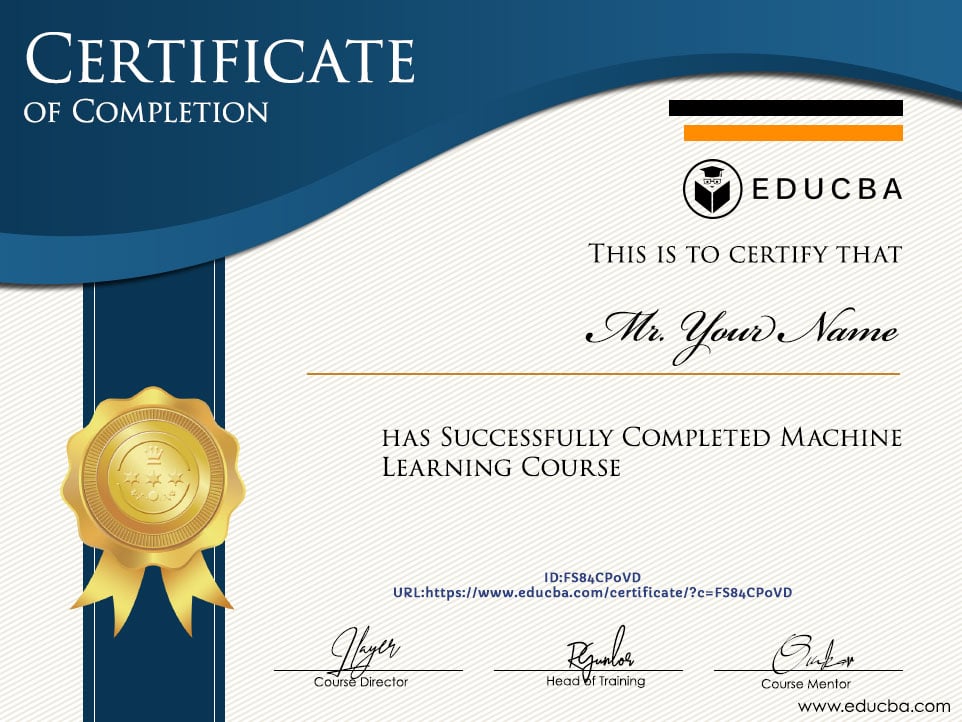 What is Machine Learning?
Machine learning is that the subject area which is part of artificial intelligence one in every of the appliance of computer science that offers computers the potential to mechanically learn while not being expressly programmed. It offers the computers that create it a lot of just like humans. The machine learning model is that output generated when you train your machine learning algorithmic rules with information.

Industry Growth Trend
The machine learning market is expected to grow from USD 1.03 Billion in 2016 to USD 8.81 Billion by 2022, at a Compound Annual Growth Rate (CAGR) of 44.1% during the forecast period.
[Source - MarketsandMarkets]
Average Salary
Average Salary
$141,029 per year
The average salary for a Machine Learning Engineer is $141,029 per year in the United States.
[Source - Indeed]
Which Skills will you learn in this Training

?
There are many different skills you will learn throughout this Machine Learning Training in Kolkata. Few of them are mentioned below:
In this training, you learn the programming concepts but understanding the fundamental concepts like theory concepts is also very important which is done at the beginning of course.
This Machine Learning Training in Kolkata introduces business intelligence which is not directly related to ML but it bridges the gap between BI and ML. There is another module in this section that introduces BIP (Business Intelligence publisher) using SIEBEL such as data visualization.
In this training, machine learning with R using R studio. R is the most preferred language for ML. In this R programming module, it includes data manipulation, regression, KNN, decision tree, feature extraction, etc. This includes complete concepts of classification on given or real data sets.
This training you can learn artificial intelligence (AI) using ML which covers Tensorflow and its applications such as representation, state-space search, heuristic search, logic and reasoning, rule-based programming, etc.
In this training, you will learn AI with python which includes detailed concepts on face detection.
In this training, the most important skill is ML using python which includes AWS data sources, values, hands-on model development using python packages, evaluation matrix, regression, and classification in python.
In this training, you will also learn skills related to Natural language processing and deep learning.
Pre-requisites
Machine learning is one of the vast subjects and is not just one topic; it is a combination of many sub-topics. In this Machine Learning Training in Kolkata, there are programming prerequisites, where students who do not meet these pre-requisites can take the bridge course.
Students need to be master in the basics of mathematical concepts like calculus, differential equations, mathematical statistics, algorithm analysis, optimization, linear algebra, etc. Students do not need to have any advanced knowledge in math as this is not the primary pre-requisite for ML. But math is important if doing research or want to be an expert in ML.
Beginners whose goal is to work as ML engineers or the experts in ML should know data science, deep learning, artificial intelligence, natural processing.
Students should also have some programming knowledge such as python, R programming using R studio.
One of the much-needed requirements is the students should have knowledge of data analysis which is very important as to which algorithm to be applied to retrieve the user data for processing. Even data visualization and data wrangling are needed to perform by gathering data for analysis.
Target Audience
Machine learning training is a new era technology fused with data science including algorithms on regression and classifications for predictive data analysis.
Interesting students or professionals who want to seek a career in the machine learning area.
Students or fresh graduates of any branches who have basics of ML and want to have a future career as data scientists or ML engineers.
Working professionals who already are familiar with this subject but want themselves to promote to a higher role or want to explore more in this subject. Professionals like data analysts can also go for this Machine Learning Training in Kolkata to upgrade their skills.
Machine Learning Training in Kolkata – FAQ's
---
What kinds of projects are included in this training?
In this training, we include projects on Shipping and Time Estimation, Supply chain demand trends analysis, projects on predicting real data sets, Fraud detection in credit card payments, logistic regression using SAS stat, etc.
How can beginners take this Machine Learning Training in Kolkata?
As ML is in high demand, the beginners need to have the basic knowledge of ML and math. This training provides bridge courses to learn the fundamentals of data science, python, and statistic analysis for data science.
Who can I contact to know more about this Machine Learning Training in Kolkata?
Students need to sign up first and can get access to the course portal where they find the course details or they can even send a query through [email protected]
Which programming skills are required to know to start with this Machine Learning Training in Kolkata?
Students should have basic knowledge in programming languages like C, C++, Java, python are fine.
Why should you take up the Machine Learning Training Kolkata?
As we know ML is taking over the world in this digital era, it is very useful to many organizations across industries to understand, learn, and predict the data. This training is required as modern challenges are highly advanced and problems related to rich data sources to build models can be resolved.
So there are many job roles available in Kolkata. If you take up this Machine Learning Training in Kolkata you can be exposed to many jobs across Kolkata which is one of the developing cities in the corporate sector.
What is the Machine Learning market trend in Kolkata?
As per the research, Kolkata is the largest exporter of data analysis in other cities. Kolkata is one of the best places for a data analytics job. There are many small and big companies hiring freshers as data scientists and analysts. Top-rated companies in Kolkata like Abzooba, Genpact Analytics, Sibia Analytics, Rebaca Analytics, etc. This training can be helpful as machine learning is one of the trending technologies for data science and artificial intelligence jobs not only in Kolkata but the whole world this subject is very much in demand.
Sample Preview
---
Career Benefits
Artificial intelligence is a future technology as machine learning is one of its applications that is highly in demand and used in wide sectors like health care, business, education, finance, etc. So one can have a great future in this area by undergoing this training.
Now a day's most top-rated and leading organizations are seeking professionals in machine learning and offering higher wages. So thus this training is needed as this is one of the hottest jobs in this digital era.
Many roles are offered to the certified ML engineers such as data analysts, data scientists, NP analysts, as well as ML engineers, etc. This training can help many students and professionals to get higher roles or posts.