Learn from Home Offer TAKE THIS BUNDLE
IOT Course Bundle - 7 Courses in 1
43+ Hours of HD Videos
7 Courses
Verifiable Certificate of Completion
Lifetime Access
TAKE THIS BUNDLE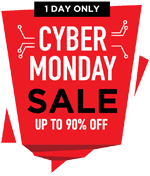 * One Time Payment & Get Lifetime Access
What you get in this IOT Course Bundle - 7 Courses in 1?
43+ Hours
7 Courses
Course Completion Certificates
Lifetime Access
Self-paced Courses
Technical Support
Mobile App Access
Case Studies
About IoT Training in Hyderabad
| | |
| --- | --- |
| Course Name | IoT Training in Hyderabad |
| Deal | You get access to all videos for the lifetime |
| Hours | 43+ Video Hours |
| Core Coverage | IoT Automation with ESP8266, Python for IoT Tutorials, Advanced Python for IoT & IoT based Data analysis, Raspberry Pi for Beginners. |
| Course Validity | Lifetime Access |
| Eligibility | Anyone serious about learning IoT Automation and wants to make a career in this Field |
| Pre-Requisites | Basic knowledge of data and analytics |
| What do you get? | Certificate of Completion for the course |
| Certification Type | Course Completion Certificates |
| Verifiable Certificates? | Yes, you get verifiable certificates for each7 course, Projects with a unique link. These link can be included in your resume/Linkedin profile to showcase your enhanced skills |
| Type of Training | Video Course – Self Paced Learning |
| Software Required | None |
| System Requirement | 1 GB RAM or higher |
| Other Requirement | Speaker / Headphone |
IoT Training in Hyderabad Curriculum
---
IoT Automation with Esp8266 with Projects
This IoT Training Course will cover the fundamentals of IoT and Automation which consists of basic topics such as the introduction of IoT along with its architecture and various components, Characteristics of IoT, and its technical scope. Also, we learn about What are the impacts and applications of IoT in the real world, Options available for Software and OS, Hardware which is needed for IoT and its in-depth understanding, Functional Schematics. In this IoT Training in Hyderabad module, you will also get hands-on experiences of practicals such as how delivery between networks and physical components works, how SMS, email, and website and applications such as Google, Youtube, Whatapp works on the networks. There are physical projects that are also included for your complete understanding of the system which is as follows LED installation, Lighting & Blinking, Input Button, serial monitor debugging, Internet connection, client-server model, I2C interaction devices, Open Weather Map pressure, etc. Introduction and components.
This module shows us how to make smart IoT systems from Python. This module consists of basics of Python and programming, python libraries, Data types in python, Function and variables types, how to initialize classes and objects in Python, casting as well as string operations. We will also learn how to use comparative operators, python looping in Linux, circuits and strings, File handling in python. OOP concepts, modules, decorators, and packs all other required IoT python skills are included.
Advanced Python for IoT & IoT Based Data Analysis
In IoT Training in Hyderabad, you are going to study Raspberry Pi which is a popular hardware tool for not only beginners and but professionals also, and this module deals with these significant topics such as how to implement Python with Raspberry pie in detail with real-life projects.
IoT Raspberry Pi with Projects
In this module, we will cover topics like raspberry Pi 2 and 3 which is also called a The Board for IoT, it's Features, History and Reception, Description of Hardware, along with its Functional Schematics. This module also focuses on how to configure raspberry pi, Variable development, Use of Serial Communication in Raspberry Pi, Remote Logging, networking basics, tweet-controlled LEDs as a mini-project. Also, there are various high demanding projects included such as Accessing the command line interface of the system i.e. terminal and desktop for projects, input Switches Interfacing, Interfacing of Bluetooth, and sensors such as IR sensors, Temperature sensors, Ultrasonic sensors, Humidity sensors, etc. Configuration and application of Wifi over Raspberry Pi, development and maintenance of web server, Web page hosting with the help of Raspberry pie Configuration of a USB webcam, Controlling physical devices through Web Server, Gathering and communication of data from various devices.

MODULE 1: IOT Course Fundamentals

| Courses | No. of Hours | Certificates | Details |
| --- | --- | --- | --- |
| IoT Automation with ESP8266 with Projects | 6h 59m | ✔ | |
| IoT Raspberry Pi with Projects | 11h 19m | ✔ | |

MODULE 2: Projects based Learning

| Courses | No. of Hours | Certificates | Details |
| --- | --- | --- | --- |
| IoT Raspberry Pi for Programmers with Projects | 2h 24m | ✔ | |
| AWS IoT Case Study - Smart Parking Project | 5h 5m | ✔ | |
| IoT Cloud - Dweet and Freeboard | 53m | ✔ | |

MODULE 3: Python for IOT

| Courses | No. of Hours | Certificates | Details |
| --- | --- | --- | --- |
| Python Bootcamp | 10h 33m | ✔ | |
| Advanced Python for Data analysis | 6h 28m | ✔ | |
IoT Training – Certificate of Completion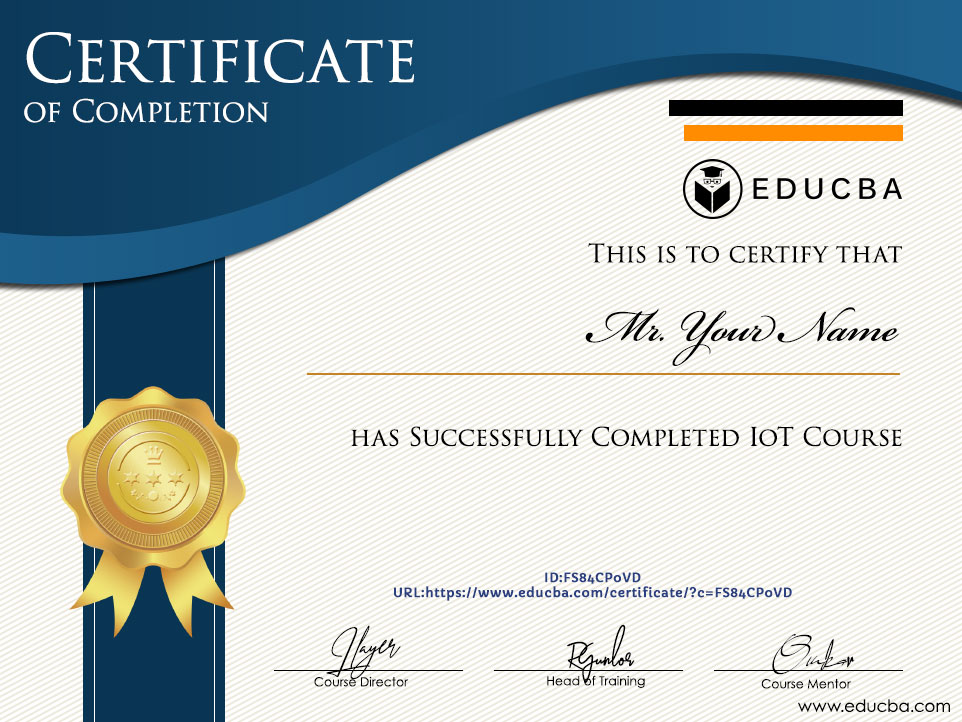 What is IoT?
The Internet of Things (IoT) is a network of devices that, without human intervention, can sense, collect, and transfer data over the Internet. Internet of Things (IoT) is a system of internet-based connection to physical objects. The ' thing ' in IoT Training in Hyderabad may include a person with a heart monitor or a car with embedded sensors, i.e. objects with an IP address allocated and capable of collecting and transmitting information over a network without handling or interference. The software incorporated in the objects allows it to deal with internal or external circumstances, which in turn affects the decisions taken.

Industry Growth Trend
The IoT professional services market is projected to grow from USD 79.0 billion in 2018 to USD 189.2 billion by 2023, at a Compound Annual Growth Rate (CAGR) of 19.1% from 2018 to 2023.
[Source - MarketsandMarkets]
Average Salary
Average Salary
$123,194 per year
The average salary for an IoT Engineer is $123,194 per year in the United States.
[Source - Indeed]
Which Skills will you learn in this Course

?
You will learn IoT skills which are most required when getting a job in this field and to build a career which is as follows:
You will learn how to configure the IoT board i.e. Raspberry Pie to other languages such as python and Linux as well as cloud computing platforms, how to use the command-line interface for using this, how to manage security and compliance. You will also understand the architecture, services of IoT, migration of those services through the virtualization. In this way, IoT Training in Hyderabad will help you to enhance your proficiency level of the IoT for developing and deploying robust real-life projects and applications.
Pre-requisites
It will be great if you have an understanding of the basic concepts related to Operating Systems, like Windows, Linux, etc. Hence Knowledge of the Operating Systems can be an added advantage.

Before learning the IoT the student must be familiar with prior knowledge of Python, Java, or C concepts. However prior Knowledge of any one of the programming knowledge is a must in IoT Training in Hyderabad. Prior understanding of Raspberry pie is advantageous but not mandatory.

Understanding of Linux operating system

and its command-line interface is also more than enough.

Experience with Single Board Computers (SBC), microprocessors or microcontrollers is also desirable.

Also, The important prerequisites are interest in the subject and a little bit of patience.
Target Audience
Anyone keen to learn and expertise in the IoT system and who has a prior understanding of Programming languages and hardware basics without much difficulty can learn IoT.
Students who have a qualification background in engineering or technology background are suitable. A minimum of B. Tech is suggested. Candidates from bachelor courses such as BCA, B.Sc. Information Technology or B Sc in computer science, as well as MCA graduates, are also suitable.
Some intermediate level people who are familiar with the fundamentals of IoT and want to learn more about it must join IoT Training in Hyderabad. Anyone who wants to create added value to their current job as well as the company.
IoT Training in Hyderabad – FAQ's
---
How long does it take to complete this Internet of Things Course?
3-4 hours per week is recommended. Time to completion of IoT Training in Hyderabad may vary based on his or her schedule, but most learners can complete it in 1.5 to 2 months if they give 5-6 hours per day as it is a 44+ hours course.
Will there be a certificate given for the course?
Yes. This IoT course comes with a verifiable certificate that has a lifetime validity is issued to all those students who successfully pass the course along with the completion of projects.
Do I need to take this IoT courses in a given specific order?
We recommend taking the courses in the order presented, as teaching professionals designed each module in the course is built on the concepts from previous modules.
What is the period of certificate validation?
The certificate provided by us for this course has lifetime validity. Hence Updation of the certificates is needed. You can also take other advanced courses which will increase your knowledge as well as help you in career growth.
Would this Internet of Things training certification help me in my career advancement?
This Internet of Things course is consists of Python, Linux, Raspberry Pie, etc. which are highly demanding nowadays and also which will be also important in the future. So yes, doing the Internet of Things will surely help in your IT Career.
Why should you take up the Internet of Things training in Hyderabad?
Educba is one of the few IT education institutes in Hyderabad that has an Internet of Things training course. Educba experts are employed for this AWS training course. Educba institute is very highly ranked in Hyderabad and great for anyone who wants the best institute to learn the Internet of Things.
What is the Internet of Things market trend in Hyderabad?
Most of the leading companies nowadays prefer Internet of Things roles to get more automated technologies, security, and compliance for their business. And as top MNCs like TCS, L&T infotech, Cognizant, etc. in Hyderabad invest heavily in research and development for internet of things technologies and its numerous offshoots, this advancement in IoT technologies only increases every year. So there is a huge demand in IoT profiles in Hyderabad right now. So be ready for your dream job in the IoT field by taking this comprehensive course of IoT with Educba.
Sample Preview
---
Career Benefits
In IoT Training in Hyderabad, you will understand every concept of the Internet of Things training from the basic to advanced level as it will also help you to crack your interview. Taking this course, most of our fellow students have successfully positioned themselves in MNCs and various successful Startups. During interviews and job applications, those students who are focused and complete all projects performing great in their jobs.
Reviews
---
Internet of Things Course
Very effective and well-organized topics to provide such training, I thank EDUCBA to provide such a platform and facilitate online learning opportunities to one. I have gone through a couple of more courses and found all are well explained and the quality of the materials is amazing. Thanks, Educba.
Linked
Kumar Gaurav Jaiswal
IoT Automation
I am a technology enthusiast. I like to learn about different technologies. I am very much interested in making a career in digital technology. By completing this training has learned a lot about IoT. This has raised more curiosity in me. I would want to learn more about it to have an even better understanding.
Linked
R RAVI KIRAN
Amazing Internet of Things Course
I enrolled in this IoT course in June and since then I learned a lot about IoT. IoT is a fast-growing field and hence I wanted to learn it for better career prospects. Before this course I never used python and I learned it here only. Now, I can execute many IoT based applications using Raspberry Pi and Python. I am very confident that soon I will get a job in this field as well.
Mark
Great learning experience
This IoT based training course is awesome. I have a very wide syllabus which covers almost all the required things. The teaching style is very interesting and hands-on exercises and examples are industry-relevant. I am very happy with the course and I shall recommend it to everyone who wants to learn IoT.
Mathew
IoT Training Course
When I joined for this Internet of Things Course, I was not quite sure if it will fulfill my requirements or provide me with content that I was looking for. Because I am not very comfortable with online courses so I was not very sure. But after some hesitation, I joined and I was never more wrong in my life. This course was what I was looking for. I read many books on IoT, but this course is on another level. It teaches what I book can never teach. The classes are very fun to attend and teaching material is regularly updated. I recommend this Internet of Things course to everyone.
Joseph Stanley