Learn from Home Offer TAKE THIS BUNDLE
IOT Course Bundle - 7 Courses in 1
43+ Hours of HD Videos
7 Courses
Verifiable Certificate of Completion
Lifetime Access
TAKE THIS BUNDLE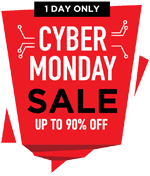 * One Time Payment & Get Lifetime Access
What you get in this IOT Course Bundle - 7 Courses in 1?
43+ Hours
7 Courses
Course Completion Certificates
Lifetime Access
Self-paced Courses
Technical Support
Mobile App Access
Case Studies
About IoT Training in Delhi
| | |
| --- | --- |
| Course Name | IoT Training in Delhi |
| Deal | You get access to all videos for the lifetime |
| Hours | 43+ Video Hours |
| Core Coverage | IoT Automation with ESP8266, Python for IoT Tutorials, Advanced Python for IoT & IoT based Data analysis, Raspberry Pi for Beginners. |
| Course Validity | Lifetime Access |
| Eligibility | Anyone serious about learning IoT Automation and wants to make a career in this Field |
| Pre-Requisites | Basic knowledge of data and analytics |
| What do you get? | Certificate of Completion for the course |
| Certification Type | Course Completion Certificates |
| Verifiable Certificates? | Yes, you get verifiable certificates for each7 course, Projects with a unique link. These link can be included in your resume/Linkedin profile to showcase your enhanced skills |
| Type of Training | Video Course – Self Paced Learning |
| Software Required | None |
| System Requirement | 1 GB RAM or higher |
| Other Requirement | Speaker / Headphone |
IoT Training in Delhi Curriculum
---
MODULE 1: IOT Course Fundamentals

| Courses | No. of Hours | Certificates | Details |
| --- | --- | --- | --- |
| IoT Automation with ESP8266 with Projects | 6h 59m | ✔ | |
| IoT Raspberry Pi with Projects | 11h 19m | ✔ | |

MODULE 2: Projects based Learning

| Courses | No. of Hours | Certificates | Details |
| --- | --- | --- | --- |
| IoT Raspberry Pi for Programmers with Projects | 2h 24m | ✔ | |
| AWS IoT Case Study - Smart Parking Project | 5h 5m | ✔ | |
| IoT Cloud - Dweet and Freeboard | 53m | ✔ | |

MODULE 3: Python for IOT

| Courses | No. of Hours | Certificates | Details |
| --- | --- | --- | --- |
| Python Bootcamp | 10h 33m | ✔ | |
| Advanced Python for Data analysis | 6h 28m | ✔ | |
IoT training is a recipe for not only computer science but has a mixed flavor of electronics and mechanical engineering. It doesn't mean that one needs to be proficient in all these 3 areas but should have inquisitiveness to learn more. Not only restricting oneself to a particular field but exploring agglomeration of different fields. Nowadays, it has become imperative to not only look for someone master in a particular field but have sound knowledge of other fields as well, so that one can develop a recipe to cater to solving problems for a larger group.
Similar to flavor required for excelling in a professional environment, our courses start from a scratch of imbibing flavor in a person and then incorporates all necessary ingredients to have a final perfect blend! To start with we have python tutorials for IoT, which will provide a basic understanding to start developing the taste of IoT. After completion of basic tutorials, we have advanced python for IoT and IoT based analysis. This will lay a strong foundation on analysis which is currently done in the industry and also help you understand how real-life problems are tackled in everyday business.
Next, we would start with IoT automation with ESP8266, which will provide look into basic microchip hardware problem tackling. ESP8266 is a Wi-Fi microchip that is low-cost having the capability of full TCP/IP stack. Next in line, we have an advanced level of a microprocessor, Raspberry Pi, which is for everyone to explore computing.
Along with theoretical knowledge, one would indulge in practical projects on Raspberry Pi and practical integration projects to help them apply theoretical knowledge into real-time problems.
IoT Training – Certificate of Completion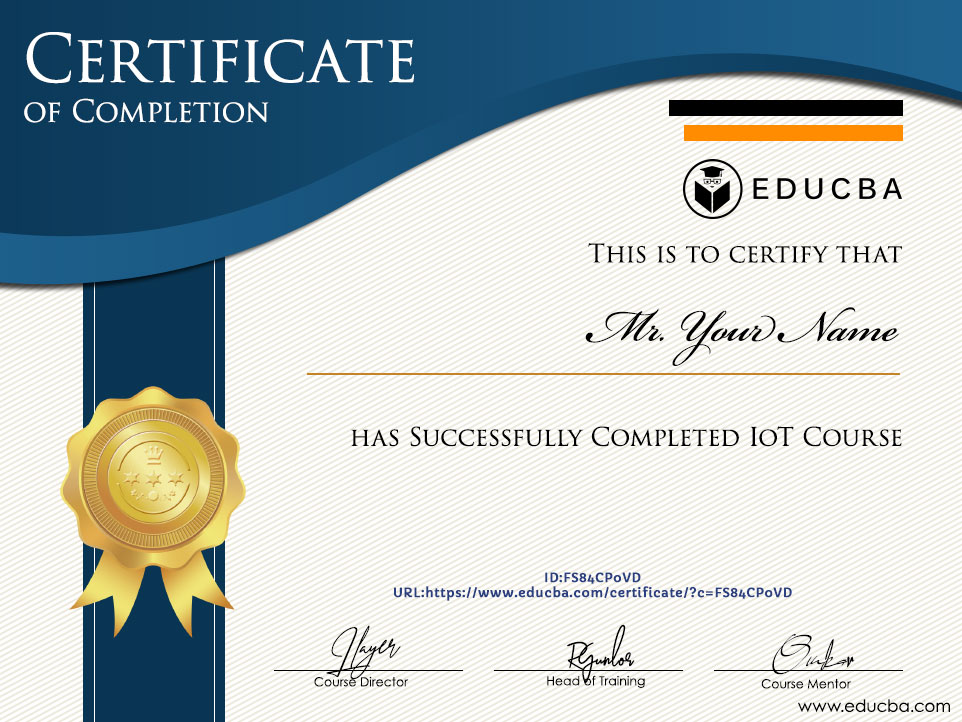 What is IoT?
Before we jump into what IoT is, let us look at why the term IoT is creating a revolution in the world. Using IoT, we are trying to build up space wherein all devices, termed as "things", is been connected through the network. This is turning out to be a giant network that will enable devices to talk to each other and pave the way to communicate to decide on themselves without any human interventions. This is the level of automation one is expecting from IoT. It is very similar to the communication channel of humans. We as humans communicate through vocal means, whereas devices will communicate through this giant network being made and allowing devices to be connected to it.
Let us look at a quote on IoT by a person, Kevin Ashton, who coined the term in RFID Journal
If this quote is to be understood in common language Kevin meant that, having computers that can know about things we as humans can do wonders. It can reduce unnecessary things like cost, e-waste, and many others. Kevin had an idea of converting computers to an intelligent system and try to make it behave like humans.
This quote gives us the pure essence of why IoT was developed, back in 2009, and has been growing since then. Devices connected through IoT can be anything that has built-in sensors that can collect data as a part of data acquisition and then process them into storage devices. This IoT helps us to not only look at internal states but interact externally to help in the decision-making process.
Starting from huge devices, for example, in a thermal plant which produces electricity, the sensors in turbines enables it to be an IoT device. To smaller devices like voice-controlled lights in a smart home which enables the device to understand the command of the user.

Industry Growth Trend
The IoT professional services market is projected to grow from USD 79.0 billion in 2018 to USD 189.2 billion by 2023, at a Compound Annual Growth Rate (CAGR) of 19.1% from 2018 to 2023.
[Source - MarketsandMarkets]
Average Salary
Average Salary
$123,194 per year
The average salary for an IoT Engineer is $123,194 per year in the United States.
[Source - Indeed]
Which Skills will you learn in this Course
?
For being an IoT developer one needs to have a different skillset and this course will entail you to imbibe those required skill sets to take on real-life challenges in today's world. This training will give a classic idea of business intelligence required for being an IoT engineer. This training will also look into security aspects as nowadays IoT is suffering from DDOS attacks. After training one can virtually think about how UI/UX will look and how it would impress customers.
The main skill of an IoT engineer is to have skill in hardware interference and have skills of an embedded engineer. This skill will be brushed up to perfection during our course. Also, skills on IP networking essential for IoT development will be taken up in this course in great detail. After completion of IoT Training in Delhi, you can design for data and have the ability to interpret data and derive meaning from that. This training will finally provide an essence of how machine learning or AI is used in daily real-life problems.
Pre-requisites
The way our courses are designed that enough theoretical and practical experience during the timeline of the course. But having a prerequisite will help in getting a deeper understanding efficiently.
Knowing C or Java programming language will enable you to have an upper edge during the coding portion of the training.
For people coming from non-technical, it is highly advised to have coding training before IoT training.
Knowing Linux based command-line interface (CLI) is a preferred skill during training.
It is an added advantage to have studied or worked with microprocessors and it would allow the learner to follow the intent of the process being followed for coding.

Solving of assignment by oneself and not take help from others.
Target Audience
As per our course curriculum, training of IoT is not intended for a particular community but intended for someone who wants to expand their horizon of knowledge. There are few prerequisites mentioned above which would make it easier for the learner to grasp quickly. Both freshers and working professionals would be benefitted from this course curriculum. If new to microprocessors one would need to put extra efforts during the course. But doing this, the fruit one would reap would be the sweetest! Not only that functional experts of IoT can also take this course to revise core concepts and keep theoretical knowledge up to date.
IoT Training in Delhi – FAQ's
---
Why should you take up the IOT Training in Delhi?
IoT training anywhere in India is equally rewarding, and the same for people in Delhi, EduCBA brings to you the most sought-after training after voicing success in other parts of India to equip you with all necessary tools to perform challenging jobs and provide a deep understanding of the topics. Just like cloud computing, this course will allow you to take a deep dive into all points of IoT.
What is the IoT market trend in Delhi?
As in the time, we write this, there are 2194 jobs available for IoT developers and immense internship opportunities. There are ~100 jobs opening every week. According to a recent report, IoT is predicted to surpass consumer space in India by 2020 and this is the best and exciting time to here in this field of IoT. IoT has the potential to present $12 billion where industrial IoT is expected to have the largest share.
How much time would be required to be invested in this course?
Our courses need the dedication to understand in-depth about the topic. The recommended time is 6 hours per week. But one is recommended to spend some quality time to read within the lines of the course and dig deep to understand clear!
Sample Preview
---
Career Benefits
With IoT Training in Delhi, we hope that you would get the required skillset to excel in your day to day real-life problems. This course will equip you with the necessary skills required for the most lucrative job market not only in your own country but abroad as well. The organization is on a hunt to find IoT engineers who can understand the network of how devices would be connected and also address several "growing pain" issues from operations and performance perspective. This course will build confidence in you to build your network of connected devices for an organization from scratch! Just for an estimate (according to indeed) the average salary of IoT engineers in the US is ~ $130K.
Reviews
---
Internet of Things Course
Very effective and well-organized topics to provide such training, I thank EDUCBA to provide such a platform and facilitate online learning opportunities to one. I have gone through a couple of more courses and found all are well explained and the quality of the materials is amazing. Thanks, Educba.
Linked
Kumar Gaurav Jaiswal
IoT Automation
I am a technology enthusiast. I like to learn about different technologies. I am very much interested in making a career in digital technology. By completing this training has learned a lot about IoT. This has raised more curiosity in me. I would want to learn more about it to have an even better understanding.
Linked
R RAVI KIRAN
Amazing Internet of Things Course
I enrolled in this IoT course in June and since then I learned a lot about IoT. IoT is a fast-growing field and hence I wanted to learn it for better career prospects. Before this course I never used python and I learned it here only. Now, I can execute many IoT based applications using Raspberry Pi and Python. I am very confident that soon I will get a job in this field as well.
Mark
Great learning experience
This IoT based training course is awesome. I have a very wide syllabus which covers almost all the required things. The teaching style is very interesting and hands-on exercises and examples are industry-relevant. I am very happy with the course and I shall recommend it to everyone who wants to learn IoT.
Mathew
IoT Training Course
When I joined for this Internet of Things Course, I was not quite sure if it will fulfill my requirements or provide me with content that I was looking for. Because I am not very comfortable with online courses so I was not very sure. But after some hesitation, I joined and I was never more wrong in my life. This course was what I was looking for. I read many books on IoT, but this course is on another level. It teaches what I book can never teach. The classes are very fun to attend and teaching material is regularly updated. I recommend this Internet of Things course to everyone.
Joseph Stanley