Learn from Home Offer TAKE THIS BUNDLE
INFORMATICA Course Bundle - 7 Courses in 1
This Informatica Training Course includes 7 courses with 47+ hours of video tutorials and Lifetime access. You will also get verifiable certificates (unique certification number and your unique URL) when you complete each of them. This Informatica training will help you learn Beginners and advanced Informatica, Teradata, Informatica, and DAC, Informatica Powercenter 9.X
TAKE THIS BUNDLE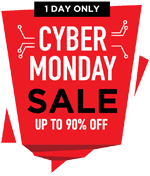 * One Time Payment & Get Lifetime Access
What you get in this INFORMATICA Course Bundle - 7 Courses in 1?
47+ Hours
7 Courses
Course Completion Certificates
Lifetime Access
Self-paced Courses
Technical Support
Mobile App Access
Case Studies
About INFORMATICA Course Bundle
---
Courses
You get access to all 7 courses, Projects bundle. You do not need to purchase each course separately.
Hours
47+ Video Hours
Core Coverage
Beginners and Advanced Informatica, Teradata, Informatica, and DAC, Informatica Powercenter 9.X
Course Validity
Lifetime Access
Eligibility
Anyone serious about learning Informatica and wants to make a career in Data Analysis
Pre-Requisites
Basic knowledge of SQL
What do you get?
Certificate of Completion for each of the 7 courses, Projects
Certification Type
Course Completion Certificates
Verifiable Certificates?
Yes, you get verifiable certificates for each course with a unique link. These link can be included in your resume/Linkedin profile to showcase your enhanced data analysis skills
Type of Training
Video Course – Self Paced Learning
Software Required
Informatica Powercenter Express edition is free
System Requirement

Windows 7 (32-bit or 64-bit)
Minimum disk space required is 500 MB
64 bit 2010 VC++ libraries should be installed on the windows machine
One should have access to the webserver that runs the Informatica Cloud application.
Should have network connectivity or internet access to sources and targets
INFORMATICA Course Bundle Curriculum
---
In this section, each module of the Informatica training is explained briefly:

MODULE 1: Informatica Essentials Training

| Courses | No. of Hours | Certificates | Details |
| --- | --- | --- | --- |
| Informatica for Beginners with Projects | 11h 46m | ✔ | |
| Informatica Advanced with Projects | 8h 15m | ✔ | |
| Informatica 9.6.1 | 3h 36m | ✔ | |
| Informatica Powercenter 9.X | 4h 25m | ✔ | |
| Online Informatica Training: Beginners | Informatica ETL Tools Guide | 2h 11m | ✔ | |

MODULE 2: Advanced Techniques in Informatica

| Courses | No. of Hours | Certificates | Details |
| --- | --- | --- | --- |
| Informatica and DAC Training | 13h 46m | ✔ | |
| Teradata and Informatica | 6h 24m | ✔ | |
---
Certificate of Completion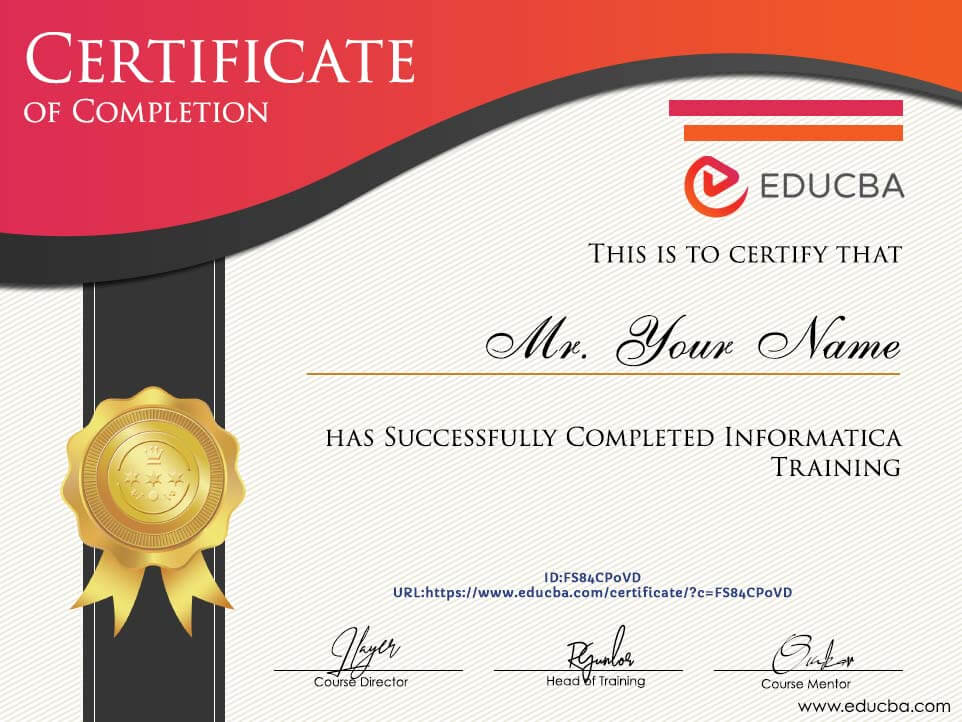 ---
What is Informatica?
Informatica is a data integration/ETL tool that gathers data from various sources and loads it into various targets. It's a tool that helps data to move from one place to another, without keeping anything to itself.
Informatica in actual refers to the Informatica PowerCenter tool for ETL. The various editions for the PowerCenter are mentioned below:
Standard edition
Advanced edition
Premium edition
Users can opt for a specific edition based upon the requirement and need. Informatica offers Web services integration, real-time data integration, Business to business data integration (B2B), Big data edition, Master Data Management and connectors for social media, etc. The cloud service of Informatica eases out the customers from dealing with infrastructure setup.

Industry Growth Trend
The global Infrastructure Solution market and Integration Services is expected to grow  from $615.30 billion in 2014 to $1196.93 billion in 2019 at the CAGR of 14.23% from 2014 to 2019.
[Source - MarketsandMarkets]
Average Salary
Average Salary
$55 per hour
The average salary for an Informatica Developer is $54.92 per hour in the United States.
[Source - Indeed]
What tangible skills will I learn from this Training?
Today top-notch companies are relying on ETL tools like Informatica because of the exponential growth of data. And hence they are in dire need of good Informatica developers which can support and build highly reliable applications end to end (processing gigs and terabytes of data). Below mentioned are some capabilities of Informatica, that you will learn in through this Informatica training course as well.
Handling Dirty Datasets: Knowing Informatica in and out, will make you capable of handling dirty data (unstructured data). With the rise in the complexity of data and an increase in business demands, it becomes necessary to handle a variety of data. One doesn't need to receive every time a structured data. Knowing Informatica will help you massage varieties of data.
Data Virtualization: After taking this Informatica training, one will be able to create a data virtualization layer that hides and handles the complexity of accessing underlying data sources.
Complex Event Processing: This course will help you get the skills of processing complex events with real-time alert and insights information to operate an inefficient way.
Ultra-messaging:  Low latency messaging middleware products as well as the application can easily be handled once you learn about Informatica from this Informatica training.
Pre-requisites
Basic knowledge of Data Management: If you know to organize and maintaining data processes, it will be helpful for you to learn Informatic. Along with this slight logical skill make a great success in your pathway of learning Informatica.
Basic knowledge of SQL: Learning Informatica requires an understanding of joins, functions, subqueries. If not PL/SQL, at least knowledge of SQL will help you excel in learning Informatica well. So, Request will be to brush up SQL first and then take this course.
Basic knowledge of Computers & the Internet: With a basic understanding of computers and the internet, this course can be taken smoothly.
Target Audience
Students of Informatica: If you're a student of Informatica and want a career in analytics and ETL domain, on a serious note. This Informatica training will make you build the gap between your college curriculum and industry related to Informatica by giving you practical and live experiences of projects, which deals with data manipulation, data massaging and integration with the application.
Statistician & Model Developers: Informatica can help someone analyze the massive volumes of data. Data queries are written to analyze data from various angles. Hence, learning Informatica will help you establish a successful career in the long run.
Analytics Professionals: If you are among ETL developers, solution recommenders, Architect, etc., Informatica is a great tool to learn and come up with solutions around your problem. This is because Informatica apart from the ETL tool also works as a complete data integration solution. Post transformations, ETL developers map the extracted data from source systems and load it to target systems.
Informatica Training FAQ's- General Questions
---
Why should I do this Informatica Training course?
This course is ideal for candidates who aspire to make their career in ETL and its related tools like Informatica and for the professional who deals with data integration, data management. Wherever ETL tasks are performed, Informatica plays a pivotal role. Hence if you in this kind of role, taking this course will help you grow technically.
I don't have a background in Analytics, can I do this Informatica Training?
The answer is Yes. If you understand SQL and databases, this Informatica training can be taken and understood clearly. However, if you have a slight knowledge of Analytics and ETL tools, it's a great benefit.  Rest this Informatica course will take care of it.
Would this Informatica training help me in my career advancement?
No Doubt about that. Learn from this course about Informatica, get your hands dirty with your rigorous practice, and this will create golden opportunities for you. You will find yourself attracted to Informatica, once you will start practicing. There is ample of things to explore and learn about Informatica in this training.
Sample Preview
---
Career Benefits
It an obvious and not denying fact, that dealing with voluminous data is the demand of today.
In that scenario, knowing Informatica (Installation, configuration, and utilization) is a great boon.
This course will help you kick start your career is a great way, by giving you a lucid explanation about Informatica.
As no programming knowledge is needed to work on this tool, it's easy to learn. Learning this will open the doors to the world of Big Data for you. Growth is certain if you have a good foundation like Informatica
Informatica Training Testimonials
---