NANA
NANA
NA% Off
Enroll for FREE
Free Online Statistics Course
This Free Online Statistics Course includes a comprehensive course with HD video tutorials and Lifetime Access with certification. You get to learn the essentials of Statistics for Data analytics. We would understand random numbers, variables and types, different graphical techniques and various sampling techniques.
Statistics Course

1+ hours
Offer ends in:
NANA
NANANA% Off
Enroll for FREE
Skills you will master
Statistics
Linear Algebra
Probability
Gradient Descent
Predictive Analysis
Random Forest
Grid Search
Adaboost Regressor
Affinity Propagation Model
Free Statistics Certification Course
This Free Online Statistics Course includes a comprehensive Statistics course with HD video tutorials and Lifetime Access with certification. You get to learn the essentials of Statistics for Data analytics. We would understand random numbers, variables and types, different graphical techniques, and various sampling techniques.
Data analysis is the process that involves cleansing, modeling, and transforming data along with the intent of discovering some useful information, supporting decision making and informing conclusions. As data analysis has multiple faces, approaches, and facets, it encompasses diversified techniques that are possible under a variety of names and structures. They are primarily used in different kinds of businesses put together along with social sciences and other scientific domains. Data mining, in particular, is a kind of data analysis technique that mainly targets modeling and knowledge discovery for more predictive technology rather than for purely descriptive purposes.
The business intelligence domain covers the part of data analysis which relies on aggregation, focusing mainly on tasks such as business information, etc. In terms of statistical applications, this task of data analysis can be subdivided into descriptive statistics, EDA which is also known as exploratory data analysis and confirmatory data analysis (CDA).
About Free Online Statistics Course
---
| | | |
| --- | --- | --- |
| Course Name | | Online Free Statistics Certification Course |
| Deal | | You get access to all the videos for free for the Lifetime |
| Hours | | 1+ Video Hours |
| Core Coverage | | Learn the essentials of Statistics for Data analytics |
| Course Validity | | Lifetime Access |
| Eligibility | | Anyone who is serious about learning Statistics and wants to make a career in this Field |
| Pre-Requisites | | Basic knowledge about data analytics would be preferable |
| What do you get? | | Certificate of Completion for the course |
| Certification Type | | Course Completion Certificates |
| Verifiable Certificates? | | Yes, you get verifiable certificates for each course with a unique link. These link can be included in your resume/Linkedin profile to showcase your enhanced skills |
| Type of Training | | Video Course – Self Paced Learning |
| Software Required | | None |
| System Requirement | | 1 GB RAM or higher |
| Other Requirement | | Speaker / Headphone |
Free Online Statistics Course Curriculum
---
In this section, each module of the Free Statistics Course is explained.
| | | | |
| --- | --- | --- | --- |
| Sr. No. | Course Name | Number of Hours | Course Description |
| 1 | Statistics Essentials for Analytics – Beginners | 1 | The domain of analytics and data is closely related to and is also often overlapped with computational statistics which is essentially said to be the discipline that specializes in prediction-making. In this Free Online Statistics Course, you are going to study about the various basic statistical concepts which are of utmost importance towards handling data and doing data analytics along with their application using R, SPSS, and Minitab. The modules which are included in this training are Introduction to basic statistical elements, Measures of central tendency using Minitab software or R language, Measure of dispersion by making use of R/Minitab software, Simple linear regression and correlation by making use of R program, Understanding of normal distribution by making use of R program. |
---
Free Statistics Course – Certificate of Completion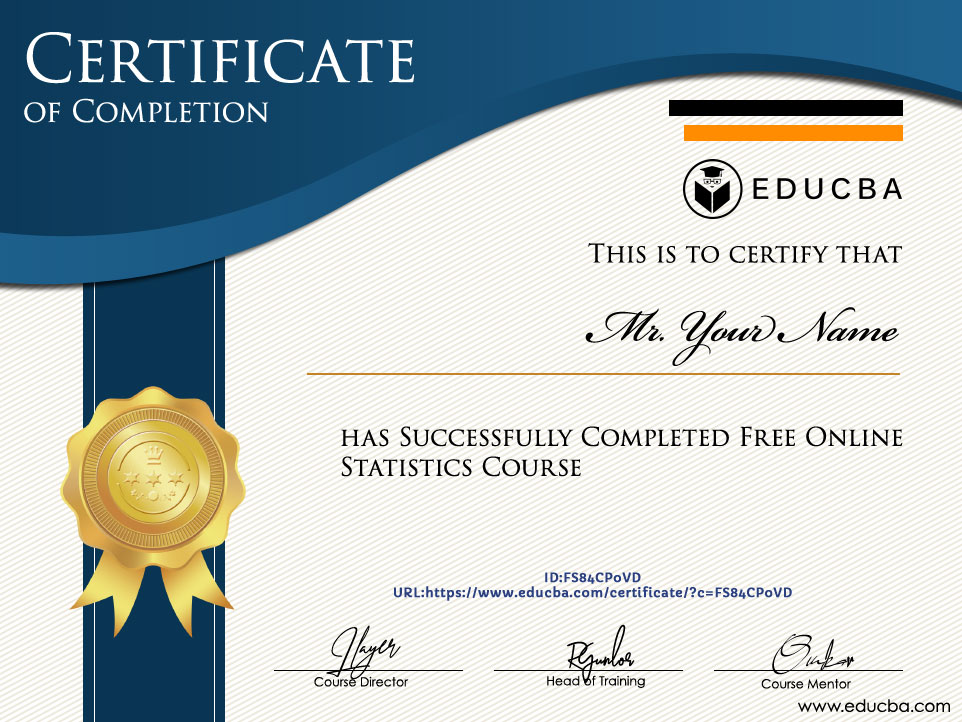 ---
What is Statistics?
It is that branch of mathematics that handles and deals with data collection, data interpolation, analysis, organization, presentation, and interpretation of data. When you are interested in providing a statistical population which is often one of the most convenient ways or any statistical model is to be studied.  Statistical analysis methods include the ones like descriptive analysis and data analysis which is used to summarize the data by using a sample from indexes such as mean, mode or standard deviation and inferential kind of statistics which primarily aims to conclude from the wide array of data which is subject to random variation. Examples include sampling variation, observational errors, etc. Descriptive statistics are most concerned with two forms of properties of the distribution technique which can be said to be population or sampling, central tendency or location which seeks to characterize distribution's typical or central value whereas dispersion or variability characterizes the extent of which the members of distribution department becomes a part of.
Generally, a statistical procedure makes use of the relationship test specifically between two statistical data sets or a data set and a synthetic form of data that is drawn from an ideal model. A hypothesis is proposed generally for the statistical kind of a relationship between the two data sets and this is what is compared as an alternative to the idealized hypothesis popularly known as null hypothesis where there is no relationship drawn between two data sets. Disproving the null hypothesis or rejecting it is done using statistical tests that are used to quantify the sense of it being proven as a false hypothesis.
Which tangible skills you will learn in this course?
---
The Free Online Statistics Course aims to provide you a sound mathematical knowledge over the fundamentals and the concepts which are not always or generally put into usage and practice can be well placed and put into application by the use of statistics.
It also aims to enhance your computer science skills as it is used to work on the algorithms and concepts as well as the theory related to statistics.
Without making use of computer terminology and technology making your application through statistics will become quite a difficult task.
Apart from these skills, analytical skills, modeling skills, interpolation skills, data cleansing and data crunching kind of skills are among the ones which are best suited if you are willing to become part of this Free Online Statistics Course.
Other skills include the ones related to probability and predictions as the use of predictive analysis is taught along with every other detail related to Free Online Statistics Course
Pre-requisites
---
Every course has a certain pre-requisite which must be taken into consideration to make sure that you have done all the background work and the homework required for that course to begun and that you can get the maximum benefit out of the course prepared as you would be strong with the pre-requisites.
Similarly, we are going to read about some of the basic pre-requisites for the Free Online Statistics Course.
The first and foremost pre-requisite is related to the mathematical background. The candidate should either have some degree or equivalent in any mathematics degree or should have a mathematical background as the concepts related to statistics are all advanced forms of mathematics.
The other pre-requisite is that the candidate should be proficient in computers and should have a sound knowledge of making use of computer science techniques and features as this Free Online Statistics Course will talk about the techniques which will be beneficial for somebody who has been belonging from a computer science background.
Next is that the candidate should have a sound understanding of the data analytics skills and data collection, extraction, interpolation, cleansing, transformation, loading, etc. skills are also good to have as this Free Online Statistics Course constantly focuses on the need to learn and be able to manipulate data.
Other than this the knowledge of programming languages such as R, SPSS, Minitab tool as these tools will be used throughout the course. Other pre-requisites include having a great level of interest and enthusiasm for the course.
Target Audience
---
The target audience for this Free Online Statistics Course includes software professionals, data scientists, software developers, analysts, data engineers, data architects, solution architects, technical architects, IT operations, software engineers as well as technical managers. This also includes everybody interested to learn more about the statistics course either out of interest or for using it into their work in some form or the other. Therefore, the target audience also includes ones such as entrepreneurs, students who are interested to be a part of it to complete their project or doing some form of innovation, researchers, etc.
Career benefits
---
The career benefits of the Free Online Statistics Course are that you will have a greater depth and extent of mathematical knowledge and expertise.
The companies looking at your resume will instantly be convinced about the good mathematical skills which you possess.
Other benefits include the ones related to the learning of languages such as R, SPSS, and Minitab tool. R is considered among the best and most preferred language for statistics even today due to its varied nature and the huge array of statistical features. This directly opens up your way for the data science domain and therefore having this technology in your resume will boost your value as an interviewee.
Other skills related to the ones with computer science understanding and knowledge. You can see your career getting transformed into the field of data science which is among the hot top technologies today.
This Free Online Statistics Course is meant to provide you all the required features which are needed to excel in your career.
Review
---
A good course on learning Stats Tools
A good course on learning Stats Tools using Excel – well explained easily and it covered the basics I needed to analyze data. Very useful formulas to understand the relationship and correlation between data points in forecasting future trends. I will add value to my analyzing data.
Linked
Arno Wakfer CA
Excellent
This is an excellent course, very useful and interesting. The instructor explains everything thoroughly and the examples that he provides are very good as well. The pace at which the lessons are explained is appropriate. I recommend this course.
Linked
Antonio Tirado
Must for beginners
This course helped me to use statistics functions in excel which I know theoretically. I recommend to this anyone looking to learn excel be it, newbie, to excel. There are many functions which I learned in college and have application in real life too if you guys can include a little bit more applied stats concept would be good.
Mohit Kumar
Great add on training to Excel
This is another follow-up training course I have completed in the eduCBA training and it has again improved my knowledge. I am now able to understand and incorporate the add on statistical tools to the Excel training I have already received through eduCBA. I am again, very pleased with the training I received during the modules as they are clear and precise; on top of the fact that at any time I need a refresher in a particular skill, I can refer back to a specific module and re-visit the training to refresh my awareness. This aspect is probably one of the best benefits of these training courses.
Jim Nixon
Nice Experience
I had a nice learning experience to educate. It was simple and valuable for me. I liked all the sessions and learned a lot through this course. The videos were really interesting and easy to understand.
Linked
Adeeb Saleh Almohaimeed