EViews Econometrics Modeling Course
11 Online Courses
25+ Hours
Verifiable Certificate of Completion
Lifetime Access
Application to Econometrics Modeling

0h 18m

Descriptive Statistics

1h 42m

Correlation Techniques

2h 01m

Regression Modeling

3h 19m

Univariate Time Series Modeling

2h 25m
Offer ends in:
$99
$29967% Off
Skills you will master
EViews
Econometrics Modeling
Descriptive Statistics
Means
Standard Deviation
T-test
Correlation Techniques
Regression Modeling
Univariate Time Series Modeling
Multivariate Modeling
Autocorrelation Techniques
VAR Modeling
Stationarity and Unit Root Testing
Co-Integration Testing
Volatility & ARCH Modeling
Online EViews Econometrics Course
This EViews Econometrics Course includes  11 comprehensive EViews courses with 25+ hours of video tutorials and Lifetime Access. You will also get verifiable certificates (unique certification number and your unique URL) when you complete each of the 11 courses.
This Econometrics course is designed keeping in mind the needs of people from the finance sector. Eviews is a software which is used primarily for analysis in financial markets. The course is designed to train the candidates to become a successful econometrics consultant.
About EViews Econometrics Course
---
| | | |
| --- | --- | --- |
| Course Name | | Online EViews Econometrics Course Bundle |
| Deal | | You get access to all 11 courses bundle. You do not need to purchase each course separately |
| Hours | | 25+ Video Hours |
| Core Coverage | | This EViews Course will help you learn econometrics/quantitative/predictive analysis |
| Course Validity | | Lifetime Access |
| Eligibility | | Anyone who is serious about learning EViews econometrics and wants to make a career in analytics |
| Pre-Requisites | | Basic knowledge of IT operations and Data analytics domain |
| What do you get? | | Certificate of Completion for each of the 3 courses |
| Certification Type | | Course Completion Certificates |
| Verifiable Certificates? | | Yes, you get verifiable certificates for each course with a unique link. These link can be included in your Resume/Linkedin profile to showcase your enhanced skills |
| Type of Training | | Video Course – Self Paced Learning |
| Software Required | | EViews Tool |
| System Requirement | | 1 GB RAM or higher |
| Other Requirement | | Speaker / Headphone |
Online EViews Econometrics Course Curriculum
---
To make things easy for you, here's a comprehensive EViews Econometrics certification. Before we ever talk about the target audience, FAQs, let's look at the course curriculum in detail –
| | | |
| --- | --- | --- |
| Serial No. | Course Name | Course Description |
| 1 | Advanced training EViews | This econometrics course is 2 hours and 30 minutes long and students learn fundamental concepts of data modeling such as univariate time series analysis, correlation analysis, ARMA Model etc. in this course. |
| 2 | Multivariate modeling concepts advanced eviews2 | This EViews Econometrics lecture is about 2 hours long and contains 14 videos that talk about the basic theory of multivariate analysis, generation of estimation output, interpretation of estimation output, interpretation of cost and debt, scatter plot etc. The content is covered with a fair amount of details. |
| 3 | Eviews application and econometrics modeling | This EViews Econometrics is a quite short course with 3 videos of 20 minutes combined duration. In this introduction to Eviews is provided and major functionalities of the same are explained. |
| 4 | Descriptive statistics using eviews | This EViews Econometrics course series consists of 10 videos and is of a total duration of approximately 2 hours. In this course, students learn about log returns and description along with interpretation of results and graph. The graph is emphasized in this course and visualization has strong Importance for data analysis. |
| 5 | Correlation techniques using eviews | This EViews Econometrics course is also of 2 hours duration and has 14 videos in it. In this course the instructor teaches the ideas related to the correlation matrix, generating correlation matrix in eviews, mutual funds correlation matrix percentage, scatter plots using eviews along with various examples and real-life problems and case studies. |
| 6 | Regression modeling using eviews | This EViews Econometrics course module is more than 3 hours long and focuses on regression modeling. It has 21 videos in it and through these videos, it teaches basic regression modeling theory, generating return and estimation, interpretation and volatility scatter plots, NAV price case study, Estimation output case study, equation estimation etc. |
| 7 | Volatility arch modeling advanced eviews | This one is long. It has almost 5 hours of content spread across 33 videos. Here students learn about volatility and arch modeling, basic volatility modeling theory, testing arch effects in commodities, GARCH model theory and its estimation in eviews, generating GARCH model and its interpretation, EGARCH theory, Swiss franc, and Gas etc. |
| 8 | Advanced eviews-3 autocorrelation techniques | This EViews Econometrics course is 3 hours and 30 minutes long and contains 24 videos. Here students learn about Durbin Watson, residual diagnostic, DW analysis, OLS equation and estimation, Gold and BSE index examples, DW calculated, multi-asset analysis, Breusch Godfrey test, LM test etc. The content consists of many examples and practice problems. |
| 9 | Advanced eviews-5 modeling long run relationship unit root testing | This EViews Econometrics course is little more than 1-hour long. It has 12 videos. It teaches the theory of stationarity and unit root testing, Dickey fuller test for URT, Unit root estimation, interpretation of unit roots etc. There are many examples and case studies in the course content. |
| 10 | Advanced eviews-4 vector autoregressive var modeling | This module is almost 3 hours long and contains 20 videos. Here students are taught about VAR modeling theory, Generating VAR estimates, block significance and impulse response test, IRT implementation in eviews, Granger causality test, lag length criteria etc. |
| 11 | Advanced eviews-6 modeling long run relationship cointegration techniques | This EViews Econometrics course is about 1 hour and 30 minutes and contains 10 videos. It teaches modeling long run relationship with cointegration testing, implementation of Johannes integration testing, Johannes integration theory, outputs of eigenvalues and trace tests, generating and testing cointegration testing relationship. Each concept is taught using appropriate examples and case studies. |
---
Certificate of Completion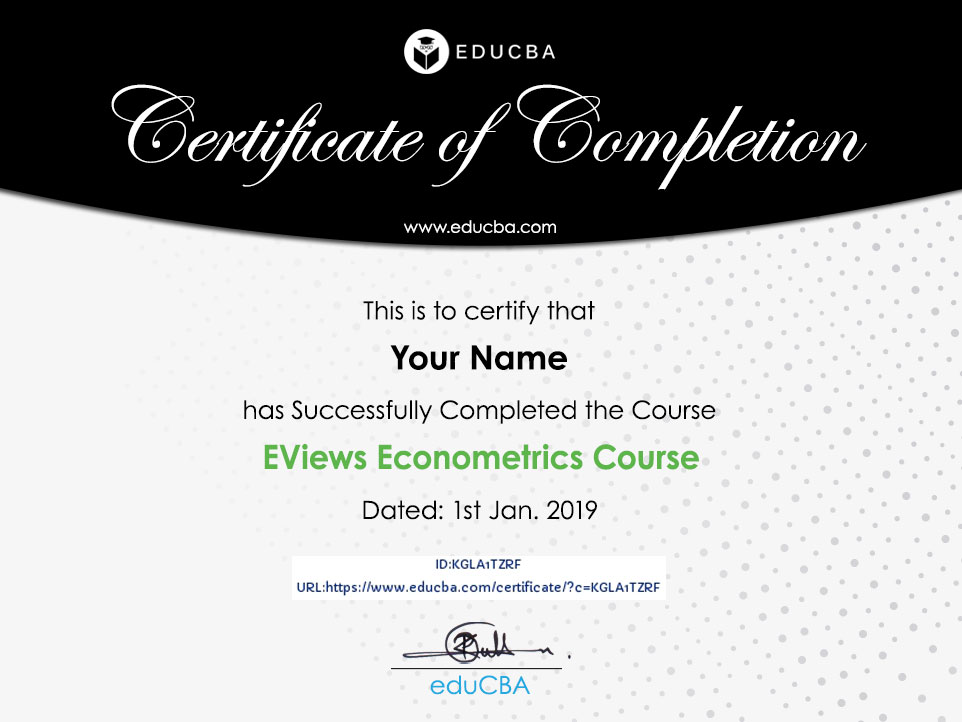 ---
What is EViews?
EViews is a statistical software package designed for Windows mainly. It is used for time-series based data in the field of econometric analysis. Eviews was developed by a company called Quantitative Micro Software which now comes under IHS. The first version was launched in 1994 and since then 10 releases have been made. The latest version is 10 which was launched in June 2017. Eviews is used for general statistical analysis and econometric analysis such as cross section and panel data analysis and also for time series data analysis and estimation thereof. Eviews combines spreadsheet and databases technology and uses a windows GUI. It can be used with a programming language as well and provides limited functionalities of object orientation.
EViews can handle data formats of several types and generally relies on proprietary and undocumented file format for its internal data storage. Input and output data formats supported by Eviews are databank format, Excel formats such as csv and xls, PSPP format, SPSS format, SAS data, Stata, RATS, as well as TSP. EViews can be connected to ODBC databases sources as well.
This Econometrics course on Eviews covers almost all major functionalities of the latest release and teaches concepts as well as the theory which help students to start with analyzing and making sense of their financial data from day 1.
Which tangible skills you will learn in this EViews course?
This Econometrics course covers a lot of valuable skills for econometric data analysis. There are as below:
Univariate data analysis of time series data
Multivariate data analysis of time series data
Loading and analyzing data from multiple sources
Loading data of multiple formats
Regression modeling
Correlation techniques
Scatter plot
ARMA modeling
Generation and interpretation of the output of various models
Various econometric tests and concepts
Visualizations and graphs
These skills are very important and can provide job opportunities with clients that use eviews as these days people only look for candidates who are very comfortable with practical coding and problem-solving. The case studies and examples described in the course provides a unique value proposition to prospective candidates as students learn concepts very easily when they see the examples.
Pre-requisites to EViews Econometrics Course
---
Following are the pre-requisite for the course. These pre-requisites ensure that the candidates follow what is taught in the class and make the maximum out of the course offering. It is suggested that if somebody is not meeting the course pre-requisite, then he/she should first work towards fulfilling the same by joining some bridge course and then enroll for this EViews Econometrics course.
Prior knowledge of quantitative methods
Background in finance and financial modeling is helpful but not mandatory.
Expertise with MS office and windows system
Some exposure to any one programming language.
Understanding of basic data analysis process such VBA tool pack in MS Excel is helpful.
Target Audience for this EViews Econometrics Course
---
This EViews Econometrics course is designed for people from finance background in mind. It is suitable for someone who is working in financial data analysis or wants to enter in this field.
People generally involved with share market data analysis, mutual funds and such money market-related activities are suitable for this EViews Econometrics course.
The course does not require in-depth technical skills and it is not suitable only for engineers of science graduates but also for commerce and art graduates' students as well.
Typically, people with MBA, M. Com, M. Stats, working managers and employees of the financial institution such as a bank etc. join this EViews Econometrics course.
There is no degree requirement or education qualification which is mandatory, but anyone with an analytical mindset and an interest in problem-solving can join this course and learn a lot from it.
EViews Econometrics Course FAQ's- General Questions
---
Some common FAQ is listed here for the benefit of students.
How is this EViews Econometrics course different from others?
The most important differentiating factor for this course is that it covers maximum topics that are required to understand Eviews end to end and it does so with several examples and case studies. Unlike most courses, it does not just introduce concepts and functions but also teaches how to interpret results and output and how to make sense of that which is a crucial skill to have.
What is the scope of econometrics data analysis?
Econometric data analysis is a specialized field of data analysis where the focus is on financial and time series data. This EViews Econometrics course covers most amount of theory and practice in time series data which is so important because other data analysis courses that are generic and not specific to an industry only teaches few ideas on time series data analysis and does not go into depth of it.
Does this EViews Econometrics course provide a certification?
Yes. The course provides a certification which has lifetime validity and it can be verified by the employer for its authenticity too.
Why should I learn Eviews?
Eviews is a statistical and data analysis software which has been here for so long. It has a strong market presence and it is used by top MNC's and thus there is no dearth of opportunities in this field.
Career Benefits of this EViews Econometrics Course
---
This online training course on Eviews provides several career benefits. For people already working in the financial market, it creates a path that can lead that to better opportunities in terms of a job switch, promotion or salary hike.
Data analysis as a field has huge demand since last several years and it is only going to increase as per many studies. Thus, the skills taught in this EViews Econometrics course is going to be very critical and south after in time to come.
For people who are just out of college or are from a different domain but looking for great opportunities and career growth can consider this EViews Econometrics course as an avenue towards a successful career in financial data analysis.
After this Econometrics course, people can also specialize in this field, machine learning and artificial intelligence techniques to this domain and gain themselves a title of data scientist. There are opportunities for managers and academician as well.
EViews Econometrics Course Testimonials
---