Learn from Home Offer TAKE THIS BUNDLE
DATA SCIENTIST Course Bundle - 150 Courses in 1
This Data Scientist Training Course includes 150 courses with 608+ hours of video tutorials and Lifetime access. You will also get verifiable certificates (unique certification number and your unique URL) when you complete each of them. This comprehensive course will teach you programming languages, machine learning, Hadoop, Business analytics, Data Visualization and other important analytics concepts.
TAKE THIS BUNDLE
* One Time Payment & Get Lifetime Access
What you get in this DATA SCIENTIST Course Bundle - 150 Courses in 1?
608+ Hours
150 Courses
Course Completion Certificates
Lifetime Access
Self-paced Courses
Technical Support
Mobile App Access
Case Studies
DATA SCIENTIST Course Bundle at a Glance
---
| | |
| --- | --- |
| | |
| Courses | You get access to all 150 courses, Projects bundle. You do not need to purchase each course separately |
| Hours | 608+ Video Hours |
| Core Coverage | This Data Scientist course will help you learn data science using R, Python, Machine Learning, Artificial Intelligence, Big data & Hadoop, Predictive Modeling, Business Analytics, Data Visualization and others. |
| Course Validity | Lifetime Access |
| Eligibility | Anyone serious about learning data science and wants to make a career in analytics |
| Pre-Requisites | Basic knowledge of data and analytics |
| What do you get? | Certificate of Completion for each of the 150 courses, Projects |
| Certification Type | Course Completion Certificates |
| Verifiable Certificates? | Yes, you get verifiable certificates for each course with a unique link. These link can be included in your resume/Linkedin profile to showcase your enhanced skills |
DATA SCIENTIST Course Bundle Curriculum
---
To make things easy for you, here's a comprehensive Data scientist course. You need to invest significant hours to complete this all-in-all course, however, you going to reap its benefit later. Before we ever talk about data science the target audience, FAQs, let's look at the data scientist training curriculum in detail –

Goals
The eventual goal of this course is to make one cognizant about Data science and all the approaches that are required to become a data science expert. leveraging unstructured data to extract some useful information will be the primary focus of all the modules and sub-module covered in this course.
Objectives
The soul objective of this course is very precise and clear. As the course is focused on Data science, our final objective will be to become ample proficient in this technology so that we can become able to work with data science to solve real organizational problems. To achieve this objective, we will be working on the secondary objective that is to master all the concepts that fall under the domain of data science.
Course Highlights
This course will help us master programming languages like Python and R. There are various modules based on Python training is available in this course where the trainees will be diving deep into these programming languages with the help of live examples and sample questions. SAS Data Scientist has also explained in the course keeping the hands-on practice in mind. In all the modules that refer to either any tool or technology that endorses data science, things have been detailed using precise examples. The course also includes Hadoop concepts where we will be learning about Hadoop from beginners' perspective up to the advanced ones. The questions included in the Hadoop module will be explained by the educator in detail and in almost all of the scenarios the trainer will be using the real use cases to explain the topics.
Tableau will also be covered in this course. The trainees will learn how to leverage the presentation of data in the graphical form so that one can be able to extract the useful information out of the unstructured data. All the concepts regarding Minitab will also be covered in this course. To explain the working of Minitab, we have included some simple exercises that will help the trainees to understand how things work when we talk about working with Minitab. We will also be learning about Splunk in this training. You will get to learn how to leverage Splunk to work with data science. At last, the course will be explaining about Matlab. In the last module, we will be learning Matlab and will master all the features it offers.
Project Highlights
The course is comprised of modules and projects. In the module, we will cover the concepts that are used to implement data science while in the projects section, we will be working on real projects to make get practical exposure of how things work to provide a solution for any problem. In this course, we have included projects after every module so that the trainees can get a deep idea about all the concepts immediately after learning them. The course consists of projects on Python programming language where you will learn the advanced aspect of python or about the frameworks that are used to implement the features to leverage data science. For R programming languages, we do have separate projects. In the project based on R, you will get an in-depth idea of how to leverage these programming languages to draft solutions for the organizational level problems.
SAS Data Scientist Projects is one of the main project modules that is added to the course. Under this project, there are six sub-projects and it will take around forty-five hours to complete all these projects. Hadoop based projects have also included in the course where we will be working on six projects topics. It will help the trainees to become ample proficient in working with all aspects of big data. In addition to all of these, one will also be working on projects based on topics like Tableau, Minitab, Matlab, Splunk, and so on. After completing this course, the trainee will be able to implement all the features of Data science in production and will help the organization to get some useful information from the heap of raw data.
---
Certificate of Completion
---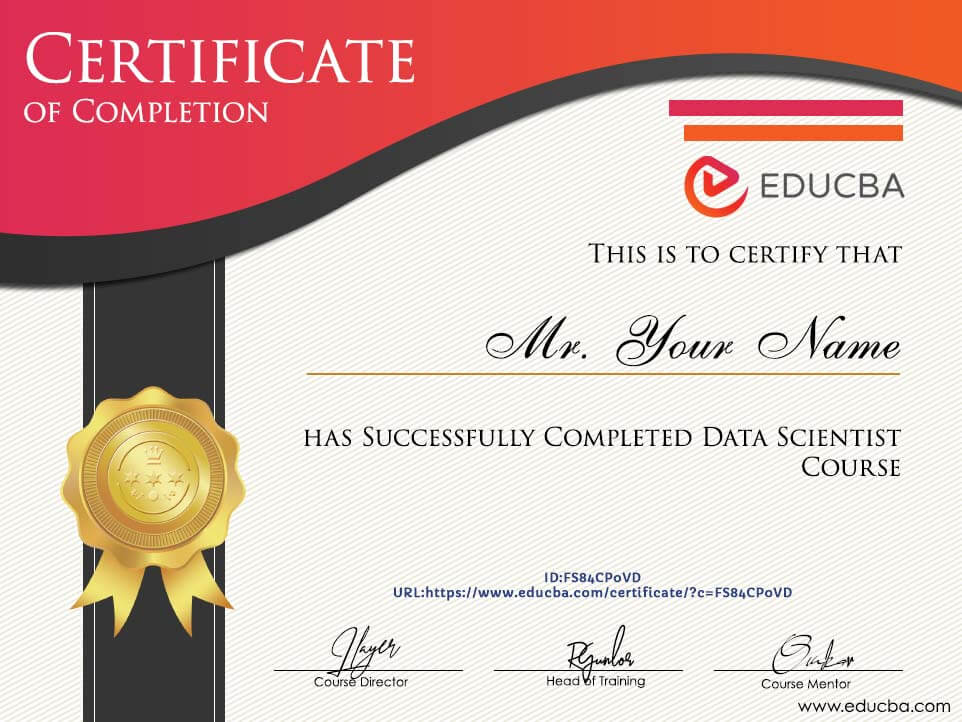 What is Data Science?
Data science is a field where information comes from various sources, which in turn gets converted into valuable insights for business and IT strategies. The data collected from various sources can be structured, unstructured, or semi-structured. Massaging the data, formatting the data, analyzing the data, and extracting stories out of those data by dashboarding is a generic pipeline structure followed in the data science field.
This Data scientist course will take you through all these various tasks to well-versed you with every part of data science. While practicing Data science, you will come to know about various tools, algorithms, and Machine learning principles that are usually used.
Usually people mistaken data science with business intelligence. However, both are completely different. In other words, a higher level of business intelligence can be called data science.
Business intelligence usually deals with structured data, plotting its statistics, and visualization. However, data science deals with unstructured, structured, and semi-structured data. Data science is not just about statistics and visualization, it also includes predictions and various machine learning concepts.

Industry Growth Trend
  The overall data science platform market is expected to grow from USD 19.58 billion in 2016 to USD 101.37 billion by 2021, at a CAGR of 38.9% from 2016 to 2021.
[Source - MarketsandMarkets]
Average Salary
Average Salary
$120,301 per year
The average salary for a Data Scientist is $120,301 per year in the United States.
[Source - Indeed]
Which tangible skills you will learn in this data scientist course?
Today top-notch companies are relying on Data science skills be it through Python or some tools like SPSS etc. because of the exponential growth of data in the last decade. And hence they are in dire need of good Data science skills that can support data analysis and build highly reliable and efficient algorithms suitable for specific Organization needs. Below mentioned are some great capabilities and skills, that you will learn through this data scientist course.
Handling Dirty Datasets: Through this data scientist training course, you will learn various ways of handling dirty datasets (unstructured data). With a rise in the complexity of data and an increase in business demands, it becomes necessary to handle a wide variety of data like audio, video, etc. It's not possible that one receives every time a structured data. Knowing data science skills to be it through R, Python, Minitab, SPSS, etc. will help you massage and reform varieties of data.
Programming skills: After taking this data scientist training, one will be able to explore, analyze datasets through programming languages like R, Python. Programming skills of these languages will help you target many custom requirements.
Story Telling: This data scientist training course will help you get the skills of storytelling. Data science skills finally end up when the insights extracted are well communicated until end users. Hence this data scientist course will tell you how to make a bigger impact on end-user along with great visualization.
Solve the business problem:  This data scientist course will help you think and code in a way you can solve any business problem efficiently.  Manipulating datasets, applying machine learning techniques can be ways of solving business problems.
Pre-requisites
Basics of Linear Algebra: Data Science deals with vectors, matrices, and its operations. If you don't have a clear picture, it would be great if you can refresh it and then take this data scientist training. It will help you once you go deeper into data science-related algorithms.
Coding background: Learning languages like R, Python to explore datasets and analyzing it goes way easier if you have a programming background. It could be C, C++, Pearl anything. That way understanding logic from a programming perspective is helpful, and hence one can easily grab the Data science stuff.
Probability & Statistics: With a basic understanding of Probability & Statistics, this data scientist training course can be taken smoothly. This is because data science deals with many statistical tests and inferences, knowing probability and statistics will be a great boost.
Target Audience
Students of Analytics: If you're a student of data science/analytics and want your career to drift deeper into that, this data scientist training is a sure shot solution for it. This data scientist course will make you build the gap between your college curriculum and industry related to Data science by giving you practical and live experiences of projects, which deal with data manipulation, data massaging, data visualization, storytelling.
Statistician & Model Developers: Data science deals with model generation and machine learning. If you want to fine-tune your knowledge over statistics and model generation, go ahead with this course. This data scientist training course will showcase lots of model generation use cases.
Professionals: If you are among auditors, solution recommenders, Project managers, or in a client-facing role etc., the Data scientist course will be an addon and help you excel more in your career. That's because you will able to analyze and measure every bit of your task with analytics and data science. You can impress customers with data visualization and various facts extracted from their data.
Data Scientist Course FAQ's
---
Why should I do this data scientist course?
This course is ideal and a great stepping stone for candidates who aspire to make their career in data science and its related tools like R, Python, Minitab, SPSS, Tableau, etc. I and the professionals who deal with data, be it structured, unstructured should take this data scientist course. Wherever data comes, data science has a key role to play there. Hence, taking this course will help you grow technically.
I don't have a background in Data Science, can I do this data scientist course?
The answer is partial Yes and No. Full data science is based on probability and statistics. If you understand it well, the full data scientist training will be smoother, else you might get lost in between. It would be suggestible to clear basic of probability and statistics, and then do this course
Would this data scientist course help me in my career advancement?
Absolutely, without any doubt. Learn from this course about data science, get your hands dirty with your rigorous and repetitive practice, and this will create golden opportunities for you. Once you will start practicing, you will find yourself fascinated by data science and its related tools. This field is exciting, and this data scientist training course will make it even more exciting. There is ample of things to explore and learn about data science in this training.
Sample Preview 
Career Benefits
It is a well-known fact, that dealing with varieties of datasets to bring the hidden insights, is in demand of today. All organizations today want to analyze their data so that they can make better decisions about their strategies. The person dealing with data and along with that critical thinking is something, the market is in dire need of.
In that scenario, knowing Data science skills, great thinking and communication to make the insights reach to the audience, is a great boon.
This data scientist training will help you kick start your career is a great way, by giving you lucid explanation about all perspective of Data Science.
Learning data science is an advantage for your better and competitive future. Growth in job and job security is certain if you have a good hold on data science.
Data Scientist Course Testimonials
---