Learn from Home Offer TAKE THIS BUNDLE
DATA SCIENTIST Course Bundle - 150 Courses in 1
608+ Hours of HD Videos
150 Courses
Verifiable Certificate of Completion
Lifetime Access
TAKE THIS BUNDLE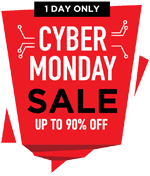 * One Time Payment & Get Lifetime Access
What you get in this DATA SCIENTIST Course Bundle - 150 Courses in 1?
608+ Hours
150 Courses
Course Completion Certificates
Lifetime Access
Self-paced Courses
Technical Support
Mobile App Access
Case Studies
About Data Science Training in Mumbai
| | |
| --- | --- |
| Course Name | Online Data Science Training in Mumbai |
| Deal | You get access to all 150 courses, Projects bundle. You do not need to purchase each course separately. |
| Hours | 608+ Video Hours |
| Core Coverage | This Data Scientist course will help you learn data science using R, Python, Machine Learning, Artificial Intelligence, Big data & Hadoop, Predictive Modeling, Business Analytics, Data Visualization, and others. |
| Course Validity | Lifetime Access |
| Eligibility | Anyone serious about learning data science and wants to make a career in analytics |
| Pre-Requisites | Basic knowledge of data and analytics |
| What do you get? | Certificate of Completion for the course |
| Certification Type | Course Completion Certificates |
| Verifiable Certificates? | Yes, you get verifiable certificates for each150 course, Projects with a unique link. These link can be included in your resume/Linkedin profile to showcase your enhanced skills |
| Type of Training | Video Course – Self Paced Learning |
| Software Required | None |
| System Requirement | 1 GB RAM or higher |
| Other Requirement | Speaker / Headphone |
Data Science Training in Mumbai Curriculum
---
We aim to provide structured relevant training along with hands-on sessions to all who seek to gain knowledge of Data Science. This Data Science training in Mumbai covers many different modules that individually are high in demand streams to dive deep into. One can try to enhance knowledge on any of the streams along with some knowledge on others. Experienced python or R developers can have sessions to use these languages in the field of data science. These different modules which will be taught in the course will sum up to form a platform to understand how data science works. Professionals working on technologies like SAS, Analytics, Hadoop, NoSQL can get an idea of how these technologies are the pillars of data science and how they work in close co-ordination to realize the solution of complex data problems.

Data Scientist Course in Mumbai – Certificate of Completion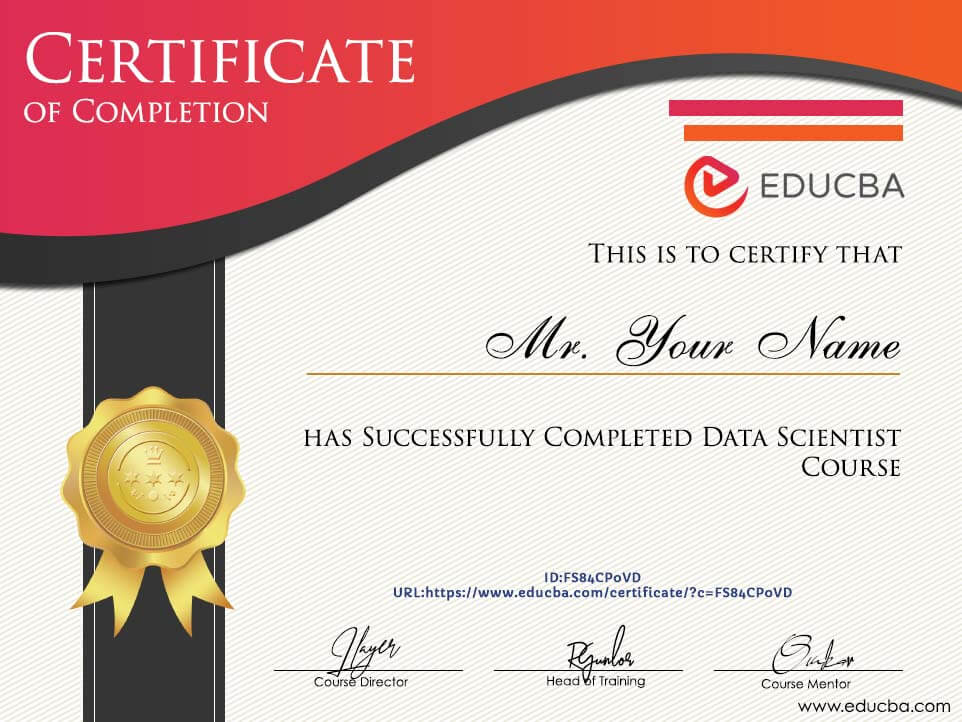 What is Data Science?
This is a comprehensive training designed to cater to the current changing demands in IT wherein more professionals, job seekers, and freshers are expected to know about Data Science. Major businesses are moving into Data analytics to grab the potential of data and direct this potential to derive beneficial outcomes. Companies like Netflix, and Facebook are using the power of data to drive their businesses to reach heights. This Data Science training in Mumbai has been designed after looking at the high demand for data scientists, and data analysts in the current market, which will grow in the future as well.
This Data Science training in Mumbai will help you understand the nitty-gritty of statistics, machine learning, R and Python languages, various theorems like Bayes, K means, business analytics, and much more. The training is structured from the most basic to the advanced concepts of data science. In this Data Science training in Mumbai, you will receive high-quality online content material, hands-on experience, and certification upon completion. The content is designed keeping in mind real-life business scenarios from banking, media, entertainment, and medical verticals to give learners the market relevant examples to train.
Mentors of the training are experienced professionals from the field so that along with knowledge, learners can get the experience shared.

Industry Growth Trend
The overall data science platform market is expected to grow from USD 19.58 billion in 2016 to USD 101.37 billion by 2021, at a CAGR of 38.9% from 2016 to 2021.
[Source - MarketsandMarkets]
Average Salary
Average Salary
$120,301 per year
The average salary for a Data Scientist is $120,301 per year in the United States.
[Source - Indeed]
Which Skills will you learn in this Course

?
Enrolling for this Data Science training in Mumbai will enrich your skillset with some of the most hyped and trending technologies, which are becoming crucial every passing day to big businesses. The market demand for these technologies has increased manifold due to their quick and accurate results of strategic importance.
Python and Python shells: This Data Science training in Mumbai will help in upgrading your skillset via courses on Predictive Modeling with Python, Artificial Intelligence with Python, Machine Learning using Python, and Data Science with Python, along with Projects on Tensor flow, Project – Predict Diabetes on Diagnostic Measures, Project – Linear Regression in Python and much more.
Probability and statistics: As a part of this training, you will get to learn courses like Statistics for Data Science using Python, SAS Statistics, SPSS GUI for Statistical Analysis, Statistical Analysis using Minitab, along with Project – Logistic Regression using SAS Stat.
Predictive and customer analytics: In this field, this training will offer courses like Analytics using Tableau, Projects on Business Intelligence Tools and Tableau Analytics, along with Project on R – HR Attrition, Project on Hadoop – Log Data Analysis, Project on Hadoop – Youtube Data Analysis using PIG/MapReduce, Project on Hadoop – Sensor Data Analysis using HIVE/PIG and much more.
Data analysis and visualizations: Data analysis and visualization can be learned via courses like Data Visualization with R Shiny – The Fundamentals and Project – Market Basket Analysis in R.
Machine learning and AI: Machine Learning with Tensorflow, Machine Learning with R and Python, along with hands-on experience via Machine Learning with Python Project – Predict Diabetes on Diagnostic Measures.
Tableau: This training will offer courses like Projects on BI Tools and Tableau Analytics, Business Intelligence, Analytics using Tableau, and Tableau Features Hands-on! This course will also offer Project on Tableau – Super Store Business Requirements.
SQL Oracle: Various SQL courses are included in the training so that non-experienced learners get a kick start from the basics. Oracle PLSQL, Oracle DATABASE Admin DBA 1 Course,
R and SAS technologies: Trending technologies like SAS PROC SQL Features, SAS Features for Starters, SAS Advanced Programming, Project on SAS – Programming using SAS DS2, Project on SAS – SAS Graph, SAS Statistics, and many more detailed concepts on SAS along with hands-on projects.
Pre-requisites
Willing to dive deep into Data: Data is a big bulk of bits misarranged, which can make your life miserable or beautiful depending upon how one uses this. Learners who are ready to make the most out of this data by learning the latest tools and technology to concur it are most invited.
Basic knowledge of probability and statistics: Learners having B.com, B.sc (maths, statistics), and MBA background will have the edge over others in starting this training as they will understand quickly. But this Data Science training in Mumbai is designed to include a statistics portion as well so others can also reach up to the level of others in one or two classes.
Computer with an internet connection: This is an online training so computer/any electronic device with good internet connectivity is a prerequisite.
Target Audience
Students: Enthusiastic students who want to pursue their careers in the challenging fields of Data science can enroll in this course to derive maximum learning out of it.
Experienced professionals: IT Professionals who seek to switch their domain to Data science can enroll in this course. This Data Science training in Mumbai is accessible online with relevant material delivered in a crisp format making it useful for professionals.
Beginners: Beginners who are seeking jobs in the IT industry can have a kick start in Data Science. The high demand for employees in this field makes this Data Science training in Mumbai one of the most sought-after courses.
MBA graduates: MBA graduates have been studying the traditional methods to understand business problems and in return, the solutions by them become limited to it. MBA graduates can get hands-on learning with various latest data extracting tools and detailed reports with the help of data science to consider real-time data set in this dynamic world. The probability of their decision going in their business's favor becomes high by including Data science.
Data Science Training in Mumbai – FAQs
---
Why should someone learn Data Science?
Data science is an exciting field that fuels the future. Major business firms are deploying Data science to study targeted customer behavior via social media, market trends, and product's relevance before making any strategic decisions. Such a trend will create a lot of job options for all. Also, because there is a high demand for Data scientists the average salaries of professionals in Data science are far above other job profiles.
Which roles/jobs can anyone be offered after completing this Data Science training in Mumbai?
One can advance his/her career into a wide range of white-collar jobs after attaining knowledge of Data Science. Some of these roles are Data Analyst, Data Engineer, Machine learning Engineer, Big Data Engineer, Data Architect, Deep Learning Engineer, and Data scientist, of course, with decent salaries.
Is it tough for someone working in another domain to learn Data Science?
It is a bit challenging if someone is coming from a non-technical or non-mathematical background as this technology requires a lot of analytical brainstorming. But this Data Science training in Mumbai starts with the basics of statistics and then introduces advanced concepts like Python, SAAS, and R programming language. If one is dedicated to learning this, then he/she can get a good grasp on data science in less time.
I am currently working as a developer. How beneficial is it for me to switch my domain to Data science?
If you are working in any technology as a developer, then that gives you an edge over others in learning Python or R, as you will already know how programming languages work. Going into the data science field will provide you with an opportunity to not only code but also help businesses make bigger decisions by manipulating the code to extract data of more value.
Why should you take up the Data Science training in Mumbai?
It is easy to have access to various companies in Mumbai after doing the Data Science course, being Mumbai the hub of headquarters of different big businesses. This course is well-designed and structured to cater to the requirements of companies located in Mumbai.
What is the Data Science market trend in Mumbai?
One of the biggest names in data science is Kaggle. Its co-founder and CEO, Anthony Goldbloom, stated that very soon, Data Centers will be replaced by business-specific Data Science teams. From his statement, the trend of data science can be predicted, especially in Mumbai, which has almost all big businesses' headquarters are located. All the major businesses are moving towards empowering their businesses with the power of organized data.
Business automation will pave the way to smart tools and environments so that maximum benefits can be derived out of Data. Chatbots and blockchains are some of the latest products of data science. According to The Future Impact of Data Science on Business Analytics, data scientists will play a leadership role in the Business Analytics world.
Sample Preview
---
Career Benefits
This Data Science training in Mumbai will help in your career growth and seeking different opportunities.
Training has a comprehensive structured education program that will enable learners to get a good grasp of concepts. This will help knowledge to be registered in your minds in a structured way and you can memorize them for a longer period.
Passionate learners will get a chance to apply theoretical concepts to solve real-time business problems.
Trainees will get an opportunity to interact with other Data analysts and scientists to gain the most out of their experience.
Trainees will get an opportunity to learn various data science tools, and languages from which they can choose a specific stream to make a career.