Learn from Home Offer TAKE THIS BUNDLE
Cloud Computing Training in Pune (18 Courses, 5+ Projects)
18 Online Courses
5 Hands-on Projects
102+ Hours
Verifiable Certificate of Completion
Lifetime Access
AWS Amazon Web Services Cloud 2019
AWS Certified Solution Architect - Associate 2019
Amazon Cloud Computing - Hosting an ASP.NET Website on Amazon EC2
AWS Technical Essentials Training
Project on AWS - Simple Email Service AWS SES
Offer ends in:
TAKE THIS BUNDLE
* One Time Payment & Get Lifetime Access
What you get in this Cloud Computing Training in Pune?
Online Classes
Technical Support
Mobile App Access
Case Studies
About Cloud Computing Training in Pune
| Course | | No. of Hours |
| --- | --- | --- |
| Amazon Web Services (AWS) Certified 2023 | | 8h 57m |
| AWS Certified Solution Architect Associate | | 9h 4m |
| AWS Certified Cloud Practitioner Case Study - Hosting an ASP.NET Website on Amazon EC2 | | 7h 24m |
| AWS Certified Developer Associate 2023 | | 7h 01m |
| AWS Case Study - Simple Email Service AWS SES | | 2h 3m |
| AWS Certified DevOps Engineer Professional 2023 | | 4h 39m |
| AWS Certified SysOps Administrator - Associate | | 8h 8m |
| Virtualization and Cloud Computing | | 58m |
| Cloud Migration | | 3h 4m |
| Cloud Computing for Business Users | | 1h 57m |
| EXIN Cloud Computing Tutorials | | 2h 36m |
| Cloud Computing | | 2h 46m |
| Cloud Computing Fundamentals | | 2h 05m |
| AWS Services Case Study - Build Server less Web Application | | 58m |
| Microsoft Azure - Basics | | 10h 5m |
| Microsoft Azure - Essentials | | 6h 39m |
| Microsoft Azure - Data Lake | | 6h 13m |
| Microsoft Azure - Data Factory | | 4h 6m |
| Microsoft Azure - PAAS Overview | | 1h 52m |
| Azure Practical - Developing Your Applications | | 4h 19m |
| Azure Practical - Migration of Websites and Databases to Azure | | 2h 37m |
| Azure Practical - Migrating .NET-based web applications to Azure PAAS | | 1h 43m |
| Chef Devops Essentials | | 2h 21m |
| | |
| --- | --- |
| Course Name | Cloud Computing Training in Pune |
| Deal | You get access to all videos for the lifetime |
| Hours | 102+ Video Hours |
| Core Coverage | Virtualization and Cloud Computing, AWS Amazon Web Services, Microsoft Azure, Amazon Cloud Computing, Azure Data Lake, Azure Data Factory, and such others to learn technical delivery of Cloud software development capabilities, including analytics and infrastructure concepts. |
| Course Validity | Lifetime Access |
| Eligibility | Anyone serious about learning data science and wants to make a career in analytics |
| Pre-Requisites | Basic knowledge of data and analytics |
| What do you get? | Certificate of Completion for the course |
| Certification Type | Course Completion Certificates |
| Verifiable Certificates? | Yes, you get verifiable certificates for each18 course, 5 Projects with a unique link. These link can be included in your resume/Linkedin profile to showcase your enhanced skills |
| Type of Training | Video Course – Self Paced Learning |
| Software Required | None |
| System Requirement | 1 GB RAM or higher |
| Other Requirement | Speaker / Headphone |
Cloud Computing Training in Pune Curriculum
---
This course consists of over 100+ hours of training material with video tutorials about cloud computing. Since this Cloud Computing Training in Pune also provides 4 real-time projects it will provide a deeper understanding of the concepts and application of the learned technique would become easy.
The course provides nearly 50 hours of Amazon web services (AWS) cloud technology including Technical Essentials, Project on Simple Email Service SES, DevOps Engineer and SysOps Administrator, and AWS projects. The course also contains more than 40 hours of video content of training material on Microsoft Azure cloud technology including Azure Essentials, Azure Data Lake, Azure Data Factory, and Azure projects.
So, with over 18 different online courses and 100+ hours of training content and project works this course also provides lifetime access to the users so its an excellent opportunity for aspirants to learn cloud computing.
The main training objectives are to provide the knowledge and understanding of cloud computing and to provide the end to end knowledge on the application of the techniques in real business environments.
The course involves and basic to advance understanding of basic cloud services like Infrastructure as a service (IaaS), Platform as a service (PaaS) and software as a service (SaaS).
In an ever-increasing demand for cloud computing, this Cloud Computing Training in Pune would prepare you with skills that are in high demand in IT sectors.
Cloud Computing Training – Certificate of Completion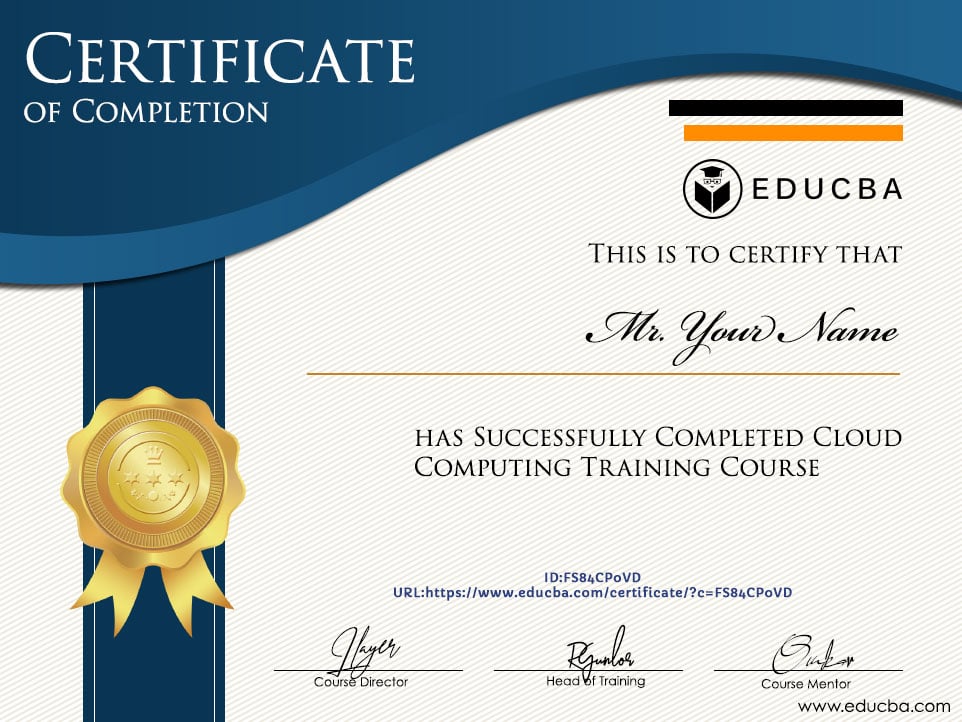 What is Cloud Computing?
An ever-increasing amount of data has been generated today and available in the free world. There is a need for the organization to buy, monitor, and maintain racks and racks of servers which is costly, manual, and time-consuming.
To overcome these challenges, we are moving to a new world called Cloud computing. Here, the computing is shared, we are moving our applications, storage, and services outside the firewall of the organization by the use of the Internet.
In this scenario, there is no need to buy, monitor, and maintain racks of servers. All these things are taken care of by the Cloud service provider and the best thing is, Cloud computing works on the Pay-per-use model.
Individuals storing their photos and videos in Google Drive to Big Tech Giants using the cloud to store their data, the cloud is significant for storage and it is growing exponentially in today's world.

Industry Growth Trend
The global cloud computing market size is expected to grow from USD 272.0 billion in 2018 to USD 623.3 billion by 2023, at a Compound Annual Growth Rate (CAGR) of 18.0% during the forecast period.
[Source - MarketsandMarkets]
Average Salary
Average Salary
$118,459 per year
The average salary for a Cloud Engineer is $118,459 per year in the United States.
[Source - Indeed]
Which Skills will you learn in this Training

?
On successful completion of this Cloud Computing Training in Pune, you will be fully equipped with all the necessary skills to get a more challenging role or a new job with an increased paycheck.
Core Skills coverage:
Fundamentals of Cloud computing
Cloud Migration
Virtualization and Cloud computing
Amazon web services
Amazon Cloud computing
Amazon EC2
Azure data lake
Azure data factory
Cloud Migration
Pre-requisites
Since this course covers concepts from basic to advance level there is a very little prerequisite required. New concepts and technologies are introduced in the field of Cloud computing, and this Cloud Computing Training in Pune is prepared to meet all those challenges. All you have to do is to keep practicing the concepts and hands-on work out will give the skills that are required. Some of the prerequisites are basic knowledge of Information technology field.
IT skills don't mean a professional IT background skills or degree in computer science or IT, only basic knowledge on Hardware, Networks, data processing, and data retrieval is expected.
Target Audience
Whatever course it may be the target audience is the people who are passionate to learn and excel. More precisely, the professionals who want to become an expert in the field of cloud computing are the real target audience. A deep and clear understanding of the concepts will equip them to take new challenges or to clear interviews, etc.
For the students who just had theoretical knowledge on cloud computing, this Cloud Computing Training in Pune will fill the gap between the academics you will get a real-time, practical, and live experience of cloud computing projects.
Cloud Computing Training in Pune – FAQ's
---
Why should you take up the Cloud Computing Training in Pune?
Cloud computing has received a lot of attention and it is having a positive impact on medical organizations and IT infrastructure in Pune. It is also a place of a lot of research universities and institutes that provide IT training and courses.
Pune has become a lively place for the technology sector since the growing establishments of IT sectors in Pune and a large number of training centers are available in Pune. It is a central place of demand for cloud computing and hence there isn't a better place to start the cloud computing course than Pune.
What is the Cloud Computing market trend in Pune?
The cloud technology market in India is growing rapidly. A recent report from NASSCOM said that it is growing at 25% per annum and estimated to reach about billion in 2022. Major cities in a country like Pune have contributed fo such growth.
Pune is a place of Technology giants and healthy startups Cloud Computing technology has a good value in Pune simply because of the Job market in Pune. So, for Cloud computing aspirants, Pune is a go-to place to start their cloud computing career.
Career Benefits
This program is designed by industry leaders in a clear and structured manner which has got 18 Online modules, 100+ hours of learning, and 4+ projects and lifetime access. After completing the 18 courses and 4 projects you will be awarded a verifiable certificate.
This program also guides you with a perfect path that takes you to your dream role of Cloud engineer/architect.
The average salary of a cloud engineer is $118,459 according to Indeed and the market size of cloud computing is growing exponentially.
Reviews
---
Cloud Computing Course Review
The Cloud Computing course manages to deliver an excellent introduction to the cloud systems. The presentations are optimal and manage to cover in detail fundamental use cases like AWS/OpenStack. As I work in these fields I feel like I've upgraded my cloud knowledge a lot and managed to achieve some key skills at AWS/OpenStack administration.
Stefan Yordanov Angelov
Virtualization and Cloud Computing – Review
I came around this course while looking for the best ways to validate personal experiences. Although the recording quality for some of the modules was not as good as other modules within the same course, I enjoyed it. Very helpful. Very In-depth knowledge given by the instructors. In short, a wonderful course and was great learning !!!
Linked
Frederic Harmignies
Informative course
The Cloud Computing course starts from scratch and thus helps the students to learn all the concepts from basic to advanced levels. I have enrolled for two courses through educba. Very informative and enjoyable sessions. The tutor has a good knowledge of the subject and he made the session interesting. Thank you educba.
Linked
Martin Fritzsche
CLOUD COMPUTING
This was nice for an instance in cloud computing very educational material.
I like that all the basics fields were covered from how to use private to Public clouds, for instance, we have the Amazon Web Services that I would so much like to explore in detail and hopefully get a cloud certification. Then there was also a public cloud that one can lease and in turn lease out several applications and services.
Linked
Terence Chisenga
Cloud Computing Review
The best Cloud Computing course so far. The instructor was excellent. As an introduction to Cloud Computing it was incredibly educational. The future of Enterprise computing lies within the cloud. I learned a lot of new things. The instructor expanded on the things I already knew, therefore, making the learning more valuable. Thank you.
Richard H. Rihm