Learn from Home Offer TAKE THIS BUNDLE
CLOUD COMPUTING Course Bundle - 23 Courses in 1
97+ Hours of HD Videos
23 Courses
Verifiable Certificate of Completion
Lifetime Access
TAKE THIS BUNDLE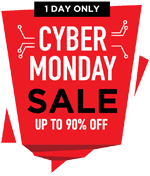 * One Time Payment & Get Lifetime Access
What you get in this CLOUD COMPUTING Course Bundle - 23 Courses in 1?
97+ Hours
23 Courses
Course Completion Certificates
Lifetime Access
Self-paced Courses
Technical Support
Mobile App Access
Case Studies
About Cloud Computing Training in Noida
| | |
| --- | --- |
| Course Name | Cloud Computing Training in Noida |
| Deal | You get access to all videos for the lifetime |
| Hours | 97+ Video Hours |
| Core Coverage | Virtualization and Cloud Computing, AWS Amazon Web Services, Microsoft Azure, Amazon Cloud Computing, Azure Data Lake, Azure Data Factory, and such others to learn technical delivery of Cloud software development capabilities, including analytics and infrastructure concepts. |
| Course Validity | Lifetime Access |
| Eligibility | Anyone serious about learning data science and wants to make a career in analytics |
| Pre-Requisites | Basic knowledge of data and analytics |
| What do you get? | Certificate of Completion for the course |
| Certification Type | Course Completion Certificates |
| Verifiable Certificates? | Yes, you get verifiable certificates for each23 course, Projects with a unique link. These link can be included in your resume/Linkedin profile to showcase your enhanced skills |
| Type of Training | Video Course – Self Paced Learning |
| Software Required | None |
| System Requirement | 1 GB RAM or higher |
| Other Requirement | Speaker / Headphone |
Cloud Computing Training in Noida Curriculum
---
This Cloud Computing Training in Noida will help candidates to gain a profound understanding of industry segments, deployment models, and much other widespread use of vital concepts. It will help you to develop the key skills needed to design and deploy dynamically fault-tolerant, scalable, highly available, and robust applications on the top cloud providers. It will teach you how resources are shared, developed, and managed over the system.
There are various modules you will achieve expertise which is as follows
AWS Cloud 2019 – The AWS training program will provide a thorough understanding of the cloud infrastructure of amazon web services and will be helping candidates explore various applications, developments, and tools to develop expertise in the subject. This also includes the understanding of the platform as a service (PaaS) and infrastructure as a service (IaaS).
Microsoft Azure – This course will help you learn about the trends of application architecture configuration management, deployment, azure platform security management, and much more. Also, you will learn about the basic concepts of cloud security, compliance, and components used.
Microsoft Azure Essentials – This module will help you to manage data centers and gaining knowledge of networking, virtualization, and technologies related to the cloud. At this stage, you will be understanding the services and work on real-time projects.
Amazon Cloud Computing – In this module, you will be working with EC2(Amazon Elastic Compute Cloud), AWS Storage and Content Delivery Network, Amazon S3, etc.
Microsoft Azure Data Lake – In this module, you will understand how the computer cloud works. Also, you will get hands-on experience while learning on technologies like Cloud Storage, Route 53, IAM, RDS, cloud watch, SNS simple notification system.
 AWS Technical Essentials – This module will be dealing with application development and performance optimization. This module is best suited for IT professionals who are currently managing the administration of their infrastructure. Here tools services such as Azure Application Services, Azure PaaS Services, Azure IaaS Services, etc. Will be taught which are the most important in Cloud computing.
Microsoft Azure Data Factory – In this module, you will learn about Identifying and Accessing the Cloud Management, It will teach you how to work with AWS Compute, Virtual Private Cloud, lambda, AWS Databases, AWS Storage, Elastic Load Balancing, RDS, Amazon elastic search, etc.
Microsoft Azure PAAS – In this module, you will learn how to set up the AWS account, the configuration of EC2, how to create the virtual machines, How to host the website on AWS EC2, etc.
Project on AWS – This will be a mini-course consisting of more knowledge and a deeper understanding of IAM, Route 53, EC2, etc. This can be a practice module in which you can get a hand on experience of these tools.
 Amazon Special Email Service – This module will help the candidate to develop email functionality in the application. it will provide deeper knowledge in amazon's simple email Service.
AWS Certified DevOps Engineer – This course will help you to understand the main component of the AWS along with the basics which are code-level application security. This is one of the important and essential concepts in AWS.
Aws Certified Sysops Administrator – Associate 2019 – This course consists of the principles of Cloud computing along with the implementation and applications.
Project – Migration Of Websites And Databases To Azure – This is also a mini-course which will be module will guide you on how to create the Azure Data Factory pipeline. This also consists of additional features of Azure Data Factory pipeline such as Scheduling a Pipeline, transforming and managing the data in it, etc.
Project – Migration Of .Net-Based Web Applications To Azure Paas – This module will teach you how to access SQL Catalog and Custom Functions, also how to access Azure Data Lake.
Chef DevOps Essentials – In this module, you will be working with tool Chef which is an automation platform that transforms infrastructure into code. This will guide you on the topics such as installation, Setup, Components of Chef, along with how to create nodes on Chef, bootstrapping, etc.
Cloud Migration – This cloud migration course will teach you how to migrate applications to Azure.
Cloud Computing For Business Users – This cloud computing training will give you hands-on experience on where cloud computing is applicable in business and how to get the best out of it. You will see how to find the latest payment status, the no. Of loans issued by places, the status of the stocks and market, current loan status, the average risk score, etc.
MODULE 1: Cloud Computing Essentials Training

| Courses | No. of Hours | Certificates | Details |
| --- | --- | --- | --- |
| Amazon Web Services (AWS) Certified 2023 | 8h 59m | ✔ | |
| Solutions Architect Associate - AWS Certified | 9h 4m | ✔ | |
| AWS Certified Cloud Practitioner Case Study - Hosting an ASP.NET Website on Amazon EC2 | 7h 24m | ✔ | |
| AWS Certified Developer Associate 2023 | 7h 01m | ✔ | |
| AWS Case Study - Simple Email Service AWS SES | 2h 3m | ✔ | |
| AWS Certified DevOps Engineer Professional 2023 | 4h 39m | ✔ | |
| AWS Certified SysOps Administrator - Associate | 8h 8m | ✔ | |
| Virtualization and Cloud Computing | 58m | ✔ | |
| Cloud Migration | 3h 4m | ✔ | |
| Cloud Computing for Business Users | 1h 57m | ✔ | |
| EXIN Cloud Computing Tutorials | 2h 36m | ✔ | |
| Cloud Computing | 2h 46m | ✔ | |
| Cloud Computing Fundamentals | 2h 05m | ✔ | |
| AWS Services Case Study - Build Server less Web Application | 58m | ✔ | |

MODULE 2: Microsoft Azure Cloud Computing

| Courses | No. of Hours | Certificates | Details |
| --- | --- | --- | --- |
| Microsoft Azure - Basics | 10h 53m | ✔ | |
| Microsoft Azure - Essentials | 6h 39m | ✔ | |
| Microsoft Azure - Data Lake | 6h 13m | ✔ | |
| Microsoft Azure - Data Factory | 4h 6m | ✔ | |

MODULE 3: Learning from Practicals & Case Studies

| Courses | No. of Hours | Certificates | Details |
| --- | --- | --- | --- |
| Microsoft Azure - PAAS Overview | 1h 52m | ✔ | |
| Azure Practical - Developing Your Applications | 4h 19m | ✔ | |
| Azure Practical - Migration of Websites and Databases to Azure | 2h 37m | ✔ | |
| Azure Practical - Migrating .NET-based web applications to Azure PAAS | 1h 43m | ✔ | |
| Chef Devops Essentials | 2h 21m | ✔ | |
Cloud Computing Training – Certificate of Completion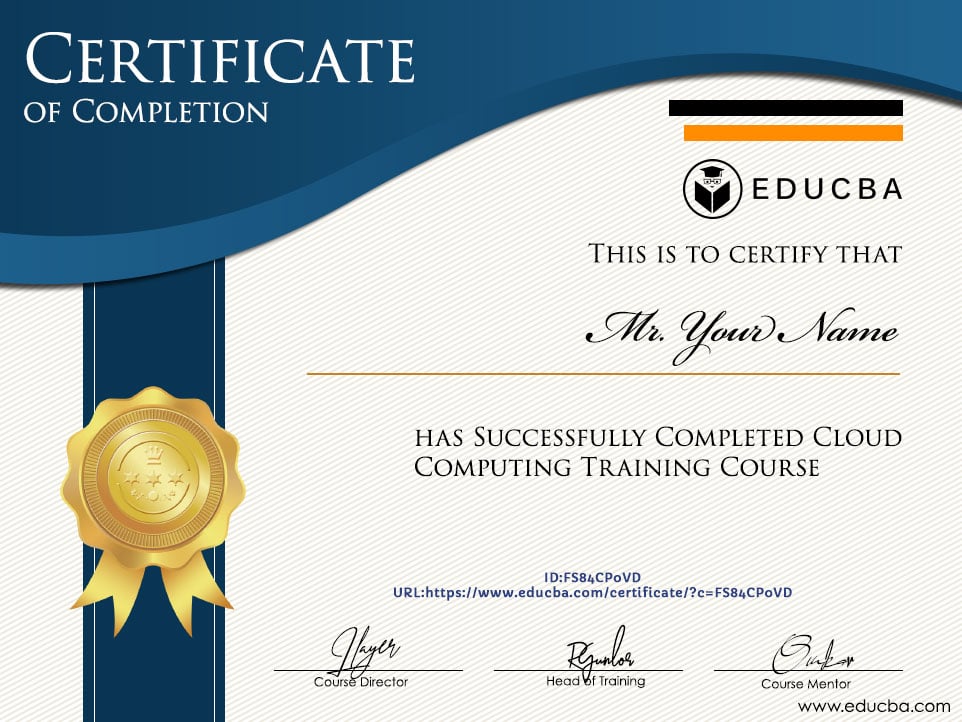 What is Cloud Computing?
Cloud computing is delivery over the Internet of computing services such as servers, storage, databases, networking, software, analytics, and more. Cloud Computing provides main features such as Scalability, Elasticity, Performance optimization, etc. Scalability is a valuable property of a system, network, or process that indicates its ability to either cleanly handle or expand growing amounts of work. Elasticity means that sudden, unanticipated, and extraordinary loads can be handled by your platform. Cloud providers use powerful infrastructure or other highlighting tools to create a highly organized and highly optimized system and then provide cloud customers with effective services. Portability is also one of the important features of cloud computing which allows users to access services using any devices, anywhere, continuously with mobility support and dynamic adaptation to resource variations.

Industry Growth Trend
The global cloud computing market size is expected to grow from USD 272.0 billion in 2018 to USD 623.3 billion by 2023, at a Compound Annual Growth Rate (CAGR) of 18.0% during the forecast period.
[Source - MarketsandMarkets]
Average Salary
Average Salary
$118,459 per year
The average salary for a Cloud Engineer is $118,459 per year in the United States.
[Source - Indeed]
Which Skills will you learn in this Training

?
You will learn Cloud computing skills which are most important when getting a job in this field and to build a career which is as follows:
You will learn how to use Amazon Web Services (AWS), management of security, and compliance. You will also understand the architecture, services provided by AWS, Microsoft Azure, migration of those services through the virtualization. In this way, this Cloud Computing Training in Noida will help you to enhance your proficiency level in the field of cloud computing for developing and deploying robust cloud applications.
Pre-requisites
There aren't really as such must have prerequisites for this Cloud Computing Training in Noida, but Networking knowledge can be added advantage but not mandatory. But you need to have a basic understanding of computer networks, software engineering concepts, database fundamentals, virtualization, data processing, data retrieval, etc.
The only important prerequisites are interest and a little bit of patience.
Target Audience
Anyone keen to learn and expertise in Cloud Computing and who has enough understanding about local servers and their storage and processing of data should without much difficulty can learn Cloud computing.
Students who have networking and database knowledge of at least the high school level and want to begin learning Cloud Computing.
Some intermediate level people who are familiar with the fundamentals of Cloud Computing which are mentioned in the perquisites section and want to know more about it and explore the amazing world of Cloud computing.
Anyone who wants to create added value to their current job as well as the company.
Anyone who wants to begin a career in Cloud computing.
Any Cloud computing architect who wants to level up because this Cloud Computing Training in Noida will give you in-depth knowledge and hands-on experience in this field.
Cloud Computing Training in Noida- FAQ's
---
After this Cloud computing training, will I be able to qualify the interview Cloud computing Professional roles?
Since taking this Cloud Computing Training in Noida, most of our fellow students have successfully positioned themselves in MNCs and various successful Startups During interviews and job applications, those students who are focused and complete all assignments and projects performing excellently in their jobs.
Would this Cloud computing training certification help me in my career advancement?
This cloud computing course is consists of AWS, Microsoft Azure, Storage security application which is highly demanding nowadays. So yes, doing Cloud Computing Certification will help in your IT Career.
Can I learn Cloud computing without prior knowledge of Networking?
Yes. However, learn your basics right, and to do this Cloud Computing Training in Noida and you are more than welcome.
Will I be able to pass AWS certification, based on this cloud computing training?

Yes, our extensive list of modules that are disc used above is mainly focused on cloud computing and AWS. So, you do not have to worry about AWS certification.
Why should you take up the Cloud computing training in Noida?

Educba is one of the few IT education institutes in Noida that have a separate Cloud computing training course. Educba experts are employed for this Cloud computing training course. Educba institute is very highly ranked in Noida and great for anyone who wants the best institute to learn cloud computing.

What is the market trend in Noida?
Most of the leading companies nowadays prefer cloud computing service roles to get more security to storage databases of their business. There is a dramatic increase in Cloud computing systems, resources, and applications focused on in the era of the internet. And these developments affect not only the computer industry, but the whole range of industries such as healthcare, transportation, manufacturing, entertainment, agriculture, etc., And as top companies like TCS, Infosys, L&T infotech, Cognizant, etc. In Noida invest heavily in research and development for Cloud computing and its numerous offshoots, this advancement in Cloud computing technologies only increases every year. So there is a huge demand in Cloud computing profiles in Noida right now. So be ready for your dream job in the Cloud computing field by taking this comprehensive course of Cloud computing with Educba.
Sample Preview
---
Career Benefits
In this Cloud computing course, you will learn from basics of cloud computing and other various resources which will help you to deal with analytical and big storage, compliance, and security problem as well as it will help you to crack your interview of the dream job profile of Cloud architect in the Company.  It will provide you the experience, the confidence, and the skills needed to perform better in your work life. It's also the perfect time to make mistakes and learn more! As you will cover the different topics included in the exam, you will discover more about Cloud Computing best practices and how to resolve some issues. It's a great way to be ready for real-life situations, and knowing how to deal with problems!. Cloud Computing certification will upgrade your resume. Very recognized in the cloud computing field, any of these certifications will give you a strong credit if you're looking for a new position. Many recruiters are now looking to hire people with these certifications so there will be many opportunities for you.
Reviews
---
Cloud Computing Course Review
The Cloud Computing course manages to deliver an excellent introduction to the cloud systems. The presentations are optimal and manage to cover in detail fundamental use cases like AWS/OpenStack. As I work in these fields I feel like I've upgraded my cloud knowledge a lot and managed to achieve some key skills at AWS/OpenStack administration.
Stefan Yordanov Angelov
Virtualization and Cloud Computing – Review
I came around this course while looking for the best ways to validate personal experiences. Although the recording quality for some of the modules was not as good as other modules within the same course, I enjoyed it. Very helpful. Very In-depth knowledge given by the instructors. In short, a wonderful course and was great learning !!!
Linked
Frederic Harmignies
Informative course
The Cloud Computing course starts from scratch and thus helps the students to learn all the concepts from basic to advanced levels. I have enrolled for two courses through educba. Very informative and enjoyable sessions. The tutor has a good knowledge of the subject and he made the session interesting. Thank you educba.
Linked
Martin Fritzsche
CLOUD COMPUTING
This was nice for an instance in cloud computing very educational material.
I like that all the basics fields were covered from how to use private to Public clouds, for instance, we have the Amazon Web Services that I would so much like to explore in detail and hopefully get a cloud certification. Then there was also a public cloud that one can lease and in turn lease out several applications and services.
Linked
Terence Chisenga
Cloud Computing Review
The best Cloud Computing course so far. The instructor was excellent. As an introduction to Cloud Computing it was incredibly educational. The future of Enterprise computing lies within the cloud. I learned a lot of new things. The instructor expanded on the things I already knew, therefore, making the learning more valuable. Thank you.
Richard H. Rihm