Learn from Home Offer TAKE THIS BUNDLE
Cloud Computing Training in Hyderabad (18 Courses, 5+ Projects)
18 Online Courses
5 Hands-on Projects
102+ Hours
Verifiable Certificate of Completion
Lifetime Access
AWS Amazon Web Services Cloud 2019
AWS Certified Solution Architect - Associate 2019
Amazon Cloud Computing - Hosting an ASP.NET Website on Amazon EC2
AWS Technical Essentials Training
Project on AWS - Simple Email Service AWS SES
Offer ends in:
TAKE THIS BUNDLE
* One Time Payment & Get Lifetime Access
What you get in this Cloud Computing Training in Hyderabad?
Online Classes
Technical Support
Mobile App Access
Case Studies
About Cloud Computing Training in Hyderabad
| Course | | No. of Hours |
| --- | --- | --- |
| Amazon Web Services (AWS) Certified 2023 | | 8h 57m |
| AWS Certified Solution Architect Associate | | 9h 4m |
| AWS Certified Cloud Practitioner Case Study - Hosting an ASP.NET Website on Amazon EC2 | | 7h 24m |
| AWS Certified Developer Associate 2023 | | 7h 01m |
| AWS Case Study - Simple Email Service AWS SES | | 2h 3m |
| AWS Certified DevOps Engineer Professional 2023 | | 4h 39m |
| AWS Certified SysOps Administrator - Associate | | 8h 8m |
| Virtualization and Cloud Computing | | 58m |
| Cloud Migration | | 3h 4m |
| Cloud Computing for Business Users | | 1h 57m |
| EXIN Cloud Computing Tutorials | | 2h 36m |
| Cloud Computing | | 2h 46m |
| Cloud Computing Fundamentals | | 2h 05m |
| AWS Services Case Study - Build Server less Web Application | | 58m |
| Microsoft Azure - Basics | | 10h 5m |
| Microsoft Azure - Essentials | | 6h 39m |
| Microsoft Azure - Data Lake | | 6h 13m |
| Microsoft Azure - Data Factory | | 4h 6m |
| Microsoft Azure - PAAS Overview | | 1h 52m |
| Azure Practical - Developing Your Applications | | 4h 19m |
| Azure Practical - Migration of Websites and Databases to Azure | | 2h 37m |
| Azure Practical - Migrating .NET-based web applications to Azure PAAS | | 1h 43m |
| Chef Devops Essentials | | 2h 21m |
| | |
| --- | --- |
| Course Name | Cloud Computing Training in Hyderabad |
| Deal | You get access to all videos for the lifetime |
| Hours | 102+ Video Hours |
| Core Coverage | Virtualization and Cloud Computing, AWS Amazon Web Services, Microsoft Azure, Amazon Cloud Computing, Azure Data Lake, Azure Data Factory, and such others to learn technical delivery of Cloud software development capabilities, including analytics and infrastructure concepts. |
| Course Validity | Lifetime Access |
| Eligibility | Anyone serious about learning data science and wants to make a career in analytics |
| Pre-Requisites | Basic knowledge of data and analytics |
| What do you get? | Certificate of Completion for the course |
| Certification Type | Course Completion Certificates |
| Verifiable Certificates? | Yes, you get verifiable certificates for each18 course, 5 Projects with a unique link. These link can be included in your resume/Linkedin profile to showcase your enhanced skills |
| Type of Training | Video Course – Self Paced Learning |
| Software Required | None |
| System Requirement | 1 GB RAM or higher |
| Other Requirement | Speaker / Headphone |
What will you learn in this Cloud Computing Training?
---
Cloud Computing Training in Hyderabad provided is most comprehensive which covers a wide range of topics along with required hands-on. Cloud Computing Training in Hyderabad you will learn introduction cloud computing and its basics, then there will introduction to AWS abbreviated to Amazon Web Services provided by Amazon and its cloud, then training will be provided on AWS technical essentials where you will learn techniques and concepts related AWS Platform, Navigating to AWS Management Console and AWS Security topic which is AWS Identity and Access Management (IAM), then there will introduction to DevOps and preparation towards AWS certified DevOps Engineer, then you will get to learn on Azure a cloud platform provided by Microsoft, Azure essentials where you will learn on Azure apps and web apps, azure virtual machines, storage on virtual machines, virtual network, Azure Active Directory, Azure Management Tools and other additional Azure services with business scenarios. Then there will be comprehensive training on Azure Data Lake, which is a comprehensive data storage and data analytics platform where large and complex data is stored is provided by Microsft to professionals, scientists, business organizations, Azure Data Factory, which is again Azures ETL services provided on transforming the raw data according to the need. Then there will be Azure PAAS (Platform as Service) An overview which is Microsoft azures development and deployment platforms which enable us to deliver most simpler as well as sophisticated applications. Then there will be modules on cloud computing topics like Chef Devops essentials, Virtualizations, and Cloud Computing, Cloud Migration, Cloud computing for business users, EXIN Cloud computing, and other fundaments. Apart from these modules, there will be abundant use cases and projects at each module the stage where you will get to apply your theoretical knowledge. Some of the notable projects include hosting ASP.NET website on AWS platform, AWS project on Simple Email Service (SES), developing an application on Azure, and then there will be abundant use cases on Migration of Website and Database to Azure, then there will be a comprehensive project on migrating ASP.NET web applications to Azure PAAS. This is the gist of what you will be getting from this training and if you will be guided by an appropriate instructor at each stage and any roadblocks will be taken care of.
Cloud Computing Training – Certificate of Completion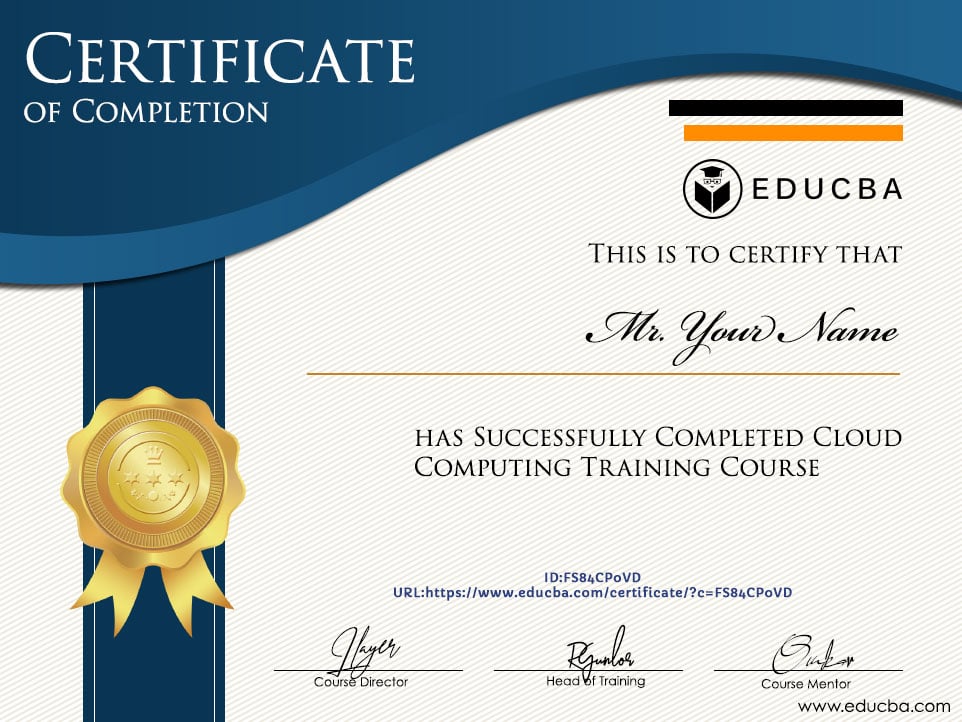 What is Cloud Computing?
Is there any way we cannot have the full infrastructure for us to work upon and we are not sure about our frequency of requirement? Setting up this will be of the huge capital and if there is an alternative available and is feasible one should opt that. Cloud computing the answer to the above scenario. Here the could providers will provide you service and shared infra on pay per use (you need not pay when it is not required) basis so that it can benefit both. In definition terms, we can say that it is the methodology of using the remote network-connected resources to servers or also the delivery of computing services such as providing storage servers, networks, software, analytics or intelligence over the internet to store, transform and process the data rather than using the local server or individual pc. We say it pays to peruse because it is on-demand availability.

Industry Growth Trend
The global cloud computing market size is expected to grow from USD 272.0 billion in 2018 to USD 623.3 billion by 2023, at a Compound Annual Growth Rate (CAGR) of 18.0% during the forecast period.
[Source - MarketsandMarkets]
Average Salary
Average Salary
$118,459 per year
The average salary for a Cloud Engineer is $118,459 per year in the United States.
[Source - Indeed]
Which Skills will you learn in this Training
?
If you already know about could and have some hands-on it then this training will strive to provide you the expertise so that you can handle POC all alone. If you are new to this technology then first you get more interest in subjects as the training proceeds and after each project module end, your confidence level is getting bigger. They will learn about AWS provided cloud services and its elements and would be getting sufficient use cases to work upon. Once AWS is done you will be beginning with Azure and you will be able to compare both at this stage. You will also learn that depending on the use case requirement how you will use the platform interchangeably.
Pre-requisites
basics skill of programming language
then it will be sufficient to begin the course. You don't require mastery but basic terminologies that used in day to day programming languages will be added advantage. One of the most important prerequisites is to have the willingness to learn and solve the use cases independently is the driving factor for this training. If you are new to programming then this attitude to learning will make gain knowledge and that will help you grow your career.
Target Audience
If you are looking to plan a demanding and challenging career then you can cloud computing in your profile. One who has got basics covered but striving to learn advanced concepts can gain from Cloud Computing Training in Hyderabad. If you are a beginner then you should consider this option and you can viable reasons from little browse of the internet on how the career profile of cloud professionals is.
Cloud Computing Training in Hyderabad – FAQ's
---
what will be a market trend of cloud computing in the future?
Cloud technologies are the on-demand availability and lots of organizations are nowadays preferring it as the could service are faster and premium and to develop them individually without knowing the frequency of use is unnecessary. So the market tren will be an uprising in the coming future as well and taking up Cloud Computing Training in Hyderabad will advance your career.
which is better, AWS by Amazon or Azure by Microsoft?
They are much fundamental difference but technical aspiration can be achieved by both AWS and Azure. The choice was purely dependent on the organization based on the fundamental differences like who they will charge and all.
If I beginner then can I opt for this course?
Yes, one can opt for this course even though he is a beginner. The main prerequisite for this course is the willingness to learn and that is enough. Having prior exposure to IT terminologies will be an added advantage but one can have the crash course to learn basic if he was not introduced to it earlier.
Will this training will help me clear the certification?
Yes definitely this training is designed to handle the certification syllabus and the structure is most comprehensive. An associate can attempt certification after the training and having sufficient hands-on.
Career Benefits
The cloud computing future is bright and the career profile of cloud professionals will be uprising since there are numerous advantages to the organization like easily elevated scalability, flexibility, much reduction in cost and easy accessibili.ty they are adopting cloud platform and their adoption rate are increasing. So definitely the demand for the qualified cloud professional will be hight. The training module starts from scratch and slowly moves to advance topics and the associate will start getting comfortable with the subject if he is new to it.
Why should you take up the Cloud Computing Training in Hyderabad?
Hyderabad one of the most popular destinations for business and IT organizations. And since with numerous advantages of the cloud, these organizations are scaling slowly towards cloud technologies. So getting trained in Hyderabad and being available for the Hyderabad IT market will give higher chances of desired employment and remuneration
What is the Cloud Computing market trend in Hyderabad?
There are numerous multinational companies and business organizations in around Hyderabad. There is Hi-Tech City dedicated to these organizations here. Most of these organizations have already started using cloud platforms for most of their services and remaining as well as scaling towards it. So the requirement for certified cloud professionals is higher in the market and these trends seem to continue with the advent of the startup era.
Reviews
---
Cloud Computing Course Review
The Cloud Computing course manages to deliver an excellent introduction to the cloud systems. The presentations are optimal and manage to cover in detail fundamental use cases like AWS/OpenStack. As I work in these fields I feel like I've upgraded my cloud knowledge a lot and managed to achieve some key skills at AWS/OpenStack administration.
Linked
Stefan Yordanov Angelov
Virtualization and Cloud Computing – Review
I came around this course while looking for the best ways to validate personal experiences. Although the recording quality for some of the modules was not as good as other modules within the same course, I enjoyed it. Very helpful. Very In-depth knowledge given by the instructors. In short, a wonderful course and was great learning !!!
Linked
Frederic Harmignies
Informative course
The Cloud Computing course starts from scratch and thus helps the students to learn all the concepts from basic to advanced levels. I have enrolled for two courses through educba. Very informative and enjoyable sessions. The tutor has a good knowledge of the subject and he made the session interesting. Thank you educba.
Linked
Martin Fritzsche
CLOUD COMPUTING
This was nice for an instance in cloud computing very educational material.
I like that all the basics fields were covered from how to use private to Public clouds, for instance, we have the Amazon Web Services that I would so much like to explore in detail and hopefully get a cloud certification. Then there
was also a public cloud that one can lease and in turn lease out several applications and services.
Linked
Terence Chisenga
Cloud Computing Review
The best Cloud Computing course so far. The instructor was excellent. As an introduction to Cloud Computing it was incredibly educational. The future of Enterprise computing lies within the cloud. I learned a lot of new things. The instructor expanded on the things I already knew, therefore,
making the learning more valuable. Thank you.
Richard H. Rihm