Learn from Home Offer TAKE THIS BUNDLE
Cloud Computing Training in Delhi (18 Courses, 5+ Projects)
18 Online Courses
5 Hands-on Projects
102+ Hours
Verifiable Certificate of Completion
Lifetime Access
AWS Amazon Web Services Cloud 2019
AWS Certified Solution Architect - Associate 2019
Amazon Cloud Computing - Hosting an ASP.NET Website on Amazon EC2
AWS Technical Essentials Training
Project on AWS - Simple Email Service AWS SES
Offer ends in:
TAKE THIS BUNDLE
* One Time Payment & Get Lifetime Access
What you get in this Cloud Computing Training in Delhi?
Online Classes
Technical Support
Mobile App Access
Case Studies
About Cloud Computing Training in Delhi
| Course | | No. of Hours |
| --- | --- | --- |
| Amazon Web Services (AWS) Certified 2022 | | 8h 57m |
| AWS Certified Solution Architect Associate | | 9h 4m |
| AWS Certified Cloud Practitioner Case Study - Hosting an ASP.NET Website on Amazon EC2 | | 7h 24m |
| AWS Certified Developer Associate 2022 | | 7h 01m |
| AWS Case Study - Simple Email Service AWS SES | | 2h 3m |
| AWS Certified DevOps Engineer Professional 2022 | | 4h 39m |
| AWS Certified SysOps Administrator - Associate | | 8h 8m |
| Virtualization and Cloud Computing | | 58m |
| Cloud Migration | | 3h 4m |
| Cloud Computing for Business Users | | 1h 57m |
| EXIN Cloud Computing Tutorials | | 2h 36m |
| Cloud Computing | | 2h 46m |
| Cloud Computing Fundamentals | | 2h 05m |
| AWS Services Case Study - Build Server less Web Application | | 58m |
| Microsoft Azure - Basics | | 10h 5m |
| Microsoft Azure - Essentials | | 6h 39m |
| Microsoft Azure - Data Lake | | 6h 13m |
| Microsoft Azure - Data Factory | | 4h 6m |
| Microsoft Azure - PAAS Overview | | 1h 52m |
| Azure Practical - Developing Your Applications | | 4h 19m |
| Azure Practical - Migration of Websites and Databases to Azure | | 2h 37m |
| Azure Practical - Migrating .NET-based web applications to Azure PAAS | | 1h 43m |
| Chef Devops Essentials | | 2h 21m |
| | |
| --- | --- |
| Course Name | Cloud Computing Training in Delhi |
| Deal | You get access to all videos for the lifetime |
| Hours | 102+ Video Hours |
| Core Coverage | Virtualization and Cloud Computing, AWS Amazon Web Services, Microsoft Azure, Amazon Cloud Computing, Azure Data Lake, Azure Data Factory, and such others to learn technical delivery of Cloud software development capabilities, including analytics and infrastructure concepts. |
| Course Validity | Lifetime Access |
| Eligibility | Anyone serious about learning data science and wants to make a career in analytics |
| Pre-Requisites | Basic knowledge of data and analytics |
| What do you get? | Certificate of Completion for the course |
| Certification Type | Course Completion Certificates |
| Verifiable Certificates? | Yes, you get verifiable certificates for each18 course, 5 Projects with a unique link. These link can be included in your resume/Linkedin profile to showcase your enhanced skills |
| Type of Training | Video Course – Self Paced Learning |
| Software Required | None |
| System Requirement | 1 GB RAM or higher |
| Other Requirement | Speaker / Headphone |
Cloud Computing Training in Delhi Curriculum
---
In our Cloud Computing Training in Delhi, careful and minute details have been studied upon while building the training. This training caters to anyone who is beginner, or someone working in cloud computing and wants to upskill themselves. Cloud Computing Training in Delhi starts with a topic which is a hot cake in the industry, AWS (Amazon Web Services). This topic brings in the latest up to date AWS features into one zone for learning. This also includes all the required skills for the AWS Certified Solution Architect – Associate 2019 exam. And to have icing on the cake we expect that our audience can host an ASP.NET website on EC2 instance.
Next in line, we have AWS Certified DevOps Engineer and AWS Certified SysOps Administrator – Associate 2019 materials to prepare you for the next big thing. Next, we take a deep dive into Microsoft Azure. In this, we cater to different features of Microsoft Azure like Microsoft Azure Essential, Data Lake, Data Factory, PAAS Overview. Along with this, there are hands-on projects on Microsoft Azure to equip you to deal with real-time problems.
Next, we would have around a tour of a few other topics like Chef DevOps Essentials, Cloud migration, EXIN cloud computing, and many other small yet important topics. With this training having extensive materials to take you through every detail of cloud computing, that one can find himself/herself in a comfortable position in an everyday role.
Cloud Computing Training – Certificate of Completion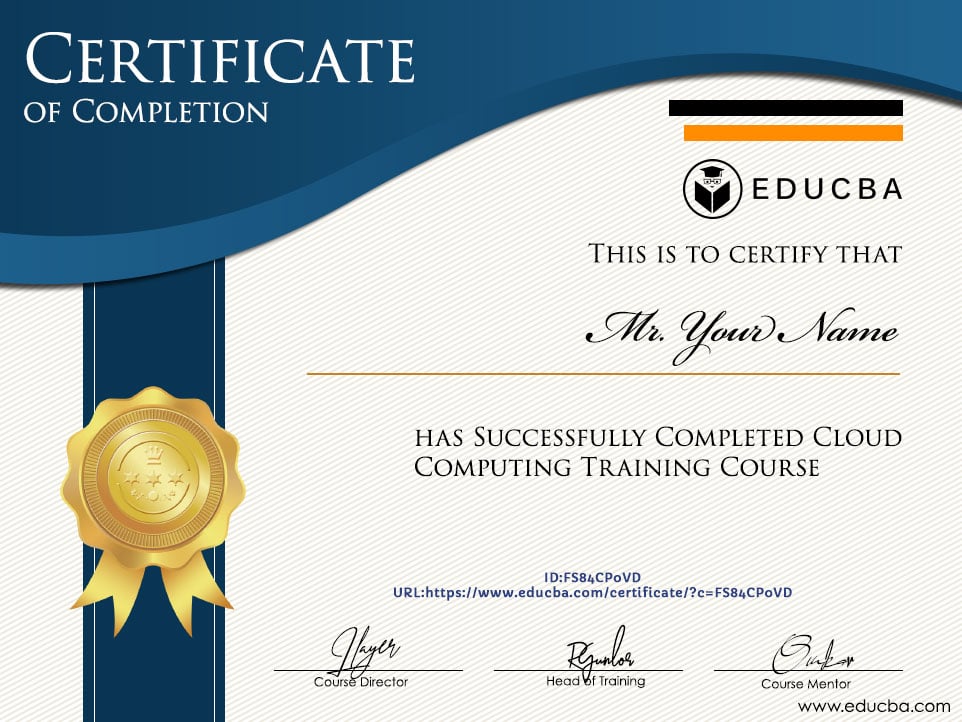 What is Cloud Computing?
Cloud computing is a general terminology where any type of service in terms of hardware infrastructure or software is provided by another organization. This is a type of sharing service wherein the organization providing the services invests to bring up the required features and then once it starts providing charges for the same. As a user of cloud computing, we are not concerned about the infrastructure setting and maintaining cost. It all owned by the service provider. All we need is a computer peripheral and an internet connection. Where the infrastructure sits is none of our concern and can be anywhere in the world, just like a nebulous cloud.
Let's start with a simple example wherein we google some query into google, something we do day in day out. Now what we are concerned with is we need to have the hardware, like a computer/laptop/mobile and an internet connection. We are not concerned where the query is getting executed, neither on what hardware specs it uses for executing the query. What we are concerned about is we get the result of our query.
There are different kinds of Cloud computing services.
Infrastructure as a Service (IaaS): As the name suggests we take services of the infrastructure like high processing power in terms of RAM or server or storage. Another name to this type of service is utility computing.
Software as a Service (SaaS): In this service, the user needs to run a complete application on the service provider's system. A very common example is Google documents.
Platform as a Service (PaaS): In PaaS, we use the system software and hardware on the service provider's system. For example, Google App Engine.

Industry Growth Trend
The global cloud computing market size is expected to grow from USD 272.0 billion in 2018 to USD 623.3 billion by 2023, at a Compound Annual Growth Rate (CAGR) of 18.0% during the forecast period.
[Source - MarketsandMarkets]
Average Salary
Average Salary
$118,459 per year
The average salary for a Cloud Engineer is $118,459 per year in the United States.
[Source - Indeed]
Which Skills will you learn in this Training
?
The course here will equip you with all the required skill set to master any project in Cloud computing. Cloud Computing Training in Delhi starts with the basic fundamental of AWS. This portion allows the learner to grasp cloud concepts in no time and then equip themselves with all tools for AWS Certified Solution Architect – Associate. Not only AWS, but it also covers Azure technologies into the course structure. Fundamentals in cloud migration, and how cloud computing will cater to business users will also be dealt with in this course. During the stretch of the course, there will be ample projects which will be undertaken in the way which will prepare the learning for tackling any kind of real-time project.
Pre-requisites
Our courses are designed in such a way that within the scope of the course we try to provide enough theoretical and practical experience. But to learn effectively, there are a few good-to-have things. One of them is a basic understanding of IT. It is nothing to do with a degree in computer science, but few terminologies like server, computer networks, data retrieval, virtualization, etc. But apart from anything good to have things it is somewhat necessary to have the willingness to pursue a career in the same. Skill and passion when blend together, give perfection to your work. Also, the most important prerequisite is to attend the class with full dedication and complete the projects without anyone's help. Doing this, it will give immense confidence in oneself.
Target Audience
As far as any of our courses are concerned, the main target audience is the one who has inquisitiveness to learn more. Cloud Computing Training in Delhi is no different and is intended for people who want to upskill themselves in current job scenario and provides a boost to career irrespective of what position they are in. Cloud Computing Training in Delhi is designed for anyone and everyone who wants themselves to get knowledge in whatever form it exists. For a student who wants to start their career in cloud computing, this course will give immense "from scratch" tips that while going through the course this course will not look like a new course. Cloud Computing Training in Delhi will also boost IT professional who wants to use the concepts of cloud computing to decide for their on-going or new projects. And last but not least, cloud computing professionals who want to take their learning to the next level, this course will deem fit to help in their journey. Not only this, but this course will also help them to get an overview of cloud computing basics as revision material.
Cloud Computing Training in Delhi – FAQ's
---
Why should you take up the Cloud Computing Training in Delhi?
Cloud computing training anywhere in India is equally rewarding, and as people who stay in Delhi, EduCBA's cloud computing course will equip you with all the necessary tools to perform at the zenith at your job and provide a deep understanding of the topics. On completing the training, one would get immense confidence to sail any live projects in the arena of cloud computing smoothly. Starting from cloud computing fundamentals to putting up virtualization, you name it we have it!
What is the Cloud Computing market trend in Delhi?
With the recent surge in organizations moving to cloud computing procedures, instead of investing huge loads in infrastructure or software or platform. At the time we speak, there is a total of 4935 jobs still opened and more than 250 jobs getting created every day. Also, with the startup boom, an organization would like to invest not much in resources but try out what is the optimal resource required and then maybe move ahead with buying the resources for a longer time. Whilst in POC stage organizations in Delhi heavily need someone who might understand cloud computing and take POC forward.
On completing the cloud computing training will I be able to clear AWS certification?
Our courses contain end-to-end resources required to understand cloud computing Please go through our courses with an extensive list of modules diligently which would be more than enough for AWS certification. Our courses enable one to become a cloud computing engineer equipped to handle real-life scenarios.
Career Benefits
As Jeff Bezos, CEO Amazon said "
We don't generate our electricity, then why generate our computing
" it becomes rewarding in the current scenario to upskill yourselves in cloud computing. Gartner, the world's leading research and advisory company, valued cloud computing to $ 58.6 billion in 2009, $ 68.3 billion in 2010, over $ 102 billion in 2012, and $ 260 billion in 2017. It also predicts the value to be near $ 302.5 billion by 2021. The growth in terms of value doesn't report any stagnant zone. Also, doing this we might do our bit towards the environment, as cloud computing requires fewer "personal" hardware and utilize lesser energy by sharing an efficiently run, centralized, cloud-based system rather than in-efficient "personal" systems.
Reviews
---
Cloud Computing Course Review
The Cloud Computing course manages to deliver an excellent introduction to the cloud systems. The presentations are optimal and manage to cover in detail fundamental use cases like AWS/OpenStack. As I work in these fields I feel like I've upgraded my cloud knowledge a lot and managed to achieve some key skills at AWS/OpenStack administration.
Stefan Yordanov Angelov
Virtualization and Cloud Computing – Review
I came around this course while looking for the best ways to validate personal experiences. Although the recording quality for some of the modules was not as good as other modules within the same course, I enjoyed it. Very helpful. Very In-depth knowledge given by the instructors. In short, a wonderful course and was great learning !!!
Linked
Frederic Harmignies
Informative course
The Cloud Computing course starts from scratch and thus helps the students to learn all the concepts from basic to advanced levels. I have enrolled for two courses through educba. Very informative and enjoyable sessions. The tutor has a good knowledge of the subject and he made the session interesting. Thank you educba.
Linked
Martin Fritzsche
CLOUD COMPUTING
This was nice for an instance in cloud computing very educational material.
I like that all the basics fields were covered from how to use private to Public clouds, for instance, we have the Amazon Web Services that I would so much like to explore in detail and hopefully get a cloud certification. Then there was also a public cloud that one can lease and in turn lease out several applications and services.
Linked
Terence Chisenga
Cloud Computing Review
The best Cloud Computing course so far. The instructor was excellent. As an introduction to Cloud Computing it was incredibly educational. The future of Enterprise computing lies within the cloud. I learned a lot of new things. The instructor expanded on the things I already knew, therefore, making the learning more valuable. Thank you.
Richard H. Rihm