Learn from Home Offer TAKE THIS BUNDLE
CLOUD COMPUTING Course Bundle - 23 Courses in 1
97+ Hours of HD Videos
23 Courses
Verifiable Certificate of Completion
Lifetime Access
TAKE THIS BUNDLE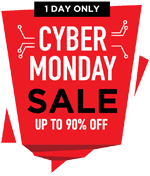 * One Time Payment & Get Lifetime Access
What you get in this CLOUD COMPUTING Course Bundle - 23 Courses in 1?
97+ Hours
23 Courses
Course Completion Certificates
Lifetime Access
Self-paced Courses
Technical Support
Mobile App Access
Case Studies
About Cloud Computing Training in Chandigarh
| | |
| --- | --- |
| Course Name | Cloud Computing Training in Chandigarh |
| Deal | You get access to all videos for the lifetime |
| Hours | 97+ Video Hours |
| Core Coverage | Virtualization and Cloud Computing, AWS Amazon Web Services, Microsoft Azure, Amazon Cloud Computing, Azure Data Lake, Azure Data Factory, and such others to learn technical delivery of Cloud software development capabilities, including analytics and infrastructure concepts. |
| Course Validity | Lifetime Access |
| Eligibility | Anyone serious about learning data science and wants to make a career in analytics |
| Pre-Requisites | Basic knowledge of data and analytics |
| What do you get? | Certificate of Completion for the course |
| Certification Type | Course Completion Certificates |
| Verifiable Certificates? | Yes, you get verifiable certificates for each23 course, Projects with a unique link. These link can be included in your resume/Linkedin profile to showcase your enhanced skills |
| Type of Training | Video Course – Self Paced Learning |
| Software Required | None |
| System Requirement | 1 GB RAM or higher |
| Other Requirement | Speaker / Headphone |
Cloud Computing Training in Chandigarh Curriculum
---
We have 18 cloud computing courses in our curriculum. There are 100+ hours of tutorials which are devised by experts according to the relevant need of the industry.
The core coverage of our training material revolves around Virtualization and Cloud Computing. A proper understanding of the business scenario is provided here about the management and the requirement of scalability. The detailed study on AWS Amazon Web Service and how it aids in cloud computing is provided in our curriculum. All the processes involved from testing, deploying, and managing through the network are well explained here. The fundamental concept on the architecture, (PaaS) Platform as a Service and (IaaS) Information as a Service in terms of Microsoft Azure is explained in depth. The modules are made in a comprehensive way to give an overview of the application development of the Azure platform from a developer's perspective. The major emphasis is done on the services and features of the AWS. We are known to provide the best hands-on training as we cover all the essential topics in our handed-out training modules. Topics like IAM, AWS Storage, and Content Delivery, Route 53, EC2, RDS, CloudWatch, Azure Active Directory, Azure Application Services, AWS Database, Elastic Load Balance, Virtual Private Cloud, etc.
Each module is an enhancement from the topics covered previously in the module, hence a student will find it very easy to relate to the new terms and jargon used for this technical skill.
MODULE 1: Cloud Computing Essentials Training

| Courses | No. of Hours | Certificates | Details |
| --- | --- | --- | --- |
| Amazon Web Services (AWS) Certified 2023 | 8h 59m | ✔ | |
| Solutions Architect Associate - AWS Certified | 9h 4m | ✔ | |
| AWS Certified Cloud Practitioner Case Study - Hosting an ASP.NET Website on Amazon EC2 | 7h 24m | ✔ | |
| AWS Certified Developer Associate 2023 | 7h 01m | ✔ | |
| AWS Case Study - Simple Email Service AWS SES | 2h 3m | ✔ | |
| AWS Certified DevOps Engineer Professional 2023 | 4h 39m | ✔ | |
| AWS Certified SysOps Administrator - Associate | 8h 8m | ✔ | |
| Virtualization and Cloud Computing | 58m | ✔ | |
| Cloud Migration | 3h 4m | ✔ | |
| Cloud Computing for Business Users | 1h 57m | ✔ | |
| EXIN Cloud Computing Tutorials | 2h 36m | ✔ | |
| Cloud Computing | 2h 46m | ✔ | |
| Cloud Computing Fundamentals | 2h 05m | ✔ | |
| AWS Services Case Study - Build Server less Web Application | 58m | ✔ | |

MODULE 2: Microsoft Azure Cloud Computing

| Courses | No. of Hours | Certificates | Details |
| --- | --- | --- | --- |
| Microsoft Azure - Basics | 10h 53m | ✔ | |
| Microsoft Azure - Essentials | 6h 39m | ✔ | |
| Microsoft Azure - Data Lake | 6h 13m | ✔ | |
| Microsoft Azure - Data Factory | 4h 6m | ✔ | |

MODULE 3: Learning from Practicals & Case Studies

| Courses | No. of Hours | Certificates | Details |
| --- | --- | --- | --- |
| Microsoft Azure - PAAS Overview | 1h 52m | ✔ | |
| Azure Practical - Developing Your Applications | 4h 19m | ✔ | |
| Azure Practical - Migration of Websites and Databases to Azure | 2h 37m | ✔ | |
| Azure Practical - Migrating .NET-based web applications to Azure PAAS | 1h 43m | ✔ | |
| Chef Devops Essentials | 2h 21m | ✔ | |
Cloud Computing Training – Certificate of Completion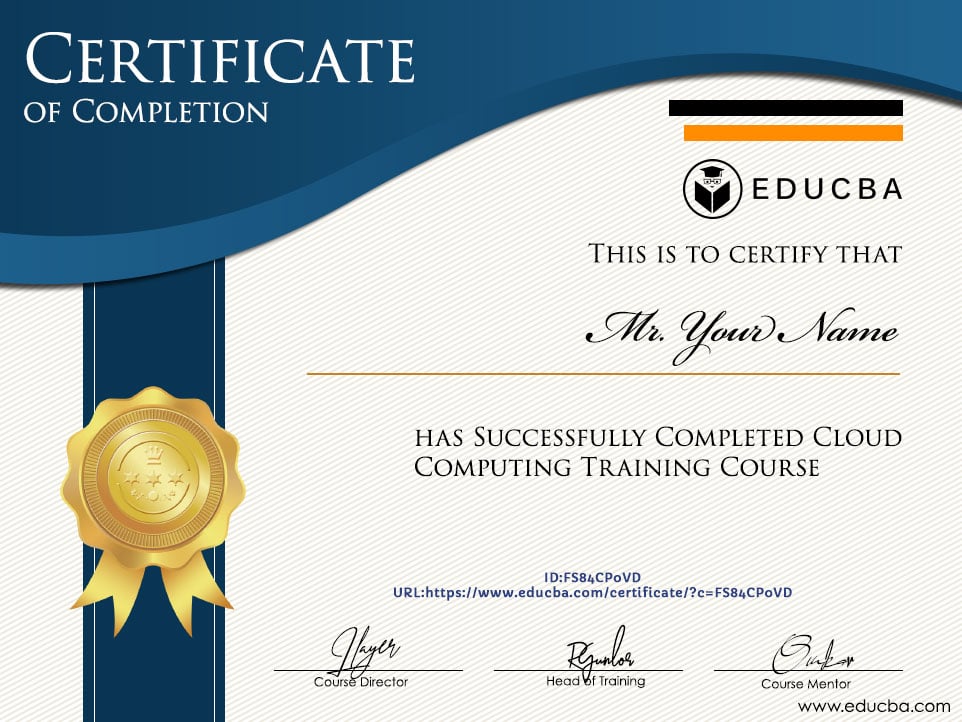 What is Cloud Computing?
Cloud Computing is a very demanding technology that can be used to compute the power of computing via the internet. It can provide the relevant services to an organization without the active management by the user. Cloud Computing can be helpful at the database, networking, storage application, software, analytics, and various other IT resources. Cloud Computing has a pay as you price up policy. It can be used to run applications that are shared with millions of users or have its application to support the critical business operations for a business. A cloud service is efficient at providing rapid services for flexibility and for receiving low cost IT services.
The term usually coins to the data center's that are available across to a large number of users. Large clouds have features that their functionality is spread over multiple locations from data servers.
The payment is made only for the cloud service which is used for the organization. This in turn helps the organization at lowering its operation cost helping them to run the organization more efficiently when the need to scale up the business arises.
Industry Growth Trend
The global cloud computing market size is expected to grow from USD 272.0 billion in 2018 to USD 623.3 billion by 2023, at a Compound Annual Growth Rate (CAGR) of 18.0% during the forecast period.
[Source - MarketsandMarkets]
Average Salary
Average Salary
$118,459 per year
The average salary for a Cloud Engineer is $118,459 per year in the United States.
[Source - Indeed]
Which Skills will you learn in this Training

?
The skill you will learn at this training is Virtualization and Cloud Computing, to begin with as a beginner. All the basics are involved in delivering computer services with the aid of several computers. This training will make you efficient at identifying AWS terminologies, concepts, benefits, and the options for deployment for the requirement of the business. All the cloud foundation courses are designed by industry experts and it aims at making student efficient at the key aspects like SaaS, PaaS, IaaS. You will be learning the computing, loading, and autoscaling of the services using AWS and about services on AWS.
Pre-requisites
To start with the prerequisite of Cloud computing training, one does not need to have a degree in Computer Science/Information Technology. One just needs basic knowledge in the information technology domain.
Some basic concepts related to Operating Systems, Windows, and Linux are needed. Virtualization and basic background about what it does and the software that can be used to implement can be brushed up by anyone.
It is good to know technologies that are needed on-premise like TCP/IP, Virtual Private Network, firewalls, DNS, encryption technologies.
There is no need to have prior coding experience or need to have technical experience in the IT domain. Could computing can be taken up by anyone.
Target Audience
As mentioned in the above section that Cloud Computing is not only for people specifically from the IT domain, it can be taken up by anyone.
College freshers experienced IT professionals from other technological domains, Developer, Analyst, Manager, or a person who is not from the IT forum. It is a great transition for someone looking for a change in career path. Cloud computing is simple to grasp and needs just a few basic prerequisites that can be prepared by any individual. It just requires the required amount of grit and firm decision to enter this domain. A career in Cloud Computing has a growing market and is one of the most sorted after career options now.
Cloud Computing Training in Chandigarh – FAQ's
---
Here are some of the FAQ which has always been asked by people who consider taking up this training.
What is Cloud Computing?
Cloud computing can be simply explained as using the infrastructure and hardware of someone else thus reducing the investment in one's own business for those same requirements. The network is used at managing, storing, and processing data. All this is done without the need of hosting it locally instead cloud is used for that purpose.
What workloads can be moved to the cloud?
It all depends on the respective cloud strategy and business. Several companies use the cloud to back up their data, it can be for short term or even for the long term. Testing operations can be outsourced via the cloud, along with Dev. As data access is possible from anywhere, it serves as a huge advantage. As the setting up of the environment is easy, and scaling/de-scaling also is a handy process it is taken as a very favorable option for many big organizations.
Sample Preview
---
Career Benefits
Cloud computing is one of the hot technology all across the world. Learning Cloud computing training in Chandigarh will make you eligible for all the positions that require cloud computing professionals. In Cloud computing training in Chandigarh, we have covered all the major and minor concepts that are required to begin working with cloud computing in the actual production environment. The projects included in this Cloud computing training in Chandigarh are adequate to make you understand the concepts of
in a deep manner. The trend of this technology has begun a decade back and it is growing exponentially in the current time. Due to this, the compensation paid to cloud computing professionals is pretty lucrative. If you like working with the infrastructure and meanwhile looking for something that can help you to grow professionally, you can opt for this course to begin your first step to meet your ambitions.
Cloud computing training in Chandigarh has a wide expanse in the IT market. There is a utility in data storage, application scaling, maintenance, cloud network infrastructure, operation, and maintenance of cloud services.
One can become a DevOps Engineer, Cloud Security Engineer, Web Services System Engineer, Programmer (Python, Hadoop, and Data Management language in SQL comes as a handy skill for Programmers). Along with the above-mentioned roles, there is always new cloud computing IT roles entering the industry. For example, Cloud Consultant and Cloud Contractors who contribute to the planning and the execution of applications to the cloud.
After the transition of applications to the cloud, the administration of the environment is also needed. Therefore, there are administrative roles also present if someone has a knack in the administrative department after attaining training in cloud computing.
Why should you take up the Cloud Computing Training in Chandigarh? 
Cloud computing training in Chandigarh has a great market in the digital market everywhere. It is not just the bigger companies but medium-sized and smaller companies that have realized the importance of Cloud Computing. 
At EDUCBA, trained professionals provide the best training on Cloud Computing based on real-time projects with proper technical support. A certificate is also issued at the end of the training which carries weight and will help attain interviews.
What is the Cloud Computing market trend in Chandigarh?
The global Cloud Computing market is expected to grow to about 38% more from 2017. The highest growth is expected for IaaS (about 49%), followed by SaaS (about 33%) and then by PaaS (about 32%). India is all set to adopt the benefits of Cloud Computing and is just second to China in achieving so. Indian Government has started an initiative called the "GI Cloud" also called "MeghRaj" to accelerate the services of e-cloud in the country. As per records, it is expected that 1 million new jobs will be created due to cloud technology by the year 2022. There is a good number of Jobs booming in Chandigarh for Cloud Computing and it is the right time for people to start taking advantage of this course if not taken already.
Reviews
---
Cloud Computing Course Review
The Cloud Computing course manages to deliver an excellent introduction to the cloud systems. The presentations are optimal and manage to cover in detail fundamental use cases like AWS/OpenStack. As I work in these fields I feel like I've upgraded my cloud knowledge a lot and managed to achieve some key skills at AWS/OpenStack administration.
Stefan Yordanov Angelov
Virtualization and Cloud Computing – Review
I came around this course while looking for the best ways to validate personal experiences. Although the recording quality for some of the modules was not as good as other modules within the same course, I enjoyed it. Very helpful. Very In-depth knowledge given by the instructors. In short, a wonderful course and was great learning !!!
Linked
Frederic Harmignies
Informative course
The Cloud Computing course starts from scratch and thus helps the students to learn all the concepts from basic to advanced levels. I have enrolled for two courses through educba. Very informative and enjoyable sessions. The tutor has a good knowledge of the subject and he made the session interesting. Thank you educba.
Linked
Martin Fritzsche
CLOUD COMPUTING
This was nice for an instance in cloud computing very educational material.
I like that all the basics fields were covered from how to use private to Public clouds, for instance, we have the Amazon Web Services that I would so much like to explore in detail and hopefully get a cloud certification. Then there was also a public cloud that one can lease and in turn lease out several applications and services.
Linked
Terence Chisenga
Cloud Computing Review
The best Cloud Computing course so far. The instructor was excellent. As an introduction to Cloud Computing it was incredibly educational. The future of Enterprise computing lies within the cloud. I learned a lot of new things. The instructor expanded on the things I already knew, therefore, making the learning more valuable. Thank you.
Richard H. Rihm