Learn from Home Offer TAKE THIS BUNDLE
Azure Training in Pune (6 Courses, 5+ Projects)
6 Online Courses
5 Hands-on Projects
67+ Hours
Verifiable Certificate of Completion
Lifetime Access
4 Quizzes with Solutions
Microsoft Azure Essentials
Microsoft Azure Data Lake
Microsoft Azure Data Factory
Microsoft Azure PAAS Overview
Offer ends in:
TAKE THIS BUNDLE
* One Time Payment & Get Lifetime Access
What you get in this Azure Training in Pune?
Online Classes
Technical Support
Mobile App Access
Case Studies
About Azure Training in Pune
| Course | | No. of Hours |
| --- | --- | --- |
| Microsoft Azure - Basics | | 10h 5m |
| Azure Practical - Cognitive Services | | 6h 14m |
| Azure Cognitive Services - Creating an AI Based Chatbot | | 41m |
| Microsoft Azure - Essentials | | 6h 39m |
| Microsoft Azure - Data Lake | | 6h 13m |
| Microsoft Azure - Data Factory | | 4h 6m |
| Microsoft Azure - PAAS Overview | | 1h 52m |
| Azure Practical - App Services | | 7h 42m |
| Azure Practical - Developing Your Applications | | 4h 19m |
| Azure Practical - Website and Database Migration to Azure Platform | | 53m |
| Azure Practical - Migrating .NET-based web applications to Azure PAAS | | 1h 43m |
| | |
| --- | --- |
| Course Name | Azure Training in Pune |
| Deal | You get access to all videos for the lifetime |
| Hours | 67+ Video Hours |
| Core Coverage | Microsoft Azure Essentials, Azure Data Lake, Azure Data Factory, Microsoft Azure PAAS, Developing application using Azure, Migration of Websites and Databases to Azure. |
| Course Validity | Lifetime Access |
| Eligibility | Anyone serious about learning Azure and wants to make a career in Cloud computing/Data & Analytics |
| Pre-Requisites | Basis Cloud computing concepts |
| What do you get? | Certificate of Completion for each of the 6 courses, 5 Projects |
| Certification Type | Course Completion Certificates |
| Verifiable Certificates? | Yes, you get verifiable certificates for each6 course, 5 Projects with a unique link. These link can be included in your resume/Linkedin profile to showcase your enhanced skills |
| Type of Training | Video Course – Self Paced Learning |
| Software Required | None |
| System Requirement | 1 GB RAM or higher |
| Other Requirement | Speaker / Headphone |
Azure Training in Pune Curriculum
---
This encyclopedic online Azure course has been specially crafted to help not only passionate learners who can easily spare time at their ease but also the working professionals who struggle to spare time at fixed slots. The flexibility that this Azure Training in Pune offers will help you to master this niche but imperative skill or to do a transition from your current profile, that too at your convenience and your speed. So, you need not worry about keeping your professional or personal life at stake for learning and being a master at Azure.
This course is a one-stop solution for everything a learner needs to deep dive into the fascinating world of Azure and become a part of a differentiated group that holds the knowledge of Azure.
The curriculum is designed and engineered in a manner that covers all the concepts of Azure, ranging from Microsoft Azure for Beginners to Microsoft Azure data lake and data factory, tutorials on Microsoft Azure PaaS overview to projects including developing and migrating applications on Azure. Due to the depth and relevance of the topics covered, the course has been able to establish itself as a popular course amongst the Azure community. The details in which these topics are covered will ensure your transformation into Microsoft Azure professional, ready to be embraced by your future employer.
Azure Training – Certificate of Completion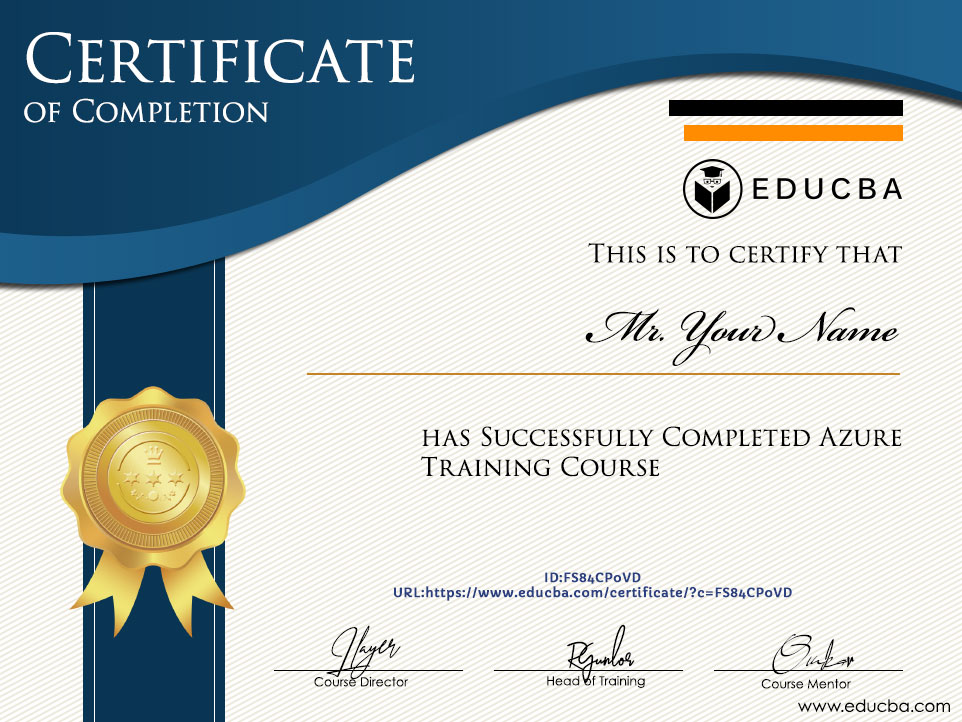 What is Azure?
Microsoft's public cloud computing platform, Azure, provides users with a large range of cloud services. These services include analytics, computing, networking, and storage.
It's up to the users to pick from these services and use them for the development and scaling of new applications. These services can also be used for running existing applications in public clouds.
Azure lets its users add cloud capabilities to their existing network through its PaaS model (platform as a service).
Users can also entrust Microsoft with all their computing and networking needs and choose IaaS (Infrastructure as a Service). Either of these options provide reliable and secure access to data hosted on the cloud, which is built on Microsoft's architecture.
Microsoft Azure has an ever-expanding umbrella of products and services which are designed to meet all the needs of its users that too through a single convenient and easy to manage platform.
Microsoft Azure maintains a growing directory of its services, with more services being added periodically. It has all the elements that are necessary to build a virtual network & deliver services or applications to the audience at a global level.

Industry Growth Trend
The global cloud computing market size is expected to grow from USD 272.0 billion in 2018 to USD 623.3 billion by 2023, at a Compound Annual Growth Rate (CAGR) of 18.0% during the forecast period.
[Source - MarketsandMarkets]
Average Salary
Average Salary
$118,459 per year
The average salary for a Cloud Engineer is $118,459 per year in the United States.
[Source - Indeed]
Which Skills will you learn in this Course
?
The program is developed and designed in such a way that it fits the needs of every Azure enthusiast, ranging from someone who is abecedarian in the field of Microsoft Azure to someone who is well familiar with the concepts but wants to take his understanding to expert level.
Topics which you learn as a part of this Azure Training in Pune are:
Microsoft Azure
Microsoft Azure essentials
Microsoft Azure Data Lake
Microsoft Azure Data Factory
Microsoft Azure Overview of PaaS
Developing your application project on Azure
App services project on Azure
Project on Migration of website and database to Azure platform
Project on Migration of .NET based web applications to PaaS
So, this Azure Training in Pune not only makes you adept in the theoretical part of Microsoft Azure but also make sure that you become well familiar with the industry relevance of these topics.
Pre-requisites
This program is developed in a way that it best fits the learning need of every cloud computing and Azure fanatic. An individual with limited to no knowledge of the tools and technologies mentioned above can benefit equally when compared to someone who has an initial understanding of these topics.
That being said, you will still have some upper hand in case there is some initial understanding of basic cloud computing concepts.
Target Audience
This Azure Training in Pune is for every individual who has a zeal to learn new things, every professional who want to upskill or reskill, every student who wants to kick start his/her carrier in the world of cloud and Microsoft Azure.
The topics and hands-on projects covered in this course will ensure that the audience will have an upper hand when it comes to ever-expanding, competitive job market. The students who are in the final year of their studies and willing to tap the field of cloud computing and Azure can get a kick start to their career with this Azure Training in Pune. For students, this course ensures that the gap between academics and industry requirements is diminished and they become more employable as compared to their peers.
Azure Training in Pune – FAQ's
---
Why should you take up the Azure training in Pune?
Microsoft's Azure is a leading platform in the cloud world and has close to 30% market share in the cloud business including PaaS, SaaS, and IaaS. The rate of adoption of cloud services across India is growing because of the setting up of the local data centers.
In addition to that, growing adoption by small & medium businesses, conglomerates such as Essar, Reliance, Mahindra's, a large number of start-ups, along with various industry verticals including banking, financial services & insurance, e-Commerce, healthcare, and the government sector has been pushing the market of cloud services in India for Microsoft.
Researches show that the growing focus of technology giants such as Microsoft on India markets is expected to ignite the overall technology environment. As well, the flexible pricing strategy amplifies the adoption of cloud services by small & medium business segments.
All these points signify the huge demand of Azure professionals across the industries.
What is the Azure market trend in Pune?
Market research data from various consulting firms highlight the development of the Indian cloud services market. The market for cloud services in India is expected to grow at a CAGR of more than 22% during the period 2015-2020.
This is further fuelled by increased spending of government on National Optical Fibre Network and e-governance portals, along with the growing acceptance of cloud services in SME segments. SaaS is set to top the chart as the largest segment of cloud services, capturing over 40% share in the market by the year 2020.
With Microsoft Azure alone having 1/3rd chunk of this huge market, one can rest assured that learning this skill will be a huge advantage in this crowded job market.
Career Benefits
This Azure Training in Pune is crucial when pursuing or aiming for a career in cloud computing and it also offers flexible career options. This certification course help learners secure credible roles such as Security engineer, cloud administrator, data engineer, AI engineer, solutions architect, and DevOps engineer. Knowledge of Azure not only increases your versatility in the role you are already in but also in the industry you are working in.
Another important benefit of joining Microsoft Azure training is the better salaries and better recognize that you will get in the market. With the ever-increasing demand for cloud computing professionals, you earn higher salary packages all over the globe as compared to other IT field professionals.
Reviews
---
Microsoft Azure Essentials Training
It provides a great introduction to Microsoft Azure for beginners. It provides the most basic lessons that are easy to understand and gives a full overview of how Microsoft cloud system works. It is the place to be for beginners as it will walk you step by step until you get a full understanding of how Microsoft Azure operates.
Ngonidzashe Knight Furusa
Microsoft Azure PaaS overview
This Azure certification course is really good and it covers all the details that a developer needs to know before he starts using Azure for development. It is a very detail-oriented introductory Azure certification course. I would like to try other courses on Azure and some data science courses too. I am really happy to have a lifetime subscription to EDUCBA.com site
Linked
Narayana Reddy Talakola
Good Microsoft Azure Training
Microsoft Azure is one of the most widely used web services. This Azure certification course helped me learn the basics of Microsoft Azure. The presentation was pretty decent. As a course though it was very good. Thank you.
Linked
R RAVI KIRAN