Learn from Home Offer TAKE THIS BUNDLE
MICROSOFT AZURE Course Bundle - 15 Courses in 1 | 12 Mock Tests
63+ Hour of HD Videos
15 Courses
12 Mock Tests & Quizzes
Verifiable Certificate of Completion
Lifetime Access
TAKE THIS BUNDLE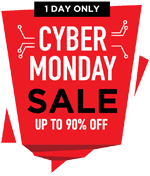 * One Time Payment & Get Lifetime Access
What you get in this MICROSOFT AZURE Course Bundle - 15 Courses in 1 | 12 Mock Tests?
63+ Hours
15 Courses
Mock Tests
Course Completion Certificates
Lifetime Access
Self-paced Courses
Technical Support
Mobile App Access
Case Studies
About Azure Training in Mumbai
| | |
| --- | --- |
| Course Name | Azure Training in Mumbai |
| Deal | You get access to all 15 courses, Projects bundle. You do not need to purchase each course separately. |
| Hours | 63+ Video Hours |
| Core Coverage | Microsoft Azure Essentials, Azure Data Lake, Azure Data Factory, Microsoft Azure PAAS, Developing application using Azure, Migration of Websites, and Databases to Azure. |
| Course Validity | Lifetime Access |
| Eligibility | Anyone serious about learning Azure and wants to make a career in Cloud computing/Data & Analytics |
| Pre-Requisites | Basis Cloud computing concepts |
| What do you get? | Certificate of Completion for each of the 15 courses, Projects |
| Certification Type | Course Completion Certificates |
| Verifiable Certificates? | Yes, you get verifiable certificates for each15 course, Projects with a unique link. These link can be included in your resume/Linkedin profile to showcase your enhanced skills |
| Type of Training | Video Course – Self Paced Learning |
| Software Required | None |
| System Requirement | 1 GB RAM or higher |
| Other Requirement | Speaker / Headphone |
Azure Training in Mumbai Curriculum
---
Microsoft Azure is one of the blooming technologies which every professional are taking up to be "Azure Certified" as per the organizational demands or by their interest. Various learning platforms are conducting or organizing Azure training and certification for individuals. The beginning phase of the course is designed to give you knowledge in various cloud computing services, implementation, and integration in Azure, managing, and configuring different portals. In addition to that, you will also learn to create various applications for different platforms and how to maximize the security for those. It will also help you to learn basic and advanced concepts related to Azure Data lakes like the creation of virtual machine and tool management. In addition to that, the course also offers knowledge in Azure SQL, managing the solutions, and an overview of the Azure Data Factory. Eventually, you will learn about the different services provided by Azure and developing the applications in them. The main objective of the course is to prepare you to handle various problems by working with many projects related to Azure and providing relevant insights or information to the end-users.
Azure Training – Certificate of Completion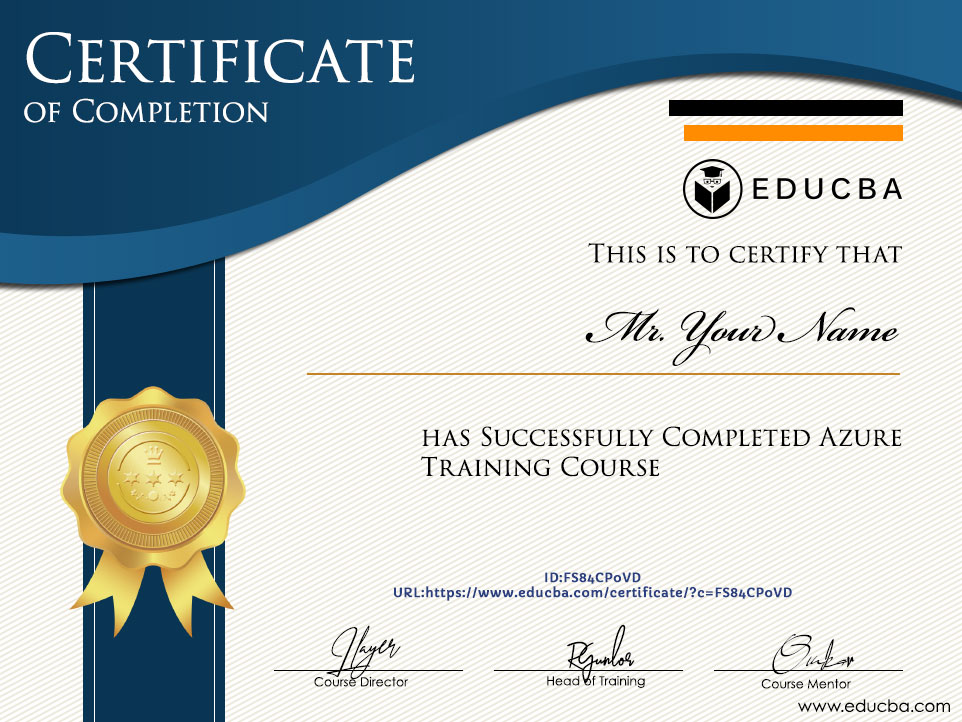 What is Azure?
Microsoft Azure is a cloud platform introduced by Microsoft to overcome the various business issues by providing numerous services. There are advantages of Azure over traditional platforms like providing hardware services as per the industry needs, timely updates, cost-effective, automatic configuration, takes care of various networking related issues, meets the demand of the customer easily, etc. There are various services provided by Azure like:
Software as a Service (SaaS): Microsoft Azure offers this service according to the needs of the organizations like it includes various soft wares (Office, Exchange, etc). So, instead of downloading and installing the software in our respective desktops we can have a subscription (yearly or monthly).
Platform as a Service (PaaS): Azure offers this service for developing and deploying the applications. This service is mostly availed by the developers or programmers. All the issues related to networking and various services are taken care of.
Infrastructure as a Service (IaaS): This service offers organizations to use any computer-related hardware. So, it solves the problem of setting up any IT infrastructure.
Industry Growth Trend
The global cloud computing market size is expected to grow from USD 272.0 billion in 2018 to USD 623.3 billion by 2023, at a Compound Annual Growth Rate (CAGR) of 18.0% during the forecast period.
[Source - MarketsandMarkets]
Average Salary
Average Salary
$118,459 per year
The average salary for a Cloud Engineer is $118,459 per year in the United States.
[Source - Indeed]
Which Skills will you learn in this Course
?
Azure Training in Mumbai consists of all the tools and components that are required to be a successful Azure professional in the future. The initial part of the course deals with various concepts related to cloud computing and Azure concepts. You will also learn about security, measures to enhance business productivity, and developing the applications using various services offered by Azure. In addition to the above, you will also get an opportunity to explore the concepts in Microsoft Azure Data Lake and Microsoft Azure Data Factory. At the end of Azure Training in Mumbai, you will be assigned different projects related to different modules which will help you to understand the business objective and deploying it in the production.
Pre-requisites
There are no such required prerequisites for the professionals to learn Azure. However, familiarity with the concepts can help one to grasp the concepts easily.
Basic Skills of Networking: Networking deals with analyzing the process of communication with various computer networks associated with the business. So, knowing the basics of networking, concepts of Servers and virtual machines will help you to understand the beginning concepts easily.
Basic skills in Cloud: Since Azure is a cloud-based platform, so understanding the concepts of cloud will be helpful to catch up with the training quickly.
Basic Knowledge in DataBase: It is advisable to have basic knowledge is any of the databases whether it is MySQL, Oracle, etc. So, it will be easy to understand Azure SQL concepts.
Programming Skills: Though it is not a required prerequisite to learn Azure but having programming skills in any language will help understand the concepts.
Target Audience
Azure Training in Mumbai is mainly designed for professionals, learners, or students who are interested in working with cloud platforms or have a keen interest in learning Microsoft Azure can take up this course. Experienced professionals, Project Managers, Administrators, Cloud Professionals, and those who are willing to be Azure Certified can take up this Azure Training in Mumbai.
Azure Training in Mumbai – FAQ's
---
What are the job prospects in Azure Certification?
Microsoft Azure is one of the technologies which is acquired by fortune 500 companies to handle all the issues faced in the business. Career prospects in Azure are immense and widespread. Every sector wants to hire Azure certified professionals to serve the business purpose. So, having all the necessary skills will land you in a reputed organization. There are many career options related to Azure like Azure Developer, Azure Administrator, Cloud Professional, etc.
What is the average package of Azure Certified Professionals?
The average package of an entry-level varies from 6-8lakhs while an experienced professional can earn from 12-17 lakhs.
 Which Cloud Computing platform is best to learn?
There are various cloud-based platforms offered by top companies. So, depending on your interest and understanding the advantages and disadvantages of various platforms will help you take up a career in the respective platform.
Sample Preview
---
Career Benefits
Azure is one of the leading cloud computing service providers. It comprises of all the services that are offered by the virtue of cloud computing. In the current job market, there are numerous opportunities available in this technology, and this count is expected to be increased shortly. Anyone who is liked to work with cloud computing and Interested in being a part of a vast technology that offers a bright future, can opt for this course and take their first step towards their professional growth. If you are looking to get started with Azure, opting for this Azure Training in Mumbai is the best decision you can make.
Why should you take up the Azure training in Mumbai?
Mumbai has many developments and operational centers of many organizations. It has a lot of IT-based infrastructure and startups which are hiring Azure Certified Professionals. It has headquarters and house offices of various corporate units. Navi Mumbai, which is emerging to be an office hub in the future will have many companies including startups and top organizations which are planning to hire more professionals.
What is the Azure market trend in Mumbai?
The cloud computing market is increasing exponentially with proper learning platforms and institutes that offer training to business professionals or students for various cloud-based platforms. Some of the top companies in Mumbai that hire Azure professionals are Capgemini, TCS, Accenture, Reliance Industries, Microsoft, etc. After completing Azure Training in Mumbai, you will be able to understand the problems faced by the business using the traditional methods and how Azure acts as a savior to all those issues.
Reviews
---
Microsoft Azure Essentials Training
It provides a great introduction to Microsoft Azure for beginners. It provides the most basic lessons that are easy to understand and gives a full overview of how Microsoft cloud system works. It is the place to be for beginners as it will walk you step by step until you get a full understanding of how Microsoft Azure operates.
Ngonidzashe Knight Furusa
Microsoft Azure PaaS overview
This Azure certification course is really good and it covers all the details that a developer needs to know before he starts using Azure for development. It is a very detail-oriented introductory Azure certification course. I would like to try other courses on Azure and some data science courses too. I am really happy to have a lifetime subscription to EDUCBA.com site
Linked
Narayana Reddy Talakola
Good Microsoft Azure Training
Microsoft Azure is one of the most widely used web services. This Azure certification course helped me learn the basics of Microsoft Azure. The presentation was pretty decent. As a course though it was very good. Thank you.
Linked
R RAVI KIRAN