Learn from Home Offer TAKE THIS BUNDLE
AWS Course Bundle - 23 Courses in 1 | 28 Mock Tests
87+ Hours of HD Videos
23 Courses
28 Mock Tests & Quizzes
Verifiable Certificate of Completion
Lifetime Access
TAKE THIS BUNDLE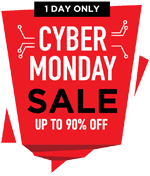 * One Time Payment & Get Lifetime Access
What you get in this AWS Course Bundle - 23 Courses in 1 | 28 Mock Tests?
87+ Hours
23 Courses
Mock Tests
Course Completion Certificates
Lifetime Access
Self-paced Courses
Technical Support
Mobile App Access
Case Studies
About AWS Training in Pune
You will learn about AWS, Data storage, Machine learning, Cloud computing as well as DevOps Engineering from an intermediate to expert level with real-life examples.
| | |
| --- | --- |
| Course Name | AWS Training in Pune |
| Deal | You get access to all videos for the lifetime |
| Hours | 87+ Video Hours |
| Core Coverage | AWS, Cloud computing, Data storage, DevOps, Machine learning, Sysops, Cloud migration |
| Course Validity | Lifetime Access |
| Eligibility | Anyone serious about learning AWS Cloud and wants to make a career in this Field |
| Pre-Requisites | Familiarity with at least one programming language is recommended |
| What do you get? | Certificate of Completion for each of the 23 courses, Projects |
| Certification Type | Course Completion Certificates |
| Verifiable Certificates? | Yes, you get verifiable certificates for each course with a unique link. These link can be included in your resume/Linkedin profile to showcase your enhanced cloud computing skills |
| Type of Training | Video Course – Self Paced Learning |
| Software Required | None |
| System Requirement | 1 GB RAM or higher |
| Other Requirement | Speaker / Headphone |
AWS Training in Pune Curriculum
---
This AWS training shall cover the following modules in detail:
Introduction of AWS Amazon Web Services Cloud 2019
In this AWS Course module, you will learn about basic information such as the introduction and history of AWS, How to navigate the AWS Management Console, What are the security measures AWS provides, how AWS Global Infrastructure works, etc.
AWS Amazon Web Services Cloud 2019
In this course, you will learn how to configure AWS service to other cloud computing platforms successfully for virtualization and real-time experiments.
AWS Certified Solution Architect – Associate 2019
This Amazon web services course will focus on the architecture and deployment of applications on the AWS services. This course is designed as even fresher who is starting from scratch can understand all the concepts and can build a strong base. This course also includes The troubleshooting and implementing and deploying AWS services securely.
Amazon Cloud Computing – Hosting An Asp.Net Website On Amazon EC2
After gaining knowledge of basics from previous AWS solution architect – associate course you can continue with This AWS training course Computation of AWS Services & Networking. Along with it focuses on how to use an Amazon Virtual Private Cloud (VPC) and its components, VPNs, implementation of Resource Group, Creating an Amazon EC2 instance, how to use Amazon EBS and hosting and configuration of an asp.net website on Amazon EC2.
AWS Technical Essentials Training
This course will help you to identify key AWS storage options, how to use Amazon EBS, how to create an Amazon S3 bucket with hands-on experience of these services. In this course, you will also learn about the management of amazon products and services, AWS storage and content delivery, etc.
 Project on AWS – Simple Email Service AWS SES
In this course, you will learn how to create the instances by using Amazon machine images and logging in instances with the help of the key Pairs. Along with that, How to use private IPs, Public IPs, as well as Elastic IPs for the network, interfaces by assigning an IP address. This course also focuses on how to use Management tools such as Cloud watch, Formation, and trail. this module will help you to develop email functionality in the AWS application. So, in a nutshell, it will provide deeper knowledge in amazon's simple email Service.
AWS Certified DevOps Engineer
This is one of the advanced courses in this bundle in which you will learn to make frequent delivery and automation of the process using Amazon Web services.
AWS Certified Sysops Administrator – Associate 2019
This amazon web services training course teaches you that how to enable capabilities across the framework, what are different machine learning platforms and how to use them, what are API driven services, basics of AMI, etc.
Project on AWS – Machine Learning
This is the practice module in which you will have to complete given projects which are completely dependent on hands-on experience of the tools and services of AWS.
Project on Understanding of EWS BILLING
This module will help you to understand the Bills, how to use Cost Explorer, configuring Account Settings how to create Consolidated Billing, etc. which will increase your company's productivity.
In this AWS training course, AWS migration principles and rules. It also consists of the establishment of cloud migration, maintenance, and validation.

AWS Training – Certificate of Completion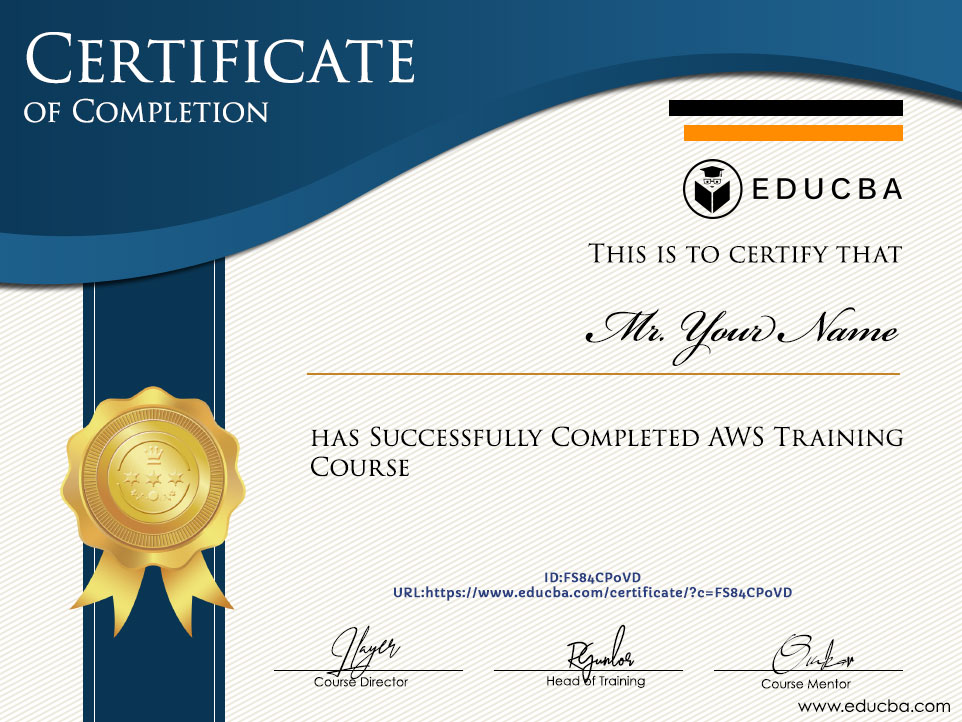 What is AWS?
AWS is a cloud service platform that provides users with the highest amount of security to the data. It provides a mix of infrastructure as a service (IaaS), platform as a service (PaaS) and packaged software as a service (SaaS) services. It lets you work and run applications on the virtual machine like your personal computer. It satisfies all the users' cloud computing requirements. It also helps to create AR, VR, and 3D experiences. The best thing about it that AWS offers a pay-as-you-go pricing scheme. This means that you will have to pay only for how much you use, and not more than that. The domains which use AWS get ample of latest services such as Computation, storage, networking and content delivery, developer tools, mobile services, Internet of things, game development, desktop and app streaming security, business productivity, media services, management tools, application integration, customer engagement, analytics, etc.

Industry Growth Trend
The global cloud computing market size is expected to grow from USD 272.0 billion in 2018 to USD 623.3 billion by 2023, at a Compound Annual Growth Rate (CAGR) of 18.0% during the forecast period.
[Source - MarketsandMarkets]
Which Skills will you learn in this Course

?
You will learn AWS skills which are most important when getting a job in this field and to build a career which is as follows:
You will learn how to configure the AWS to other cloud computing platforms, how to use a command-line interface while using this tool, how to manage security and compliance. You will also understand the architecture, services provided by AWS, migration of those services through the virtualization. In this way, this AWS Training in Pune will help you to enhance your proficiency level of the Amazon Web Services (AWS) cloud platform for developing and deploying robust cloud applications.
Pre-requisites
It will be great if you have an understanding of the basic concepts related to Operating Systems, like Windows, Linux, etc. Hence Knowledge of the Operating System can be an added advantage.
Before learning the AWS the student must be familiar with the concept of virtualization. Which means the student must know how to run the various operating system on a single machine at a time. So the user should know how to distribute various resources between different operating systems. Hence prior Knowledge of Virtualization is must in this AWS Training in Pune
Networking is an important element of the Amazon cloud as all operations in a cloud platform involve networking. Understanding of IP addresses and various network topologies can be more than enough.
And also The important prerequisites are interest in the subject and a little bit of patience.
Target Audience
Anyone keen to learn and expertise in AWS and who has enough understanding about the networking of the systems and virtualization without much difficulty can learn AWS.
Students who have networking and database knowledge of at least the high school level and want to begin learning AWS can do this AWS Training in Pune without hassle.
Some intermediate level people who are familiar with the fundamentals of AWS and want to learn more about it must join this course. Anyone who wants to create added value to their current job as well as the company.
Anyone who wants to begin a career in Machine learning or Cloud computing.
Any database administrator who wants to level up because this AWS Training in Pune will give you in-depth knowledge and hands-on experience in this field.
AWS Training in Pune – FAQ's
---
What are the ways to access this AWS in an environment?
There are so many ways to access AWS such as Command-line tools, Query APIs, AWS Management Console, AWS command-line interface.
Can I learn AWS without prior knowledge of Networking?
Yes. However learn your basics right, and to do this course and you are ready for taking this AWS Training in Pune.
Will I be able to pass AWS certification, based on this AWS training?
Yes, our extensive list of modules that are discussed above is mainly focused on AWS and its services.
What is the period of certificate validation?
Updation of the certificates is needed for every two years. Or you can enroll in Educba's other advanced course which will increase your knowledge as well as help you in career growth. However, Recertification is available.
Why should you take up the AWS training in Pune?
Educba is one of the few IT education institutes in Pune that has an AWS training course. Educba experts are employed for this AWS training course. Educba institute is very highly ranked in Pune and great for anyone who wants the best institute to learn AWS.
What is the AWS market trend in Pune?
Most of the leading companies nowadays prefer AWS roles to get more security to storage databases for their business. There is a dramatic increase in AWS services, resources, and applications focused on in the era of the internet.
Sample Preview
---
Career Benefits
In this AWS Training in Pune, you will understand every concept of AWS training from the basic to advanced level as it will also help you to crack your interview of the dream job profile of Cloud architect in the Company. This course will help in your IT Career
Since taking this AWS Training in Pune, most of our fellow students have successfully positioned themselves in MNCs and various successful Startups. During interviews and job applications, those students who are focused and complete all assignments and projects performing excellently in their jobs.
Reviews
---
Nice for beginners
A brief review of some well-known technologies, I worked with these ago, and after taking this AWS training course I reviewed some core concepts, seemed useful to me, but not much detailed. Good for someone taking the first approach in AWS. Those already knowing this may want to take something more detailed training, but this one is nice for beginners.
Linked
Raul Bajales
AWS Cloud computing
The Amazon Web Services training courses were quite informative. The uploaded videos were very clear and easy to understand as they are practically showing how the code has to be implemented and put practically. The sound system for the videos is really clear and crisp. Every feature and function is explained in detail.
Kirtana Varada
Amazon Web Services (AWS) Training – Cloud Computing
It is a very good AWS course. Perhaps we should have a Certification Exam. It will probably attract more people to avail of the course as well as subscribe to educba. The course content was good. The communication was effective and satisfactory. I would like to see more of such programs shortly. Thank you.
Linked
R RAVI KIRAN
Informative course
The Cloud Computing course starts from scratch and thus helps the students to learn all the concepts from basic to advanced levels. I have enrolled for two courses through educba. Very informative and enjoyable sessions. The tutor has a good knowledge of the subject and he made the session interesting. Thank you educba.
Linked
Martin Fritzsche
CLOUD COMPUTING
This was nice for an instance in cloud computing very educational material.
I like that all the basics fields were covered from how to use private to Public clouds, for instance, we have the Amazon Web Services that I would so much like to explore in detail and hopefully get a cloud certification. Then there was also a public cloud that one can lease and in turn lease out several applications and services.
Linked
Terence Chisenga
Cloud Computing Review
The best Cloud Computing course so far. The instructor was excellent. As an introduction to Cloud Computing it was incredibly educational. The future of Enterprise computing lies within the cloud. I learned a lot of new things. The instructor expanded on the things I already knew, therefore, making the learning more valuable. Thank you.
Richard H. Rihm