Learn from Home Offer TAKE THIS BUNDLE
AWS Course Bundle - 23 Courses in 1 | 28 Mock Tests
87+ Hours of HD Videos
23 Courses
28 Mock Tests & Quizzes
Verifiable Certificate of Completion
Lifetime Access
TAKE THIS BUNDLE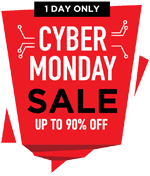 * One Time Payment & Get Lifetime Access
What you get in this AWS Course Bundle - 23 Courses in 1 | 28 Mock Tests?
87+ Hours
23 Courses
Mock Tests
Course Completion Certificates
Lifetime Access
Self-paced Courses
Technical Support
Mobile App Access
Case Studies
About AWS Training in Gurgaon
| | |
| --- | --- |
| Course Name | AWS Training in Gurgaon |
| Deal | You get access to all videos for the lifetime |
| Hours | 87+ Video Hours |
| Core Coverage | AWS, Cloud computing, Data storage, DevOps, Machine learning and much more right from the basics to advanced concepts. |
| Course Validity | Lifetime Access |
| Eligibility | Anyone serious about learning AWS Cloud and wants to make a career in this Field |
| Pre-Requisites | Familiarity with the concept of Cloud |
| What do you get? | Certificate of Completion for the course |
| Certification Type | Course Completion Certificates |
| Verifiable Certificates? | Yes, you get verifiable certificates for each23 course, Projects with a unique link. These link can be included in your resume/Linkedin profile to showcase your enhanced skills |
| Type of Training | Video Course – Self Paced Learning |
| Software Required | None |
| System Requirement | 1 GB RAM or higher |
| Other Requirement | Speaker / Headphone |
AWS Training in Gurgaon Curriculum
---
There are 9 online courses, including 3+ projects. The duration of the course is 67+ hours and it advances with a very easy pace that everyone can catch up. All these courses come in a bundle and it need not be purchased separately.
Our training program is quite comprehensive and practical in every technological domain. For the AWS training, there is much focus given on the fundamentals of AWS, Cloud Computing, DevOps, Advanced CD, Automation, Accessing AML, data formats of Machine Learning, Cloud Migration, etc.
Our courses proceed and explain everything from the configuration of AWS to explaining all the key topics such as AWS cloud value, Cloud architecture principles. The second module explains deployment on AWS technologies, along with topics on data security, troubleshooting, and implementation. You will also learn about VPC and its components and their support participation in Commercial Cloud Service. Also, knowledge of Amazon's elasticity and AWS respond to the transition of the environment. We also emphasize on the technical essentials about managing the console, Amazon products, and services, issues related to the application.
The projects are designed by industry experts and give a good insight into the configuration on the ec2 server and hosting of it and Machine Learning.

AWS Training – Certificate of Completion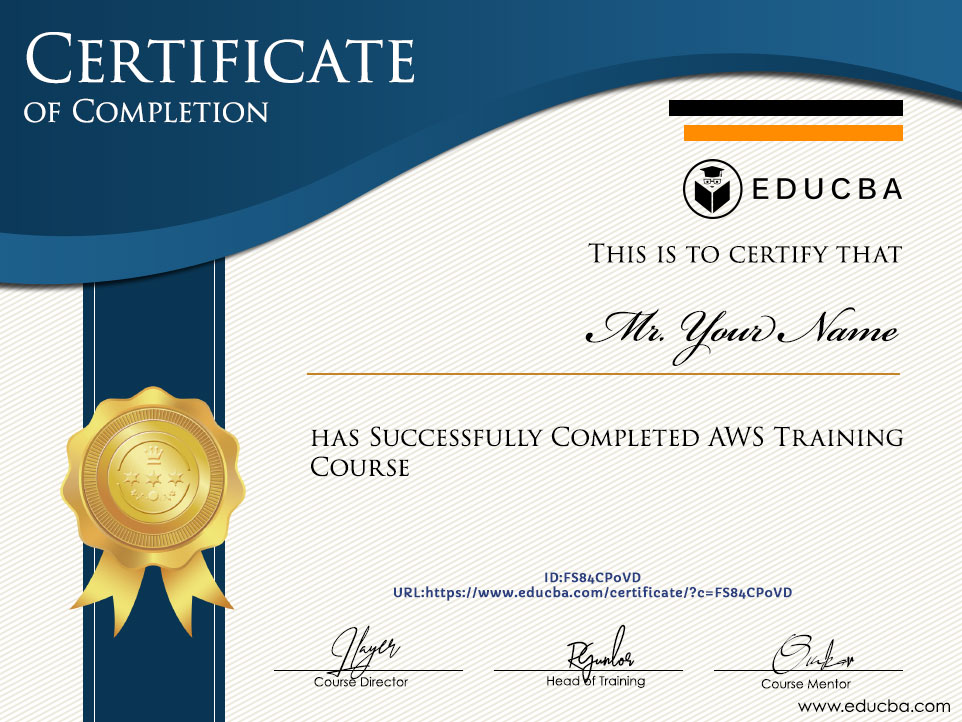 What is AWS?
Amazon Web Services is the most used cloud platform today. It offers services globally to a large number of customer base all around. AWS is known to provide the best services and features, nearly 165 services with 40 such services that are not provided by any other cloud service. The customers vary from small start-ups to big enterprises and also government agencies. The advantage of using AWS to lower costs and agile methods is being well recognized by the IT industry quite well.
The services include the Internet of Things (IoT), storage, analytics, database, network, artificial intelligence, Machine learning, Security, deployment, application development, etc.
Amazon EC2 includes the most powerful GPU(Graphical Processing Unit) for machine learning workloads and has double services than anyone and run containers. As there is such a wide variety of functionalities provided. It makes it very easy to migrate applications to the cloud, making the process cost-efficient.

Industry Growth Trend
The global cloud computing market size is expected to grow from USD 272.0 billion in 2018 to USD 623.3 billion by 2023, at a Compound Annual Growth Rate (CAGR) of 18.0% during the forecast period.
[Source - MarketsandMarkets]
Which Skills will you learn in this Course
?
In AWS Training in Gurgaon, you will be learning an in-depth understanding of the Amazon Web Service Cloud. The concept of the architecture will be explained via deployment using the services of AWS. Our coaching emphasizes on the role of cloud in web services. By just following the instructors, you will be able to understand the advanced topics well. You will also become comfortable with handling the application, using its products and services by following up on our AWS Technical Essential Training.
Our projects make you equipped to use the Amazon machine, processing, and evaluating data formats in the Machine Learning domain. Our AWS Training in Gurgaon will make teach you to send emails using SMTP and SES API.
Pre-requisites
Below are some of the prerequisite for AWS Training in Gurgaon:
Basic level command over coding required over at least one language.
Knowing the cloud and the different types of cloud services available.
As all the operations are performed over the network, so a handy knowledge in the network will prove out to be helpful if someone is looking to take up training in AWS.
Concepts of Visualization and the basic understanding of it is quite helpful.
Operating system knowledge would be helpful.
The roles are varied in AWS, one may choose to work as an AWS Sysops, AWS Architect or as an AWS Development. For someone determined to make AWS as a career choice, no prerequisite is a bar and it can be learned easily. Our program is easy and is worked out keeping the requirements of learners from every stage in mind.
Target Audience
An AWS certification adds more value to your resume and also guarantees chances for a higher package. As the market of AWS is expanding, so is the need for skilled individuals at AWS.
If someone is from a technical background, it helps them to grasp the concept faster as it serves as a revision to that individual. Concepts like Operating System, Database, Networking come in handy.
People hailing from a non-technical background can also avail of this training with a bit of self-study involved. Our training program is very efficient at providing all the practice required for getting skilled at AWS.
Thus, anyone can take up this AWS Training in Gurgaon. You can be a student or a professional from IT or no IT background.
AWS Training in Gurgaon – FAQ's
---
How beneficial can this training be for a student in their 2nd/3rd/4th year of college?
In today's competitive market, it is mandatory to have an extra skillset added to your technical stack. Along with the college curriculum, it has become a necessity to be well prepared for the world outside college. By taking up AWS Training in Gurgaon in your college days can help you build a strong resume and also divert your career in such a booming domain.
Our proficient modules can train the college students to become industry ready for AWS and help them perform better in their campus placements.
Why get AWS certified?
If one wishes to have an advanced career in cloud computing and IT then getting an AWS certification is a good start. It helps one to stand apart from the crowd with a better knowledge base and hands-on experience. Above all, it opens up avenues for a handsome paycheck and finds better job opportunities.
Why should you take up the AWS training in Gurgaon?
Gurgaon is considered as the IT hub of North India. Several top fortune companies are located in Gurgaon. Our training institute is known to provide the best AWS Training in Gurgaon. With expert framed modules we ensure the quality of training and services at EDUCBA are up to the mark. As new companies are setting up, so is the requirement of skilled individuals trained at AWS going up. We provide training at a very reasonable price and make certain to provide the students with the best study material and faculty interaction.
What is the AWS market trend in Gurgaon?
Gurugram is among the top IT hubs in the Asia Pacific, according to the Hindustan Times. Reports even state that Gurgaon has an office stock of 60 million square feet, this comes right after Bengaluru. It is considered to be one among the five Global Tech Hub for innovation and technological advancements. The talent pool of this region goes hand in hand with the best infrastructure. A technical skill such as AWS has a great market in a place like Gurgaon. Job opportunities and the need for skilled professionals are just going to be exponential in a place like Gurgaon.
Sample Preview
---
Career Benefits
As we all know that AWS has a broad customer base with the most diverse use case in enterprise application, business application, cloud-native application, batch computing, etc.
AWS demand: Amazon is known to control 33% of the market in the cloud computing domain. It is giving a tough competition to Microsoft in this realm. There is a high chance that AWS may rule the cloud arcade. The demand for skilled AWS experts is just going to rise with time.
Easy certification: If someone is determined enough, then an AWS certification is the best certification one can obtain as this is not a very tough certification in comparison to the other certifications in the IT market. There are many certifications of AWS and no doubt it is gaining immense popularity.
Salary Hike: The increase in salary of the certified person has increased up to 25.9 %
Reviews
---
Nice for beginners
A brief review of some well-known technologies, I worked with these ago, and after taking this AWS training course I reviewed some core concepts, seemed useful to me, but not much detailed. Good for someone taking the first approach in AWS. Those already knowing this may want to take something more detailed training, but this one is nice for beginners.
Linked
Raul Bajales
AWS Cloud computing
The Amazon Web Services training courses were quite informative. The uploaded videos were very clear and easy to understand as they are practically showing how the code has to be implemented and put practically. The sound system for the videos is really clear and crisp. Every feature and function is explained in detail.
Kirtana Varada
Amazon Web Services (AWS) Training – Cloud Computing
It is a very good AWS course. Perhaps we should have a Certification Exam. It will probably attract more people to avail of the course as well as subscribe to educba. The course content was good. The communication was effective and satisfactory. I would like to see more such programs shortly. Thank you.
Linked
R RAVI KIRAN