Learn from Home Offer TAKE THIS BUNDLE
APACHE PIG Course Bundle - 6 Courses in 1
This Online Apache Pig Training includes 6 courses with 17+ hours of video tutorials and Lifetime access. You will get to learn about the concepts and application of Fundamentals and advanced Apache Pig and how to work on huge data sets with ease.
TAKE THIS BUNDLE
* One Time Payment & Get Lifetime Access
What you get in this APACHE PIG Course Bundle - 6 Courses in 1?
17+ Hours
6 Courses
Course Completion Certificates
Lifetime Access
Self-paced Courses
Technical Support
Mobile App Access
Case Studies
About APACHE PIG Course Bundle
---
| | |
| --- | --- |
| | |
| Courses | You get access to all 6 courses, Projects bundle. You do not need to purchase each course separately. |
| Hours | 17+ Video Hours |
| Core Coverage | Learn the concepts and application of Apache Pig and how to work on huge data sets with ease |
| Course Validity | Lifetime Access |
| Eligibility | Anyone serious about learning Hadoop- Apache Pig and wants to make a career in this Field |
| Pre-Requisites | Basic knowledge about Hadoop would be preferable |
| What do you get? | Certificate of Completion for each of the 6 courses, Projects |
| Certification Type | Course Completion Certificates |
| Verifiable Certificates? | Yes, you get verifiable certificates for each course with a unique link. These link can be included in your resume/Linkedin profile to showcase your enhanced skills |
| Type of Training | Video Course – Self Paced Learning |
APACHE PIG Course Bundle Curriculum
---
In this section, each module of the Apache Pig Training Course is explained.
MODULE 1: Apache PIG Essentials Training

| Courses | No. of Hours | Certificates | Details |
| --- | --- | --- | --- |
| PIG - Beginners | 2h 1m | ✔ | |
| PIG - Advanced | 2h 13m | ✔ | |

MODULE 2: Learning PIG from Practicals & Projects

| Courses | No. of Hours | Certificates | Details |
| --- | --- | --- | --- |
| Project on Hadoop - Analyze Loan Dataset using PIG/MapReduce | 2h 33m | ✔ | |
| Project on Hadoop - Social Media Analysis using HIVE/PIG/MapReduce/Sqoop | 3h 34m | ✔ | |
| Project on Hadoop - Sensor Data Analysis using HIVE/PIG | 5h 26m | ✔ | |
| Project on Hadoop - Youtube Data Analysis using PIG/MapReduce | 3h 02m | ✔ | |
Sr.No
Course Name
No. Of Hours
Course Description
1
PIG Fundamentals
2
The basic intent of this Pig training course is to provide an overall layout of the fundamentals and the basic concepts of the PIG language. It discusses how to use data sets and implement them using Piglatin language. You will play with data sets as the basic commands such as loading, retrieving, storing, grouping and joining of data sets will be learned by your post completion of this course. How data is combined and split and the proper use of union, filtering, splitting, limiting, sorting, etc. operators will also be learned by you. In the end, you will also be introduced to the custom and internal built-in functions.
2
PIG Advanced
2
The Apache Pig training course curriculum involves the basic review of the fundamentals of the PIG language and Hadoop framework and apart from that more focus will be on the usage of PIGlatin scripts. How to create those scripts and how and where can they be used will be the prime purpose of the lecture. Different kinds of built-in functions and custom functions and how to effectively use them will be the next content of this Pig course. You will also be involved in compressing the data, inputs and outputs files and the intermediate files. You will be explained the architecture of PIG and how these scripts can be embedded in JAVA language. Apart from the anatomy of the map-reduce framework, this course will also target about how PIG scripts can be run in different modes. Different PIG operators for mathematical, string and another level of functions and data handling, macros, parameter substitution, UDFs, and processing are also included in this course.
3
Hadoop Project: Analyse loan dataset using PIG/Map Reduce
2
Once the theory and the concept art of the PIG-tool are done, it's now time for some hands-on project experience. In this Apache pig training, we will teach you about a use case of analyzing a loan dataset by making use of PIG or Map Reduce Jobs. This course is intended for users who are interested to learn about the application and the components that work and revolve around it. It also makes sure that you work with your data sets with ease in particular.

The Pig training comprises complete details related to the loans such as the loans issued, the current loan status for example, current, fully paid or late payment and all the payment-related information. You would also be taught to find how many cases are present for a particular location and categorize all the count which is respective to the reason to be able to take a loan and print the average risk score.

4
Social Media Analysis using Hadoop
3
This Pig training course is mainly meant for users who are keen and way too much interested to learn the application of Hadoop and big data technologies or how to work on the data sets and data frames with simplicity and ease. We are going to know and learn about- Social media-Bookmarking the site data and its analysis. The training includes analyzing the following data in HDFS.

Get the extracted data from RDBMS to the file system such that it could be processed through the use of Hadoop.
Converting the XML data into structured formatted data
Data splitting into two categories such as category and rating
We now need to analyze this data which is primarily based upon their comments which can either be positive or negative.
More scenarios can be added to the social media industry. The technology which will be used in such cases would include:
Sqoop
Pig
MapReduce
Hive

5
Sensor data Analysis in Hadoop
4
The basic intent of this Pig training course is meant for the users who are interested to learn and know about the application of Hadoop technologies and also about how working on data sets could be performed with quite an ease and comfort.  In this module, we are going to learn about the analysis of the country's sensor data for development by making use of Hadoop. This training will also involve analysis of the sensor data of let's say one country name such as the Philippines. Data will be in JSON format. This data will be analyzed in different kinds of big data tools such as PIG, HIVE, and MR and can also generate some useful information for the specific country so that the government can also take some strategic decisions for the growth and development of the country.
6
Hadoop Project: Youtube data analysis using PIG/Map Reduce
4
This Apache Pig training is intended for users who have some level of interest to learn about the application of Hadoop and Big data technologies. You also learn how to make use of Hadoop and Big data applications and also about how to work on the data sets with simplicity and ease. We are going to learn about how to analyze YouTube's video upload data by making use of Hadoop. This can be done in the following scenarios:

By identifying the top 5 categories in which most YouTube videos are uploaded.
The top 10 most highly watched videos
Top 10 most highly rated videos
Top 10 lengthy videos
The number of people who are below the age of 18 years and have uploaded videos
How many comments per video is there
Data sort based on uploaded name and age

All these data will be analyzed by making use of Big data tools such as PIG/Hive/Map Reduce, etc which can help youtube to generate some strategic decisions.

7
Total No of Hours

17+ hours
---
Certificate of Completion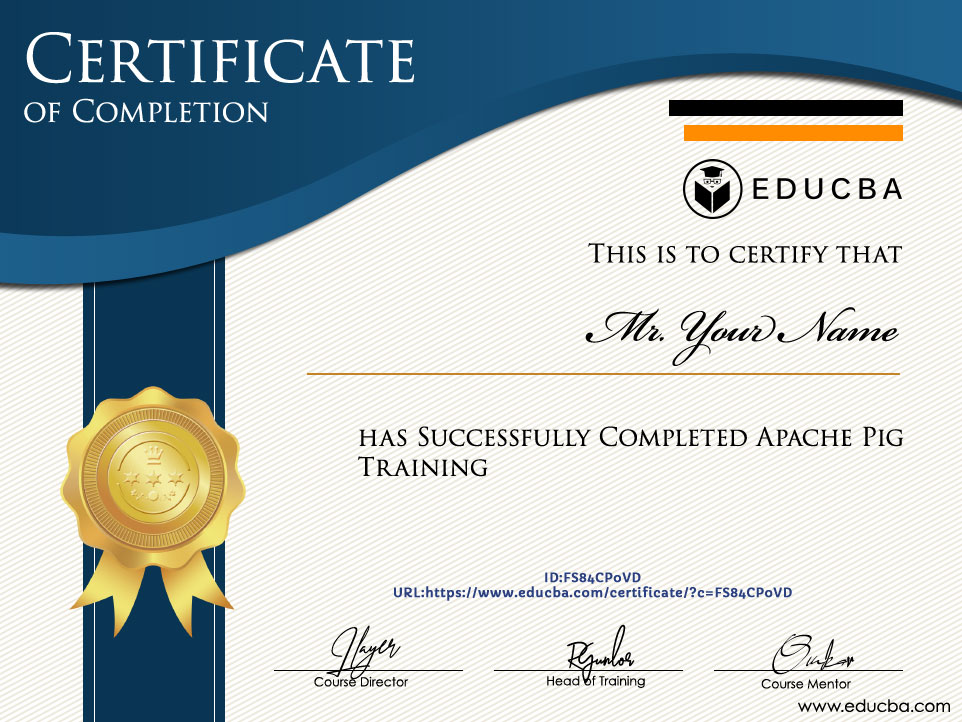 ---
What is Apache Pig?
Apache Pig is the abstract technology over Map Reduce which in itself is a tool or a platform used for analyzing heavy data sets and envisioning them as data flows. This tool makes use of PigLatin language which is used along with Hadoop for data manipulation and their operations. Pig Latin is a high-level language which provides numerous operators using which programmers can develop their functions for reading, writing as well as processing the data. To be able to do data analysis through this tool, the script must be composed using the Pig Latin language. The scripts are then converted to Map and Reduce tasks. Pig Engine accepts the pig Latin scripts as its inputs thereby generating map-reduce jobs. The pig training is best for all the programmers as it ensures that complex pieces of Java code are not required now to execute simple tasks and achieve simple functionality. Instead, it follows a multi-query approach which reduces the lines of code used for programming. Just to compare 200 lines of Java code can be done in 10 lines of PIG code. It is a SQL like a language and therefore users who have SQL like a background are good to go choice for implementing PIG language.

Industry Growth Trend
The hadoop big data analytics market is projected to grow from USD 6.71 Billion in 2016 to USD 40.69 Billion by 2021, at a CAGR of 43.4% between 2016 and 2021.
[Source - MarketsandMarkets]
Which tangible skills you will learn in this course?
In this Apache Pig Training, you will learn about how to make use of Big data tools and technology. How easy and convenient it will be once you know how to deal with data sets and various big data tools which could be used to make your life and businesses a lot better and be beneficial to provide them the right set of information and not just raw data. You will also learn about Piglatin language and the scripts related to it.
Pre-requisites
 Basic computer knowledge
Some hands-on upon any programming language or any coding background will be helpful
 Big data ecosystem familiarity and HDFS (Hadoop Distributed File System)
Zeal and enthusiasm to learn something new and implement it
Target Audience
Professionals who have been working in Big data ecosystem and want to give an add on to their skill set by learning a new technology PIG.
Professionals who have been working with other IT related technology and wish to switch into the big data ecosystem by learning Apache Pig training
Students who are very new in entering the IT realm and wish to kick start their career by making use of something a lot more useful such as Apache PIG for Big data.
Data analysts and developers who have been working with the creation and the development of software and analyzing the data can be the ideal audience for learning Apache Pig training
Anyone interested to learn a programming language in the growing field of analytics.
FAQs
---
From what all locations can this Apache Pig training be accessible?
Once you are registered with EduCBA you will be provided with the knowledge bundle for the online training materials which can be accessed by making use of login credentials. So, you can access these courses on the go from anywhere and everywhere.
Who all will be the instructors for this Apache Pig training?
The instructors who have created the course and will take the course are industry professionals who have a wide array of experience working in the industry and have tons of years of online training experience. All the courses therefore provided are based on industry standards and very particular in providing the right set of knowledge to not waste precious time and only be relevant to what is being asked in Job interviews and helpful in knowing the technology. Further, the hands-on experience will enhance the additional skillset which the participant would have received once they have enrolled in the Apache Pig training and is working from the scratch on the terminologies and concepts.
Is there any kind of certification courses which are available for the online training and are also provided along with this training bundle? Will I be receiving any course certificate once I complete this Apache Pig training?
Yes, there are certification courses that are available in this Ultimate online training bundle. To name a few- PMI Agile Certified Practitioner Training, PMI-ACP Exam Preparation, PMP Exam Training, NCFM modules, CFA training, ITIL modules, etc. Yes, you will be provided with a course completion certificate once the course is completed. You can also issue your certificate once 70% of the course lectures are completed.
Sample Preview
---
Career Benefits
This Apache Pig training aims to provide the benefit to all the people who are already working in some form of IT profession or the people who are new to the domain of Big data and analytics. This is also beneficial for everybody interested to upskill themselves and start to work in a different domain and a realm altogether. Apache PIG for Big data has been a course that has affected everybody who is even slightly interested in working on how the manipulation of data sets is done and the same is applied to various use cases.
Reviews
---
Informative and Easy to Follow
Very informative and easy to follow. One of the fundamentals of this style of learning is that the course is broken down into sizeable, manageable chunks, making the learning process easy to digest. The visual learning, ie the tutor taking us through, step by step, whilst we can follow their screen is very useful.
Linked
Nick Hawthorne
Youtube Data Analysis using Hadoop
Excellent, even though at the beginning it is not the easiest accent to understand, once one gets familiarized everything is smooth. This course inspired me to study more about programming and languages. I am just beginning so I think I will come back to it again anytime I need help analyzing YouTube videos.
Linked
Mónica Rodríguez Espitia
A two-faced course
I pretty much liked the introduction and the self-explaining phase that the tutor made at the beginning of the course but as soon as he came to explain the scripting of PIG and PIG Latin I would have strongly preferred it when he had made an own approach for every command instead of taking it from the tutorial website with a copy-paste, that kind of slowed down my fun in learning this Apache Software piece but besides that thumbs up.
Andre Hauptmann
Hadoop Training
Apache PIG is very simple, so this presentation is not difficult. It explains the PIG very extensively, giving lots of details. It shows some instructions, how to write new functions, the comparison between PIG, SQL, and Hive. It is quite interesting and it seems that it can benefit from making some exercises meanwhile.
Linked
Francisco Lopez Gil
Review Analysis in Hadoop
All clear! In short you can understand which tool to use for which job. For example, if you are comfortable with Java you would easily get along with MapReduce which delegates the task, performs them and understands unstructured and structured data, run on most of the languages, the more high level is Pig and runs on its own Pig Latin language. For Data Analysis without Data Processing you can take Hive on board, also it's much like SQL.
Linked
Julie Pasichnyk