Updated April 5, 2023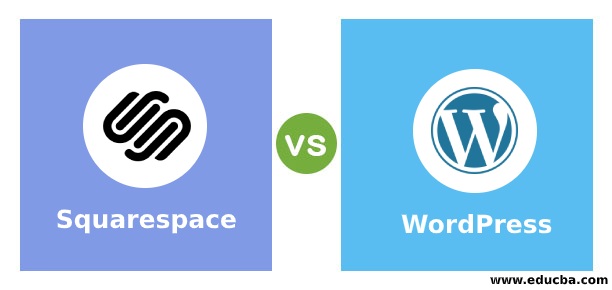 Difference Between Squarespace vs WordPress
The following article provides an outline for Squarespace vs WordPress. Website builders are the cornerstone of ecommerce today. In this world, so reliant on the ubiquitous smartphone and mobility, the websites not only have to be dynamic but easy to operate too. With a plethora of website builders flooding the market, it becomes a challenge to choose the correct one. Quite a few things need to be looked into before a perfect combination can be found. Technology, easy to use, product description, support, and price are but just a few of them that have to be looked into before going ahead and spending money, time, and energy on building their dream e-commerce site. Two of the best in business, Squarespace and WordPress, are up for a quick comparison today. Let us see how they stack up against each other.
What is Squarespace?
This was originally built as a blog creator, and the ecommerce part added to its repertoire in 2013. Over the years, Squarespace has lived up to its name as a dependable website builder. Its ever-increasing range of tools and services have helped many an ecommerce company. One of the things that work out in favour of Squarespace is that it is less pricey than most of the market's big names.
What is WordPress?
One of the first to have entered the website's domain, WordPress is the company to beat today. It has a monopoly that few can match, and the amount of tools and services it provides is simply insane. A pertinent thing to understand here is that unlike Squarespace, which is a website builder, WordPress is a Content Management System or a CMS. The inherent difference here would be the amount of depth one provides through the tools that exist within each of them. A website builder is more of a drag and drops play, while a Content Management System has far more depth and immensely more scalable than the former. WordPress has been in the business for far too long to understand the need to evolve and that it has. WordPress has risen from a mere blog-based system to become one of the most sought after Content Management Systems.
Head to Head Comparison Between Squarespace vs WordPress (Infographics)
Below are the top 6 differences between Squarespace vs WordPress:

Key Difference Between Squarespace vs WordPress
Let us discuss some of the major key differences between Squarespace and WordPress:
Ease of usage: Squarespace is known for its navigability. It is easy to use, and even for a newcomer with negligible tech skills will never feel lost while dealing with Squarespace. WordPress, though loaded with far more tools and services, has a steeper learning curve. Also, the ones which have basic coding skills while finding WordPress far more useful than Squarespace. Moreover, being an open-source CMS, WordPress requires third-party plugins to help customise your page.
Design Flexibility: When it comes to design flexibility, no one beats WordPress. Though Squarespace literally has an ocean of themes to choose from, the customisation flexibility that WordPress provides is unimaginable. The only drawback would be too much reliance on codes and plugins.
Customisation: Squarespace has proven time, and again the success it has achieved in the field of flexibility. One can customize to one's heart's content. With WordPress, it is similar. However, being a CMS, the procedure may not be as simple as the former.
Dynamic: All of Squarespace themes are mobile responsive and dynamic. In fact, every theme has a mobile view built-in. With WordPress, the way things work is a tad different. With so many varied qualities to choose from, not every theme would be mobile responsive. So you have to be careful while choosing the themes.
SEO: The holy grail of website ratings, SEO is synonymous with making or marring websites. Squarespace comes with built-in SEO tools, and minimal input is needed to operate them. WordPress comes with a pretty powerful SEO engine, which, while not too user friendly at the beginning, fares better than the former.
Squarespace vs WordPress Comparison Table
Let's discuss the top comparison between Squarespace vs WordPress:
| | |
| --- | --- |
| Squarespace | WordPress |
| Squarespace is an intuitive website builder which allows the user enough flexibility. | WordPress has a steeper learning curve since a bit of coding knowledge helps the user in better customisation. However, it more flexible than Squarespace. |
| Squarespace is a closed source curated website builder. Hence, looking for plugins can sometimes turn out to be a nightmare. | WordPress is an open-source CMS. This turns out to be a boon if you are looking for themes and plugins, literally thousands of which can be found everywhere. |
| Squarespace provides 24/7 customer support through email as well as live chat support within office hours. | WordPress does not have any customer support since it is open source. However, some high-end plans or paid themes may come with customer support. |
| SEO tool is simpler and easier to use. | It comes with a built-in SEO tool which though not as easy to use, but more powerful than Squarespace. |
| Change of themes is simpler in Squarespace. | Change of theme is more complicated in WordPress. In some cases, it might not even be possible. |
| Squarespace has four different all-inclusive plans, which ranges from $12 to $40 per month. These plans include domain, hosting. The more expensive ones include the ecommerce package too. | WordPress is free. That doesn't mean that it totally is. You have to host the website. WordPress hosting plans cost almost the same as Squarespace website plans. The best themes are for sale, too, and some of them are damn costly. |
Conclusion
Both Squarespace and WordPress have created a niche for themselves. While Squarespace started as a blog builder, WordPress is a CMS. However, with an increasing list of tools and services, both companies have managed to get hold of users' sizeable community. However, WordPress being the early entrant and the larger of both commands a clientele base that is far larger than most, including Squarespace. They both have their strengths and weaknesses. While Squarespace comes with a complete package, it can never match the flexibility of WordPress. Use them for different purposes, and the results would be stunning.
Recommended Articles
This is a guide to Squarespace vs WordPress. Here we discuss the Squarespace vs WordPress key differences with infographics and comparison table. You may also have a look at the following articles to learn more –