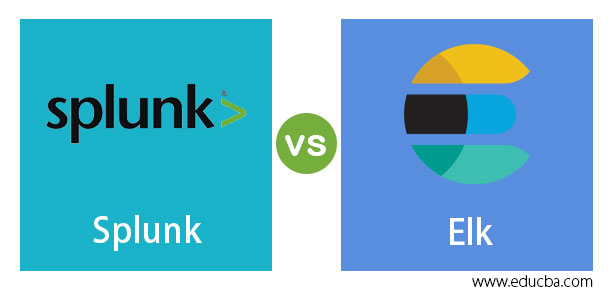 Difference Between Splunk vs Elk
Have you ever wondered how would you go to the office from home? We eventually try to look at Maps in identifying which route would be the least time-consuming and then we tread that path. Now one path might be longer but would take less time as the traffic is not that much, and on some other days, it might be the longest. So, what we learn from this is there might be numerous routes to solve the problem of traveling to work from home, and depending on the situation we would choose the path. The same goes for Splunk and ELK. Both these technologies eventually attack to solve the problem of Log Management. In this topic, we are going to learn about Splunk vs Elk. Terminologies Alert!! Essentially log management is an approach which deals with storing large volumes of data generated by log files. Splunk is known as "Google for Log files" as it is the oldest in this battleground and has been a leader in market share. On the other hand, we have ELK Stack which is an upcoming rival and is open source as of now. The compete of these two approaches in solving the problem is on the field of what features each provides, usability aspect, and cost associated with to use of each of them. Before we jump on to understand the differences which lie in these 2 approaches let us look at some terminologies so that it will easier to track on what aspects Splunk and ELK differ or are similar to each other. Now we start our take on the terminologies of Splunk. In Splunk, we have here 3 components on which it depends on. First being forwarder, as the name suggests is about forwarding the data coming in. the data can flow from a data source or any other forwarder and send it to Splunk deployment or another forwarder. The second component is the indexer, which performs the role of maintaining the data and index them so that while responding to search requests, the indexed data would give a faster output. The final and the most important component is the search head which is the front face of the web interface where the combination of the three combinations is distributed over servers. Next, without much ado let us jump to understanding more about the differences in Splunk and Elk
Head to Head Comparison Between Splunk vs Elk (Infographics)

Key differences between Splunk and Elk
The key differences in Splunk vs Elk lie in the genre of Loading Data, Visualizations, Search Capabilities, Security Packs, Deployment, Upgrades, Pricing, and finally the learning curve. Now let us, deep-dive, into each of the genres and get the essence of each in a deeper way. The first point is loading data. In the case of Splunk, it is assumed that shipping data is easy. Once the Splunk installation is complete the user can get to choose from a wide variety of pre-configured forwarders in terms of data sources for files and directories. The user experience is so easily built that one can just use the button of Select files to select files from a wide variety of options and then store them. Whereas in ELK stack, one needs to configure each field and identify them in order to ship the data through Logstash, responsible for shipping data from source to destination. It might be a bit tricky for users who don't work with scripting languages like Bash, Python, etc. The next point is visualization. In Splunk, we have a UI that provides flexibility to the users for controlling, editing, and adding new components to the dashboard for visualization along with user managing and controlling multiple users with the personal dashboard for each user. On the other hand, ELK doesn't support user management in visualization, but out of the box, solutions are present. In search capabilities, Splunk has the capability of providing dynamic data exploration, which helps users to find and extract a field through search options, whereas ELK needs to have pre-defined fields in order to use aggregation on the properties of log files. Next in line is on Security Packs where Splunk has an in-built Access Control list which provides a lot of security features at basic SSL level out of the box, whereas ELK has a paid X-Pack which provides security packs. For cases of Deployment, the Splunk instance provides production level ready-to-use products consisting of indexing layer, forwarder, and web access. Whereas Splunk provides indexing where data needs to be store in memory and hence the possibility of OutofMemoryException and the requirement of higher RAM for larger index. From an upgrade standpoint, Splunk has a pretty straightforward mechanism. Only the nodes need to be replaced in a specific order for upgrading. Whereas in ELK, the indexing is pretty much dependent on the version, hence some of the indexes need to be re-indexed if upgraded. By now we have a clear picture that ELK beats Splunk in almost all the cases of user easiness, but do you know why? This is the place where pricing starts mattering! Splunk is software with a price tag! All the benefits we saw comes with the label of price Splunk brings whereas ELK is free to use, and this is the main reason ELK is widely used for understanding the need of log management in industries.
Comparison Table of Splunk vs Elk
Now let's draft the comparison in the table below
| | | |
| --- | --- | --- |
| Genre  | Splunk  | ELK Stack  |
| Loading Data  | Variety of file types to choose from with a click of a button and no prior scripting knowledge required. | Each field needs to be configured while shipping the data and knowledge of scripting is mandatory |
| Visualizations  | Provides flexibility for controlling, editing, and adding new components with personalization along with user management. | No user management and personalization for each user in the case of ELK |
| Search Capabilities  | It provides dynamic data exploration. | Pre-definition of fields required in order to use aggregation |
| Security Packs  | Access Control List present to provide basic SSL level security | We need to buy X-Pack for having security features. |
| Deployment  | Production level deployment features | Needs higher RAM for larger indexes. |
| Upgrades   | Simple, just need to replace nodes in a specific order | Upgrading might lead to re-indexing. |
| Pricing  | It comes with a price tag! | Free to use! |
| Learning curve  | Moderate learning curve | The learning curve is flat mostly. |
Conclusion
Now with the discussion we had, it becomes essential to first understanding what lies beneath when one needs to decide between these 2 solutions and henceforth a thorough study needs to be in place. Since ELK is free to use developers are preferring to use it more nowadays to have customized features and that is the reason for having 500000+ downloads every month! All in all both the solutions brings in a lot of diversity to the topic of Log management and need some run-through of the requirements before proceeding with the solution.
Recommended Articles
This is a guide to Splunk vs Elk. Here we discuss Splunk and Elk's key differences with infographics and comparison table. You may also have a look at the following articles to learn more –