New Year '20 Offer TAKE THIS BUNDLE
OWASP Training (2 Courses)
This OWASP Top 10 Training course includes 2 comprehensive courses with 15+ hours of video tutorials and Lifetime access.
Here, we will teach you about the common vulnerabilities related to the OWASP Top 10 Security Risks, how they can be identified during web development and how they can be remediated in order to not compromise your organizations operations. We keep up to date with OWASP Top 10 Security Risks list and ensure to keep you informed as we update our training material every time the new top ten security risks list is released.
Offer ends in:
TAKE THIS BUNDLE
What you get in this OWASP Training?
Online Classes
Technical Support
Mobile App Access
Case Studies
About OWASP Certification
| Course | | No. of Hours |
| --- | --- | --- |
| Web Application Security with OWASP Top 10 - Beginners | | 7h 16m |
| Web Application Security with OWASP Top 10 - Advanced | | 7h 42m |
---
| | |
| --- | --- |
| Course Name | Online OWASP Training Certification |
| Deal | You get access to all 2 courses bundle. You do not need to purchase each course separately. |
| Hours | 15+ Video Hours |
| Core Coverage | Learn web application security testing with OWASP standards |
| Course Validity | Lifetime Access |
| Eligibility | Anyone serious about learning OWASP Top 10 Course and wants to make a career in this Field |
| Pre-Requisites | Basic knowledge about web testing would be preferable |
| What do you get? | Certificate of Completion for each of the 2 courses |
| Certification Type | Course Completion Certificates |
| Verifiable Certificates? | Yes, you get verifiable certificates after completion of both course units with a unique link. These links can be included in your resume/Linkedin profile to showcase your enhanced skills and OWASP Top 10 Security Risk Credentials. We recommend you keep up to date with your credentials regularly as we update our training material every time the new top ten list is release. |
| Type of Training | Video Course – Self Paced Learning |
| Software Required | None |
| System Requirement | 1 GB RAM or higher |
| Other Requirement | Speaker / Headphone |
OWASP Certification Course Curriculum
---
In this section, each module of the OWASP Certification Course is explained.
| | | | |
| --- | --- | --- | --- |
| Sr. No. | Course Name | No of Hours | Course Description |
| 1 | OWASP Top 10 – Beginners | 7 | In the first OWASP Certification Course unit, we will give you an overview of what OWASP is, which organization handles it, how frequently the list is released, and additional details that will give you a clear understanding of what OWASP is. The actual tutorial will start with the explanation of the vulnerabilities that are part of OWASP's current top team security concerns. The unit has been mainly developed for beginners so it makes it easy to understand and retain the information. All of the topics will be explained using real-life examples to makes you understand how things work. You will also be required to practice the examples as the tutor explains them to get hands-on experience while learning. All the vulnerabilities will be explained in detail to make sure you have a clear understanding of them. At the end of this unit, you will experience examples that will show you how to pinpoint the vulnerabilities and asses how to remediate them in development. |
| 2 | OWASP Top 10 – Advanced | 7 | In the second OWASP training unit, we will be covering the current OWASP top ten security concerns in a deep dive manner. You will see what kind of methods are used to exploit the vulnerabilities and how to hand-on remediate them. One vulnerability can be exploited in many different ways and we will go over all of them. The examples we present will give you real exposure of how and where vulnerabilities in web applications can be identified, how they could be exploited, and what are the security measures that have to be taken to keep the application secure. The examples used in this unit have been carefully selected to teach you how to remediate vulnerabilities and not just identify them. After the completion of the second unit of this OWASP certification course, you will be able to identify vulnerable security risks in applications that fall under the list of OWASP top ten security concerns and address them. |
---
OWASP Training – Certificate of Completion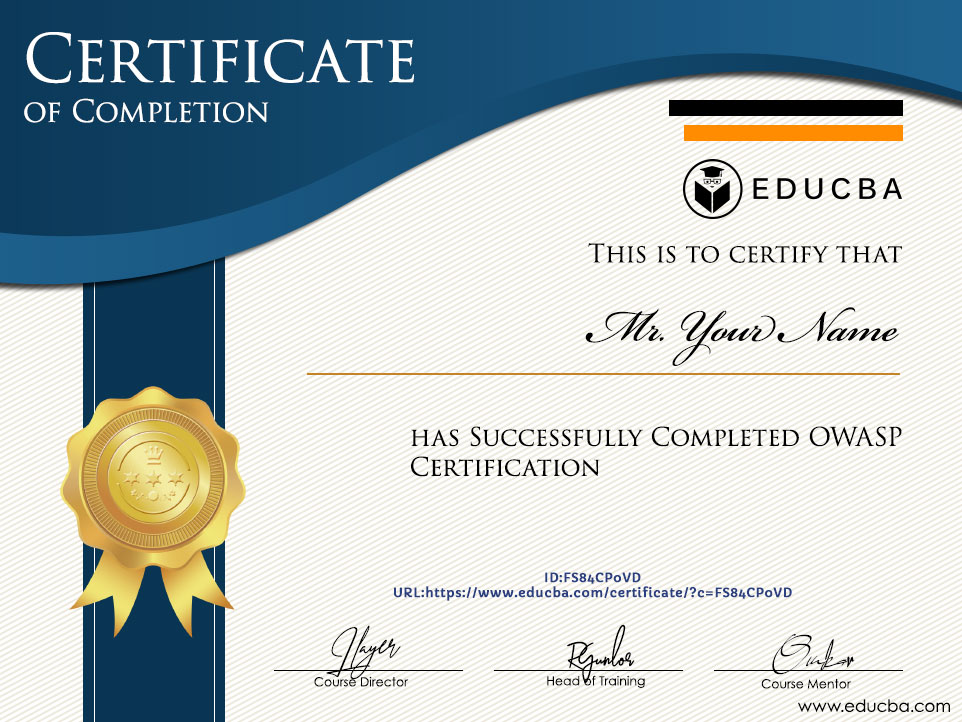 What is OWASP Top 10?
OWASP stands for Open Web Application Security Project. OWASP is a non-profitable organization that released the list of top 10 vulnerabilities that a vulnerable application usually contains. In this list, there are 10 common vulnerabilities with higher severity and that weakness must have to be remediated to keep the application secure from the attackers or hackers. Breaking or exploiting those vulnerabilities in any application can get one the very juicy information. That information can be leveraged to compromise the entire system.
The impact of those vulnerabilities is very high and hence the application must have to be protected against those vulnerabilities. In most cases, the common ways to remediate the application are just by making amendments in the codes while some of the vulnerabilities can be remediated by making changes in the server. The list of OWASP changes in four years is the new vulnerabilities come into effect with the advancement of the technology. There are other lists of vulnerabilities like SANS 25 and so on, but OWASP covers almost all of the vulnerabilities that are there in the other lists.

Industry Growth Trend
The global network security firewall market size is expected to grow from USD 3.0 billion in 2018 to USD 5.3 billion by 2023, at a Compound Annual Growth Rate (CAGR) of 12.2%.
[Source - MarketsandMarkets]
Average Salary
Average Salary
$117,302 per year
The average salary for an IT Security Specialist is $117,302 per year in the United States. Salary estimates are based on 3,802 salaries. The typical tenure for an IT Security Specialist is less than 1 year.
[Source - Indeed]
What skills you will learn in this course?
The motive of this OWASP Certification Course is to train you on the OWASP Top 10 vulnerabilities so that you can be able to protect your web applications against attacks. This OWASP training will help you improve your skills and detect vulnerabilities early on in the development cycle. Furthermore, you will learn what actions you need to take to remediate risks. You will get hands-on experience in identifying vulnerabilities in web applications before they are launched which contributes to a secure system for your organization.
The examples included in this OWASP Certification Course have been carefully selected to give you all the skills required to develop secure web applications to keep systems secure. This course is not just about getting the theoretical idea of OWASP Top 10 Security Risks but more so about learning how to remediate risks as you develop your code. The goal is to ensure your organization's systems remain secure at all times as the OWASP Top 10 Security Risks list renews every year. You will improve your hands-on development skills related to OWASP as we have included all the current OWASP Top 10 Security Risks training in this course.
Pre-requisites
To learn about the OWASP Top 10 vulnerabilities, one has to be aware of a few things which will help them to learn it with ease. Since we will be protecting web applications under this subject, we must know how web applications and the internet works. You will be required to have an understanding of programming so that you can understand what the program is supposed to do, how it could be exploited, and how the code has to be changed to make it secure. Also, there are additional technologies that you should have an idea about like SQL, javascript, and payload to exploit the vulnerabilities. In a nutshell, the more you know about web technologies, the more you are likely to learn and retain through this course.
Target Audience
Anyone who wants to be an ethical hacker or wants to begin their career in cybersecurity can be the best audience for this OWASP Certification Course. The professionals who are working in cybersecurity and want to learn web application penetration testing can opt for this course to get an edge to their career. They will learn how to penetrate the web application and how to protect them against the attacks. It will also be very helpful for the organization that has professionals who are masters in web application security.
The students who are interested to be an ethical hacker can opt for this OWASP Training Certification to improve the skills like coding skills, will learn about how the internet works, how the servers play their role, and so on. After completing this course, they will be entitled to get privilege in job or internship interviews. The trainers who are already training folks in cybersecurity and want s to enlarge the domain of their training can opt for this OWASP Certification Course to make themselves cognizant about web application penetration testing. They will be able to attract more and more talent this way.
FAQ's
---
Why should I learn OWASP Top 10?
When it comes to protecting an organization from attackers, their web application is something that has to be protected. So in simple terms, the security of any organization begins from their portal. From this fact, it is clear that the security professional must have to know about web application security testing if they want a lucrative and rewarding career in the domain of cybersecurity.
How long it may take to learn OWASP?
Learning OWASP  could take around two months to cover every vulnerability in depth. Based on how much time you are giving every day, it may depend on how quickly you can learn this. Though it could be learned in two months, you can keep on practicing it to get your hands deep in the web application penetration testing.
Career Benefits
As we discussed earlier how the organizations need the professionals who can protect their web application, it is clear that learning web application security offers a very gainful career. The professionals need to understand that in the domain of cybersecurity there are several things and web application penetration testing is one among them, but this module of cybersecurity is very crucial as, without it, the system will be very weak. Currently, there are numerous open positions for the role of web application security tester and the number of positions is expected to grow shortly. Even if the cybersecurity professional works on other modules of cybersecurity, it will always give them an edge to learn web application penetration testing. The compensation offered to the ethical hackers is good enough to attach the talents in this domain.
Reviews
---
Web App Security
Great course! This checklist is intended to be used as a fundamental guide to discovering and exploiting web services. It should be used in conjunction with the OWASP Testing Guide to be a fully functional review guide. This course shows the various type of attacks and the way to exploit the attacks using scripts or freely available tools.
Linked
Cale Sanders
OWASP Top 10 Beginner
This OWASP Top 10 beginner course focuses on identifying the most serious risks for most if not all organizations. Each of the top 10 risks is clearly explained and the examples go into real-world situations. Take what you can use and apply these risk-centric methodologies against your internal applications. Only you will know the specifics of your environment and your business cases. For any given application, some examples can be performed against several different services.
Mathews