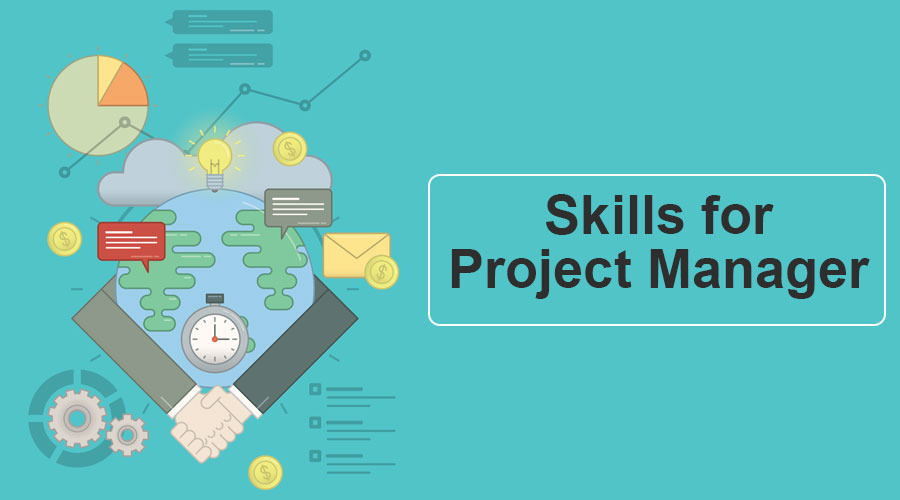 Overview of Skills for Project Manager
Job title of a project manager comes with a lot of responsibility, as the project manager is going to be held responsible for the outcome of the project. If the project turns out to be a success he will reap the rewards, benefits, and credit. But if the project turns out to be a failure he will have to face consequences of his action, the entire discredit will be given to him. He will face disgrace, his reputation might get damaged and in worst case scenarios the company may no longer give him such responsibility. In this topic, we are going to learn about Skills for Project Manager.
One needs to remember that project management is not a straight forward task, it involves a lot of key steps such as
Planning- This involves the initial design of the project, time frames for completion of various stages and overview of the project
Coordination- Identifying the various resources that will be required in this project and how to obtain them
Testing- This allows the Manager to test various components and improve or remove them if needed. It also helps the manager identify ways in which the efficiency of the project can be improved
Execution and implementation- After testing, the project is taken to action and work is done to complete it
Closing the Project- Manager has to make sure that the project is completed within the specific time frame and within the cost, the budget allocated to the project
As we can see there are several stages in the life cycle of a project, and a successful project manager needs to be well versed and have essential skills needed to successfully perform all of these roles.
In today's, day and age projects are of large scale and involve numerous workers each bringing with them a specific set of skills needed for the job. Managing workers and productively using them is one of the main challenges of a project manager. In fact, the degree of success of the project depends a great deal on the manager's ability to manage his workforce and team
In today's modern world, the Manager may need to manage projects in different countries. This requires managers to be well versed in global markets, have a good understanding of technology as, without it, it would not be feasible to execute such projects. Technology not only makes it easier to execute projects but also help the organization save a lot of money, increases efficiency and reduces errors as most work is automated and is programmed into the software
Knowledge of different cultures is important as well as this will help Project Manager deal with any social-culture issues that crop up in while executing the project. The project manager needs to train in soft skills so that they can maintain and create strong relationships in their teams and overall in the organization
Key Skills for the Project Manager
Below are some key skills that are essential for the role of Project Manager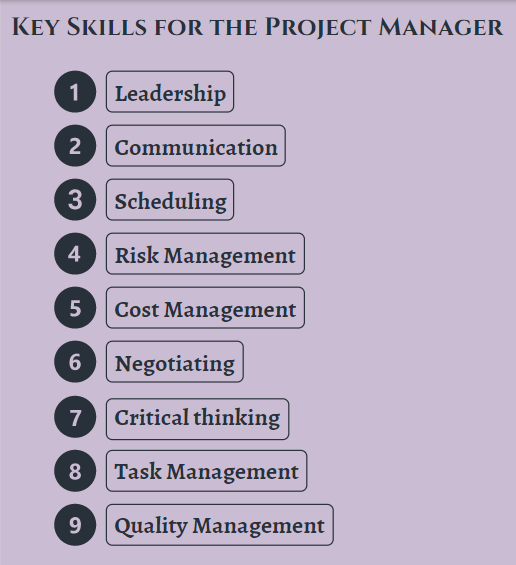 Leadership- A good leader leads by example, a project manager needs to have strong leadership skills. The project manager is not only responsible for completing the project but also leading his team, who look up to him to solve issues that they cannot. The project manager needs to motivate and mediate his workforce as when required
Communication- Project manager needs to be able to clearly communicate to his team what he expects out of them, what are the project objectives and guidelines that need to be followed. Communication extends to all parties involved in the project like suppliers, vendors, creditors, and customers
Scheduling- Project manager needs to make sure that different stages of the project are completed on time. The reason being this will directly impact the cost budget of the project, exceeding a cost budget will not be accepted by senior management of the organization. The project needs to be broken into small goals and time frames need to be attached to each goal and goals need to be finished within the time frame
Risk Management- Working on projects big or small involves considerable risk. A successful project manager needs to be aware of the issues and risks that could crop up and have plans in place to tackle them. Risk measures should be in place before the project takes off
Cost Management- This is of extreme importance before the project starts a budget needs to be prepared and it needs to be realistic. The project manager needs to carefully spend the funds and get the most out of it
Negotiating- At every stage of the project, the manager needs to negotiate with multiple parties. He needs to be able to arrive at decisions that are in the best interest of the project and organization.
Critical thinking- A lot of issues will come during the life cycle of the project that may not be covered in the risk management and testing phase. This will require the manager to think analytical and rely on his past experience and come up with innovative solutions to solve such problems.
Task Management- A project is full of the number of tasks, and the manager needs to carefully allocate them among his team so that each member receives the task that he/she is competent in. It is these small tasks that when combined ultimately lead to the completion of the project
Quality Management- It is making sure that the activities and tasks that are required to deliver a project or service are up to the requirements and the final project is of good quality. If not, then no amount of planning or having extraordinary skills are of any value.
Above mentioned are some key skills that a project manager must have, companies prefer managers who are competent in multiple skills and have successfully completed several projects in the past. They have a good track record.
Organizations are even spending considerable resources to train their managers so that they develop additional skills. However, in the end, no amount of training and preparation can completely help a manager as he will also face situations that are new and test him to successfully overcome them
Recommended Articles
This has been a guide to the Skills for Project Manager. Here we discuss the Key Skills that are essential for the role of Project Manager. You can also go through our other suggested articles to learn more –