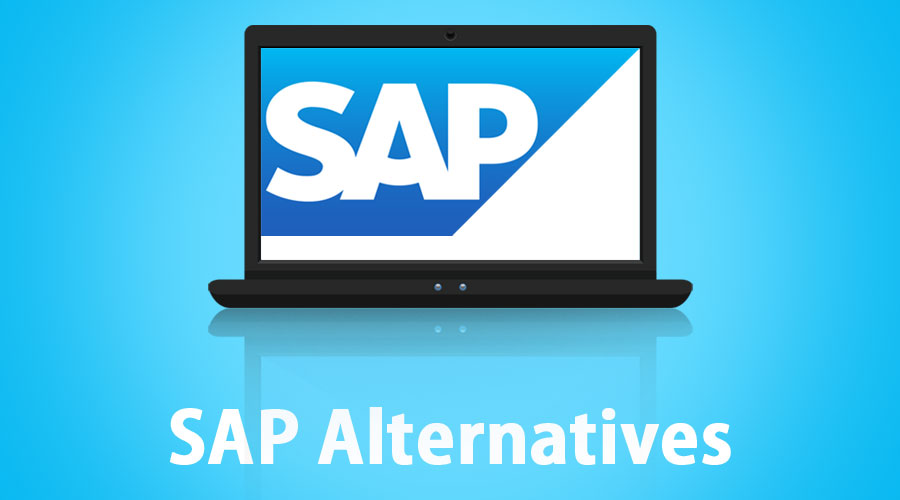 Introduction to SAP Alternatives
Enterprise resource planning (ERP) software are making their presence across businesses from big to medium sizes and are growing rapidly. They are now being adopted by small companies as well. All the core business processes are managed by Enterprise resource planning Software. It helps to integrate all the business processes in one system and helps to run a business smoothly.
What Is SAP?
SAP ERP is a market leader in Enterprise resource planning software. It is developed by German Company SAP SE. It incorporates the key business functions of an organization. SAP provides a highly flexible and transparent solution for business. SAP has captured big and mid-sized businesses at a larger level.
However, for small size organizations it is not affordable, as it becomes expensive to purchase and implement for them, also it requires experts to maintain the entire system which is overhead for them. In this article, we will have look at some of the SAP alternatives on which you can have a look.
List of SAP Alternatives
Now we will look into different types of SAP Alternatives
1. Oracle
Oracle has multiple ERP products such as Oracle E-Business Suite, Oracle ERP Cloud, and Oracle Financials. All of them are suitable for enterprises.
Oracle E-Business Suite is also known as Oracle EBS. It consists of a collection of ERP, CRM, and supply chain management (SCM) applications. Oracle ERP Cloud manages enterprise functions including accounting, project management, financial management. Oracle financial Provides one solution to manage a wide variety of the financial aspects of the company.
2. MicrosoftDynamics
Microsoft Dynamics is a line of ERP and CRM software applications. Microsoft Dynamics can be used with other Microsoft applications, such as SharePoint, Azure, and Outlook. It is suitable for enterprise-level applications and allows to develop new database-powered apps, helps to develop automated data processes with workflows.
Microsoft Dynamics 365 is a product line of ERP. It is sold in two editions, the Business Edition for small and medium-sized enterprises, and the Enterprise Edition for medium to large organizations.
3. NetSuite
NetSuite ERP is a reliable brand. It is a complete, scalable cloud ERP solution targeted at high-growing, mid-sized businesses, and large enterprises. NetSuite ERP is counted as one of the SAP Alternative because it supports back-office operations including financial management, human resources, orders, inventory management, shipping, and billing.
NetSuite allows to add functionality and customize it as the company makes progress. Some of the key features provided by NetSuite ERP are Analytics & dashboards, Quoting, Mobile Access, Workflow engine, Role-based security, Integration with Microsoft Office & Outlook, Sales order management, etc.
4. Infor
Infor is one of the largest providers of enterprise software. Infor builds complete industry software in the cloud and efficiently deploys technology that leverages data science, puts the user experience first and integrates easily into existing systems.
From Manufacturing to Retail to Healthcare, Infor covers all industries and have ERP end-to-end solutions that are brought together by artificial intelligence technology. Infor primarily targets midsize to large manufacturers. Infor offers a full set of applications ranging from enterprise resource planning (ERP) to enterprise asset management (EAM) to product lifecycle management to workforce management.
Infor CloudSuite and Infor Visual ERP are the main ERP products offered by Infor.
5. Sage
Sage is the world's third-largest supplier of enterprise resource planning software after Oracle and SAP. It is the largest software supplier for small businesses. Sage has about 30 years of experience in assisting medium and small companies to manage a business.
Sage technology offers organizations exclusive integrated business management and helps to run a business smoothly. The main Sage ERP software products include Sage 100, Sage 300 and Sage X3. Sage 100 is primarily targeted towards manufacturing and distribution firms. Sage 300 offers multi-language and multicurrency support additionally. Sage X3 offers a deeper feature set for the industries.
6. Acumatica
Acumatica is a leading innovator in cloud ERP. It is a technology provider that develops cloud and browser-based enterprise resource planning (ERP) software for small and medium-sized businesses.
Acumatica ERP delivers adaptable mobile and cloud technology with all-inclusive user licensing model, enabling a complete and real-time view of business anytime and anywhere. Acumatica's web-based ERP applications can be deployed on-premises, hosted in a data center, or run on a cloud-computing platform. The software can also be licensed or subscribed to as a Software as a Service (SaaS) solution.
Acumatica provides the full suite of integrated business management applications, including Financials, Distribution, Project Accounting, Manufacturing, Field Service, Construction Edition, Commerce Edition, and CRM.
7. SYSPRO
SYSPRO is an enterprise resource planning (ERP) software designed for accounting, manufacturing and distribution operations across a wide variety of industries. SYSPRO ERP specializes in the manufacturing and distribution industries. SYSPRO can be deployed on-premise or in the cloud, or through a flexible model, and it can be accessed from any device. Syspro provides very flexibility that we can Run our ERP in our own way and terms.
SYSPRO provides an end-to-end, fully integrated business solution that includes accounting, order management, inventory management, planning and scheduling, supply chain management, production management, warehouse management, customer relationship management (CRM), business intelligence, self-service portal, and manufacturing operations management applications.
SYSPRO 7, SYSPRO Business Live and SYSPRO Espresso are the main products available under SYSPRO ERP.
8. ERPNext
ERPNext is free and fully open source ERP software which is considered as one of the best SAP Alternative. It is used by more than 3000 companies across the world.
ERPNext is a generic ERP software which is used by manufacturers, distributors and services companies. It includes modules like accounting, CRM, sales, purchasing, website & e-commerce, the point of sale, warehouse, manufacturing, project management, inventory, and services. Also, it has domain-specific modules like schools, agriculture, healthcare and nonprofit.
9. Epicor ERP
Epicor is another SAP alternatives as it provides industry-specific business software designed around the needs of manufacturing, retail, distribution, and services organizations. It offers functionality for accounting, inventory control, pre-production materials planning and manufacturing execution. Epicor ERP is modular i.e. buyers can purchase only the modules which they need and use.
Epicor ERP enables stronger, facts based decisions with robust, built-in analytics to help you achieve the highest profitability.
Recommended Articles
This has been a guide to SAP Alternatives. Here we have discussed the best 9 SAP Alternatives which are available in the market. You may also look at the following articles to learn more:
Software Development Course - All in One Bundle
600+ Online Courses
3000+ Hours
Verifiable Certificates
Lifetime Access
Python Certification Course

Programming Languages Courses