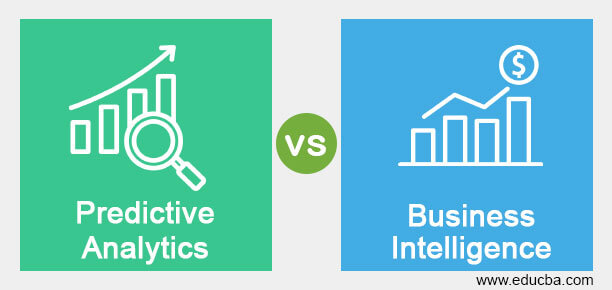 Differences Between Predictive Analytics vs Business Intelligence
This is an outline on Predictive Analytics vs Business Intelligence. The terms "business intelligence" and "predictive analytics" are sometimes used synonymously to refer to techniques and tools for using data to make defensible judgments. Additionally, using so many tools and approaches in this digital age might be perplexing.
Business Analytics
All aspects of a business collect data and are equipped for data collection.

The wide availability of data has led to increasing interest in methods to extract useful information from Data Science.

Organizations in almost every industry focus on exploiting data for competitive advantage.
A business needs to take several decisions, such as:
What is the possibility that a customer will buy a product P?

Which should be the next recommended product?

What is the "realistic" view of opportunity as a customer?

Do any accounts exist in which there is substantial untapped revenue?

Which sellers may miss their target orders?

How do you align sellers with customer opportunities to target maximum revenue impact?

Which factors can influence its product in the marketplace?

It is a scientific process that transforms data into insight

It is used for fact-based or data-driven decision making

Uses tools such as reports and graphs (simple), optimization, data mining, and simulation (complex
 Predictive Analytics
Predictive Analytics includes techniques that use models created from past data to predict the future or determine the impact of one variable on another. Here are a few examples:
Example 1
A company can create a mathematical model for predicting future sales by using past data on product sales.
Example 2
A food manufacturing company can estimate the measurement and quantity of unit sales using the point-of-sale scanner data from retail outlets.
Example 3
A company can predict the market share of a new product by using survey data and past purchase behavior.
Other Examples
Companies also use a few other Predictive Analytics techniques, such as time series analysis, linear regression, data-mining techniques, and simulation (risk analysis).
What is Business Intelligence?
Refers to reporting and analytics tools; traditionally used for determining historical data trends.

Includes a set of processes, methodologies, technologies, and architectures that uses the output of the information management processes

Enables queries by which users can get results by asking data-related questions

Includes tools that are designed to present the results of analytics in an understandable format
The short answer is yes. Predictive Analytics add layers of decision analyses that, while supported by BI (Business Intelligence) data-mining technology, deliver far more strategic value than BI.
Head to Head Comparison Between Predictive Analytics vs Business Intelligence
Below are the top comparisons between Predictive Analytics vs Business Intelligence: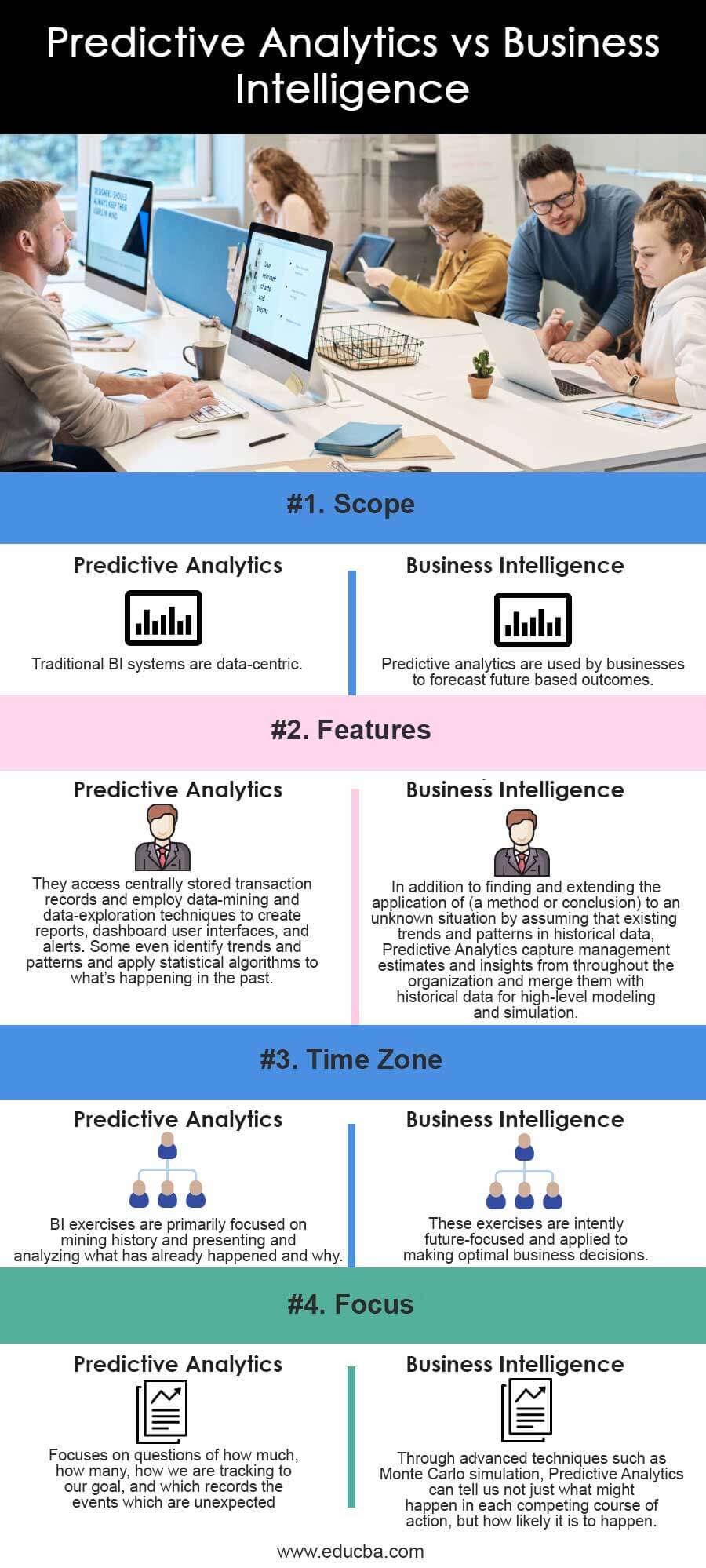 Key Differences between Predictive Analytics vs Business Intelligence
Following are the differences between Predictive Analytics vs Business Intelligence as follows. Let's further differentiate Predictive Analytics from BI using the example of a store.
BI can provide details about every customer, such as a home address, activity history, age, communication preference, income bracket, and more.

At a more aggregate level, BI can also tell us the store's average shopper demographics or which stores in the chain cater to which subsets of shopper demographics.

The information above provides good value in determining which products are sold, where and to whom, which promotions worked, which did not meet expectations, and so on.
By contrast, when we view this valuable history through the lens of Predictive Analytics,
We can also identify customers that will buy next month and which products will sell. From this, we can determine which products are in stock, which promotions are needed to fund, which locations to expand, and which customer experience to invest in.

We can also compare and contrast the value and likelihood of outcomes for these and other competing courses of action.
We can also analyze outcomes based on countless or highly great numbers.
This can tell us which promotions will fare better next month given the time of year, the possibility of extreme weather, or other demand-driving events. We can determine which products to stock, which to keep, and what to pause or drop based on known competitor actions, new product introductions, or many internal and marketplace scenarios.
Comparison Table of 
Predictive Analytics vs Business Intelligence 
Both Predictive Analytics vs Business Intelligence platforms are equally important, even essential tools in today's competitive world. That does not mean they are to be valued equally. Let's start by defining each process.
| | | |
| --- | --- | --- |
| Basis of Comparison | Business Intelligence | Predictive Analytics |
| Scope | Traditional BI systems are data-centric. | Predictive analytics are used by businesses to forecast future based outcomes. |
| Features | They access centrally stored transaction records and employ data-mining and data-exploration techniques to create reports, dashboard user interfaces, and alerts. Some even identify trends and patterns and apply statistical algorithms to what's happening in the past. | In addition to finding and extending the application of (a method or conclusion) to an unknown situation by assuming that existing  trends and patterns in historical data, Predictive Analytics capture management estimates and insights from throughout the organization and merge them with historical data for high-level modeling and simulation |
| Time Zone | BI exercises are primarily focused on mining history and presenting and analyzing what has already happened and why | These exercises are intently future-focused and applied to making optimal business decisions. |
| Focus | Focuses on questions of how much, how many, how we are tracking to our goal, and which records the events which are unexpected | Through advanced techniques such as Monte Carlo simulation, Predictive Analytics can tell us not just what might happen in each competing course of action, but how likely it is to happen. |
Conclusion
In the future, every corner of business is based on the use of predictive analytics. For reporting purposes and the making of dashboards, Business Intelligence is used.
Recommended Article
This is a guide to Predictive Analytics vs Business Intelligence. Here we discuss the meaning, key differences, and comparison table with infographics. You may also look at the following articles to learn more –