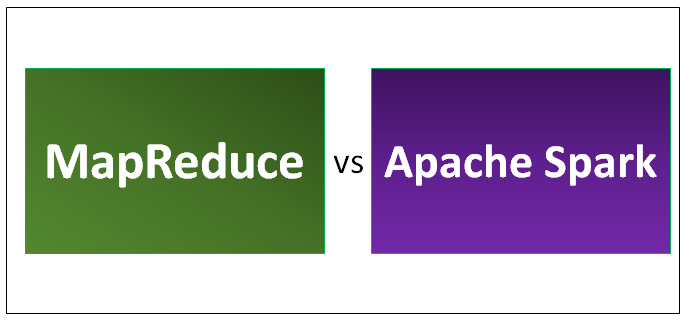 Differences Between MapReduce And Apache Spark
Apache Hadoop is an open-source software framework designed to scale up from single servers to thousands of machines and run applications on clusters of commodity hardware. Apache Hadoop framework is divided into two layers.
Hadoop Distributed File System (HDFS)
Processing Layer (MapReduce)
Storage layer of Hadoop i.e. HDFS is responsible for storing data while MapReduce is responsible for processing data in Hadoop Cluster. MapReduce is this programming paradigm that allows for massive scalability across hundreds or thousands of servers in a Hadoop cluster. MapReduce is a processing technique and a program model for distributed computing based on programming language Java. MapReduce is a powerful framework for processing large, distributed sets of structured or unstructured data on a Hadoop cluster stored in the Hadoop Distributed File System (HDFS).  The powerful features of MapReduce are its scalability.
Apache Spark is a lightning-fast and cluster computing technology framework, designed for fast computation on large-scale data processing. Apache Spark is a distributed processing engine but it does not come with inbuilt cluster resource manager and distributed storage system. You have to plug in a cluster manager and storage system of your choice.  Apache Spark consists of a Spark core and a set of libraries similar to those available for Hadoop. The core is the distributed execution engine and a set of languages. Apache Spark supports languages like Java, Scala, Python and R for distributed application development. Additional libraries are built on top of the Spark core to enable workloads that use streaming, SQL, graph and machine learning.  Apache Spark is data processing engine for batch and streaming modes featuring SQL queries, Graph Processing, and Machine Learning. Apache Spark can run independently and also on Hadoop YARN Cluster Manager and thus it can read existing Hadoop data.
You can choose Apache YARN or Mesos for cluster manager for Apache Spark.
You can choose Hadoop Distributed File System (HDFS), Google cloud storage, Amazon S3, Microsoft Azure for resource manager for Apache Spark.
Head to Head Comparison Between MapReduce and Apache Spark (Infographics)
Below is the Top 20 Comparison Between the MapReduce and Apache Spark:

Key Difference Between MapReduce and Apache Spark
The key difference between MapReduce and Apache Spark is explained below:
MapReduce is strictly disk-based while Apache Spark uses memory and can use a disk for processing.
MapReduce and Apache Spark both have similar compatibility in terms of data types and data sources.
The primary difference between MapReduce and Spark is that MapReduce uses persistent storage and Spark uses Resilient Distributed Datasets.
Hadoop MapReduce is meant for data that does not fit in the memory whereas Apache Spark has a better performance for the data that fits in the memory, particularly on dedicated clusters.
Hadoop MapReduce can be an economical option because of Hadoop as a service and Apache Spark is more cost effective because of high availability memory
Apache Spark and Hadoop MapReduce both are failure tolerant but comparatively Hadoop MapReduce is more failure tolerant than Spark.
Hadoop MapReduce requires core java programming skills while Programming in Apache Spark is easier as it has an interactive mode.
Spark is able to execute batch-processing jobs between 10 to 100 times faster than the MapReduce Although both the tools are used for processing Big Data.
When to use MapReduce:
Linear Processing of large Dataset
No intermediate Solution required
When to use Apache Spark:
Fast and interactive data processing
Joining Datasets
Graph processing
Iterative jobs
Real-time processing
Machine Learning
MapReduce and Apache Spark Comparison Table
Below is the comparison table between MapReduce and Apache Spark.
| | | |
| --- | --- | --- |
| Basis of Comparison Between MapReduce and Apache Spark | MapReduce | Apache Spark |
| Data Processing | Only for Batch Processing | Batch Processing as well as Real Time Data Processing |
| Processing Speed | Slower than Apache Spark because if I/O disk latency | 100x faster in memory and 10x faster while running on disk |
| Category | Data Processing Engine | Data Analytics Engine |
| Costs | Less Costlier comparing Apache Spark | More Costlier because of a large amount of RAM |
| Scalability | Both are Scalable limited to 1000 Nodes in Single Cluster | Both are Scalable limited to 1000 Nodes in Single Cluster |
| Machine Learning | MapReduce is more compatible with Apache Mahout while integrating with Machine Learning | Apache Spark have inbuilt API's to Machine Learning |
| Compatibility | Majorly compatible with all the data sources and file formats | Apache Spark can integrate with all data sources and file formats supported by Hadoop cluster |
| Security | MapReduce framework is more secure compared to Apache Spark | Security Feature in Apache Spark is more evolving and getting matured |
| Scheduler | Dependent on external Scheduler | Apache Spark has own scheduler |
| Fault Tolerance | Uses replication for fault Tolerance | Apache Spark uses RDD and other data storage models for Fault Tolerance |
| Ease of Use | MapReduce is bit complex comparing Apache Spark because of JAVA APIs | Apache Spark is easier to use because of Rich APIs |
| Duplicate Elimination | MapReduce do not support this features | Apache Spark process every records exactly once hence eliminates duplication. |
| Language Support | Primary Language is Java but languages like C, C++, Ruby, Python, Perl, Groovy has also supported | Apache Spark Supports Java, Scala, Python and R |
| Latency | Very High Latency | Much faster comparing MapReduce Framework |
| Complexity | Difficult to write and debug codes | Easy to write and debug |
| Apache Community | Open Source Framework for processing data | Open Source Framework for processing data at a higher speed |
| Coding | More Lines of Code | Lesser lines of Code |
| Interactive Mode | Not Interactive | Interactive |
| Infrastructure | Commodity Hardware's | Mid to High-level Hardware's |
| SQL | Supports through Hive Query Language | Supports through Spark SQL |
Conclusion
MapReduce and Apache Spark both are the most important tool for processing Big Data. The major advantage of MapReduce is that it is easy to scale data processing over multiple computing nodes while Apache Spark offers high-speed computing, agility, and relative ease of use are perfect complements to MapReduce. MapReduce and Apache Spark have a symbiotic relationship with each other. Hadoop provides features that Spark does not possess, such as a distributed file system and Spark provides real-time, in-memory processing for those data sets that require it.  MapReduce is a Disk-Based Computing while Apache Spark is a RAM-Based Computing. MapReduce and Apache Spark together is a powerful tool for processing Big Data and makes the Hadoop Cluster more robust.
Recommended Articles
This has been a guide to MapReduce vs Apache Spark. Here we have discussed MapReduce and Apache Spark head to head comparison, key difference along with infographics and comparison table. You may also look at the following articles to learn more –