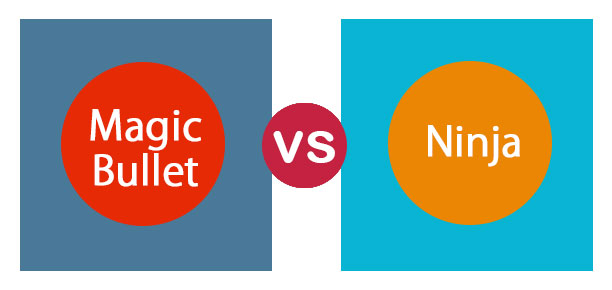 Difference Between Magic Bullet vs Ninja
Modern life is very hectic. Figuring out how to keep up a decent, healthy eating regimen when you are on a tight schedule is a challenge for many. Most people rely on outside junk food that is bad for health. Foods that have been structured particularly to be "fast" is seldom the healthiest decision you can make. The way out of this unhealthy food habits is by having a blender at your house. These simple, flexible and compact blenders can be ideal for anybody searching for a tasty, easy to prepare and healthy food that can be eaten anywhere. The blenders we are going to discuss are strong, easy to clean and accompany enough capacity to mix any crisp ingredients you may need into a nutritious smoothie.
Here we compare two wonderful blenders, the Nutri Ninja and the Magic Bullet with their performance, style, features, similarities, and differences. You can buy one of these after going through the below-mentioned points and choose one that suits your requirements.
Head To Head Comparison Between Magic Bullet vs Ninja(Infographics)
Below is the top 7 difference between Magic Bullet vs Ninja

Key Differences Between Magic Bullet vs Ninja
Both Magic Bullet vs Ninja are popular choices in the market; let us discuss some of the major Difference Between Magic Bullet vs Ninja
Design Nutri Ninja: The Ninja looks very beautiful with its modern and sleek design. It is available in black and silver colors. Ninja is an ideal home appliance that can complement well with your kitchen décor. It weighs 8.2 pounds and includes 12, 18 and 24 oz. cups.
Magic Bullet: The Magic Bullet is offered in one style and it is available in silver color. It is built using an 11-piece set that includes the base, blade, cups, and lids. It weighs 4.7 pounds and includes 12 oz. & 2×8 oz. mugs. The user is also provided with a recipe book on various kinds of treats for both the Magic Bullet vs Ninja.
Performance and Build Nutri Ninja: The Nutri Ninja has a powerful motor that works great in grinding, making smoothies, and shredding ingredients. It comes equipped with a 900-watt motor at 1.2 horsepower to get the tasks done. The blades are designed well and the 2,000 RPM speed makes the grinding process smooth. There is also a protective lid available with the device to prevent the risks of spills and leaks. With the compact design, the Nutri Ninja can fit well in your countertop. That means you will not face any storage issues and will have enough room to store other things. In addition, you get two containers with the appliance-an 18-ounce cup and a 24-ounce cup. These cups are easily detachable and you can carry it anywhere you go. Unlike other blenders, there are not many complex controls and buttons in the Ninja. It is very easy to use. All you have to do is to keep the cup at the base and press the pulse button. That is it; you will get a very consistent result in the end. With the Nutri Ninja, you can make soups, desserts, fruit smoothies, juices and much more. For making custom smoothies, the blender comes with various pitchers and jars along with rims and lids. Your friends will love this at parties, as they can make a drink of their choice.
Magic Bullet: Magic Bullet is a blender that is small in size but works well in terms of performance. With the help of the 250-watt motor at 0.335 Horsepower, it can chop, blend, grind, mix, mince, and whip things in 10 seconds. The blender is enough to work on these items swiftly. The blender is capable enough to work on these items quickly. The Magic Bullet is even easier to use than the Nutri Ninja. You will find no settings or buttons in it. You can just attach the blade cap onto the jar and start running the machine. In the event you want to do some other things while you are working on the blender, you can lock it by holding the cup and turning it. The only problem with this blender is that since there are no physical buttons or control on it, the user does not have any control over the speed and power. However, be careful when you use certain ingredients to grind in it. They have certain limitations in processing tough ingredients such as hard nuts and ice in the composition. Also, do not forget that these two devices cannot work on hot soups as well.
Cleaning: You can easily clean both the blenders using soap and water and even the accessories are dishwasher safe. Therefore, maintaining them will be an easy job.
Power Consumption: As the Nutri Ninja is more powerful with a higher RPM rate, it consumes more power. Comparatively, the Magic Bullet requires less power for running its smaller motor.
Accessories: With Nutri Ninja, you will get two jars. With the Magic Bullet, however, you get pitchers, jars, and mugs. Therefore, in terms of accessories offered, the Magic Bullet outshines the Nutri Ninja.
Magic Bullet vs Ninja Comparison Table
Below is the 7 topmost comparison between Magic Bullet Vs Ninja
Basic Comparison between Magic Bullet Vs Ninja

Magic Bullet

Nutri Ninja

Power
250 Watts
0.335 HP
900 Watts
1.2 HP
Dimensions
13.2 x 6.9 x 10.6 inches
12.9 x 7.9 x 14.8 inches
Weight
4.7 pounds
8.2 pounds
Colour
Silver
Silver & Black
Cleaning
Dishwasher safe
Dishwasher safe
Mugs/Cups
12 oz. & 2×8 oz. mugs
12 ,18 & 24 oz. cups included
Warranty
1 yr. limited warranty
1 yr. limited warranty
Conclusion
Magic Bullet vs Ninja comes with comparable features. Both the blenders are compact, lightweight and are easy to use. In addition, they are made BPA-free and are safe to wash using a dishwasher. However, once you observe them more closely, you will find that there are plenty of differences between the two blenders, which sets them apart.
Nutri Ninja's strong points are a powerful motor, ease of use with multiple cups and so on, while the Magic Bullet has a power-efficient motor, ease of use, and can blend small things. Conclusively, the Magic Bullet is best if you have a small family and requires a blender to process small servings. It is pocket-friendly as well and does not require a lot of kitchen space. On the other hand, the Nutri Ninja is a more powerful blender and outshines the Ninja in terms of specifications and features. So choose a product wisely based on your needs.
Popular Course in this category
Maya Course
16 Online Courses | 98+ Hours | Verifiable Certificate of Completion | Lifetime Access
4.7 (1,175 ratings)
---
Related Courses
Photoshop Course
Unreal Engine Course
Recommended Articles
This has a been a guide to the top difference between Magic Bullet vs Ninja. Here we also discuss the Magic Bullet vs Ninja key differences with infographics and comparison table. You may also have a look at the following articles to learn more.
Design Course - All in One Bundle
280+ Online Courses
2000+ Hours
Verifiable Certificates
Lifetime Access