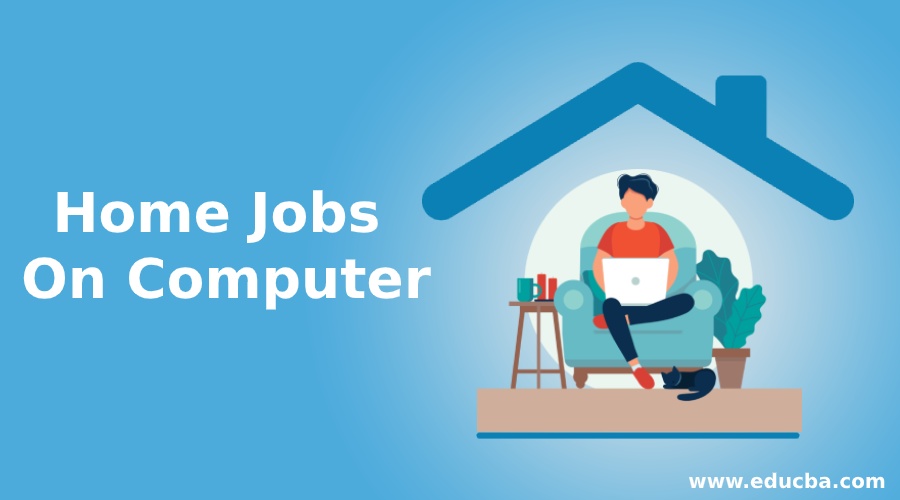 Home Jobs On Computer
In a conventional sense, work means going out from home to an office, factory or a shop. Even if you are running a business you need to commute to the office to get things done. According to a study, Americans commute 30 billion hours collectively every year while an average American commutes 26 minutes a day to work. In Indian and emerging nations it may be much more considering the traffic, the distance involved and the number of buses or trains to be boarded to reach the workplace and back.
According to an estimate, if the time spent commuting was utilized productively, Americans themselves would have created 300 Wikipedias and built Great Pyramid of Giza 26 times in a year alone. The impact on carbon footprint is also huge. With more people opting for home-based work, pollution and global warming may lessen as a result.
All these makes working from home look attractive. Pregnant and convalescing women have become productive thanks to the facility given by some companies to work from home. Even men who have young kids, working wife sometimes quit full-time jobs to do undertake freelance or home jobs on the computer.
Best Home Jobs on Computer:
Here are seven home jobs on a computer that can help you earn income at your own pace:
Online Tutoring and Teaching
With the rapid expansion of internet and broadband speeds, online tutoring has now become feasible for many people living across the world. It is a win-win opportunity for students who need help in subjects such as Mathematics, Science, Economics, Accounting, English and other languages. Many companies provide such home jobs on the internet to employ teachers who want to work from home.
Most of the students will be based outside India- mostly US, UK, Australia, Canada and other nations. Only one student can be trained at a time. But it involves working in the US, European hours and it could mean remaining awake in the late evening and early morning hours. But there are several teachers who quit their regular jobs in school and college either due to health reasons or to look after young kids. They can conveniently space their time, look after the children and earn an average of 20,000 Indian Rupees (IR) per month. For each day, it may require two hours of preparation to handle classes up to eight hours, according to Surya, a Mathematics teacher based in Kochi, South India.
The service provider provides training in punctuation and techniques of online teaching for teachers selected for online training. Opportunities for teaching subjects from school to college undergraduate courses are available.
Offlate, some classical music teachers have established a career teaching it online to students in the US, Canada, Qatar, Germany and cities in India. For people who can't set up an online facility to teach can use the skype call. One session lasts an hour and is charged $16 on an average for overseas students. Teachers make up to INR 50000 a month. (Naukri.com and other leading job sites provides details of companies looking for online tutors).
Medical Transcription and Coding
Medical transcription involves transcribing dictated recordings of doctors and allied medical professionals and converting them into reports. It may contain a patients case history, observations, diagnosis, and prescription information. Medical transcription work is ideal for people with a science background (zoology, pharmacy, biology) and has a good understanding of medical terminology, anatomy, physiology and legal issues related to healthcare documentation. The efficiency of medical transcriptionists is based on speed and knowledge of MS Word. They should ideally have a minimum typing speed of 30-40 words per minute. They should have good listening and comprehension skills.
Medical transcriptionists get a median salary of $16 to $25 per hour in a 40 hour work week. In the Indian scenario, medical transcriptionists earn in the range of 1,00,000 to Rs 4,00,000 a year. Medical transcriptionists can progress to editors and project leaders but it may require moving from home to work in the office.
Allied to Medical Transcription is the Medical Coding services which involve processing medical records containing diagnosis, treatment charges and converting them into standard codes. There will be codes for symptoms, diseases, and medicines that are universally accepted. This helps insurance companies and government to process data faster and enable quick reimbursement to patients. Coders have to learn the International Classification of Diseases (ICD) codes and Current Procedure Terminology (CPT) codes. The average median salary for medical coders is INR 2,00,000 per year but Certified Coding Specialists may get up to INR 5,00,000 annually.
Recommended courses
Content Writing, Editing, and Blogging
With the rapid expansion of websites, portals, and blogs catering to various industry and verticals, there is a huge demand for content writers, editors, and bloggers.
Many sites look for freelancers and contract based writers as hiring full-time employees may not be feasible for them. This has opened up opportunities for women and men who just need a computer and internet at home to work on various projects. The minimum requirements are a graduate degree preferably with diploma in communication and some experience in writing content. Payment is usually based on per word basis. The topics could range from news, psychology, management, marketing, technology, fashion, cookery, travel, information technology, engineering, medicine.
Many journalists, writers, editors who quit the full-time job due to various reasons find this attractive and enable home jobs on a computer at their own pace. Some jobs may require working at fixed hours especially in the evenings for news related assignments but in other cases, it may be flexible. Good language, writing skills, grammar, and punctuation are a must for this job. Depending on the assignments and clients, content writers can earn from INR 8000 to 50,000 per month.
Content writers can also write articles and features for magazines or newspapers and earn additional income.
Software Development, Web Design, and IT Testing
Many people who have worked leading software service companies to quit them due to longer working hours and need to commute. Moreover, the experience and domain knowledge help them to take projects on their own that can be done at home. Software development, website development, software testing home jobs on the computer are done for both Indian and overseas clients. It may require working in night hours. Designing involves creating web pages, editing, photos, video and graphics using Photoshop, CorelDraw and other software. Both men and women work on these work-at-home projects and earn as much as they would in a regular office environment. Opportunities can be found through existing contacts or through job portals such as Naukri.com, Monster.com among others. High-Speed internet connectivity, a higher level configuration for laptop or desktop are a must for IT related jobs.
Insurance, Travel and finance-broking services
If you are interested in travel and would like to make income promoting tour or holiday packages companies like Yatra.com are providing such a facility. Holiday Advisors are given commissions, travel vouchers and free vacations for the family. Some advisors have reported earning an average of INR 20,000 to 25,000 per month apart from incentives. All the training, materials and support are provided by the company.
Broking companies have now taken the franchising route to expand their business. People with an interest in stock markets, commodity markets and currencies can earn a decent income by becoming franchisees of broking firms. The commission is usually shared on 50:50 or 60: 40 basis and the more you expand your client network and increase trading activities, the more margins you will earn. All it requires is a high-speed net connection, computer and willingness to track markets and give advice to clients.
With the rapid growth of the insurance industry, there are huge opportunities for insurance advisors who can work from home after taking the IRDA (Insurance Regulatory Development Authority) by selling insurance policies. However, sometimes it may require personal visits to meet friends or to follow a lead given by someone. Any graduate degree and a flair for marketing or selling concepts.
Online data entry and proofreading home jobs on a computer
Many companies are proving data entry and proofreading home jobs on the computer, which enable registered users to earn INR 8000 per week if they complete 240 pages of content. Such companies require the user to enter into a contract for 11 months and payment of a one-time registration fee ranging from INR 5000-6000
Some home jobs on computer involve clicking on paid-advertisements that land on your inbox and you will be credited with $ 0.25 for every ad clicked. Others involve filling forms or surveys that earn an income of INR 60 to 300 per survey. However, it is better to check the authenticity of the service provider and their payment history before entering into an agreement.
Consultancy jobs in civil engineering, interiors, income tax, accounting
Several certified accountants, architects and engineers with independent practice can do their work at home and occasionally go to clients office for consultations or delivery of work. Apart from professional qualifications, requisite experience may help get more clients. It enables flexible working hours, reasonably good income and ideal for women with young children. Many professionals related to television and films also work from home- as editors, sound designers with minimal infrastructure to handle small projects and hire studio time for handling bigger projects.
Advantages, Disadvantages of Home Jobs on a Computer
There are advantages and disadvantages to home jobs on the computer. It eliminates the need to get ready in the morning and rush to reach office in time to punch attendance to avoid penalization. It enables the worker to set his own time schedules and attend to household chores. It eliminates travel in crowded buses and through heavy traffic. If you are running a small business setting up a Small Office Home Office (SOHO) with adequate table, computers and stationery would be fine. It also saves on rental costs, costs of commuting and associated costs.
The disadvantage of working from home is the need to have self-discipline. There is nobody to guide or manage your time and resources. No meetings or appraisals on a daily basis which means you have to set your targets and goals. If you are afraid of loneliness and seeks communication with others, home jobs on a computer may be stressful. Children and visitors may be a disturbance to your work. It may be difficult to separate work and family time leading to clashes. If clients want to meet you, home environment may not provide the right ambiance.
Loneliness associated with home-based work can be compensated with meeting friends or old colleagues in the evening or working at a local coffee shop or attending networking events once in a while.
The other problem is related to variation in income especially if the clients are not prompt in their payments. And the difficulty in finding companies which are reliable and has a good revenue model. The Forbes and FlexJobs have a list of top 100 companies that provide flexible jobs. It has a comprehensive list of 25,000 companies that are providing work at home jobs worldwide that are reliable. The industries range from information technology, healthcare, education, philanthropy, education, eLearning, and NGOs. The most common job titles in home-based jobs are accountants, teachers, software developers, business analysts, and sales/marketing personnel.
Conclusion
There are several jobs that can be done at home which don't require the use of computers or network connectivity. High tech farming, livestock, and poultry have been taken up people quitting regular jobs due to stress and lack of growth opportunity. However, these self-employed people need to invest more in infrastructure and raw materials to get adequate returns which are not required in the case of IT-based work at home projects. So also cookery and fashion designing projects can be done at home with a little investment in machinery and materials.
Going by current trends, it is likely that many home jobs on the internet will be shifted to home due to recessionary trends not likely to go away in Europe and US markets in the near future while rapid growth in emerging markets such as China has been stalled.
However, the choice of working at home should be weighed against the pros and cons associated with it and whether you are suited for it.
Recommended Articles
This has been a guide to home jobs on a computer that can help you earn income at your own pace. These are the following articles related to home jobs on the computer.