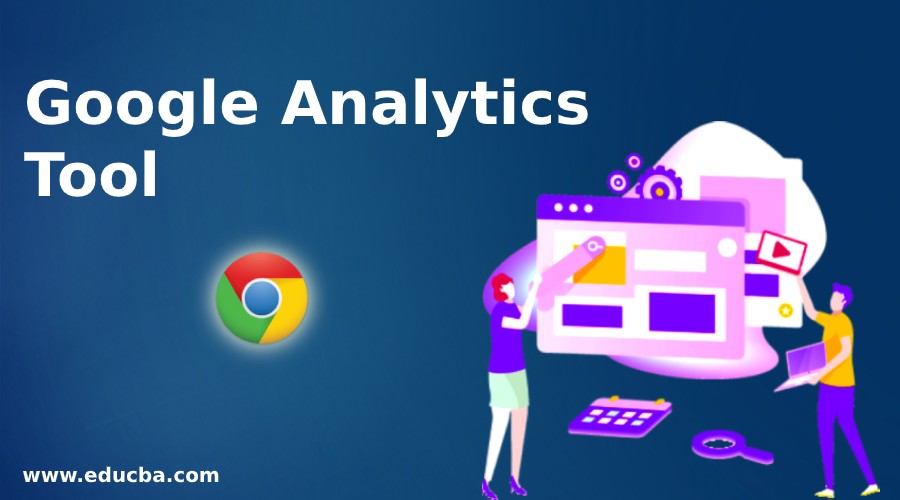 Do you know what's generating leads to your website? what are google analytics features? Google analytics tool can tell you.
Ultimate Guide to Google Analytics Tool
Google Analytics is a powerful application that helps with tracking traffic patterns on your website.
If you don't know what Google analytics tool is or you haven't used this before, no worries, this post is especially for you.
Google Analytics tool is the most powerful web analytics application that provides comprehensive statistics regarding the visitors to your website.
You might have an awesome website but if you are not sure about your target customers and which part of your site is more attractive to them then the site will not be more effective. That is why many websites use the Google Analytics tool.
By using the Google analytics tool a website owner can answer the following questions:
Who visits my website?
Where do the visitors mostly belong to?
Do I need a mobile-friendly website?
How are people finding my site?
What marketing technique drives more leads to the site?
Which pages of the site are more popular among the visitors?
How many conversions are made?
Is the site loading quickly?
What blog content do the visitors like more?
What's happening on my site right now?
If you haven't installed the Google Analytics tool on your site yet, it's really easy. This post will help you to get it set up. Here we highlight some of the most useful parts of the Google Analytics tool and how that data can be used to your advantage.
Initial setup of Google Analytics tool
Getting started with the Google Analytics tool is as simple as starting a Gmail account online. Sign up for a free account or if you already have an account just log in to your account.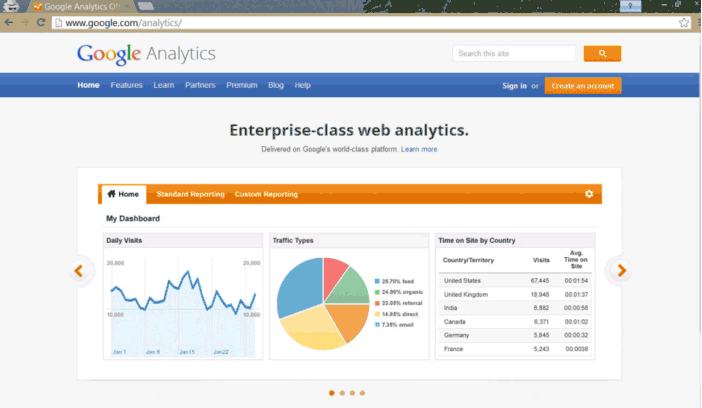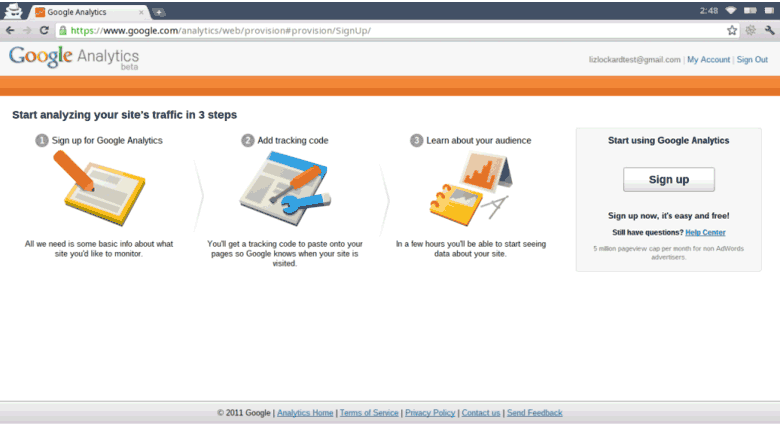 Once you are logged in ensure that you are on the home page by looking at the small house icon on the orange bar in the left side top corner of the page.
If you haven't already added your site to this page, then add your website to your account.
To add your site follow these steps:
Click Admin on the orange bar in the right-side top corner of the page.
It will land you on the Account Administration page
You will get a Pop-Up question asking "What would you like to track ?". Choose your answer as the website.
It will ask you to choose between Universal or Classic Analytics. Choosing Universal analytics is always better. As it will have more tracking options and upgrades.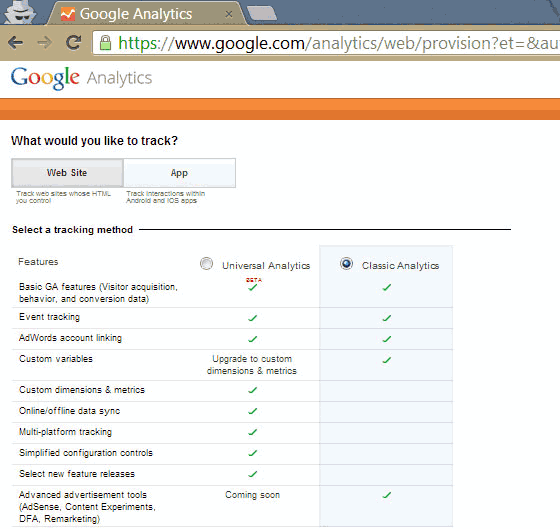 Fill in the details of your website like website name, URL, type of industry and time zone.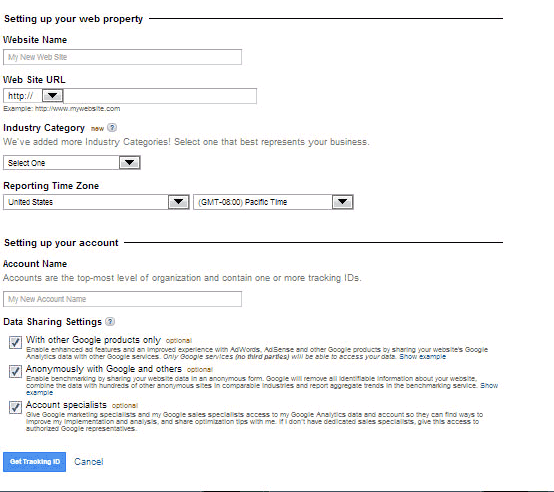 After filling in the details you can give access to share your data with other Google products like Ad-sense of your choice by clicking on the checkboxes.
Now finally click on the button "Get Tracking ID" and accept to the terms and conditions of Google. Accept and continue.


Recommended courses

Course on SEO
Complete Rural Marketing Course

Adding tracking code to your site
Once you get your tracking code copy and save it. Later paste this tracking code into your website's source code. If you are not allowed to access the source code then make a request for it to the website provider.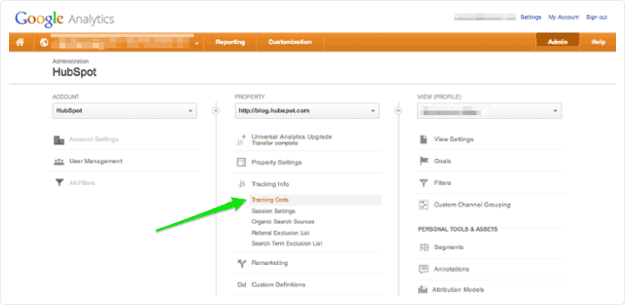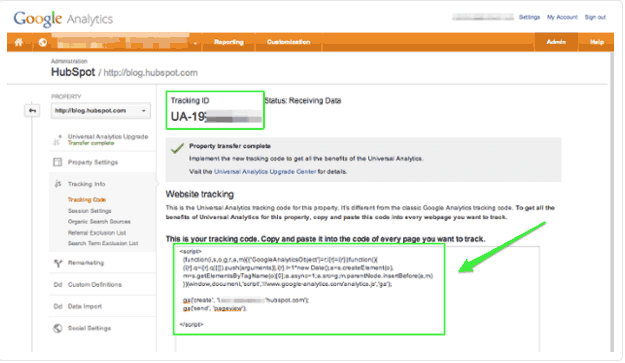 The installation of the tracking code depends on the type of website you have. It differs from a WordPress site and HTML site.
There are two ways of adding your tracking code – HTML editor and FTP.
Insert the code in the header in an HTML site. Save and re-load. It will take 24 hours for Google to track your data and provide you with information.
Setting Goals
You can also set goals for your tracking actions. Goals will tell the Google Analytics tool if something important has happened on your site.
For example, if you have a contact form in your site where you generate leads then you will be in need of creating a thank you page for the visitors who have submitted their contact information. But not more than 20 goals are allowed per profile.
The step by step process for setting goals is as follows:
Click Admin button
Click the account name
Click on the property name
Click on the profile name
Click on the Goals tab
Click on add Goals
Name your goal something you will remember
Choose from the four options: URL Destination, Visit Duration, Page/visit, and Event
Add additional values if required
Click Save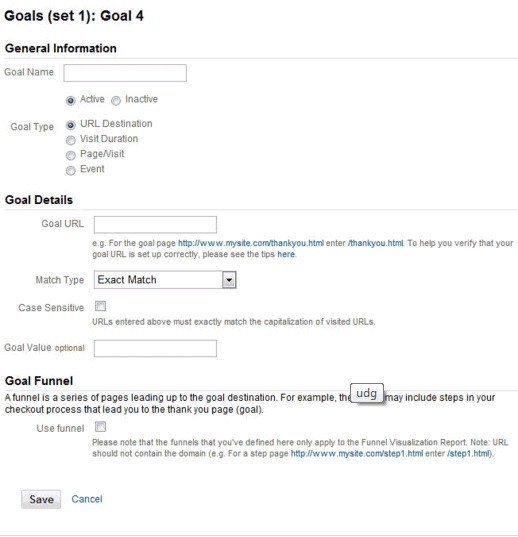 You also have the option to add a predefined template for your goal for things such as Revenue, Acquisition, Inquiry, and Engagement. These templates will be available with pre-filled configurations.
Set up site search setting
Site search is another important factor to be set up in order to get valuable data. Setting up site search involves the following easy steps:
Run a search on your website.
Go to the Google Analytics Admin Menu —-> View Column —-> View Settings
Scroll down and turn on the site search settings
Go back to your URL for search results.
Enter the query parameter and then save.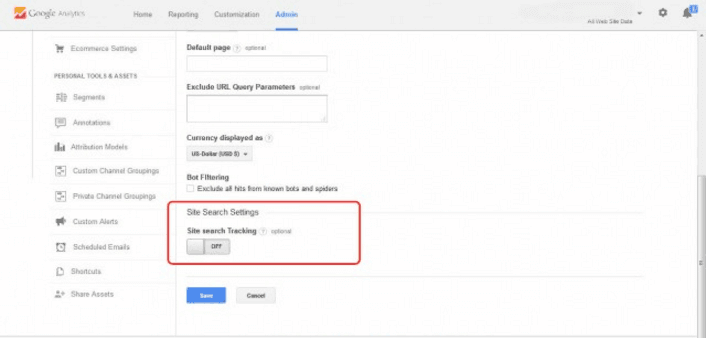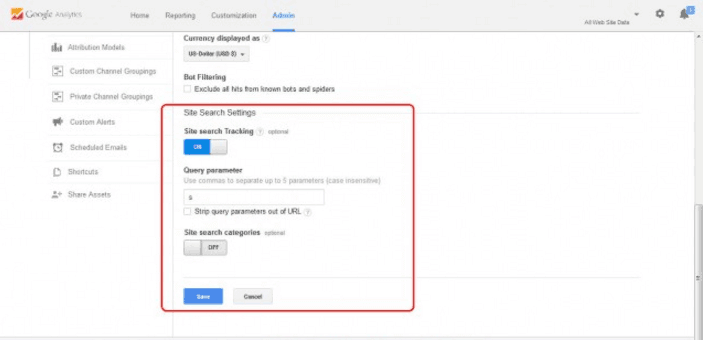 This option will help you in knowing what your visitors are looking for on specific pages of your site.
Dashboard details
The dashboard of the Google Analytics tool will contain a pictorial representation of information such as
Number of visitors
First-time visitors Vs Return visitors
The average time the visitor stayed on your website
What type of visitors are they and where do they belong
Conversions
Content
The speed of the site
Traffic sources
Here are few snapshots of Google Analytics tool dashboard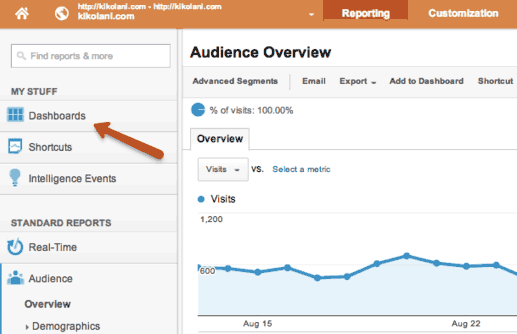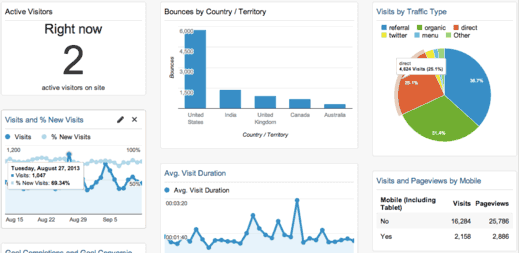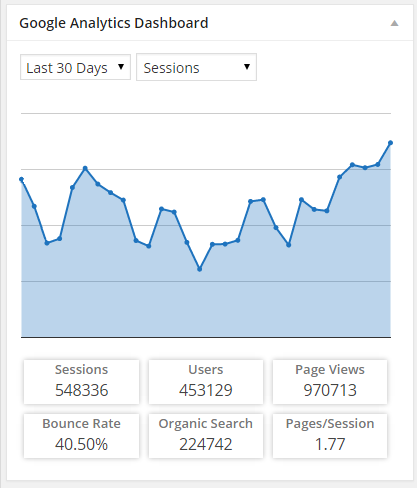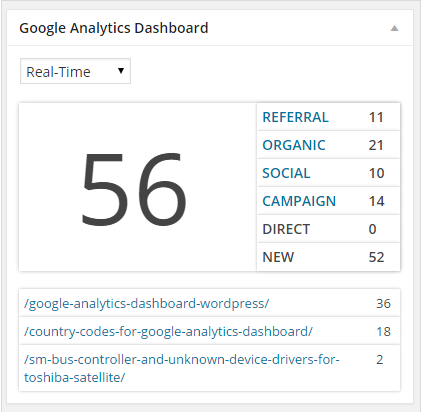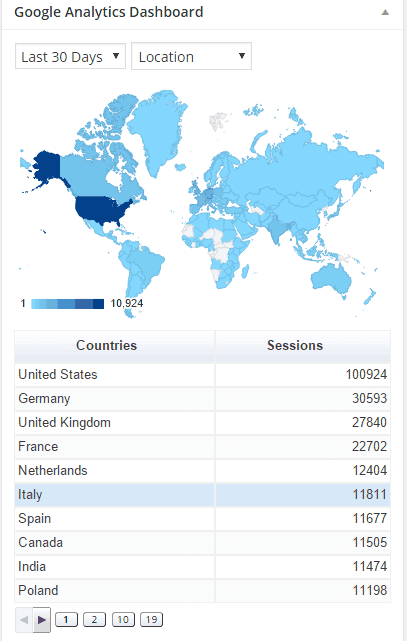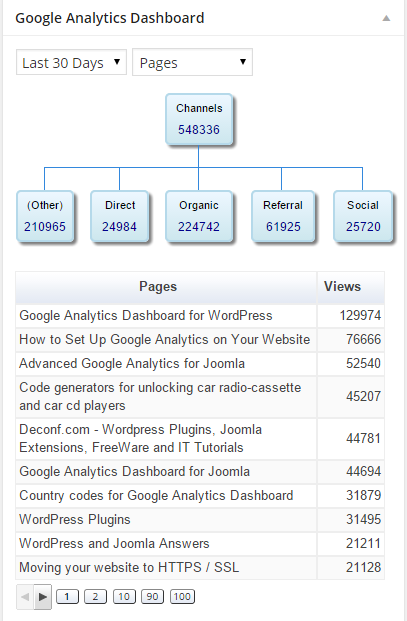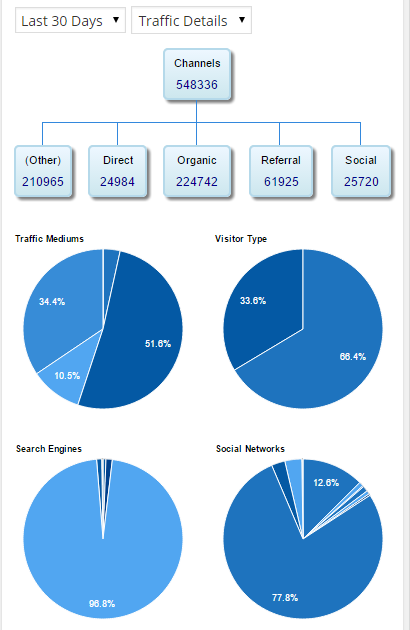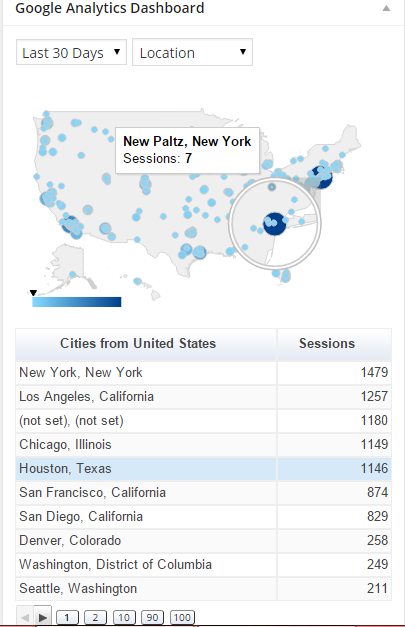 Google Analytics Tool Reports
Google analytics tool gives you a detailed report on visitors, traffic sources, landing pages, Keywords, and conversions through four main reports. We are going to look in detail at these reports in the below section.
Audience reports
How are people finding my site?
Audience report provides you with an in-depth understanding of the visitors to your site including their demographics, geography, and through which mode they are accessing your site.
In the audience overview report you can get detailed information on the following metrics:
Sessions (Sessions here means visits) – Total number of visitors to your site
Users – Number of unique visitors to your site
New Users – Percentage of total visitors who have clicked your site for the first time
Page views – Number of pages viewed on your site
Pages Per Session – Average number of pages viewed per visit
Average Session duration – The average amount of time visitors stayed on your site
Bounce rate – Percentage of visitors who leave your site after visiting only one page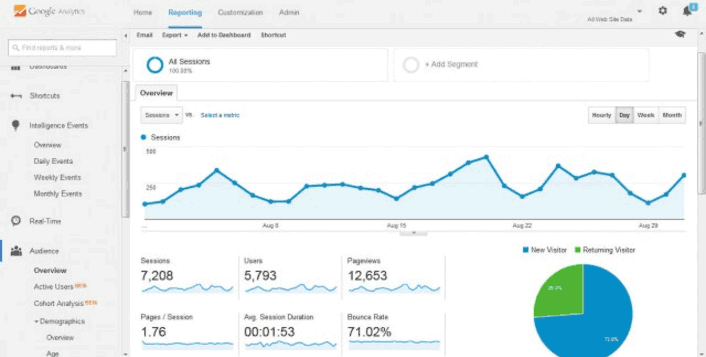 You will also have additional information about the visitor on the following metrics:
Language
Country
City
Browser
Operating System
Service Provider
Mobile Service Provider
Mobile Screen Resolution
You can always change the segments or compare any two segments in all the reports of Google Analytics tool.
How does this report help you?
The information provided in the audience report will help you gain better insight into the customers and can help you move the needle of your business.
The information about the country/city will help you in knowing which country people are more interested in your product and can increase your shipping facilities. This will help you in reducing the shipping cost and time.
Browser and OS information will help you in knowing whether your site is optimized as per the needs of your customer or do you need to improvise your site.
Acquisition Reports
How do I get more traffic?
Acquisition report gives you the answer to this question
Acquisition report is the most important report as it helps you in knowing how your visitors found you and how they have arrived at your site.
Once you know how people are finding you, then you can gain even more people.
Do more of the things that worked out best or re-evaluate the things that did not work out for you.
There are two sections under this report – All traffic and All referrals
All traffic lets you know how someone has arrived at your site including typing domain name or clicking from another website.
All referrals give you a very specific report that includes visitors who have arrived at your site by clicking on a link to your site from another website or blog.
Acquisition reports give you the following information:
Which channels drive more visitors
Visitors from which channel are engaged in your site for a long time
Visitors from which channel are ending up in purchases

Behavior Reports
What posts do my readers like?
To answer this question look at your All pages report under the Behavior reports section.
Behavior reports will tell you everything about the contents on your site and visitors reaction to it.
You can view the report for all the pages or each page separately.
This report gives you information about
The speed and load time of your website and pages
The bounce rate of each page
Search terms used by the visitors
Behavior reports help in creating a better user experience for your visitors and thus increasing your conversion rate.

Conversion Reports
If you set up goals within your Google Analytics tool then you can know how many conversions your website has made. You can also know the path through which the conversion was made.
You should also turn on E-commerce Tracking option in the Google Analytics tool. This tracking report will provide you information about
Products – Products bought, quantity, revenue
Transactions – Revenue, Tax, Shipping charges
Time to purchase – Number of days and number of visitors it took for a single purchase to be made
Shortcuts and Emails
Many of you find that you want to visit some tab again and again. To serve this purpose Google Analytics tool gives you an option to create Shortcut for the reports and add it to the left sidebar of the main page for easy access.
You can also use the email button to get the reports to your mail on a regular basis.
If you want to email the reports to someone outside your business then provide their email id by clicking on the Scheduled emails box under the View column in Admin Menu. Keep checking these mails on a regular basis to ensure that your company data are shared only to people with whom you are working with.
Google Analytics tool Data
Google Analytics tool offers three categories of Data – Visitors, Traffic Sources, and Content. These categories can be seen on the left-hand side of the main page. We will look about these data tabs in detail below.

Visitors Tab
Visitors tab gives you a lot of information as you have already seen in the dashboard of Google Analytics tool. Here we are going to discuss the other options under the visitor's tab.
Benchmarking – Want to compare your site with other sites in the industry? Benchmarking option will do it for you. You can compare your site statistics with that of the same niche as your site.
Map overlay – Want to know where your site visitors are from? Ma overlay option will provide you with this data.
New Vs Returning – How many regular visitors does your website have?
Languages – Know the default language used by most of site user.
Visitor trending – This section offers data about Visits, Unique Visitors, Pageviews, Time on site and Bounce rate.
Browser capabilities – What browsers do your visitors typically use? The answer to this question will help you improve your site for a particular browser.
Network properties – What network providers your visitors use the most? How is their connection speed?
Traffic sources tab
This tab gives has following sections under it.
Overview – Gives you a big snapshot of where do you get your traffic from.
Direct traffic – Lets you know the traffic created by manually typing your URL directly into the browser.
Referring sites – Traffic created by clicking on a link from another site.
Search engines – will help you to find out which search engines are sending you the most traffic. The information is divided into Paid and non-paid search traffic.
Keywords – Find out the keywords that generated more traffic
Campaigns – Can track your traffic gained through PPC, Newsletters and RSS feed.
Ad versions – Track your traffic gained from Google Adwords
Dayparts – Will help you to know which part of the day your site has received the most clicks
Destination URL's – Shows you the landing that they start their visit with.
Placements – Analyzes the performance of your ads and increase the placements.
Keyword Positions – Will let you know where your PPC ads are listed when users are clicking them.
TV ads – Gives you information regarding your TV campaigns
Content tab
Content tab offers a lot of details through different sections as under.
Overview – Gives a quick view of Pageviews and bounce rates
Top content – Lets you know which part of your site is more popular
Content by Title – You will know which content in your site is more attractive by its title
Content drill down – Give s you folder wise statistics for your contents in each page
Top landing pages – The first-page people visit on your site
Top exit pages – The last page people visit on your site
Site search – Helps you to find out the search queries used by the visitors
Event tracking – Will help you to find the number of times your video or an outbound link is been clicked by the visitor.
Goals tab
Overview – Lets you track how many people have completed your goals
Total conversions – Will let you know how many goals have been completed within a certain period of time
Conversion rate – Gives you the percentage of your visitors' role in completing your goal
Goal verification – Will find out whether the goal has been achieved at a point which you have already determined for that goal
Reverse goal path – This section will help you see the reverse paths of your visitor
Goal value – This tab will help you in finding the financial value for each goal attained
Goal abandoned funnels – This will let you know how many visitors exited your site without completing the entire goal process
Funnel visualization – This will help you in knowing from which page your visitor has exited the site letting you understand the problem in that particular page
The bottom line is Google Analytics tool it is an amazing tool for website owners. We have only scratched the basics in this article. Hope this article would have given you enough insight to start with Google Analytics tool and its metrics.
Recommended Articles
Here are some articles that will help you to get more detail about the google analytics tool and google analytics features so just go through the link.