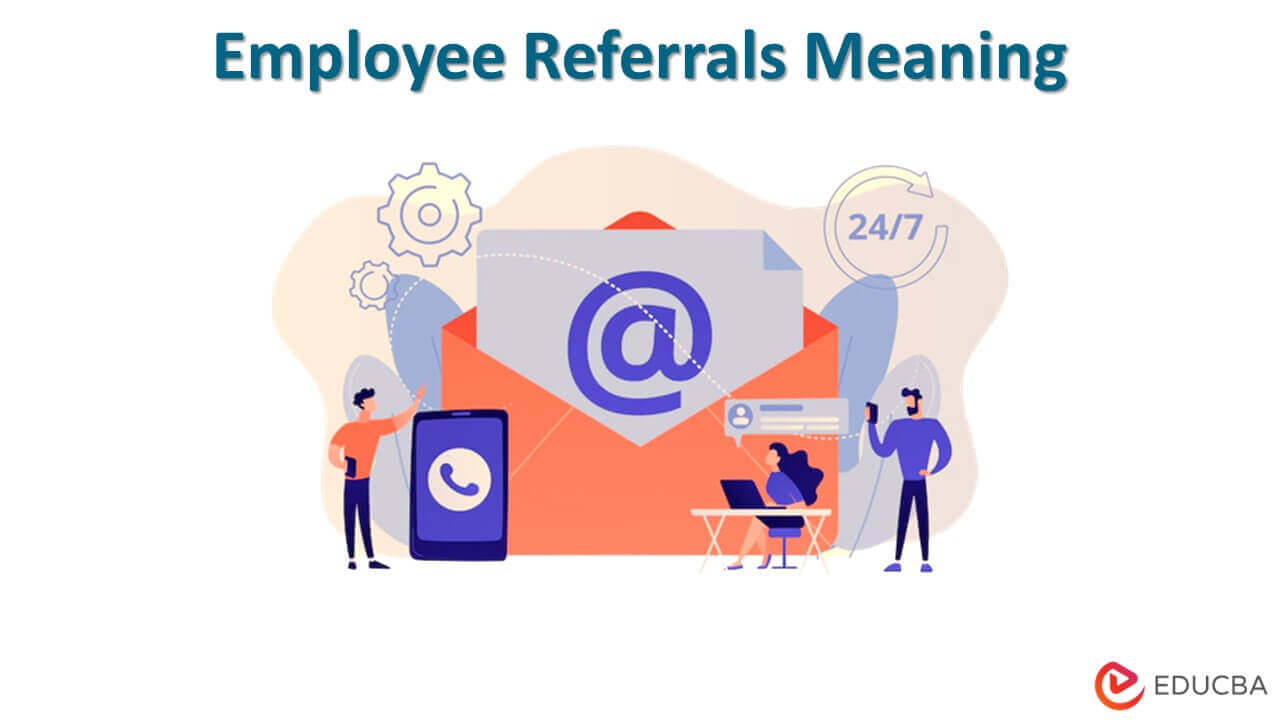 Introduction to Employee Referrals Meaning
Employee referrals meaning universally enjoy a high success rate. Recent statistics indicate that an employee-referred candidate gets hired 66% of the time. That's a pretty impressive number! (And we're sharing conservative figures here.)
If you're on the lookout for a change in job or career, you must learn to tune in to the mighty power of "employee referrals". This is where an employee of a company you admire explicitly refers to a recruiter's resume for an open position within the company.
Some of you may wonder what the big deal is. Yes, you may avoid the effort of chasing external headhunters, but you still have to earn the job based on your own skill and right. Correct?
In a company, almost 60% of employees refer at least one person in a year. This means that people do use this system, quite frequently.
This is especially fruitful for leadership and senior management positions. In fact, the higher the position you prefer, chances are that you've put more thought into it and hence better the chances of the candidate being hired.
Employee referrals meaning also make fantastic economic sense, to everybody. This is how it works:

First, it costs a company a lot less to source candidates from employee referrals advantages. It sure beats the employee referral expense involved in taking out fancy employee referral advertisements to attract the right talent. It's also way cheaper than working with headhunters and recruiting firms. So companies will offer a part of this savings to their employees through an "employee referral bonus" program. Often, this also doubles up as a loyalty program.
Lured by the financial incentives involved, employees happily refer their friends, family, etc. for open positions, inviting like-minded folks to join them at work. This brings more harmony at work and leads to higher employee satisfaction and retention.
The employees already have an "in" into the company's psyche. Hence, they're more likely to refer individuals who easily fit into the company's culture, vision, future roadmap, etc. Conversely, people trust and believe their friends and associates (who refer them) over headhunters (who're essentially strangers), and are hence more likely to accept employee-referred offers from employee referral hiring companies.
As you can see, there's a lot to love about employee referrals' advantages as it offers a win-win solution for all. Companies rightly recognize that employee referrals make for quality hires. They hence place major significance on it in their employee referral hiring strategy. It is indeed your best bet to win your dream job!
9 effective tips of Employee Referrals
SO – how can YOU tap into it and enjoy its rewards? Read on for 9 effective tips that will get you there.
Create a strong first-circle network
Your "first-circle" involves the people you know reasonably well. This includes your friends (from school, college, social interactions, work, etc.), family, old classmates, neighbors – anybody you can call on a whim to let them know that you're looking for a job.
This is an employee referral network that some of us surprisingly overlook when scouting for a job. Perhaps we feel shy or guilty to impose on them? But the truth is that the person who refers you is almost always rewarded in some form – a referral bonus, or the pleasure of your company at work, or both. So drop the hesitation and make that call!
Also, this is the most important step, but it's important that this is not the only step in your endeavor to secure an employee referred position. When you reach out to your first circle, request them to spread the word. If you have companies you're looking to target, share this list with them. They may, in turn, reach out to their first-circle to accommodate you. This has the potential to create a wide employee referral network opportunities across your industry, strengthening your chances of securing that dream job.
Build a strong niche-circle network
Sometimes, our friends and family don't "get" our work. This is where you need to connect with individuals in the same field or position. Some of them could also be in your first circle, but here, you make a conscious effort to network with folks who have jobs you want.
After all, who understands your job needs better than a person with a similar job?
So call, visit, email and connect with past colleagues, co-workers, and associates you've drifted away from, so when they have an opening in their company, they think of you. In most cases, they will also share with you inputs on market trends (or trends in their company), technical expertise and other valuable information that prepares you better for a successful job-hunt.
Stay in touch with your old boss(es)
We bet you've heard this one before – people leave managers and not just companies. Conversely, people stick with their managers and not just companies!
If you've enjoyed the good fortune of working with a manager you admire, there's a strong possibility he or she enjoyed working with you too. Connect back with this manager and let him know you're looking for a job change. Managers thrive in teams that have worked well in the past as their group dynamics is better. So your old boss is sure to welcome the opportunity to get you back into his team.
In fact, you should connect with your old boss regardless of your job-hunt. Who knows when you or even him will need the other's valuable inputs? This could vary from employee referrals advantages to professional references.
Stay Linked-In
If social media networks like Facebook and Twitter help sustain personal connections, LinkedIn helps sustain professional connections. To ensure that you have an active LinkedIn profile. Spruce it up with your achievements. Reach out to your first circle to get into their employee referrals meaning LinkedIn connections. Build a strong (professional) network, in the real world, and the online world.
LinkedIn also offers salient features that make it easy to track and review a person's professional profile, so your connections feel comfortable forwarding them for employee referrals definition. It's also the right place to showcase praise from your superiors, career highlights, and passion projects that connect to your work. All of these are great ways to advertise your professional worth so when a potential employer looks you up (online), LinkedIn reveals to him the star you are.
Join a (formal) professional organization
People often shy away from professional organizations as they consider them boring or stuffy. Heck, we get enough of "work-talk" at work, don't we?
Guess what: it's never enough. BUT – it doesn't have to be boring or stuffy.
A professional organization provides you the undeniable opportunity of connecting with other professionals from your industry in less-formal setups. If you're a geek, join a MENSA club. If you're a techie, join a tech hub. If you're a writer, join a forum for writers (or better still, start one). These forums enable you to connect with like-minded individuals as you enjoy a mix of personal and professional interactions. These widen your social and professional circles. And while they're at it, they also improve your knowledge.
Finally, there's the clincher: companies place immense value on people who contribute to the industry, as there's plenty of potentials there. So get involved to showcase your talent and potential.
Approach large-sized companies first
If you're serious about your job-search (and not merely "fishing" for better opportunities), then you're sure to have used these tips and lined up multiple employee referral example opportunities within weeks of your search. Our advice is to approach the large-sized companies first.
You see, large companies (and by that we mean 1000 employees and above) typically get over 27% of their hiring needs filled through employee referrals definition. It's kind of a big deal! Hence attack this chunk first before you approach smaller companies employee referral example.
The exception to this rule would be for niche-market roles. If you come with some ultra-special skill that is in short supply in the market, then approaching small-size companies or even start-up companies are a better choice for you. They can offer you more freedom and don't mind paying a hefty salary for your rare skill.
Make employee referrals Definition your first preference
There's one mistake that takes the punch out of employee referrals employee referral example: non-employee referrals meaning.
You see, companies tend to address employee referrals meaning with priority, so other applications are kept "pending" longer. This is good news if your employee referral job application was tagged so. But, this may not happen if you've approached a company through multiple channels (like a recruiting agency, an employee referral online application, a career fair, etc.). In these cases, your application sits waiting for its share of attention. And because it's no longer considered a referral opportunity, the employee who originally referred you may not feel compelled to follow up on your pending application. This is surely not the win-win situation we strive for!
We cannot this iterate enough: an employee referrals example is often a company's first choice for quality hires. So make it your first choice too.
One way to do this is to reserve the first 1-2 fortnights of your job-search aggressively focusing employee referral channels. If this doesn't give you the results you desire, you can consider approaching other channels (like headhunters, recruiting agencies, etc.).
Intensely research the hiring company
Employee Referral Notice how we say "intensely" research? This is not the simple company-lookup you do just ahead of your employee referral interview. With the tips captured here, you're sure to attract several opportunities for employee referral. And in each case, you know at least one other person – the employee who referred you, who has first-hand experience with the hiring company. He or she knows the company way better than the internet does. Tap into this experience.
Study the hiring thoroughly as you do an all-out thesis with your referring contact.
What is the company passionate about?
What glorious vision drives it and its employees?
Where does it see itself 5-10 years from now?
Do you see yourself there? Do you fit in with its long-term aspirations?
Even with the boost employee referrals meaning provide, unless you are thoroughly convinced about the employee referral hiring company, the final interview can go either way. Intensely researching the company can help you understand it better, and align with its passion, so the interview becomes an opportunity for you to showcase this conviction. That's all you need to get the final nod.
Aggressively network within your industry
As you're sure to have caught on through this post, there is but one trick that will unconditionally fetch you your next job: networking. Aggressively network with people in your industry!
We capture it here in the context of employee referrals meaning, so your network with folks who work in companies you wish to work for. But you should also make an effort to network with any industry "insider" who can get you your next break.
Networking is not a one-off event to fetch your next job. It has to become an ongoing habit. Here are some tips you can consider to ease this into your lifestyle:
Register with career sites. Despite the additional spam you will receive, they also keep you updated on upcoming industry-related networking events.
Sign up for those networking events. These could be in the form of professional seminars, career fairs, or straightforward networking events across industries.
Schedule your own informal networking event. Heck, you could even invite a couple of old colleagues to dinner as you brainstorm on better ways to network and progress in the industry. You could also use these "events" to stay updated on market trends and become aware of potential employee referral opportunities.
Find ways to contribute to your industry. Professional organizations offer great opportunities here. If you have the expertise, you can even volunteer to become a guest speaker at one.
This twenty-first century is all about developing bigger and better "connections". With the tips outlined here, we believe that you're empowered to capitalize on this winning factor.
Recommended Articles
This is a guide to Employee Referrals Meaning. Here we have discussed the basic concept with 9 effective tips that will get you there. You may look at the following articles to learn more –