New Year '20 Offer TAKE THIS BUNDLE
QlikView Training (2 Courses)
2 Online Courses
7+ Hours
Verifiable Certificate of Completion
Lifetime Access
Data Analytics with QlikView
QlikView Security Overview
Offer ends in:
TAKE THIS BUNDLE
What you get
Online Classes
Technical Support
Mobile App Access
Case Studies
Online QlikView Training Course
This QlikView Training Certification includes 2 comprehensive QlikView Course with 7+ hours of video tutorials and Lifetime Access. You get to learn business intelligence tool QlikView, understanding its installation, interface and data transformation and also its implementation in data transformation.
The world is moving at a very fast pace and especially when we talk about the various technology trends happening in the field of analytics, one among them becomes the QlikView. QlikView is one of the most flexible Business Intelligence data platform used to transform data into knowledge. The users have been enabled by more than 24000 organizations to consolidate, search, verify and visually analyze all their business data for unprecedented business insight by making use of the simplicity provided by the QlikView. With the help of the QlikView Training Course, you will be able to manage and bring useful insights and information for the businesses you are working for and the projects which demand its use. Effective decision making is not only done on one single concept but also on the right kind of information which is easily accessible and has high availability.
Qlik is a software company that was founded in Lund, Sweden in the year of 1993 and is now based in Pennsylvania, the United States whose major revenue-generating products are QlikView and QlikSense. Both this software are used for data visualization and business intelligence. Similar to these products would include Tableau, sense or Crystal Reports by SAP. If a company is interested in having a more developer-focused approach, the library shiny for R allows us to quickly and easily build interactive web apps. When you enter the world of QlikView there are a couple of parameters that should be taken into consideration. One of them is that the QlikView applications are generally made up of two layers. One of them being the data and the data model which is also the backend and the graphical form of elements and the user interface associated with it.

Industry Growth Trend
  The overall data science platform market is expected to grow from USD 19.58 billion in 2016 to USD 101.37 billion by 2021, at a CAGR of 38.9% from 2016 to 2021.
[Source - MarketsandMarkets]
Average Salary
Average Salary
$120,301 per year
The average salary for a Data Scientist is $120,301 per year in the United States.
[Source - Indeed]
About QlikView Training Course
| Courses | | No. of Hours |
| --- | --- | --- |
| Data Analytics with QlikView | | 5h 58m |
| QlikView Security Overview | | 1h 1m |
---
| | |
| --- | --- |
| Course Name | Online QlikView Certification Training |
| Deal | You get access to all 2 courses bundle. You do not need to purchase each course separately. |
| Hours | 7+ Video Hours |
| Core Coverage | Learn business intelligence tool QlikView, understanding its installation, interface and data transformation and also its implementation in data transformation. |
| Course Validity | Lifetime Access |
| Eligibility | Anyone who is serious about learning QlikView and wants to make a career in this Field |
| Pre-Requisites | Basic knowledge about business intelligence would be preferable |
| What do you get? | Certificate of Completion for each of the 2 courses |
| Certification Type | Course Completion Certificates |
| Verifiable Certificates? | Yes, you get verifiable certificates for each course with a unique link. These link can be included in your Resume/Linkedin profile to showcase your enhanced skills |
| Type of Training | Video Course – Self Paced Learning |
| Software Required | None |
| System Requirement | 1 GB RAM or higher |
| Other Requirement | Speaker / Headphone |
QlikView Training Curriculum
---
In this section, each module of the QlikView Certification Training is explained.
| | | |
| --- | --- | --- |
| Sr No | Course Name | Course Description |
| 1 | Data Analytics with QlikView | This QlikView Training Certification intends to provide you the information related to the QlikView with Data analytics perspective and QlikView Training Course and the data analytics with QlikView course will target to make you learn the details right from scratch i.e. things such as installation, Data loading, cleansing which is generally done in various formats such as delimited, excel, inline data, preceding load, etc. The next thing to learn will be the reporting interface. This section will focus on the Functions, scripting, Charts, documents and dashboarding. When we focus on the data we finally learn in detail much about the applications related to data transformation, data analysis, and data modeling. Due to the wide array of teachings, huge domains, and sectors, this QlikView Training is not only meant for software professionals but other stakeholders too who are interested in generating business insights for their businesses. |
| 2 | QlikView Security Overview | Once you have been made comfortable with the basics of QlikView and also with the concepts related to it such as Dashboarding and analysis by making use of various tools, now it is time to make you understand the basic concepts related to your application and business security. No matter how much efforts you put in, in making your app a good hit and generate various different kind of business insights, it is all a waste if not secured properly because nobody, of course, would want to put their client's data at risk or even in a vulnerable state. This will again teach you the same concepts from the very basics and initial i.e. from scratch. In QlikView Training Course and QlikView Security Overview course you will learn about some other very basic parameters such as Access levels, Access control, Inherited access restrictions, Access control database, Adding section Access, Hidden scripts, Further access control, Access control for certain commands, Access restrictions on selected field values, Unattended command-line based Reloading considerations, Field value limitation in Section Access. |
QlikView Training – Certificate of Completion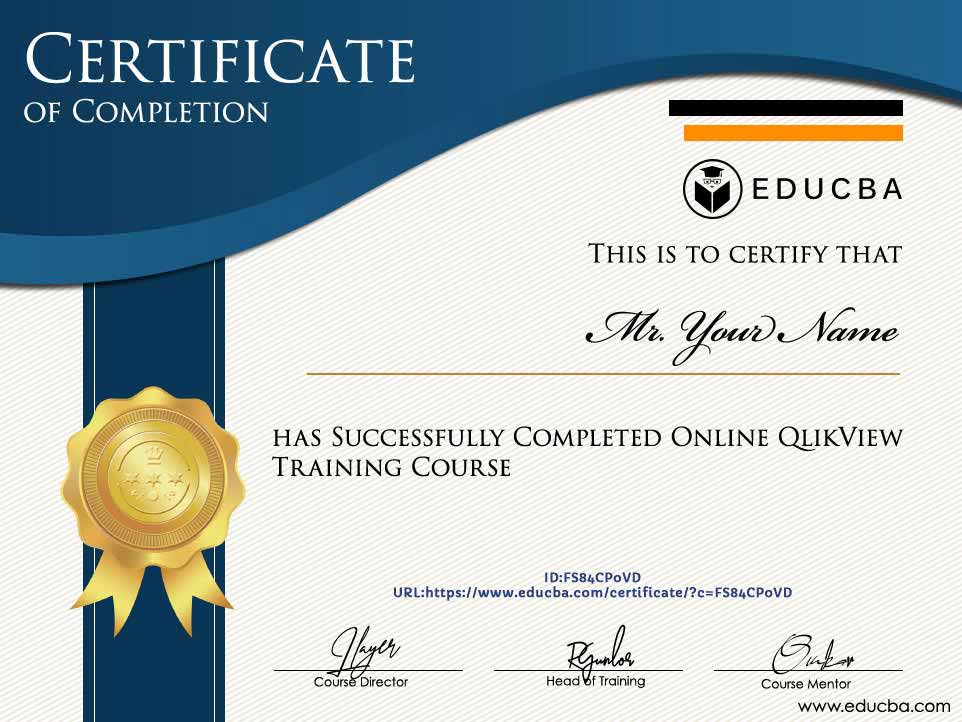 What is QlikView?
---
QlikView is among the most flexible and adjustable Business Intelligence data platform which is used to transform data into knowledge. Taking just a couple of minutes to learn, the associations which are automatic in nature regarding QlikView helps in creating endless possibilities for creating ad hoc queries without the need of defined structures and hierarchies, which is typically the case with other analytical tools. QlikView promotes the use of unrestricted application data analysis which helps in making the users take time-saving and more effective decisions. This all, as a whole is used in bringing a whole new level of insights, analysis and value to the existing data stores along with user interfaces which are more cleaner, simpler and straightforward. QlikView enables users to gain unexpected business-level insights by making them understand the way data is associated and the kind of data that is unrelated.  They are efficient enough to conduct the direct and indirect level of searches across all the data which is present anywhere inside the application either globally or within a single occupied field.
When the user clicks on the data point within the field, there are no queries that are fired. The other fields are simultaneously engaged in filtering themselves which is primarily based on user selection. The two layers as discussed in the above context, are contained inside the QVW file format which essentially means that the applications are responsible to contain both the data as well as the presentation related elements. In order to make a parallel, a QVW file can be thought of as a very advanced excel file that contains a lot of data and numerous amounts of graphs and all of them are present inside one single file. QlikView has a few terms which, of course, are like any other tool, and it is a good thing if you know about them. Those words are like the ones such as Front-End, Load Script, QVD file, QVW file, etc.
Which tangible skills will you learn in this Course
?
In this QlikView Training Certification, you will learn skills related to analytics, visualization, those of business intelligence, reporting, dashboarding, etc. as these skills are required to generate revenue to the business organization you are aligned with. Along with this, the domain and the functional experience and the knowledge of the business you are associated with is also a skill that you will learn from the QlikView Training course as this course ensures that you work and are ready in this realm as a professional.
Pre-requisites
There are several pre-requisites of every course which should be completed before you hop onto start with the course and curriculum of that course. The basic pre-requisites for the QlikView Training course include a sound knowledge of analytics and business domain. If you are a newbie in the organization or in that domain then you would not be able to generate many levels of insights from all these beautiful tools such as QlikView. You are also expected to know the basics of ETL i.e. extract, transform, load and other jargon such as EDI, EDW, data warehousing, metadata, data mining, etc. as these are the most commonly used technical terms which you will often hear in QlikView Training course. Among all these points, the one point which always holds true as far as the pre-requisite part is concerned is the zeal and the enthusiasm to learn and constantly practice. Perseverance is the key we are talking about here.
Target Audience
The target audience for this QlikView Training Certification includes everybody who is interested to work and develop a basic understanding of theirs by learning QlikView. This tool is though basically used incorporates and within the professional domain, everybody starting from students or even entrepreneurs who are excited to benefit their SME or MSMEs from this tool can be the ideal audience. People who are from a different domain professionally and are targeting to switch their career in the field of business intelligence. Consultants, data scientists, data engineers, software developers, data analysts, etc. are another category of candidates that are the best audience for the QlikView Training course.
FAQ's
---
Do I need to refer something else too or the curriculum and the material being taught in this QlikView Training Certification is sufficient for me?
We at eduCBA, craft the course which is exactly suitable to the needs of the above-mentioned target audience. We do not ask or recommend you taking help or referring some other material as the content provided here is exhaustive and the trainers are a high-class faculty with a high amount of training wide experience in the field of business intelligence and analytics. Therefore, doing what is being taught in the course and practicing it regularly should be good enough for you.
Is it tough for somebody to learn QlikView from the QlikView Training course if he has an entirely different background?
It is not at all a tough deal for somebody to learn about this QlikView Training Certification. As mentioned in the pre-requisites also, if you have a strong will and a determination to learn and if you follow the basic pre-requisites you are an ideal audience to target this course. The beauty of the QlikView Training course is that QlikView doesn't necessarily ask for a programming experience which is a great thing as not everybody is a tech-savvy enough to not be programmatically challenged. Therefore, even though you do not belong from the software background but from a business side, still this course holds much more value to you and you can easily think of pursuing the QlikView Training course.
Sample Preview
---
Career Benefits
The career benefits of this QlikView Training Certification are huge as nobody would want their business to be of the style where the develop everything using the latest technologies and trends but you do not have the appropriate business domain experts or the ones who have their ways in business intelligence. Every business requires the person who can make them do profit and help them in generating the revenue therefore if you belong from the background of business intelligence along with the skillset of QlikView, I don't think you can be replaced by any other professional anytime soon. QlikView Training course is designed in such a way to give you a cutting upper edge over the other professionals and therefore if you are among the ones opting for it then it surely is a win-win situation for you as well as your career.