New Year '20 Offer TAKE THIS BUNDLE
DevOps Training (7 Courses, 1+ Projects)
7 Online Courses
1 Hands-on Project
20+ Hours
Verifiable Certificate of Completion
Lifetime Access
AWS Certified DevOps Engineer
Version Control System - GIT Training
Offer ends in:
TAKE THIS BUNDLE
What you get
Online Classes
Technical Support
Mobile App Access
Case Studies
Online DevOps Training
This DevOps Training Certification includes 7 comprehensive DevOps Courses, 1 Projects with 20+ hours of video tutorials and Lifetime Access. You get to learn the concepts of DevOps, configuration management tool Chef, Docker and its application in the world of Virtualization, analyzing machine-generated data using Splunk, understand Version Control Tools and Git operations in detail.
DevOps is a great skill to have and is very much in demand in the software industry. DevOps people are generally responsible for setting up infrastructure for the latest software and tools to execute software engineering jobs and provide a platform for developers to build, develop, integrate and deploy large scale software systems.
This DevOps course focuses on essential building blocks of DevOps which ensures that after going through this online tutorial, students can learn the fundamentals of DevOps and successfully migrate to a career in DevOps.
This course specially focuses on AWS certified DevOps training course, Chef DevOps, Docker, Splunk, Git and Git repository. Each module is quite comprehensive and explains the ideas with utmost clarity and with many examples and working code.

Industry Growth Trend
The global Infrastructure Solution market and Integration Services is expected to grow  from $615.30 billion in 2014 to $1196.93 billion in 2019 at the CAGR of 14.23% from 2014 to 2019.
[Source - MarketsandMarkets]
Average Salary
Average Salary
$107,040 per year
The average salary for a Software Engineer is $107,040 per year in the United States.
[Source - Indeed]
Further details are provided below.
About DevOps Training Certification Course
| Courses | | No. of Hours |
| --- | --- | --- |
| AWS Certified DevOps Engineer | | 4h 04m |
| Chef Devops Essentials | | 2h 21m |
| AWS Services Project - Build Serverless Web Application | | 1h 09m |
| Docker Training | | 1h 6m |
| Splunk Fundamentals | | 8h 44m |
| Version Control System - GIT Training | | 36m |
| Git and Github for Developers | | 1h 9m |
---
| | |
| --- | --- |
| Course Name | Online DevOps Training Certification Course |
| Deal | You get access to all 7 courses, 1 Projects bundle. You do not need to purchase each course separately. |
| Hours | 20+ Video Hours |
| Core Coverage | DevOps, configuration management tool Chef, Docker and its application in the world of Virtualization, analyzing machine-generated data using Splunk, understand Version Control Tools and Git operations |
| Course Validity | Lifetime Access |
| Eligibility | Anyone who is serious about learning DevOps and wants to make a career in the software development field |
| Pre-Requisites | Basic knowledge about Software Development would be preferable |
| What do you get? | Certificate of Completion for each of the 7 courses, 1 Projects |
| Certification Type | Course Completion Certificates |
| Verifiable Certificates? | Yes, you get verifiable certificates for each course with a unique link. These link can be included in your Resume/Linkedin profile to showcase your enhanced skills |
| Type of Training | Video Course – Self Paced Learning |
| Software Required | None |
| System Requirement | 1 GB RAM or higher |
| Other Requirement | Speaker / Headphone |
DevOps Training Curriculum
---
In this section, each module of the DevOps Certification Course is explained.
Sr. No.
Course Name
Course Description
1
AWS Certified DevOps Engineer
This DevOps Training is a little more than 4 hours long and contains 28 videos. The training includes the following essential components: It starts with the Introduction to the course

AWS Overview and then Identity Access Management (IAM) is taught. Once these two are done, next we cover AWS Storage and Content Delivery Network. After that, the next topic of focus is Elastic Compute Cloud also called EC2 and Route 53. Once these modules are covered, we move to the next set of core modules such as

Database on AWS, Virtual Private Cloud (VPC), Application Services such as SQL, SWF, SNS. We also provide some Real-world scenarios such as Creating a high available website in which we ensure three main points: Setting up the environment, Setting up EC2, AMI, Autoscaling and ELB(Elastic Load Balancer).

In the end, students are taught about the

tips to build a good infrastructure using AWS and also how to pass the examination.

2
Chef DevOps Essentials
This DevOps Training certification is about 2.5 hours and contains 21 videos. The tutorials will include the following as the core delivery of this module. It starts with Introduction and Definition of Chef as a tool and then moves toward the Components of Chef, Chef Installation process and Chef Server Setup guide. Once these basic steps are done and students are ready to start using Chef, we move to set up a workstation in chef and Creating chef nodes. After that Bootstrapping a node is covered. Next, students are taught about the Uses of community cookbooks.  Chef attributes, Templates in chef and Chef resources are covered next. As the last topic, the focus is laid on to the Automation using the chef.
3
Docker Training
The DevOps Training will include the following components for vital learning. It starts with Introduction to Docker and then explains what Docker Images are including the concept of containers, docker swarm, and Docker Containers. Next, students are asked to focus on practical skills such as
Deploying a Web app or a Website in Docker and Building images in docker. Essential commands for various activities like building a docker image or making a docker commit, writing a docker file, etc. are also covered. After that, we move to slightly advanced topics such as Getting terminal access to content, managing images, and containers, finding container ID and running images. All these are very important, and a DevOps engineer does all these on almost every day in their work. Once students master these topics, we move to delete local images using RMI command, specifying volumes in docker file, container networking basics and uses of linking, docker continuous integration.
4
Splunk Fundamentals
This is a long course. It is about 9 hours long and contains 64 videos. DevOps Training will include the following topics. It starts with a Course introduction and setting up a Splunk enterprise environment. Once the setup is done, the focus is laid on Building a basic production environment in which Splunk inputs are provided and then Parsing and searching are done through Splunk resource management. Next, we learn about many other related topics such as intelligence with examples, Splunk map-reduce concepts, etc. The installation of Splunk is explained in detail in the next topic, then students go for basic configuration and data input to Splunk. Many use cases such as Splunk apps and searching the data, Splunk report creation, Splunk statistics and visualization, and various commands are covered as the last module.
5
Version Control System – Git Training
This one is quite short. It is only 30 minutes in length and contains 5 videos. This tutorial will help beginners learn the basic functionality of the Git version control system which the most widely used version control system right now. This training covers the following points: it starts with Introduction to Version Control System and its various Terminologies and Types. Once done, next comes Understanding SVN and its Life Cycle, Understanding SVN and its Life Cycle -2 part, then we move to Demo of SVN working repository, Working of Git, Git Life Cycle, Operations in Git, etc.
6
Git and GitHub for Developers
This DevOps Training is about 1 hour and 20 minutes and contains 21 videos. This tutorial teaches the Git version control system. This training covers the following points:
---
DevOps Training – Certificate of Completion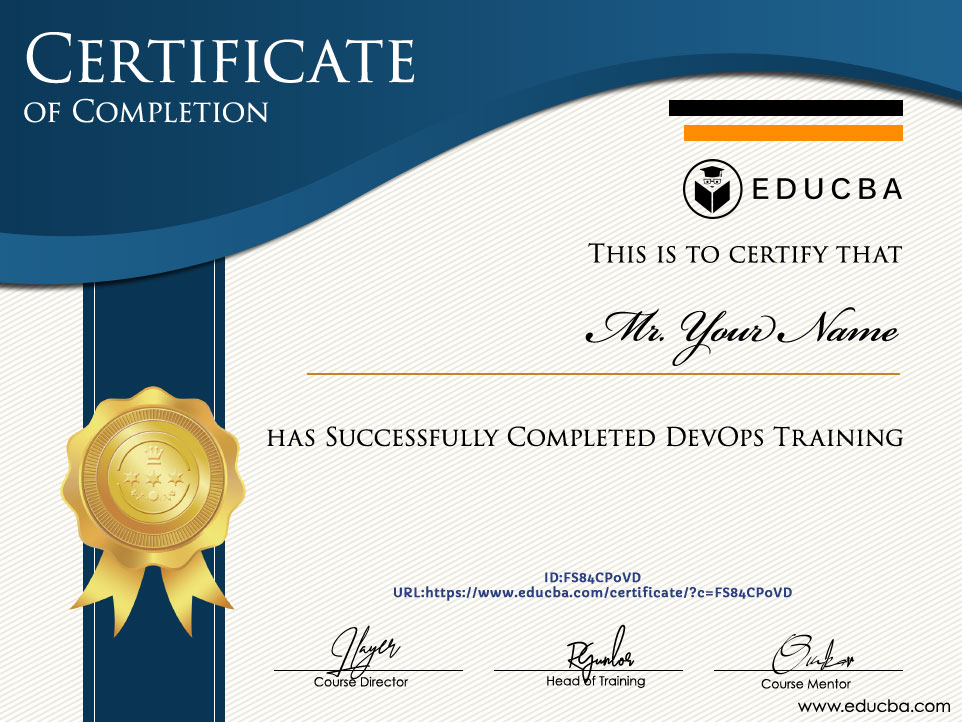 ---
What is DevOps?
In this part, we explain DevOps and to do so, we provide a brief description of each of the modules explained above.
Amazon Web Services (AWS) is a vast cloud computing platform developed by Amazon. Web services here are referred to as cloud services or remote computing services as well.
A chef is a powerful automation platform that has the ability to transform infrastructure into code pipelines. Whether users are operating in the cloud or on-premises system or they have a hybrid environment, Chef automates has the capability to provide the infrastructure which can be used for configuration, deployment, and management of systems across a network without any size issue.
Docker is an open platform for developers and system administrators to build, ship, and run distributed applications without needing a virtual machine or dedicated servers. Using dockers, systems can be deployed on laptops, data center VMs, or on the cloud. This is a platform called Docker and its application in the world of virtualization is important right from scratch.
Splunk can be used to analyze machine-generated data. It is a leading software in the field of analytics and can be used for monitoring and visualizing data effectively. Splunk provides a framework to solve data analytics issues regardless of its size.
Git and version control tools are a backbone for quality code and code management. Git helps a team to collaborate on code and it accomplishes changes to source code over time. So far, Git is the most widely used modern version control system. Git is quite mature has an actively maintained open source project which was originally developed in 2005 by Linus Torvalds also the creator of the Linux.
What tangible skills will you learn from this Course?
This DevOps Training course teaches a lot of things. Users can really master on several important topics through this course. Some of the important skills that they would learn are as below.
AWS:  Cloud infrastructure tool, hugely popular.
DevOps Engineer:  Basics of DevOps Skill.
Chef DevOps:  Chef is a DevOps tool that is gaining a lot of attention lately.
Docker:  Deploy application anywhere anytime without VM or Cloud.
Splunk: Machine data processing framework
Version Control System: Code management and collaboration
GIT: Git course teaches the following key skills:

Git hub
VN Life Cycle
Working of Git
Git Installation
Creating an Online Repository
Git Operations
Hooks
GitHub Operations
Git Life Cycle

JSON: a data structure format.
Jenkins
Maven
Pre-requisites
There is some pre-requisite to this DevOps Training, which when met, students are better able to understand the course. These pre-requisites are not very hard to maintain and hence practically anyone with some computer science knowledge is suitable for this course.
Users should have access to AWS free account so that they can practice what they learn in class. It will be useful for a better understanding of course.
They should be familiar with basic Linux commands such as ls, pwd, chmod, etc.
Having some knowledge of Java programming is good and makes the course a little easy.
They should have passion and interest to learn new things and apply them.
Basic knowledge of Virtualization or Cloud operation is also good to have but not mandatory.
Knowledge of network and protocols are also encouraged.
Some knowledge of the operating system is it windows or Linux is suggested.
They should have the capability to install software such as .exe files, or zip files on their computer.
Knowledge of developing applications using any one programming language.
Exposure to software development to some extent is also desirable.
Target Audience
The DevOps Certification is suitable for people who have a similar background as mentioned below. If you are one of the following, this DevOps Training is for you.
Anyone who is preparing for the AWS Certified Solution Architect exam
Web designers interested in learning something new.
Web developers interested in DevOps side of things.
System administrators who want to learn AWS or Git.
IT professionals in general who want to switch to something new.
Engineering and computer science students
App developers such as Android or iOS developers.
Data analysts and data scientist who is also interested in deployment and integration topics.
Anyone interested in using source control tools and specifically Git
Software engineers, developers, programmers are new to Git but their organization are using its extensibility.
DevOps Training – FAQ's
---
In this section, we provide commonly asked a question before enrollment in the DevOps Certification Training.
Is this DevOps Training suitable for freshers or some experience is required to learn this?
This course is suitable for both freshers as well as experienced professionals. You need not have any industrial exposure to understand the DevOps Training content. But you should meet the eligibility as specified in the pre-requisite section above.
Can I write the AWS exam after going through this DevOps Training?
Yes. This course helps you prepare enough to write and pass the AWS certification course. In the DevOps Certification, we provide tips for cracking exam and important questions which are likely to be asked.
Will this DevOps Training Certification teach enough practical use cases and coding?
The course is completely practical and comes with many examples, use cases, and actual coding. Rest assured, you shall be writing code like a pro after completing the DevOps Training.
Career Benefits
The following types of career roles are possible after completing this DevOps Training.
Data Analyst: They analyses data and provide recommendations. Data Analyst often needs to know how their code is being used in production. For that having a skill for system deployment and integration is cool for them.
DevOps Engineer: They deploy systems, do the integration and run production environments. They are the backbone of a successfully running infrastructure both for development and production. Each team has at least on DevOps and hence having such skill is critical and good in demand.
Software Developer: They build an application on tools and technology designed and set up by DevOps guys. Software developers also need to know what DevOps guys are saying ow what they are doing. In other words, to be able to understand each other's language, they need to know each other's jobs.
System Engineer: They are a network administrator or system handlers. They provide and maintain infrastructure. DevOps knowledge is important for them to build and maintain systems.
Java Fresher: You can also become a java developer. Java Developers are core to DevOps and most systems are designed using Java and code is also written mostly in Java.
Application Developer: Building and deploying applications are the core of software engineering. Application developers have a similar role as software developers.
Solution Architect: DevOps skill helps you become a better architect. Architects guide a team of developers and DevOps engineers, so they need to know their trade and their businesses.
Reviews
---
Devops certification course
Wonderful course on Splunk. Very detailed, and comprehensive, great pace, detailed explanation and plenty of examples that mirrors real world cases. I highly recommend this course for those trying to learn splunk. The tutor explains each sections and results in a detailed manner that increases a student understanding. This is the best course on splunk for the amount of money you will invest.
Linked
Matthew Akadang Omang
Awesome!
I have always used git in simple configuration management repositories and wanted to to work on something bigger and share my code with multiple developers. This Devops certification course helped me get up to speed with the ins and outs. Easy to start and takes you into details without being overwhelming. I recommend this course to others.
Mohammad H. Al-Shami
Great job
This session was really neat, clean and to the point. Explained very well, that any layman can understand also explanatory enough covering all necessary points. I am new to git though I know about other version control systems. This session helps me really to understand the flow of git life cycle and the basic commands required. Good Job trainer!
Linked
Shiyas Cholamukhath
Great to Learn
I recommend learning Version Control System- Git Training, as a course if you're interested in web developing. Walking you through terminologies and types, it explains the repository, trunk, tags, branches, and commit changes in a very detailed manner to beginners. What makes this Devops course shine, are video tutorials and visual examples. This makes it completely clear to the student.
Linked
Patrick B Hayes