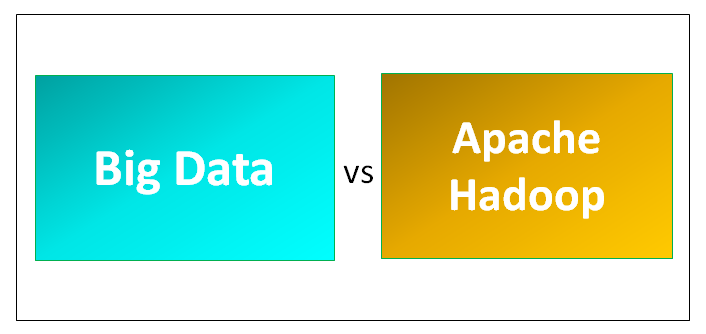 Difference Between Big Data and Apache Hadoop
Everything is on the Internet. The internet has a lot of data. Therefore, everything is Big Data. Do you know that 2.5 Quintillion Bytes Data are created every day and piling up as Big Data? Our daily activities like commenting, likes, posts, etc. on social media like Facebook, LinkedIn, Twitter, and Instagram are adding up as Big Data.  It is assumed that by the year 2020 almost 1.7 megabytes of data will be created every second, for every person on earth. You can imagine and consider how much data are being generated assuming by every single person on earth. Today we are connected and sharing our lives online. Most of us are connected online. We are living in a smart home and using smart vehicles and all are connected to our Smart Phones. Do you ever imagine how these devices are becoming Smart?  I will like to give you a very simple answer it is because of analyzing the very large amount of data i.e. Big Data. Within five years there will be over 50 billion smart connected devices in the world, all developed to collect, analyze and share data to make our lives more comfortable.
What is Big Data?
We have many relative assumptions for the term Big Data. It is possible that the amount of data say 50 terabytes can be considered as big data for Start-up's but it may not be Big Data for companies like Google and Facebook. It is because they have the infrastructure to store and process those amounts of data. I would like to define the term Big Data as:
Big Data is the amount of data just beyond technology's capability to store, manage and process efficiently.
Big Data is data whose scale, diversity and complexity require new architecture, techniques, algorithms, and analytics to manage it and extract value and hidden knowledge from it.
Big data is high-volume and high-velocity and high-variety information assets that demand cost-effective, innovative forms of information processing that enable enhanced insight, decision-making, and process automation.
Big Data refers to technologies and initiatives that involve data that is too diverse, fast-changing or massive for conventional technologies, skills, and infrastructure to address efficiently. Said differently, the volume, velocity or variety of data is too great.
3 V's of Big Data
Volume: Volume refers to the amount/quantity at which data is being created like every hour, Wal-Mart customers' transactions provide the company with about 2.5 petabytes of data.
Velocity: Velocity refers to the speed at which data is moving like Facebook users send on average 31.25 million messages and view 2.77 million videos every minute on every single day over the internet.
Variety: Variety refers to different formats of data that are created like structured, semi-structured and unstructured data. Sending emails with the attachment on Gmail is unstructured data while posting any comments with some external links is also termed as unstructured data. Sharing pictures, audio clips, video clips are an unstructured form of data.
To store and process this huge volume, velocity, and variety of data is a big problem. We need to think of other technology other than RDBMS for Big Data. It is because RDBMS is capable of storing and processing only structured data. So here Apache Hadoop comes as a rescue.
What is Apache Hadoop?
Apache Hadoop is an open-source software framework for storing data and running applications on clusters of commodity hardware. Apache Hadoop is a software framework that allows for the distributed processing of large data sets across clusters of computers using simple programming models. It is designed to scale up from single servers to thousands of machines, each offering local computation and storage. Apache Hadoop is a framework for storing as well as the processing of Big Data. Apache Hadoop is capable of storing and processing all formats of data like structured, semi-structured and unstructured data. Apache Hadoop is open source and commodity hardware brought revolution to IT industry. It is easily accessible to every level of companies. They need not invest more to set up a Hadoop cluster and on different infrastructure. So lets us see the useful difference between Big Data and Apache Hadoop in detail in this post.
Apache Hadoop framework
Apache Hadoop framework is divided into two parts:
Hadoop Distributed File System (HDFS): This layer is responsible for storing data.
MapReduce: This layer is responsible for processing data on Hadoop Cluster.
Hadoop Framework is divided into master and slave architecture. Hadoop Distributed File System (HDFS) layer Name Node is a master component while Data Node is a Slave component while in MapReduce layer Job Tracker is a master component while the task tracker is a slave component. Below is the diagram for the Apache Hadoop framework.
Why is Apache Hadoop important?
Ability to store and process huge amounts of any kind of data, quickly
Computing power: Hadoop's distributed computing model processes big data fast. The more computing nodes you use, the more processing power you have.
Fault tolerance: Data and application processing are protected against hardware failure. If a node goes down, jobs are automatically redirected to other nodes to make sure the distributed computing does not fail. Multiple copies of all data are stored automatically.
Flexibility: You can store as much data as you want and decide how to use it later. That includes unstructured data like text, images, and videos.
Low cost: The open-source framework is free and uses commodity hardware to store large quantities of data.
Scalability: You can easily grow your system to handle more data simply by adding nodes. Little administration is required.
Head To Head Comparison Between Big Data and Apache Hadoop (Infographics)
Below is the top 4 comparison between Big Data and Apache Hadoop: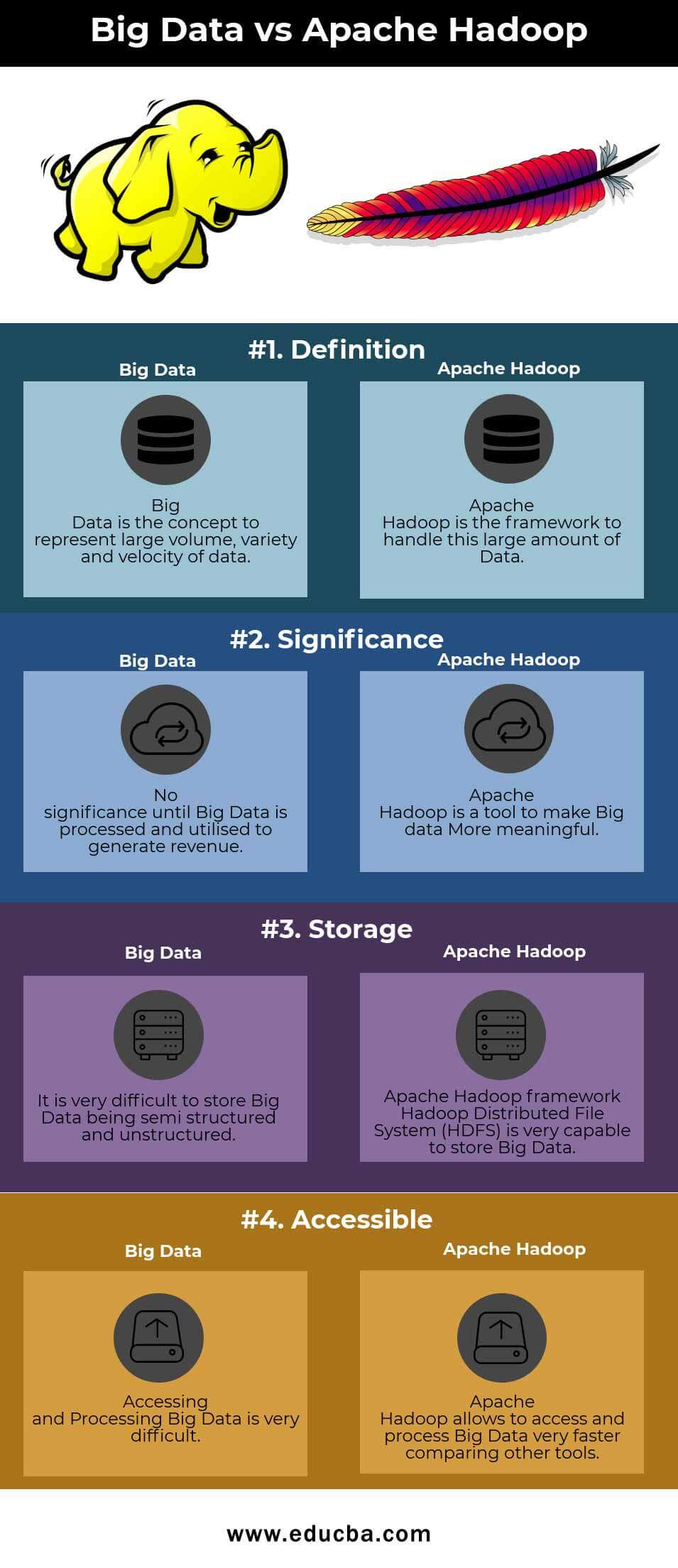 Big Data vs Apache Hadoop Comparison Table
Major differences between Big Data and Apache Hadoop are as explained below.
| | | |
| --- | --- | --- |
| Basis of Comparison |      Big Data |    Apache Hadoop |
| Definition | Big Data is the concept to represent large volume, variety, and velocity of data | Apache Hadoop is the framework to handle this large amount of Data |
| Significance | No significance until Big Data is processed and utilized to generate revenue | Apache Hadoop is a tool to make Big data More meaningful |
| Storage | It is very difficult to store Big Data being semi-structured and unstructured | Apache Hadoop framework Hadoop Distributed File System (HDFS) is very capable to store Big Data |
| Accessible | Accessing and Processing Big Data is very difficult | Apache Hadoop allows to access and process Big Data very faster comparing other tools |
Conclusion
You can't compare Big Data and Apache Hadoop. It is because Big Data is a problem while Apache Hadoop is a Solution. Since the amount of data is increasing exponentially in all the sectors, so it's very difficult to store and process data from a single system. So to process this large amount of data, we need distributed processing and storing of data. Therefore Apache Hadoop comes up with the solution of storing and processing a very large amount of Data. Big Data is a large quantity of complex data whereas Apache Hadoop is a mechanism to store and process Big Data very efficiently and smoothly.
Recommended Articles
This has been a guide to Big Data vs Apache Hadoop. Here we discuss head to head comparison, along with infographics and comparison table. You may also look at the following articles to learn more –