Updated June 29, 2023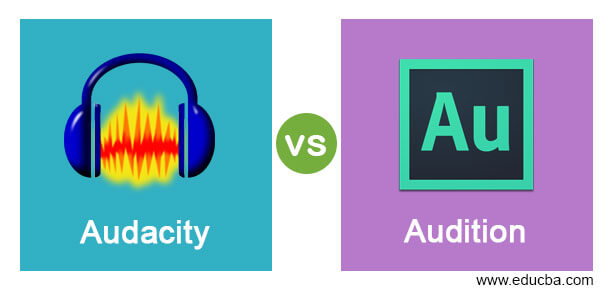 Difference Between Audacity vs Audition
Audacity is a free and open-source digital audio editing and recording application software. With this software, we can post-processing of recorded audio from multiple sources. This post-processing includes adding effects such as trimming of audio, normalization of audio, fading in or out, and so on. Audition is also a digital audio editor, which you can understand as a digital audio workstation that can work on multitrack, non-destructive mixing, and in an editing environment. Not only can this, but it also edits the view of the destructive-approach waveform. So let us understand both software by going through some details of them. To know both software, you must go through the Audacity vs. Audition article so that you can make a good analysis based on different facts which we will discuss here.
Head-to-Head Comparison Between Audacity vs Audition (Infographics)
Below are the top differences between Audacity vs Audition:

Key Differences Between Audacity vs Audition
We know that both software has different developers, so they developed them differently but for the same type of work. So let us find the special features of these two software that make them special in their field.
Audacity has several features involving audio editing on a digital platform, such as recording and playing back sounds, and Time Recorder that helps users control when to start recording and when to stop making it unattended recording. In addition, Adobe Audition has dozens of audio editing features that save us time. These features include clip grouping, edit preview, view markers for all files in the Marker panel, Real-time clip stretching (non-destructive), powerful effects, etc.
Audacity has MIDI playback in its feature and Punch and Roll recording, which includes editing on-the-fly features. It also has navigation controls, zoom, single rack editing, non-destructive and destructive effect processing, etc. In addition, audition can apply native audio effects such as DeHummer, DeEsser, Surround Reverb, and Speech Volume Leveler to work with 5.1 surround projects. It also has powerful sweetening tools that can fix audio problems very fast with the Adaptive Noise Reduction tool and use DeClicker or Audio Healing Paintbrush to fix audio problems visually.
If you want both software in your hand, you must know how to have their subscription. So you can have Audacity free of cost because it is free and open-source software distributed under the GNU, which stands for General Public License. If I tell you about the subscription plan for the audition, then Adobe offers a Creative Cloud plan which has less price in comparison to the separate cost of the audition. For the audition, you have to pay $20.99 per month for an annual subscription plan, or if you want to pay a monthly subscription, you can pay $31.49 for a monthly plan. So, according to your requirement, you can visit its official website and go with your desired subscription plan.
These are some other essential features of this software which we have to know to have more command of this software.
Comparison Between Audacity vs Audition
Here in this section, I will explain to you some of the basic information of both software which is necessary to have their basic information if you want to start working with any of them.
| | | |
| --- | --- | --- |
| Basis of Comparison | Audacity | Audition |
| Definition | It is digital audio editing software that can record and manage audio parameters from multiple sources. | Audition can understand as an Audio editing workstation that deals with the manipulation of the audio track in a different manner. |
| Developer and Initially released date | It was started by Dominic Mazzoni and Roger Dannenberg and released by Audacity Team on May 28, 2000. | It was developed by Adobe Inc. on August 18, 2003, as a digital audio workstation. |
| The latest version or currently stable release | On July 26, 2021, its last version was released with lots of advanced features, and its name is the 3.0.3 version. | CC 2021 is its latest version, released on May 11, 2021. |
| Written in | It is written in C, C ++ (which uses the wxWidgets toolkit) computer languages. | It is also written in C++ computer language. |
| Operating system | It can run on many different operating systems: Microsoft Windows, Mac OS, Linux, and other Unix-like systems. | You can run and install it on several operating systems, such as Windows 7, Windows 8.1 or Windows 10, OS X Yosemite, OS X El Capitan, or Mac OS Sierra. |
| Supported Languages | It supports several types of languages, and these languages are Arabic, Afrikaans, Basque, Bulgarian, Catalan, Chinese (both simplified and traditional), Czech, Corsican, Danish, Dutch, English, Finnish, French, German, Galician, Greek, Hungarian, Irish, Italian, Japanese, Lithuanian, Marathi, Macedonian, Norwegian, Polish, Portuguese, Russian, Romanian, Slovak, Slovenian, Swedish, Turkish, Ukrainian, Vietnamese, and Welsh. | Adobe Audition also supports many languages, which you can check by visiting its official website. |
| License | It has GPL v2 or its later license type, CC-BY-3.0 license type. | It has a Trailware license type. |
| Type | We can categorize this software under Digital audio editor software. | It can also categorize under Digital audio workstation application software. |
| Availability | If you want to have more information about this software, then you can visit its official website page, which is www.audacityteam.org. | Visit www.adobe.com/products/audition for more details about this software because it is its official website link. |
These were some crucial aspects of the basic information of both software. Now you have enough knowledge about them, so let us analyze some advanced features of both software to gather more knowledge about them.
Conclusion
Now you can say that you have enough knowledge about the different facts and features of Audacity and Audition software after going through this article, and you can start using them for digital audio editing purposes. Both software has an easy-to-use user interface, so you can learn them very quickly if you want, so start practicing on them to understand their working methodology.
Recommended Articles
We hope that this EDUCBA information on "Audacity vs Audition" was beneficial to you. You can view EDUCBA's recommended articles for more information.