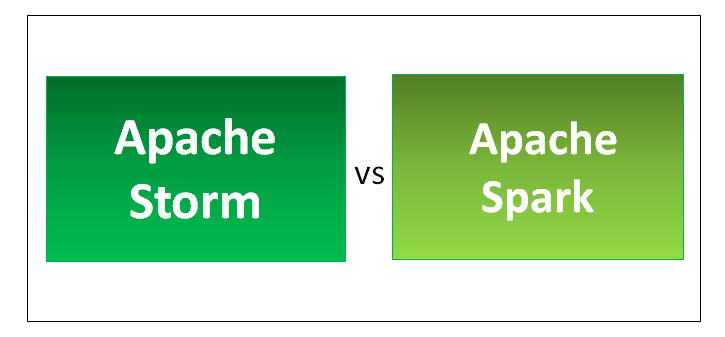 Difference Between Apache Storm and Apache Spark
Apache Storm is an open-source, scalable, fault-tolerant, and distributed real-time computation system. Apache Storm is focused on stream processing or event processing. Apache Storm implements a fault-tolerant method for performing a computation or pipelining multiple computations on an event as it flows into a system. Apache Spark is a lightning-fast and cluster computing technology framework, designed for fast computation on large-scale data processing.  Apache Spark is a distributed processing engine but it does not come with inbuilt cluster resource manager and distributed storage system. You have to plug in a cluster manager and storage system of your choice.
Introducing more about Apache Storm vs Apache Spark :
 Apache Storm is a task-parallel continuous computational engine. It defines its workflows in Directed Acyclic Graphs (DAG's) called topologies. These topologies run until shut down by the user or encountering an unrecoverable failure. Apache Storm does not run on Hadoop clusters but uses Zookeeper and its own minion worker to manage its processes. Apache Storm can read and write files to HDFS.
Apache Storm integrates with the queuing and database technologies you already use. A Storm topology consumes streams of data and processes those streams in arbitrarily complex ways, repartitioning the streams between each stage of the computation however needed. Apache Storm is based on tuples and streams. A tuple is basically what your data is and how it's structured.
Apache Spark framework consists of Spark Core and Set of libraries.  Spark core executes and manages our job by providing a seamless experience to the end-user. A user has to submit a job to Spark core and Spark core takes care of further processing, executing and reply back to the user. We have Spark Core API in different scripting languages such as Scala, Python, Java, and R.
 In Apache Spark, the user can use Apache Storm to transform unstructured data as it flows into the desired format. You have to plug in a cluster manager and storage system of your choice.
You can choose Apache YARN or Mesos for the cluster manager for Apache Spark.
You can choose Hadoop Distributed File System (HDFS), Google cloud storage, Amazon S3, Microsoft Azure for resource manager for Apache Spark.
Apache Spark is a data processing engine for batch and streaming modes featuring SQL queries, Graph Processing, and Machine Learning.
Head to Head Comparison Between Apache Storm and Apache Spark (Infographics)
Below is the top 15 comparison between Data Science and Machine Learning

Key Differences Between Apache Storm and Apache Spark :
Below are the lists of points, describe the key differences between Apache Storm and Apache Spark:
Apache Storm performs task-parallel computations while Apache Spark performs data-parallel computations.
If worker node fails in Apache Storm, Nimbus assigns the workers task to the other node and all tuples sent to failed node will be timed out and hence replayed automatically while In Apache Spark, if worker node fails, then the system can re-compute from leftover copy of input data and data might get lost if data is not replicated.
Apache Strom delivery guarantee depends on a safe data source while in Apache Spark HDFS backed data source is safe.
Apache Storm is a stream processing engine for processing real-time streaming data while Apache Spark is general purpose computing engine.
Features of Apache Storm:
Fault tolerance – where if worker threads die, or a node goes down, the workers are automatically restarted
Scalability – Highly scalable, Storm can keep up the performance even under increasing load by adding resources linearly where throughput rates of even one million 100 byte messages per second per node can be achieved
Latency – Storm performs data refresh and end-to-end delivery response in seconds or minutes depends upon the problem. It has very low latency.
Ease of use in deploying and operating the system.
Integrated with Hadoop to harness higher throughputs
Easy to implement and can be integrated with any programming language
Apache Storm is open source, robust, and user-friendly. It could be utilized in small companies as well as large corporations
Allows real-time stream processing at unbelievably fast because and it has an enormous power of processing the data.
Apache Storm has operational intelligence.
Apache Storm provides guaranteed data processing even if any of the connected nodes in the cluster die or messages are lost
Features of Apache Spark:
Speed: Apache Spark helps to run an application in Hadoop cluster, up to 100 times faster in memory, and 10 times faster when running on disk.
Real-Time Processing: Apache spark can handle real-time streaming data.
Usability: Apache Spark has the ability to support multiple languages like Java, Scala, Python and R
Lazy Evaluation: In Apache Spark, transformations are lazy in nature. It will give results after forming new RDD from the existing one.
Integration with Hadoop: Apache Spark can run independently and also on Hadoop YARN Cluster Manager and thus it can read existing Hadoop data.
Fault Tolerance: Apache Spark provides fault tolerance using RDD concept. Spark RDDs are designed to handle the failure of any worker node in the cluster.
Apache Storm and Apache Spark Comparison Table
I am discussing major artifacts and distinguishing between Apache Storm and Apache Spark.
| | | |
| --- | --- | --- |
|   | Apache Storm | Apache Spark |
| Stream Processing | Micro-batch processing | Batch Processing |
| Programming Languages | Java, Clojure, Scala (Multiple Language Support) | Java, Scala (Lesser Language Support) |
| Reliability | Supports exactly once processing mode. Can be used in the other modes like at least once processing and at most once processing mode as well | Supports only exactly once processing mode |
| Stream Sources | Spout | HDFS |
| Stream Primitives | Tuple, Partition | DStream |
| Low latency | Apache Storm can provide better latency with fewer restrictions | Apache Spark streaming have higher latency comparing Apache Storm |
| Persistence | MapState | Per RDD |
| Messaging | ZeroMQ, Netty | Netty, Akka |
| Resource Management | Yarn, Mesos | Yarn, Meson |
| Fault Tolerance | In Apache Storm, if the process fails, the supervisor process will restart it automatically as state management is handled through Zookeeper | In Apache Spark, It handles restarting workers via the resource manager which can be YARN, Mesos, or its standalone manager |
| State Management | Supported | Supported |
| Provisioning | Apache Ambari | Basic monitoring using Ganglia |
| Low Development Cost | In Apache Storm, same code cannot be used for batch processing and stream processing | In Apache Spark, same code can be used for batch processing and stream processing |
| Throughput | 10k records per node per second | 100k records per node per second |
| Special | Distributed RPC | Unified processing (batch, SQL, etc.) |
Conclusion
Apache Storm and Apache Spark are great solutions that solve the streaming ingestion and transformation problem. Apache Storm and Apache Spark both can be part of Hadoop cluster for processing data. Apache Storm is a solution for real-time stream processing. But Storm is very complex for developers to develop applications because of limited resources.
Apache Storm can mostly be used for Stream processing. But the industry needs a generalized solution that can solve all the types of problems. For example Batch processing, stream processing interactive processing as well as iterative processing. So, Apache Spark comes into the limelight which is a general-purpose computation engine. This is the reason the demand of Apache Spark is more comparing other tools by IT professionals. Apache Spark can handle different types of problems. Apart from this Apache Spark is much too easy for developers and can integrate very well with Hadoop. Apache Spark gives you the flexibility to work in different languages and environments.
Recommended Articles
This has been a guide to Apache Storm vs Apache Spark. Here we have discussed Apache Storm vs Apache Spark head to head comparison, key differences along with infographics and comparison table. You may also look at the following articles to learn more –