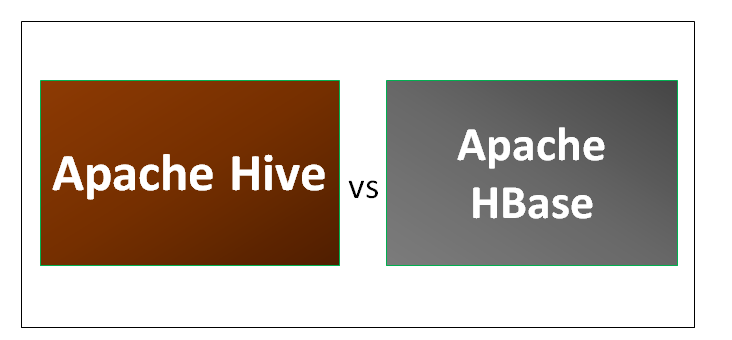 Difference Between Apache Hive and Apache HBase
The Apache Hive story begins in the year 2007 when non Java Programmer has to struggle while using Hadoop MapReduce. Researchers and developers predicted that tomorrow is an era of Big Data. Already different formats of data like structured, semi-structured and unstructured were piling up. Even Facebook was struggling with a larger amount of data processing. Researchers at Facebook introduced Apache Hive for Data Processing on Hadoop Cluster. Facebook was the first company to come up with Apache Hive.
The Apache HBase story begins in 2006 when the San Francisco-based startup Powerset was trying to build a natural language search engine for the web. HBase is an implementation of Google's Bigtable. Do we ever realized, why there was a need to come up with yet another storage architecture?  Relational Database Management System has been around since early 1970's. There are many use cases for which relational databases perfectly makes sense but for some specific problems, relational model does not fit very well.
Let me explain about Apache Hive and Apache HBase in more details.
Apache Hive
Apache Hive is an Apache open-source project built on top of Hadoop for querying, summarizing and analyzing large data sets using a SQL-like interface. Apache Hive provides an SQL-like language called HiveQL, which transparently convert queries to MapReduce for execution on large datasets stored in Hadoop Distributed File System (HDFS). Apache Hive is a Hadoop cluster component that is normally deployed by data analysts. Apache hive is used for batch processing of large ETL jobs. Apache Hive also supports batch SQL queries on very large datasets. Apache Hive increases the schema design flexibility and also data serialization and deserialization. Apache Hive does not support Online Transaction Processing (OLTP) because hive does not support queries in real time and row-level updates.
Apache HBase
Apache HBase is an open source NoSQL database that provides real-time, read and write access to large datasets. NoSQL is non-relational database. Apache HBase is distributed column-oriented database that runs on top of Hadoop Distributed File System (HDFS). So, HBase brings benefits of NoSQL to Hadoop. Apache HBase provides random access capabilities of data present in HDFS. It leverages the fault tolerance provided by the HDFS. The user can store the data in HDFS either directly or through HBase.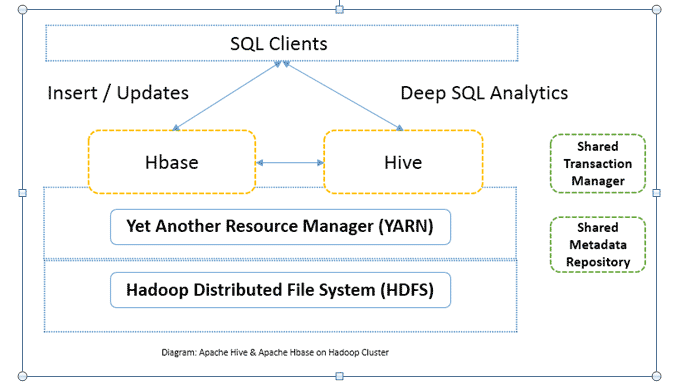 Head to Head Comparison Between Apache Hive and Apache HBase (Infographics) 
Below is the top 12 difference between Apache Hive and Apache HBase:

Key Differences between Apache Hive and Apache HBase
Below are the lists of points, describe the key differences between Apache Hive and Apache HBase:
Apache HBase is a database while Apache Hive is a database engine.
Apache Hive is mainly used for batch processing (OLAP) while Apache HBase is mainly used for transactional processing (OLTP).
Apache Hive executes most of the SQL queries while Apache HBase does not allow SQL queries directly.
Apache Hive does not support record level operations like update, insert and deletion while Apache HBase supports record level operations like update, insert and deletion.
Apache Hive runs on top of MapReduce while Apache HBase runs on top of Hadoop Distributed File System (HDFS).
Apache Hive queries the files by defining a virtual table and running HQL queries on top of it.  It is a process where files are virtually connected to a table like structure and user can execute Hive Query Language (HQL) and these queries are converted to MapReduce Job by Hive. The user doesn't have to write MapReduce job, HQL queries are internally converted into jar files and these jar files will be implemented on datasets.
While in Apache HBase, tables are split into regions and are served by the region servers. Further regions are vertically divided by column families into stores and Stores are saved as files in HDFS.
When to use Apache Hive
Data warehousing requirements
Analytical Queries
Data Analysis who are familiar with SQL
When to use Apache HBase
Fast and interactive data processing
Real-time queries
Fast lookups
Server-side processing
Random read /write access to Big Data
Application scalability
Apache Hive can be used to calculate trends and logs of e-commerce website for particular duration, region or time zone. It can be used to process batch query over historical data, While Apache HBase can be used by Facebook or LinkedIn for messaging and real-time analytics. It can also be used for counting likes.
Apache Hive and Apache HBase Comparison Table
Below is the comparison table between Apache Hive and Apache HBase.
 
Apache Hive
Apache HBase
Data Processing
Apache Hive is used for

batch processing i.e. Online Analytical Processing (OLAP)

Apache HBase is used for transactional processing i.e. Online Transactional Processing (OLTP)
Processing Speed
Apache Hive has higher latency because of executing MapReduce job in the background
Apache HBase works on real-time querying  and much faster than Apache Hive
Compatibility with Hadoop
Apache Hive runs on top of MapReduce
Apache HBase runs on top of HDFS
Definition
Apache Hive is open source and  similar to SQL used for Analytical Queries
Apache HBase is open source NoSQL database used for Real-time querying
Shared Metadata
Data created in Apache Hive is automatically visible to Apache HBase
Data created in Apache HBase is automatically visible to Apache Hive
Schema
Apache hive supports Schema for inserting data in tables
Apache HBase is Schema-free database.
Update Feature
The update feature is complicated in Apache Hive
The user can very easily update the data in Apache HBase
Operations
Operations in Apache Hive does not run in real time
Operations in Apache HBase run in real time
Data Types
Apache Hive is meant for structured and semi-structured data
Apache HBase is for unstructured data.
Consistency Level
Apache hive supports Eventual Consistency
Apache HBase supports Immediate Consistency
Partition Methods
Apache Hive supports Sharding features
Apache HBase also supports Sharding features
Data Storage
The date is stored in Hive Metastore, Partitions and Buckets in Apache Hive
Data are stored in Column and Row-wise of tables in Apache HBase
 Conclusion
Commonly Apache Hive vs Apache HBase is used together in the same cluster. Both can be used together to enhance processing power. Since hive improves the analytical sides of HDFS while HBase improves transactions in a real-time. The user can use Hive as an ETL tool for batch inserts with the data into HBase and then execute queries that can further join data present on HBase tables with the data that is already present on HDFS. Data can be read and written from Apache Hive to HBase and back again. The interface between Apache Hive and Apache HBase is still maturing phase. There are a lot more to come. Still, I can say Both Apache Hive vs Apache HBase makes Hadoop cluster more robust and powerful.
Recommended Articles
This has been a guide to Apache Hive vs Apache HBase. Here we have discussed Apache Hive vs Apache HBase head to head comparison, key differences along with infographics and comparison table. You may also look at the following articles to learn more –