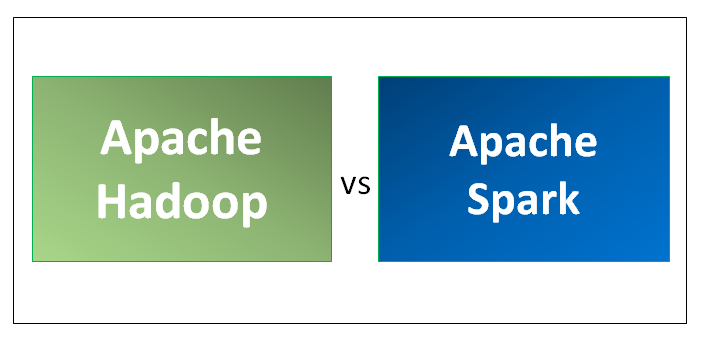 Apache Hadoop vs Apache Spark is the comparison between two industry-leading technologies for big data processes that are implemented for Analytics and data science. Apache Hadoop is an open-source clustered framework that uses Hadoop Distributed file system(HDFS) for data storage and map-reduce for processing along with components such as,  Yet another resource manager (YARN) for resource management. Whereas Spark in an open-source framework that works on the Resilient Distributed Datasets (RDD) and data frames along with Spark SQL  for data processing. Hadoop is a preferred platform for batch processing whereas spark is preferred for both batch and real-time streaming data processing.
Difference Between Apache Hadoop and Apache Spark
Apache Hadoop is an open-source software framework designed to scale up from single servers to thousands of machines and run applications on clusters of commodity hardware. Apache Hadoop framework is divided into two layers. First layer is storage layer and known as Hadoop Distributed File System (HDFS) while second layer is the processing layer and known as MapReduce. Storage layer of Hadoop i.e. HDFS is responsible for storing data while MapReduce is responsible for processing data in Hadoop Cluster.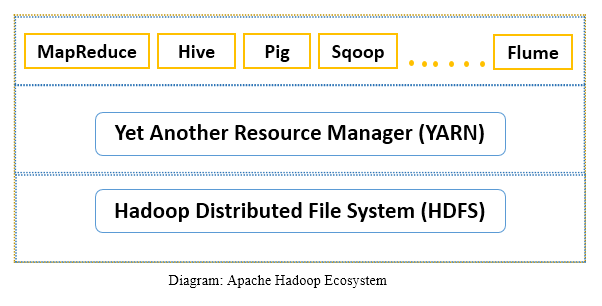 Spark is a lightning-fast and cluster computing technology framework, designed for fast computation on large-scale data processing. Apache Spark is a distributed processing engine but it does not come with inbuilt cluster resource manager and distributed storage system. You have to plug in a cluster manager and storage system of your choice.
Head to Head Comparison Between Apache Hadoop and Apache Spark (Infographics)
Apache Spark framework consists of Spark Core and Set of libraries. Spark core executes and manages our job by providing a seamless experience to the end user. The user has to submit a job to Spark core and Spark core takes care of further processing, executing and reply back to the user. We have Spark Core API in different scripting languages such as Scala, Python, Java and R Programming.
Below is the top 10 Difference  between Apache Hadoop and Apache Spark:

Key Differences Between Apache Hadoop and Apache Spark
Below are the lists of points, describe the key differences between Apache Hadoop and Apache Spark:
Although both Apache Hadoop and Apache Spark is used for processing Big Data. Let's take an example, Apache Spark can be used to process fraud detection while doing banking transactions. It is because, all the online payments are done in real time and we need to stop fraud transaction while the ongoing process of payment while we can use Apache Hadoop for batch processing job like analyzing different parameters like age-group, location, time spent of some specific YouTube videos for last 24 hrs. Or last 7 days.
When to use Apache Hadoop
Batch Processing of large Dataset
No intermediate Solution required
When to use Apache Spark
Fast and interactive data processing
Iterative jobs
Real-time processing
Graph processing
Machine Learning
Joining Datasets
Apache Spark offers a web interface for submitting and executing jobs. All the Business Intelligence (BI) tools like QlikView, Tableau, Zoom Data, Zepplin have connectivity with Hadoop and its ecosystem. It means you can store data in HDFS and after post-processing of data, using Hadoop tools, you can directly visualize your output that runs on a storage system.
Apache Spark is data execution framework based on Hadoop HDFS. Apache Spark is not a replacement to Hadoop but it is an application framework. Apache Spark is new but gaining more popularity than Apache Hadoop because of Real-time and Batch processing capabilities.
Apache Hadoop and Apache Spark Comparison Table
Below is the comparison between Apache Hadoop and Apache Spark.
| | | |
| --- | --- | --- |
|  Basis of Comparison | Apache Hadoop | Apache Spark |
| Data Processing | Only Batch Processing | Batch Processing as well as Real Time Data Processing |
| Processing Speed | Slower than Apache Spark because if I/O disk latency | 100x faster in memory and 10x faster while running on disk |
| Costs | Less Costlier comparing Apache Spark | More Costlier because of a large amount of RAM |
| Scalability | Both are Scalably limited to 1000 Nodes in Single Cluster | Both are Scalably limited to 1000 Nodes in Single Cluster |
| Compatibility | Apache Hadoop is majorly compatible with all the data sources and file formats | Apache Spark can integrate with all data sources and file formats supported by Hadoop cluster |
| Security | More secured than Apache Spark because of Kerberos Authentication | Security level is an infant and offering only authentication support through shared password |
| Fault Tolerance | Uses replication for fault Tolerance | Apache Spark uses RDD and other data storage models for Fault Tolerance |
| Ease of Use | Apache Hadoop is bit complex comparing Apache Spark because of JAVA APIs | Apache Spark is easier to use because of Rich APIs |
| Duplicate Elimination | It is not possible in Apache Hadoop | Apache Spark process every records exactly once hence eliminates duplication. |
| Language Support | Primary Language is Java but languages like C, C++, Ruby, Python, Perl, Groovy is also supported using Hadoop Streaming | Apache Spark Supports Java, Scala, Python and R |
 Conclusion
Apache Hadoop vs Apache Spark both are the most important tool for processing Big Data. They both have equally specific weight in Information Technology domain. Any developer can choose between Apache Hadoop and Apache Spark based on their project requirement and ease of handling. If you are working in a Real-time environment and fast processing, you must choose Apache Spark. The truth is that Apache Spark and Apache Hadoop have a symbiotic relationship with each other. Apache Hadoop provides features that Apache Spark does not possess such as distributed file system.
Apache Hadoop is a more mature platform for batch processing. You can integrate a large number of products with Apache Hadoop. Even if Apache Spark is more powerful but the facts are that – you still need HDFS to store all the data, If you want to use other Hadoop components like Hive, Pig, Impala, HBase, Sqoop or other projects. This concludes you will still need to run Hadoop and MapReduce alongside Apache Spark to utilize all the resources of Big Data Package.
Recommended Articles
This has been a guide to Apache Hadoop vs Apache Spark. Here we have discussed Apache Hadoop vs Apache Spark head to head comparison, key difference along with infographics and comparison table. You may also look at the following articles to learn more –