Social Networking Sites
Individuals utilize social networking services to stay in touch with friends and family and for enjoyment. Businesses and other organizations use them to promote products, brands, personalities, and events, as well as to communicate information and keep groups of followers with similar interests up to date.
Since the turn of the century, social networking sites have dominated human communication. It completely altered the way people communicated with one another. Governments, too, use social networking platforms for official purposes.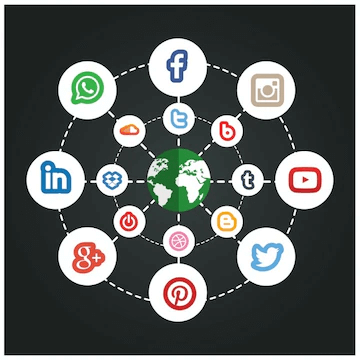 (Image Credit: Freepik)
Popular Social Networking Sites
WhatsApp: WhatsApp is an instant messaging app that has swiftly gained popularity despite its late entry into the market. It is possible to share text messages, photos, videos, audio, documents, and other sorts of content.
Instagram: Instagram is also on the list. Facebook solely owns it. Similarly, this app can share photos and videos with your followers. Users can edit their photographs using a range of filters.
Facebook: Facebook, for example, is the most popular social networking site. Over 1 billion people use it, and it is constantly growing. It also aids in the promotion of your company or brand.
Twitter: Twitter is an excellent social networking site. On this website, you can submit quick tweets to share your thoughts. Celebrities make the most of it. Twitter is a wonderful platform for conveying your message in a few words.
LinkedIn: This is a prominent website for locating and recruiting employees. After that, it is available in many languages to provide a user-friendly interface.
Advantages and Disadvantages of Social Networking Sites
Let's take a look at the advantages and Disadvantages of Social Networking Sites:-
Advantages of Using Social Networking Sites
Communication: All you need is a smartphone or a computer to communicate via a social media platform. You can contact folks instantaneously without utilizing a landline or traditional mail.
Information: We no longer need to sit in front of a television or read a newspaper to stay up to speed on global events. Like on TV, you may get rapid updates on the newest news.
A Fantastic Educational Tool: Social media, which is a great tool, makes learning new concepts and abilities easier. Social media platforms enhance learning by bringing together professors, professionals, and students of diverse ages.
Prevents People from Feeling Alone: Because of social networking sites, stay-at-home parents, the elderly, and other isolated population categories feel more connected to the world. They still have opportunities to engage with others, which helps many cope with feelings of loneliness.
Brand Promotion: Business owners can easily find new customers by marketing their brand on social network sites. Numerous small businesses today rely exclusively on social network sites to market their brand. They need them to function correctly.
Free of Cost: It is free to join any social networking platform. There is no investment in any of them. You may open a social media account for free if you have an email address and an internet connection.
Disadvantages of Using Social Networking Sites
False Information: It is relatively simple to propagate incorrect and fraudulent information on social media. Some info that becomes viral on social media comes from untrustworthy sources that some people use solely to destroy someone's reputation and cause a loss.
Addiction: Many social media users become addicted to it as a way to escape from reality. It affects primarily Teenagers and children. They can't picture life before social media. Those folks constantly check their newsfeed and other people's profiles, wasting their valuable time.
Health Dangers: Excessive social media usage can lead to anxiety, uneasiness, depression, and other threats to one's emotional health. Furthermore, displays and computer screens often emit artificial lights, which are hazardous to our vision, and Doctors relate them to sleep cycle disorders.
Privacy Issues: Because most social networking sites allow users' information to be shared with other users, the level of privacy that they provide is gradually fading. Users have yet to learn who viewed their profiles and gathered information about them. Even though social networking services cannot guarantee complete privacy, they do their best to protect it.
Conclusion
Although each social networking site has its unique viewpoint, they all have some common advantages and disadvantages. People can get the most out of this technology if they grasp its benefits and drawbacks.
Recommended Articles
We hope that this EDUCBA information on "Advantages and Disadvantages of Social Networking Sites" was beneficial to you. You can view EDUCBA's recommended articles for more information,